2014 NFL Draft: Green Bay Packers Spotlight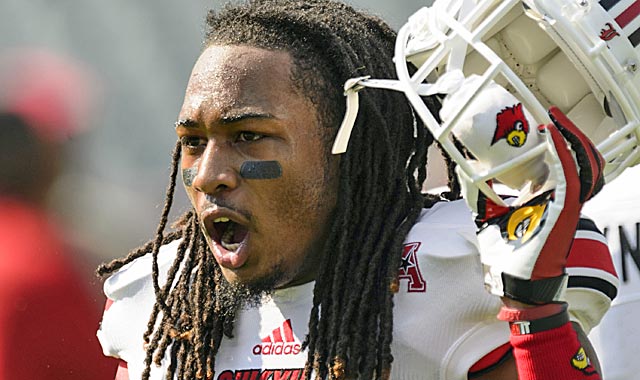 2014 NFL Draft: Green Bay Packers Spotlight
2014 NFL DRAFT TEAM SPOTLIGHTS: ARI | ATL | BAL | BUF | CAR | CHI | CIN | CLE | DAL | DEN | DET | GB | HOU | IND | JAC | KC | MIA | MIN | NE | NO | NYG | NYJ | OAK | PHI | PIT | SD | SF | SEA | STL | TB | TEN | WAS
This is the 13th of a team-by-team series, analyzing five prospects that each team should consider in the 2013 NFL Draft.
Coach Mike McCarthy showed resiliency and flexibility in guiding Green Bay to the playoffs despite a rash of injuries, including to stars Aaron Rodgers, Clay Matthews and Randall Cobb.

Just making the playoffs isn't good enough at Lambeau, however, and therefore with an expected full recovery from each, McCarthy and general manager Ted Thompspon showed rare aggression in free agency, re-signing young cornerback Sam Shields as well as inking veteran pass rusher Julius Peppers.

Injuries and free agency have robbed the Packers of depth at several key positions, however, making the 2014 draft critical if they are to remain the lead dog in the NFC North. The Packers could see cornerback Micah Hyde as a potential safety conversion, but if not, finding a starter to operate next to Morgan Burnett would appear to be the top priority. Re-stocking an aging defensive line and weapons for Rodgers is also on Thompson's to-do list.

Despite rarely possessing a pick inside of the top 20, Thompson has done an extraordinary job of reloading each season. Injuries, rather than mistakes in evaluation, have often robbed young players of promising NFL careers, with safety Nick Collins and tight end Jermichael Finley two notable examples.

With eight picks -- including four within the top 100 selections -- Thompson appears to have the ammunition to fortify one of the league's best rosters and, with greater luck on the injury-front, the Packers once again have the look of a Super Bowl contender.

Green Bay Packers' 2014 draft picks: 21, 53, 85, 98, 121, 161, 176, 197, 236

Primary needs: S, DT, TE, OL, WR

General manager: Ted Thompson, 10th year

Five draft picks that clicked:
• RB Eddie Lacy, 61st overall, 2013
• CB Casey Hayward, 62nd overall, 2012
• WR Randall Cobb, 64th overall, 2011
• S Morgan Burnett, 71st overall, 2010
• OLB Clay Matthews, 26th overall, 2009

Five players who should be on the Green Bay Packers' draft radar:
Player, school (overall rating, position rating)

S Calvin Pryor, Louisville (20, 2): Given how the Packers' lack of speed was exposed by San Francisco's Colin Kaepernick to end the past two seasons, Thompson is likely to target a speedy, instinctive defender in the early rounds. Thompson has hit on safeties with later picks in past seasons but the specifics of this class and today's focus on the pass is working against him. As the NFL increasingly turns to the pass, safeties have increased their value and unfortunately the 2014 crop isn't equipped to handle the need. Pryor has excellent read and react skills which allow him to close quickly and deliver thunderous hits.

WR Cody Latimer, Indiana (70, 13): The Packers already boast two of the game's better young receivers in Nelson and Cobb but reinforcements behind the two gifted (but injury-prone) pass-catchers is important after allowing Greg Jennings and James Jones to leave the past two seasons. Latimer is one of the fastest rising prospects in the draft as the former basketball player boasts impressive length, acceleration and natural hands. Latimer is a little rough around the edges but projects as a future starter whose skill-set makes him particularly intriguing to West Coast Offense proponents.

DT Kelcy Quarles, South Carolina (85, 10): The Packers re-signed B.J. Raji but only for one year and have shown little urgency in bringing back the 34-year old Ryan Pickett. Quarles doesn't possess the naturally wide frame at 6-foot-4, 297 pounds that Raji (330) and Pickett (340) but holds up well at the point of attack due to his strength and has the quickness to offer some interior pass rush. He'd offer the versatility and talent to fit into Green Bay's rotation. If he were available to the Packers in the third round, he'd make a lot of sense.

TE Crockett Gillmore, Colorado State (138, 7): With Finley's status up in the air, the Packers will almost certainly look to add a tight end in this draft. Only a first round talent like North Carolina's Eric Ebron offers a skill-set similar to Finley out of the 2014 class (which makes him an intriguing candidate as a "surprise" first round selection for Green Bay) but if the Packers elect to wait until the middle or late rounds, Gillmore offers plenty of upside. The former defensive end was a late injury replacement at the Senior Bowl but impressed once given the opportunity, demonstrating natural hands to pluck passes outside of his frame and the better field speed than his workouts indicated.

OT Charles Leno, Boise State (201, 12): Given the losses of Evan Dietrich-Smith and Marshall Newhouse, the Packers will be looking for young, athletic offensive linemen to develop. Leno is a lean athletic player whose experience lies on the outside, where he started 36 consecutive games for the Broncos. His developing frame, however, could handle another 10-15 pounds and allow him to move inside, if his future NFL team needed him there. Some scouts, in fact, project him there. Leno has some quiet buzz to him and therefore if the Packers want him, they may have to nab him early on Day Three.