2014 NFL Draft: Miami Dolphins Spotlight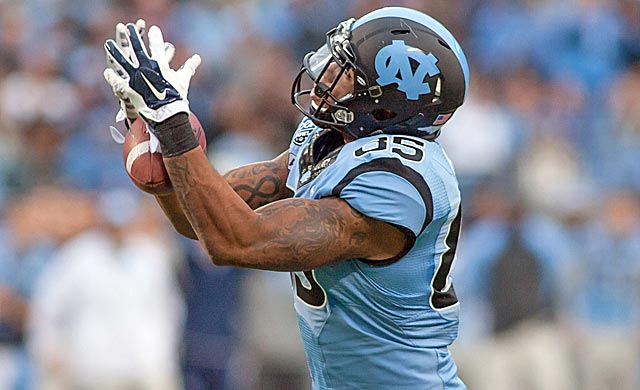 2014 NFL DRAFT TEAM SPOTLIGHTS: ARI | ATL | BAL | BUF | CAR | CHI | CIN | CLE | DAL | DEN | DET | GB | HOU | IND | JAC | KC | MIA | MIN | NE | NO | NYG | NYJ | OAK | PHI | PIT | SD | SF | SEA | STL | TB | TEN | WAS
This is the 15th of a team-by-team series, analyzing five prospects that each team should consider in the 2014 NFL Draft.
The Dolphins are in the midst of a tumultuous off-season, mostly due to the bullying scandal, but a positive draft class in a few weeks would go a long way helping fans to forget the negatives.
New general manager Dennis Hickey takes over for Jeff Ireland and already addressed some key need areas in free agency, adding Branden Albert to fix the hole at left tackle and Knowshon Moreno to give the backfield more life. But that still leaves a number of areas on the roster that need help, positions Miami is expected to address on draft weekend.
Miami signed several "Band-aid" type of free agents who will help cover up trouble spots, but are short-term solutions: Cortland Finnegan at cornerback, Shelley Smith at guard or Jason Fox at right tackle. Those additions won't stop the Dolphins from drafting players at those positions to challenge for starting a job.
Quarterback Ryan Tannehill is entering his third year as the starter and will be expected to take that next step in his development. The chemistry he's able to develop with Mike Wallace and the other targets on the roster is a big part of his on-field growth, something that usually correlates with success. While the Dolphins aren't expected to draft an offensive skill position in the first round, if an impact player like tight end Eric Ebron is still available, they shouldn't pass.
Miami Dolphins' 2014 draft picks: 19, 50, 81, 116, 155, 190, 234

Primary Needs: OT, TE, OG, FS, CB
General Manager: Dennis Hickey, 1st year
Head Coach: Joe Philbin, 3rd year
Five draft picks that clicked:
• QB Ryan Tannehill, 8th overall, 2012
• DE Olivier Vernon, 72nd overall, 2012
• OG Mike Pouncey, 15th overall, 2011
• SS Reshad Jones, 163rd overall, 2010
• WR Brian Hartline, 108th overall, 2009

Five players who should be on Miami's draft radar:
(overall rating, position rating)
TE Eric Ebron, North Carolina (11, 1): The Dolphins received better than anticipated production from Charles Clay a year ago, but if an impact player at tight end like Ebron is still available, Miami shouldn't let him get passed the 19th pick. He set a new ACC record for receiving yards last season at North Carolina, breaking Vernon Davis old mark, operating mostly out of the slot in college. He lacks elite bulk and is a work-in-progress as a blocker, but his long arms, catching radius and exceptional athleticism allows Ebron to make "wow" catches at all levels of the field. He has Pro Bowl potential as a joker tight end and could really help Ryan Tannehill open the offense for the Dolphins.

OT Morgan Moses, Virginia (37, 5): After the top-three tackles (Greg Robinson, Jake Matthews, Taylor Lewan) are drafted in the top-15 picks, the depth at the tackle position drops off, which could push 2nd-3rd round players up draft boards into the top-40 picks. But if Moses makes it through to the Dolphins second pick, he would be a likely target for Miami to be their future starter at right tackle. He does an excellent job moving targets and can get downfield with better athleticism that expected, blocking in space with the length to control defenders. Moses plays a bit tight and is too much of a waist bender with sloppy tendencies, but his size and length usually allow him to get away it.

OG David Yankey, Stanford (119, 7): Could the Dolphins really draft another offensive lineman out of Stanford after the recent bullying incident involving Jonathan Martin? It shouldn't be ruled out. While Yankey isn't the early round prospect some believe him to be, he still has workable traits, terrific feet and overall movement ability to be a mid-round selection. He flashes the natural power and understanding of the position to make it look easy, sometimes too easy and needs to compete with consistent urgency and grit on each snap. Yankey has the physical traits worth trying to develop, but his technical issues are concerns.

FS Dion Bailey, USC (103, 4): Despite adding Louis Delmas via free agency to replace Chris Clemons, the Dolphins safety situation isn't an ideal one and the long-term starter next to Reshad Jones could be targeted in the middle rounds. Bailey switched between linebacker and safety over the past three seasons for the Trojans and projects as a hybrid version of both at the next level with the ability to play near the line of scrimmage and in the deep half of the field. He plays the game fearless and covers a lot of ground with some untapped potential, but needs time to develop before he's ready for defensive snaps – should play on special teams as a rookie.

CB Shaquille Richardson, Arizona (169, 24): Miami invested at the cornerback position in last year's draft, but don't be surprised when the Dolphins look to add another young piece at the position in this class. Richardson is an intriguing athlete for his size with enticing length, but is a streaky player with finesse tackling technique and undeveloped recognition skills. Richardson has some traits that translate well, but is still more of an athlete than polished defensive back right now. He's worth a late round flier and will need to prove his worth early to hold onto a roster spot.