2014 NFL Draft: Dallas Cowboys Spotlight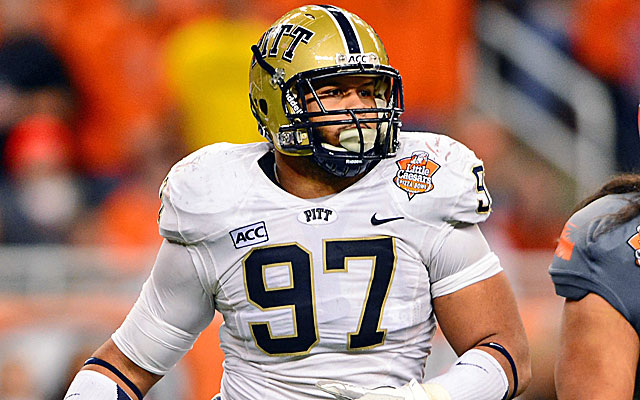 2014 NFL DRAFT TEAM SPOTLIGHTS: ARI | ATL | BAL | BUF | CAR | CHI | CIN | CLE | DAL | DEN | DET | GB | HOU | IND | JAC | KC | MIA | MIN | NE | NO | NYG | NYJ | OAK | PHI | PIT | SD | SF | SEA | STL | TB | TEN | WAS
This is the 18th of a team-by-team series, analyzing five prospects that each team should consider in the 2014 NFL Draft.
The Cowboys have done a nice job in recent years of hitting on early picks: WR Dez Bryant, LB Sean Lee, OT Tyron Smith and even C Travis Frederick a year ago was better than expected as a rookie.
But last year, the "value" of Frederick in the first round was the issue after trading down from the 18th pick, picking up only an extra third rounder in the process. That third-round pick produced WR Terrance Williams, who proved to be a good value, but Dallas could find themselves in a similar situation this season with pick No. 16, searching for the right value.
The sense is that it's defensive line or bust for the Cowboys in the first round, but what if the top talents (DT Aaron Donald, DE/OLB Anthony Barr) are off the table? Does Jerry Jones and his staff look to move down for a second straight year, even if the value doesn't match up? Or stay at pick No. 16 and take the top-rated player, whether it's defensive line or another position? The Cowboys clearly need to address the defensive side of the ball, but a versatile offensive lineman like OL Zach Martin might be too enticing. Dallas seems to be okay with their safety situation, but FS Jimmie Ward is another possibility there.
At the end of the day, I'll believe the pick will be defensive line, whether the Cowboys end up sticking at No. 16 or trading into the back half of round one, picking up extra picks in the process, which in this draft class, is as good as gold.
Dallas Cowboys' 2014 draft picks: Nos. 16, 47, 78, 119, 158, 229, 231, 238, 248, 251, 254
Primary Needs: DE, DT, OG, WR, FS
General Manager: Jerry Jones, 26th year
Head Coach: Jason Garrett, 5th year
Five draft picks that clicked:
• OT Tyron Smith, 9th overall, 2011
• WR Dez Bryant, 24th overall, 2010
• LB Sean Lee, 55th overall, 2010
• CB Orlando Scandrick, 143rd overall, 2008
• TE Jason Witten, 69th overall, 2003
Five players who should be on Dallas' draft radar:
(overall rating, position rating)
DE Demarcus Lawrence, Boise State (43, 4): Whether the Cowboys stay at No. 16 or look to trade back a few spots, I think Lawrence could be high on their wish list in the first round as Dallas looks to give a suspect defensive line a legitimate edge rusher. After starting at the JUCO level due to academics, Lawrence started 23 games the past two seasons at Boise State and put together an impressive resume, including First Team All-MWC honors the past two seasons. He can be controlled when blockers get their hands on him, but he has strong and fast hands himself, ripping and setting up his moves while tracking the ball. Lawrence projects highly to any scheme due to his athletic prowess and undeniable pass rush upside. He isn't highly talked about as a first round player, but talents like this usually don't make it outside the top-32.
DT Dominique Easley, Florida (60, 6): Dallas signed Henry Melton to help the interior pass rush, but the Cowboys aren't done adding to the defensive tackle arsenal. Easley is a prospect who without the injury concerns, would be talked about in the same breath as Aaron Donald in the top-15 picks. But two non-contact ACL injuries, one to each knee, have clouded his draft and NFL future. Easley tore his left ACL in 2011 and his right ACL last September and just recently declared himself 100% healthy. He lacks ideal size/length/strength dimensions, but is able to be highly disruptive with is first step burst and snap reaction to penetrate the backfield and create interior pressure. Easley could go anywhere from the second round to the later rounds, depending on how comfortable teams are with his durability. But if he's healthy now, Easley is worth the risk and would be a good value for Dallas in the second round.

OG Trai Turner, LSU (150, 8): While the first few picks will mostly likely be defense, the Cowboys still have room to add pieces to the offensive line and Turner is a possible candidate in the third or fourth round. A surprise early declaration as a redshirt sophomore, the former LSU blocker is a big-bodied mauler with the base strength to hold his ground, but his hand technique, awareness and flexibility in pass protection are works-in-progress. He is a little straight-linish, but a wrecking ball at the second level with the mean streak and finishing toughness to eliminate defenders – doesn't often look pretty, but he gets the job done. Turner is raw, especially as a pass blocker, but fits as a physical bully in any scheme.
DB Jemea Thomas, Georgia Tech (224, 28): A former running back, Thomas was a two-year starter at Georgia Tech, logging snaps between the rover safety and cornerback positions. He led the team in tackles as a senior and finished his career with 30 passes defended and nine interceptions. Thomas isn't the biggest or fastest, but he plays fast, balanced and decisive with a tough-minded, high motor approach to the game. He can get lost in coverage at times with some tweener traits, but is a try-hard overachiever who gets the most out of his ability and has the on-field intensity, versatility and play speed to be a quality sub-package defensive back. Thomas is a third round talent who will probably still be on the board in the fourth and Dallas has shown some interest.

DT Davon Coleman, Arizona State (35, 504): In the later rounds, an underrated player the Cowboys might target is Coleman, who despite playing next to Will Sutton the past two seasons, hasn't received much attention during the process. The former Sun Devil played mostly defensive end as a junior before adding 25 pounds and moving inside to defensive tackle as a senior, lining up all over the defensive line in 2013 and finishing among the team leaders with 15.0 tackles for loss and 8.5 sacks. Coleman has excellent point of attack strength to engage and hold the point, showing the awareness to quickly locate and pursue with terrific chase skills for the position. Coleman has some tightness to his frame, but as long as the intensity level stays high, he can be productive on the football field and is best-suited as a 1-technique, who can also contribute at the 3- and 5-technique spots if needed.