2014 NFL Draft: Pittsburgh Steelers Spotlight
2014 NFL DRAFT TEAM SPOTLIGHTS: ARI | ATL | BAL | BUF | CAR | CHI | CIN | CLE | DAL | DEN | DET | GB | HOU | IND | JAC | KC | MIA | MIN | NE | NO | NYG | NYJ | OAK | PHI | PIT | SD | SF | SEA | STL | TB | TEN | WAS
This is the 19th of a team-by-team series, analyzing five prospects each team should consider in the 2014 NFL Draft.
The Steelers are historically known as a one of the NFL's top talent-evaluating teams, but the below-average return on investment for Pittsburgh in recent drafts is a big reason why they aren't considered playoff contenders entering the 2014 season.
The main identity of the Steelers on offense (Ben Roethlisberger) and defense (Troy Polamalu) is intact, but the roster has experienced a good amount of turnover the past few seasons. Last year, Pittsburgh lost WR Mike Wallace and CB Keenan Lewis to free agency and this season, WR Emmanuel Sanders, DE Brett Keisel, DE Ziggy Hood, OLB LaMarr Woodley and DL Al Woods will wear different uniforms.
The most important draft for every franchise is the next one, but the 2014 NFL Draft is especially important for a Steelers franchise in desperate need of young impact players. With only so much sand left in Roethlisberger's NFL hourglass, Pittsburgh isn't looking for a long-term rebuild. So while Kevin Colbert and Mike Tomlin look to add cornerstone pieces for the future, the Steelers also are looking for instant contributors.
Pittsburgh Steelers' 2014 draft picks: Nos. 15, 46, 97, 118, 157, 173, 192, 215, 230
Primary needs: CB, DL, TE, OLB, WR
General manager: Kevin Colbert, 5th season
Head coach: Mike Tomlin, 8th season
Five draft picks that clicked:
• OT Kelvin Beachum, 248th overall, 2012
• C Maurkice Pouncey, 18th overall, 2010
• ILB Lawrence Timmons, 15th overall, 2007
• QB Ben Roethlisberger, 11th overall, 2004
• SS Troy Polamalu, 16th overall, 2003
Five players who should be on Pittsburgh's draft radar (Player, overall rating, position rating:
CB Darqueze Dennard, Michigan State (14, 2): The Steelers' cornerbacks don't strike fear in the hearts of opposing wide receivers. Soon-to-be 34-year-old Ike Taylor is a shell of his old self and Cortez Allen and William Gay are solid options, but that's not quite good enough, especially in a division with A.J. Green and Josh Gordon. So it's understandable why Colbert and Tomlin traveled to East Lansing for Dennard's pro day and have shown so much interest in the Michigan State cornerback. The star of the Spartans' "No Fly Zone," Dennard was the Jim Thorpe Award winner in 2013 with 14 passes defended and four interceptions. He lacks track speed, but has enough wheels, allowing very little separation with his read/react quickness and smooth body control. Dennard is a tad too grabby and needs to learn what he can get away with at the NFL level, but he's sticky in coverage and projects as a reliable NFL starter.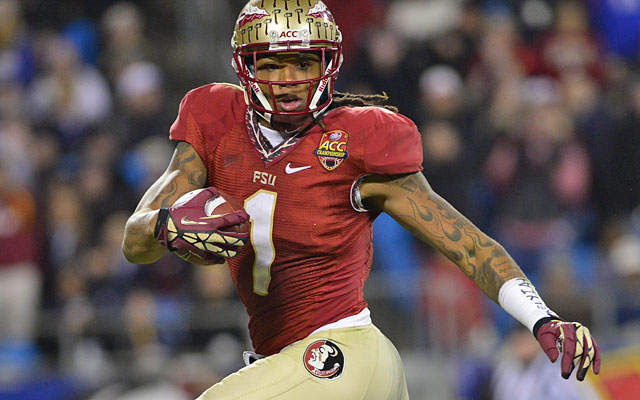 WR Kelvin Benjamin, Florida State (56, 10): While the Steelers are expecting second-year wide receiver Markus Wheaton to secure a starting job, the offense lacks a tall, physical presence, something that would change with the selection of Benjamin in the second round. He averaged a touchdown every 3.6 catches last season for the national champion Seminoles, second best in NCAA. Benjamin is a fluid, flexible athlete with near-tight end size and is a mismatch nightmare with elite catching radius. He has improved as a route runner, but still is not well-versed in the details of the position. Benjamin is far from a polished prospect, but he has the imposing size and catching radius to be a dangerous red zone threat while developing his skills to be a consistent every-down target, possibly giving Pittsburgh a modern day Plaxico Burress.
DT Justin Ellis, Louisiana Tech (97, 12): The trenches on defense in Pittsburgh could cause the Steelers to go defensive line much earlier in the draft, but a viable target in the middle rounds is Ellis, who can line up as a two-gap nose and also play defensive end. He is a wide-bodied rusher and uses his ball quickness and snap anticipation to surge past blockers before they can set up. Ellis is a tough guy to square up and slow down and while he looks like a zero-technique who should be a run stuffer, he has also shown the ability to be a handful to control as a pass rusher. If Ellis is still around in the fourth round, he would make a lot of sense for the Steelers, especially if they haven't addressed the defensive line up to this point.
LB Jordan Zumwalt, UCLA (115, 11): Inside linebacker won't be listed as the top need on any lists out there, but in the mid-to-late rounds, Zumwalt has the intensity and versatility that screams Steelers. He has experience playing inside and outside and would provide depth at several linebacker spots for Pittsburgh. Zumwalt plays fast, active and aggressive, but also stiff and is more of a straight-line athlete who struggles to easily redirect. He has an intense on-field demeanor and to describe him as "violent" would be an understatement, but he also comes with durability concerns due to his physical play style. Zumwalt projects as a versatile reserve player who is able to wear several hats in various schemes and should be able to make a living on special teams coverages as well, making him a logical target in the fourth or fifth round.
TE/FB Reggie Jordan, Missouri Western State (322, 8): Pittsburgh's top two tight ends on the depth chart are on the wrong side of 30 years old and while capable, Heath Miller isn't quite the same player he used to be. The Steelers don't need to address the position early in the draft, but it wouldn't be surprising to see them target a developmental tight end in the later rounds like Jordan. He went the Division II route out of high school due to academics and saw little action his first few years in college, but he emerged as a dangerous weapon as a junior, leaving school with 17 career touchdown grabs. Jordan lacks much suddenness to his game, but is a very smooth, fluid athlete with the body control and natural blocking traits that translate well to the next level. He is attempting to be Missouri Western State's third draft pick in as many years (David Bass, Greg Zuerlein) and projects as a Delanie Walker type as a project "move" tight end.