2014 NFL Draft: Fales, Crowell, Gillmore top 'Diamonds in Rough'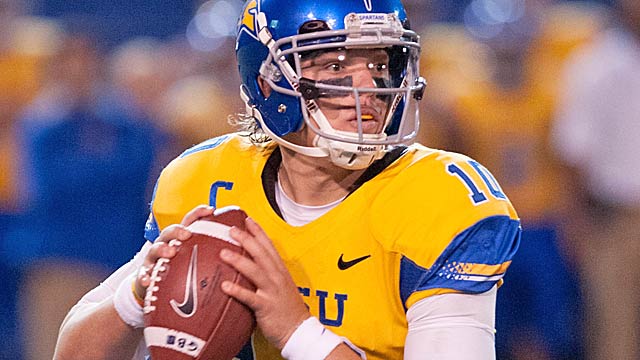 More NFL offseason: Mock Drafts | Prospect Rankings | Pro days | Top free agents
Whether in the first round or via sifting through the undrafted free agent pool, the ability to find "Diamonds in the Rough" is one way good NFL scouting departments are separated from great ones.
These players haven't generated the pre-draft attention their abilities warrant. It can be because they lack ideal traits, durability or played against lower-level competition, or something else.
Prospects under this heading the past 13 years include QB Russell Wilson, WR T.Y. Hilton, TE Julius Thomas, OT Jared Veldheer, DE Aaron Kampman, MLB Lofa Tatupu and CB Christopher Owens.
One player is featured per position with five others to keep in mind. At least one player per position was not invited to the 2014 Combine. (Denoted with an asterisk *)
Quarterbacks
(Player, school, height, weight, 40 time)
David Fales, San Jose State, 6-2, 212, 4.99: Fales lacks the size and velocity to excite scouts but he stands out in three areas that I value at the quarterback position -- awareness, accuracy and competitiveness. These traits make him a gamer who steps up when the lights shine brightest. Fales demonstrated this ability in a high-profile showdown with Fresno State and potential first-round quarterback Derek Carr, during the all-important Wednesday practice at the Senior Bowl and in a sterling pro day workout. He won't come off the board until Day 3, but if correctly drafted into a timing-based, short to intermediate attack, he'll prove at least a capable backup, in the mold of Jon Kitna and Shaun Hill, and quite possibly much more.
Five more QBs to consider:
1: Garrett Gilbert, SMU, 6-3, 223, 4.73
2: Casey Pachall, TCU, 6-4, 216, 4.98*
3: Connor Shaw, South Carolina, 6-0, 206, n/a
4: Brett Smith, Wyoming, 6-2, 206, 4.83*
5: Dustin Vaughan, West Texas A&M, 6-5, 235, 4.95
Running backs
Isaiah Crowell, Alabama State, 5-11, 224, 4.57: Characterizing Crowell as a "Diamond" is deceiving because the former five-star recruit won the SEC Offensive Rookie of the Year in 2011 with the Georgia Bulldogs. Repeated off-field mistakes caused Mark Richt to yank his scholarship. Rather than sit out a season, he transferred to FCS Alabama State. While Crowell's maturity certainly is a question mark, his talent is not. He shows impressive first-step acceleration to throw off pursuit angles of would-be tacklers and flashes power to go along with his well-built frame. Teams were willing to look past off-field indiscretions of gifted backs like Christine Michael (Seahawks), Bryce Brown (Eagles) and LeGarrette Blount (Titans) in recent years and I wouldn't be surprised at all to see some club get rewarded by gambling on Crowell late, as well.
Five more RBs to consider:
1: Alfred Blue, LSU, 6-2, 223, 4.63
2: Storm Johnson, Central Florida, 6-0, 209, 4.60
3: Henry Josey, Missouri, 5-8, 194, 4.43
4: Rajion Neal, Tennessee, 5-11, 220, 4.58*
5: Jerome Smith, Syracuse, 5-11, 220, 4.84
Tight ends
Crockett Gillmore, Colorado State, 6-6, 260, 4.89: Underclassmen have dominated the buzz surrounding this tight end class, but Gillmore is one of a handful of intriguing senior prospects who could surprise after a Day 3 selection. Gillmore's blend of size and physicality earned him starts on both sides of the ball for the Rams, splitting his career between tight end and defensive end. Despite the limited time on offense, Gillmore is a surprisingly reliable pass-catcher due to his big, soft mitts (10 3/8"), good hand-eye coordination and leaping ability. He is not a nifty athlete who is going to take the top off the defense down the seam but his high school days as a wrestler and basketball player are evident in his willingness to mix it up and box out to gain position in congestion.
Five more TEs to consider:
1: Alex Bayer, Bowling Green, 6-4, 257, 4.78*
2: Marcel Jensen, Fresno State, 6-6, 259, 4.85
3: A.C. Leonard, Tennessee State, 6-2, 252, 4.50
4: Jacob Pederson, Wisconsin, 6-4, 238, 4.89
5: Larry Webster, Bloomsburg, 6-6, 252, 4.58
Wide receivers
Austin Franklin, New Mexico State, 5-11, 189, 4.56: In a draft class as deep and talented at receiver as this one, wideouts who don't test exceptionally well are overlooked. I expect that to be the case with Franklin -- though he shows the first-step acceleration on the field to counter his relatively pedestrian 40-yard dash time. The Aggies knew what they had with Frankin, featuring him at receiver, kick and punt returner and even as an option quarterback in an abbreviated 2013 season (lost four games because of academic suspension). Franklin lacks the bulk to play outside but displays the toughness, vision and agility to handle slot duties. He's a natural playmaker who could surprise, just as Hilton has with the Colts.
Five more WRs to consider:
1: John Brown, Pittsburgh State, 5-10, 179, 4.34
2: Isaiah Burse, Fresno State, 5-10, 188, 4.58
3: Jeff Janis, Saginaw Valley State, 6-3, 219, 4.42
4: Chandler Jones, San Jose State, 5-09, 183, 4.36*
5: Kevin Smith, Washington, 6-0, 208, 4.54*
Offensive line
Billy Turner, North Dakota State, 6-5, 315, 5.16: Dominating at the blind-side tackle position for the three-time defending FCS national champion Bison, Turner is used to winning. He took that confidence to the Senior Bowl and proved that he wasn't just a product of weak competition, turning heads while splitting duty at tackle and guard. Boasting an intriguing combination of length (including 34-inch arms), athleticism and aggression, Turner is a future NFL starter whose upside is likely to earn him a spot within the first 100 picks.
Five more OL to consider:
1: Dakota Dozier, Furman, 6-4, 313, 5.42
2: Laurent Duvernay-Tardif, McGill (Canada), 6-5, 298, 4.98*
3: John Fullington, Washington State, 6-5, 300, 5.44*
4: Charles Leno, Boise State, 6-4, 303, 5.28
5: Matt Patchan, Boston College, 6-6, 302, 4.97
Defenseive line
Khyri Thornton, Southern Mississippi, 6-3, 304, 5.03: Perhaps the most underrated element of the 2014 draft class is defensive-tackle depth. It is easy for scouts to get excited about unique athletes like RaShede Hageman, Louis Nix and Stephon Tuitt, but too often their motors are stuck on idle. Thornton, on the other hand, is powerful at the point of attack and just as passionate in pursuit. He doesn't possess great quickness or technique, but his strength and effort stood out at the NFLPA Collegiate Bowl and its practices, catching the attention of scouts from 3-4 and 4-3 teams.
Five more DL to consider:
1: Kasim Edebali, Boston College, 6-2, 253, 4.79
2: Justin Ellis, Louisiana Tech, 6-2, 334, 5.27
3: Ben Gardner, Stanford, 6-4, 262, 5.05*
4: Zack Kerr, Delaware, 6-1, 326, 5.08
5: Caraun Reid, Princeton, 6-2, 302, 4.91
Linebacker
Brock Coyle, Montana, 6-1, 235, 4.62*: The hard-hitting Coyle personifies the nationally underrated prospects among this year's "Diamonds" in the Rough. Despite leading the Grizzlies in tackles the past two seasons and earning Defensive MVP honors in 2013, Coyle was not recognized as a First Team All-Big Sky player -- though teammates and linebackers Jordan Tripp and John Kanongata'a were. Impressive performances at the NFLPA Collegiate Bowl and during his pro day workout, however, have the well-built middle linebacker's stock on the rise. While the Grizzlies aren't nationally recognized as a consistent producer of pro talent, when Coyle and Tripp (and potentially offensive lineman Danny Kistler, Jr.) are selected, it will mark the third time since 2010 in which multiple players from Montana were drafted into the NFL.
Five more LBs to consider:
1: Khairi Fortt, Cal, 6-2, 242, 4.70
2: Anthony Hitchens, Iowa, 6-0, 240, 4.74
3: Howard Jones, Shepherd, 6-3, 245, 4.60
4: Tyler Starr, South Dakota, 6-4, 250, 4.95
5: Jordan Tripp, Montana, 6-3, 234, 4.67
Cornerback
Nevin Lawson, Utah State, 5-10, 190, 4.48: While tall corners are all the rage in the NFL right now, coverage ability never goes out of style. That fact has the athletic and extremely competitive Lawson as a dark horse candidate to break into the first 125 picks. The Florida native earned a starting role job as a freshman and never looked back, finishing his career with 39 consecutive starts and playing well at the East-West Shrine Game and the Senior Bowl. He's willing in run support and experienced playing on the perimeter and at nickel, giving him an advantage over many collegiate corners unaccustomed to playing near blockers.
Five more CBs to consider:
1: Walt Aikens, Liberty, 6-1, 203, 4.50*
2: Pierre Desir, Lindenwood, 6-1, 198, 4.59
3: Kendall James, Maine, 5-11, 180, 4.44*
4: B.J. Lowery, Iowa, 5-10, 193, 4.58*
5:Robert Nelson, Arizona State, 5-10, 175, 4.46*
Safety
Nat Berhe, San Diego State, 5-10, 193, 4.71: Like many of the hidden gems on this list, Berhe (pronounced Burr-HEY) lacks the measureables preferred for the NFL. He's certainly smaller and slower than scouts would like for playing safety in today's NFL. Tape review, however, shows Berhe to play bigger and faster on the field than he looks because of his impressive recognition, aggression and burst to close. He wasn't asked to play much special teams with the Aztecs because of his value to the defense, but he plays with the temperament necessary to carve out a niche in the NFL initially this role and could surprise if given a shot in the deep patrol.
Five more safeties to consider:
1: Jonathan Dowling, Western Kentucky, 6-3, 190, 4.52
2: Marqueston Huff, Wyoming, 5-11, 196, 4.49
3: Brian Jackson, Oregon, 5-10, 199, 4.62*
4: Dezmen Southward, 6-0, 211, 4.40
5: Brock Vereen, Minnesota, 6-0, 199, 4.47