2014 NFL Draft: St. Louis Rams Spotlight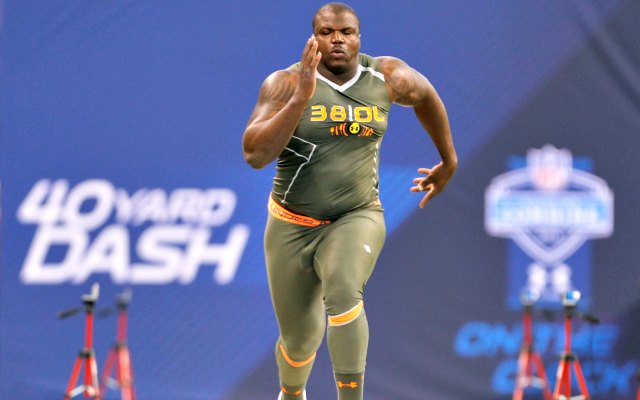 2014 NFL Draft: St. Louis Rams Spotlight
2014 NFL DRAFT TEAM SPOTLIGHTS: ARI | ATL | BAL | BUF | CAR | CHI | CIN | CLE | DAL | DEN | DET | GB | HOU | IND | JAC | KC | MIA | MIN | NE | NO | NYG | NYJ | OAK | PHI | PIT | SD | SF | SEA | STL | TB | TEN | WAS
This is the 21st of a team-by-team series, analyzing five prospects that each team should consider in the 2013 NFL Draft.
Tied with the New York Jets with an NFL-best 12 picks - including three among the first 44 selections - the St. Louis Rams are power-players in the 2014 NFL draft.
Power could be the operative word for general manager Les Snead and head coach Jeff Fisher, who are looking to reload a roster with bigger, more physical players capable of success in the league's most aggressive and competitive division.
The Rams haven't qualified for the playoffs since the end of the 2004 regular season despite boasting top upper-echelon talent, not the least of which is superstar defensive end Robert Quinn, who finished second in the NFL a year ago with 19 sacks and seven forced fumbles at just 23 years old. Quinn leads a highly athletic defense that could come together with a savvy centerfielder operating the deep patrol.
The problem in St. Louis, however, is with the offense not the defense. Quarterback Sam Bradford has shown flashes of the form which led to his earning the No. 1 overall selection four years ago, but he's missed the equivalent to one full regular season due to injury during that time. The Rams are publicly supporting Bradford and he was playing the best football of his NFL career last season (60.7 completion percentage, 14 TDs/four INTs) prior to tearing an ACL in a week seven loss to the Carolina Panthers.
Patience is wearing thin, however, and the Rams have the flexibility to gamble on a quarterback early due to their trade with Washington two years ago which allowed the Redskins to nab Robert Griffin III.
Of course, one could argue that if the Rams did a better job of protecting Bradford he might be as injury-prone. Along with safety, the Rams are expected to make offensive line and receiver priorities with their first three selections.

St Louis Rams' 2014 draft picks: 2, 13, 44, 75, 110, 153, 188, 214, 226, 241, 249, 250

Primary needs: FS, RT, OG, CB, WR, RB

General manager: Les Snead, third year

Five draft picks that clicked:
-- CB Janoris Jenkins, 39th overall, 2012
-- DE Robert Quinn, 14th overall, 2011
-- OG Rodger Saffold, 33rd overall, 2010
-- MLB James Laurinaitis, 35th overall, 2009
-- DE Chris Long, 2nd overall, 2008

Five players who should be on the St. Louis Rams' draft radar:
Player, school (overall rating, position rating)
OT Greg Robinson, Auburn (2, 1): To compete in the ultra-physical NFC West division, priority No. 1 for the Rams must be to get tougher at the line of scrimmage. Robinson is a work in progress in pass protection but he's a dominant run blocker who could step in at right tackle or guard and be groomed to ultimately take over for Jake Long on the left side. Some close to the Rams believe that they are higher on Texas A&M's Jake Matthews but to select him No. 2 over the clearly-more gifted Robinson would be a surprise and Matthews isn't going to make it to No. 13. Regardless of who the Rams pick to start at right tackle, he should have some experience handling the blind side in Jake Long is slow to recover from surgery to repair a torn ACL and MCL suffered in Week 16.

WR Sammy Watkins, Clemson (4, 1): The Rams' gamble on Tavon Austin a year ago did not have the immediate impact Snead and Fisher hoped. Austin is a dynamic weapon but he's a slot receiver and return specialist, rather than a true No. 1 target. If the Rams truly are committed to building with Bradford, they might see Watkins as the best way to win immediately. It is easy to fall in love with Watkins' game. The 6-foot-1, 211-pound has the frame to handle press coverage, vacuum-like hands and the first-step explosiveness to run away from defenders. It is generally presumed that the Rams will take a tackle at No. 2 overall, but Fisher hasn't taken an offensive lineman in the first round in 19 previous drafts operating as head coach.
FS Calvin Pryor, Louisville (21, 2): The Rams found a quality starter with hard-hitting strong safety T.J. McDonald a year ago and could use a speedy, instinctive centerfielder behind him to help a young secondary that no longer can rely on veteran Cortland Finnegan (who was released) to come together. Many are pegging Alabama's Ha Ha Clinton-Dix for the Rams due to his fluidity and ball-skills and he'd make sense. Pryor isn't quite as fluid but he's instinctive and plays with the physicality Fisher loves on defense and is necessary to compete in this rough and tumble division. If waiting until the later rounds to add a safety, Washington State's Deone Bucannon and Minnesota's Brock Vereen are other candidates to keep an eye on.

OG Joel Bitonio, Nevada (42, 3): Bitonio is one of the hotter names in the draft and he may not be available to the Rams at No. 44 overall. If he is, however, his grit and versatility would certainly make him an intriguing fit for a team looking for help at guard. Bitonio started the final three seasons of his career with the Wolfpack at left tackle but seamlessly made the transition inside to guard (and even took snaps at center) at the Senior Bowl, showing off the powerful bunch, good lateral agility and balance necessary to handle the transition. If the Rams are truly looking to take advantage of their unusual bounty of picks with plug-n-play options, Bitonio (and Mississippi State's Gabe Jackson) is one of the few worthy candidates.
RB Andre Williams, Boston College (87, 5): The selection of Austin a year ago was hailed as innovative by some but Fisher and offensive coordinator Brian Schottenheimer didn't show much creativity in using the former West Virginia superstar. A tiger, essentially, doesn't change its stripes. Both coaches have shown a preference for a ball-control, run-heavy offense with occasional deep shots down the field in the past and to do that they must run the ball effectively. Zac Stacy is a solid runner capable of performing in precisely this role and his fit was hardly a surprise. Stacy does not possess the 5-foot-11, 230 pound Williams' bullish power and ability to wear down a defense. The two working in tandem could give St. Louis the running game to help ease the pressure on Bradford.