2014 NFL Draft: Browns GM: No reservations with Manziel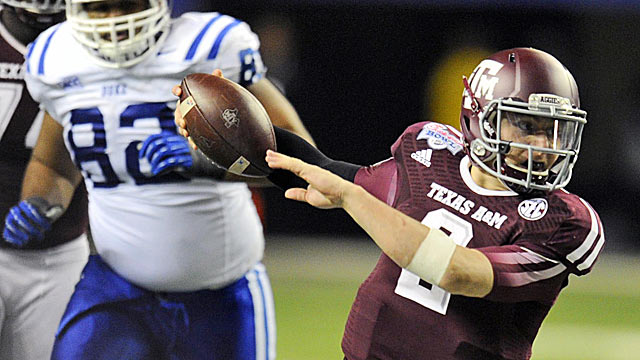 More NFL offseason: Mock Drafts | Prospect Rankings | Pro days | Top free agents
Cleveland Browns general manager Ray Farmer knows precisely what he wants to do with the fourth overall pick in the 2014 NFL Draft.
"The question is, do I get a chance to take him?'" Farmer said Monday at the Browns pre-draft press conference.
With the clock ticking toward May 8, Farmer said he narrowed the possibilities in the top three to five players. All speculation, the first-time GM says, but as the days pass he is becoming more confident in the identity of the top three picks ahead of Cleveland.
"At least from internally, I feel like No. 1, No. 2 and No. 3 are starting to shape up in my mind. I do. I think there are, I would say, five options I think go one, two and three. I think I'm starting to narrow it down, at least in my head," Farmer said. "Inevitably, you start to kind of slide down the scale of what are those options and what do they look like and what teams may be considering based on the information that we have."
Browns fans are clamoring for a quarterback and for fear of rocking the fragile psyche of that fan base, Farmer would not answer questions of which the gist was whether any prospect was worth the fourth overall pick.
Farmer said he has spoken to every general manager in the NFL in the last week and "8 to 10" in the last 24 hours. He is fomulating possibilities, including trading back, while following the general premise to never pass on a blue -- meaning blue-chip or elite in evaluating parlance -- unless the net return of two reds trumps one blue.
"It's a good debate. It's a great question. I would then tell you it depends on what positions they play," Farmer said. "The question is can you get the right guys for the Browns is what we're really focused on. It's not a one-year reclamation project. It's not all going to be done when the draft ends."
As for short-term answers to the pressing QB question, Cleveland invited mobile veterans Vince Young, a former top 10 draft pick, and Tyler Thigpen to minicamp on a tryout basis. Farmer said Young's history as a proven and productive winner led to the invite. He said their mobility was a big piece of the puzzle.
That could invite speculation that the Browns are interested in Texas A&M's Johnny Manziel. Farmer said after interviewing Manziel privately in Berea, Ohio, that the Browns are not worried about Manziel's dedication to football.
Houston, which holds the No. 1 overall pick, and Jacksonville, one spot ahead of the Browns, could snag Manziel before Cleveland hits the clock.
"I don't think I have any reservations with who Johnny is. We had a lot of conversations, spent a lot of time with him. He's a good young man," Farmer said. "I think the interesting part about Johnny is that, much like a lot of us, you don't get a handbook for how to operate in certain instances. When you go from being a kid from Tyler, Texas, to being Johnny Football and winning the Heisman Trophy really quickly, they don't hand you a manual and tell you how to handle the media swarm, how to handle the paparazzi, how to handle people coming up to you at dinners. He would tell you very candidly that it's probably not how he would have written it up now that he's at the end of it or getting towards the end of his college career, but you live and you learn. That being said, I do think there are good things ahead for him. It's just a matter of how does he handle that when he gets to his new destination."
The Browns, who also hold he 26th overall pick as part of the Trent Richardson trade with the Indianapolis Colts, did not attend Manziel's pro day workout on March 27, but took the atypical approach with all quarterbacks in this draft to almost entirely dismiss that piece of the pre-draft puzzle. It was clear Farmer did his homework on Manziel.
He called him "exciting, electric" and "dynamic" but circled back to some of the media-driven questions and criticisms, including arm strength and size.
"Again, he's different. He's not the quintessential guy that everybody looks at and points to and says this is exactly how you'd draw it up and this is the packaging that you want," Farmer said. "To me, that speaks to a lot of who and what Johnny has been his entirely life -- is different. It's not how you generally think about playing the position and being effective -- what everyone would say -- from the pocket. The guy has definitely been a very good college football player."