2014 NFL Draft: Johnny Manziel MIA among TSX best fits survey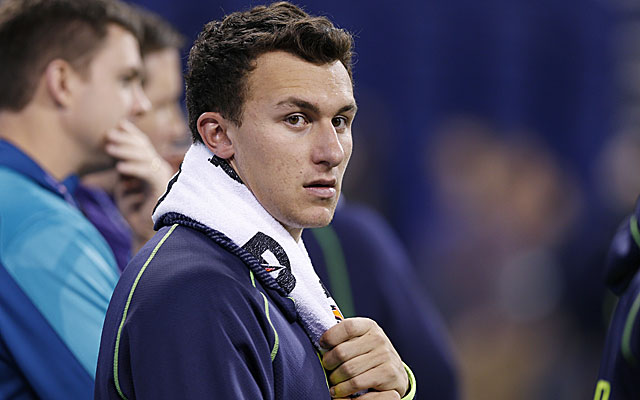 More NFL offseason: Mock Drafts | Prospect Rankings | Pro days | Top free agents
In a survey seeking the prospects in the 2014 NFL Draft who best fit each team, one player was once again conspicuous -- this time by his absence.
Texas A&M quarterback Johnny Manziel was not among the 22 players named as potential best fits for each NFL team. The survey of The Sports Xchange NFL writers named 15 offensive and 17 defensive players.
The only quarterback mentioned was Central Florida's Blake Bortles, named as a best fit for the Minnesota Vikings and Cleveland Browns.
The most popular position was offensive line, including guard/tackle prospects, with seven teams choosing five different players -- Alabama's Cyrus Kouandjio (2), Notre Dame's Zack Martin (2) and one each for Auburn's Greg Robinson, Michigan's Taylor Lewan and Texas A&M's Jake Matthews
The most popular player was Michigan State cornerback Darqueze Dennard, named as a best fit for three teams -- Philadelphia, Pittsburgh and the New York Jets.
Here is a closer look at the draft prospects chosen by writers from The Sports Xchange network as best fits for each NFL team, which should take into consideration where the team is selecting in the draft (Teams listed alphabetically by conference, NFC and AFC):
Arizona Cardinals
DE/OLB Kony Ealy, Missouri: The Cardinals need a young pass rusher and at 6-foot-4, Ealy has the height and reach the Cardinals are missing. It would be a perfect spot for Ealy to land. He can be a situational player at first, playing behind, and learning from, John Abraham, who leads active players in career sacks.
Atlanta Falcons
OT Greg Robinson, Auburn: The Falcons struggled projecting the passer and running the football. Robinson would give them a mauler who could start his career out at right tackle and switch over to the left side once his pass blocking is more refined.
Carolina Panthers
OT Cyrus Kouandjio, Alabama: If the Panthers have not red-flagged Kouandjio for a potentially serious knee problem, this would be another Dave Gettleman special. Stud defensive tackle Star Lotulelei fell to Carolina at No. 14 after a health scare last year, and the Panthers could find similar fortune with Kouandjio.
Chicago Bears
DT Aaron Donald, Pittsburgh: He made more than 100 plays behind the line of scrimmage and is easily the best disrupter in the draft. It's not just as a pass rusher. He comes up with tackles for losses, as well. The Bears can't say with great certainty that they already have a defensive tackle that can disrupt unless they're looking at a 33-year-old rehabbed player like Jeremiah Ratliff. The chief stated goal of Emery when last season ended was to get "younger" on defense. This does it, and it's a pick worth moving up to make.
Dallas Cowboys
DT Aaron Donald, Pittsburgh: Donald is the best 3-technique tackle in the draft. He is a perfect fit for the 4-3 defense designed by Monte Kiffin and Rod Marinelli. He is a quick, explosive player who gets to the quarterback. He could go in the top 10, but if he falls to 12, the Cowboys will consider moving up to take him.
Detroit Lions
WR Mike Evans, Texas A&M: The Lions have spent a lot of time on the top players in the draft, including Clemson receiver Sammy Watkins. The odds are long against the Lions trading up to the second or third pick, which they would need to do to land Watkins. The fallback would be Evans, a big-bodied, deep-threat receiver. He would line up opposite Calvin Johnson and Golden Tate would be used more in the slot.
Green Bay Packers
LB C.J. Mosley, Alabama: The Packers can go any number of ways with their first pick since they could use upgrades at a few different positions. If typically conservative general manager Ted Thompson stays put at No. 21 instead of jumping up in Round 1, Mosley may be off the board, leaving Green Bay to possibly take Ohio State's Ryan Shazier to plug in a ready-made playmaker at inside linebacker. However, the 6-foot-2, 234-pound Mosley is the unquestionable stud at the position. If teams higher up in the Day 1 pecking order are scared off by Mosley's injury history, the Packers gladly will pounce as they did when former Crimson Tide teammate Eddie Lacy fell into the second round and became the league's Offensive Rookie of the Year at running back last season.
Minnesota Vikings
QB Blake Bortles, Central Florida: Re-signing Matt Cassel means the Vikings don't have to go quarterback with the No. 8 pick. They have several needs on defense and could improve themselves dramatically by taking corner Justin Gilbert, safety Ha Ha Clinton-Dix or maybe trading down for a linebacker such as CJ Mosley. But so much of this team's problem is rooted in the inability to come up with the right young franchise quarterback. Passing on a Bortles, a Teddy Bridgewater or even Johnny Manziel seems too hard to believe.
New Orleans Saints
DE Dee Ford, Auburn: The Saints are sitting pretty with starters Cameron Jordan, a Pro Bowl pick last season, and Akiem Hicks, but their only backups -- Glenn Foster and Tyrunn Walker -- were undrafted free agents. While it's not a top need, it could prompt the Saints to look for an upgrade in a player like Ford, who has 4.69 speed off the edge and can drop into coverage when needed, if he's still there at No. 27.
N.Y. Giants
OT Taylor Lewan, Michigan: Regardless of the type of offense coordinator Ben McAdoo plans to run, if there's no blocking then the offense is going to be doomed. With questions regarding the training camp availability of tackles Will Beatty and John Jerry, the Giants could probably use help at the tackle spot.
Philadelphia Eagles
CB Darqueze Dennard, Michigan State: The 5-foot-11, 199-pound Dennard is a perfect fit for the Eagles' defense. His strength is press coverage, which the Eagles play a lot of. He's also a strong tackler, which is something else the Eagles emphasize from their corners. Dennard is one of five corners who could go in the first round, along with Oklahoma State's Justin Gilbert, Virginia Tech's Kyle Fuller, TCU's Jason Verrett and Ohio State's Bradley Roby. Even though he is considered one of the top three corners in the draft, there is a good possibility he will make it down to them.
St. Louis Rams
OT Jake Matthews, Texas A&M: With the Rams wanting Rodger Saffold to play guard and Jake Long coming back from an ACL injury after suffering several injuries while in Miami, the Rams have to look at the future at the position. Even in the short term, the technically sound Matthews is insurance if Long isn't healthy and he could compete with Joe Barksdale at right tackle.
San Francisco 49ers
CB Bradley Roby, Ohio State: The 49ers might have to move up 10 spots in the first round in order to take Roby, but they have the trade ammunition with six picks in the first three rounds of the draft. Roby might have the best traits of any corner in the draft even if his production in 2013 wasn't as high as Oklahoma State's Justin Gilbert or Michigan State's Darqueze Dennard, both of whom are slated to go before Roby early in the first round.
Seattle Seahawks
WR Kelvin Benjamin, Florida State: Despite re-signing Sidney Rice, Seattle is still on the lookout for a bigger receiver, and the 6-foot-5, 235-pound Benjamin fits the bill. Benjamin declared with a year of eligibility remaining and his considered raw. But his size and athleticism give him the kind of upside that the Seahawks may consider too much to pass up.
Tampa Bay Buccaneers
WR Mike Evans, Texas A&M: Since Clemson receiver Sammy Watkins will likely be gone when the Bucs make the seventh overall selection, Evans gives the Bucs another big target for Josh McCown, and more important, someone who can stretch the defense. He reminds a lot of scouts of a young Vincent Jackson.
Washington Redskins
T Cyrus Kouandjio, Alabama: The Redskins haven't found a right tackle in free agency so the 6-foot-6, 322-pound Kouandjio could be the answer with the 34th overall selection. A star at DeMatha Catholic, one of Washington's premier high-school programs, he allowed just one sack last regular season but is a better fit on the right side because of his power as a run blocker.
AFC
Baltimore Ravens
OT Zack Martin, Notre Dame: The Ravens need an offensive tackle, specifically a right tackle, after Michael Oher signed with the Tennessee Titans. Martin is an aggressive player with strong technique who has positional flexibility as a left tackle and right tackle who's also played guard. Unlike Michigan offensive tackle Taylor Lewan, Martin should be available when the Ravens are picking at No. 17 overall.
Buffalo Bills
TE Eric Ebron, North Carolina: The Bills have never had a big-time playmaking tight end in their 54-year history. Second-year quarterback EJ Manuel needs weapons, and given the reliance he had on tight end Scott Chandler last year, Ebron would look marvelous in this Buffalo offense. Ebron has been called a game-changing type of player, someone in the mold of New Orleans' Jimmy Graham due to his size and speed combination. The Bills don't have anyone like him on their roster.
Cincinnati Bengals
CB Bradley Roby, Ohio State: The Bengals don't need a starting cornerback in 2014. They need one in 2015. Roby brings all the physical tools and upside a team could want out of the position at 6-foot-0 and running a 4.38 40-yard dash. He needs polish coming off an underwhelming final season at OSU. One year with secondary coach Vance Joseph could have him prepared to start.
Cleveland Browns
QB Blake Bortles, Central Florida: During the league meetings in March, Browns coach Mike Pettine said if you could draw the ideal quarterback you'd draw Bortles. The Browns like his size and strength and might be willing to let him learn behind Brian Hoyer.
Denver Broncos
LB Ryan Shazier, Ohio State: Cornerback could be tempting, but if Shazier is on the board, the Broncos can stop the revolving door at middle linebacker and also find an every-down linebacker as a complement to Danny Trevathan on the weak side. Shazier would provide a boost of speed and power that the unit craves.
Houston Texans
OLB Jadeveon Clowney, South Carolina: Although he's more suited for defensive end in a 4-3, he's so talented he could be moved to outside linebacker on the weak side in the base defense, then rush the passer in the nickel 70 percent of the time. The Texans need to enhance a pass rush that produced only 31 sacks last season, down from 44 in 2012.
Indianapolis Colts
DE/OLB Dee Ford, Auburn: With no first-round pick, it's a major question as to whether Ford will still be around when the Colts finally make a selection in the second round. But if he is, the athletic defensive end/outside linebacker could prove to be the perfect long-term replacement for veteran Robert Mathis. He would fit Indianapolis' hybrid 3-4 defensive scheme and give the Colts some much needed help off the bench as a rookie.
Jacksonville Jaguars
WR Sammy Watkins, Clemson: He's a game-breaker, a breakaway threat, reliable, big, talented. All the qualities that the Jaguars have never had in a receiver. Justin Blackmon appeared to have several of these qualities, but the team never knew if he would be available one game to the next. Picking Watkins with the No. 3 overall pick would be a huge fan delight. It would alter the defensive coverage that teams would have to plan for with the Jaguars and would give Cecil Shorts the opportunity to shine as the team's No. 2 receiver.
Kansas City Chiefs
S Calvin Pryor, Louisville or WR Brandin Cooks, Oregon State: Although both Pryor and Cooks are smaller than ideal for their positions in the eyes of Chiefs general manager John Dorsey, they both have explosive play-making ability at positions where head coach Andy Reid needs a spark. At 5-foot-11, Pryor is a hard hitting and rangy defensive back that could play the interchangeable safety spots used by many NFL defensive coordinators these days. Cooks measured at 5-foot-10, 185 pounds at the NFL Combine and is coming off two seasons where he caught 195 passes for 2,881 yards and 21 touchdown catches for the Beavers.

Miami Dolphins
OT Zack Martin, Notre Dame: The Dolphins, who have the 19th pick, need major help on the offensive line. Some think Martin is better suited to be a guard. In that case, No. 19 would be a high selection. Then again, Miami allowed a NFL-worst 58 sacks last season. If Martin isn't there maybe they go with Alabama tackle Cyrus Kouandjio.
New England Patriots
DT Louis Nix III, Notre Dame: While the restructuring of Vince Wilfork's contract gives him at least one more year in the middle of the New England defense, adding a young talent to anchor down the defensive line moving forward is one of the many areas the Patriots could address in the first round especially if top prospects at safety and tight end aren't on the board at 29. Nix is a 6-foot-2, 331-pound Wilfork-like talent who can occupy double teams but also surprise with his athleticism.
N.Y. Jets
CB Darqueze Dennard, Michigan State: With Eric Decker providing the Jets a legitimate option at wide receiver, the suddenly cornerback-starved Jets will likely have to take a shot on a stud prospect with an injury-marred history for the second straight year. Like Dee Milliner last year, Dennard is going to go in the first round despite undergoing multiple surgeries as a collegian. Unlike Milliner, who barely resembled an NFL player until December, Dennard -- a first-team All-America last year who allowed just three completions of longer than 15 yards -- should be ready to step in as an immediate starter.
Oakland Raiders
WR Sammy Watkins, Clemson: In a league where 20-plus wide receivers per year gain 1,000 yards, the Raiders haven't had one since Randy Moss in 2005. Watkins would pair with veteran James Jones and give Oakland instant credibility at that position.
Pittsburgh Steelers
CB Darqueze Dennard, Michigan State: The Steelers are old and thin at the position and he fits their defense with his aggressive style, his coverage ability and his play against the run.
San Diego Chargers
CB Jason Verrett, Texas Christian: The Chargers and TCU have a recent history and that turned out well. While Verrett isn't in the class of LaDainian Tomlinson, he does have the skills the Chargers need. Verrett is a two-time All-Big 12 player, despite a 5-foot-9 frame that might be a hindrance in the NFL. But that works in the Chargers favor in that he could still be available at No. 25 and they would love to put his exceptional coverage abilities and confidence to use.
Tennessee Titans
OLB Anthony Barr, UCLA: The Titans have addressed most of their major holes in free agency, allowing them to go best available in round one. Barr, though he is still raw, could give Tennessee its first home-grown difference-making edge pass rusher since Jevon Kearse. The game is about quarterbacks and pass rush, and with the Titans now using a revamped 3-4, they need a centerpiece pass rusher to make it work.