2014 NFL Draft: Tampa Bay Buccaneers Spotlight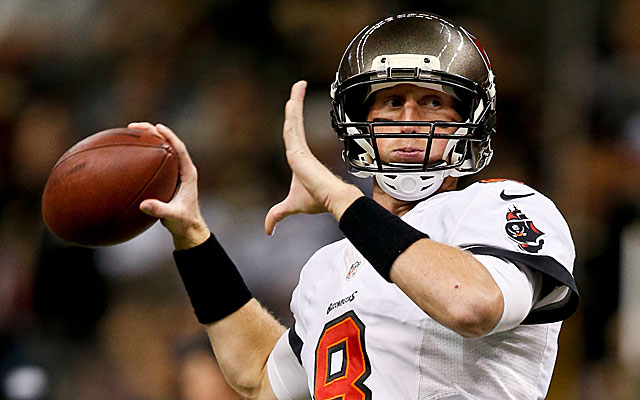 2014 NFL Draft: Tampa Bay Buccaneers Spotlight
2014 NFL DRAFT TEAM SPOTLIGHTS: ARI | ATL | BAL | BUF | CAR | CHI | CIN | CLE | DAL | DEN | DET | GB | HOU | IND | JAC | KC | MIA | MIN | NE | NO | NYG | NYJ | OAK | PHI | PIT | SD | SF | SEA | STL | TB | TEN | WAS
This is the 27th of a team-by-team series, analyzing five prospects that each team should consider in the 2014 NFL Draft.
The Greg Schiano experiment seemed to be on the right path when the Tampa Bay Buccaneers started the 2012 campaign under him at 6-4. Schiano's militaristic style, however, wore thin and he (and general manager Mark Dominik) were clearly walking the plank as the club sunk to a 5-17 record the rest of their two seasons together.
New coach Lovie Smith and general manager Jason Licht came aboard as replacements and delivered sweeping changes immediately, releasing former All-Pro cornerback Darrelle Revis, starting offensive linemen Davin Joseph and Donald Penn and trading away two talented (but inconsistent) youngsters Jeremy Zuttah (center) and Mike Williams (wide receiver). This wasn't a case of addition by subtraction. The Bucs added 14 free agents, including likely Day 1 starters at quarterback (Josh McCown), left tackle (Anthony Collins), center (Evan Dietrich-Smith), defensive end (Michael Johnson), and cornerback (Alterraun Verner).
The Bucs' free agent bounty is impressive and gives the "Lovie and Licht" (pronounced Light) show significant flexibility on draft day. Aiding an offense that finished dead last in the NFL last year is the obvious priority. It isn't difficult to see why Tampa struggled to score. Other than talented young back Doug Martin (who is coming off a torn labrum), the Bucs haven't received much help on offense via the draft in recent years. Virtually all of their projected starters on this side of the ball were added via free agency.
As such, the treasure map this year in Tampa is likely to lead to offense. New coordinator Jeff Tedford featured a big-play passing attack at Cal and he'll need pass-catchers who can complement Vincent Jackson. Some question as to whether holdover Mike Glennon fits in Tedford's scheme could make quarterback also surprisingly high on Tampa Bay's wish list.
With the regime change, an enhanced roster and depth at their greatest positions of need, the Bucs are a logical candidate to exhaust trade-down opportunities. The club currently does not possess a fourth round pick and will have to be patient with 74 picks between their third and fifth round selections.
Tampa Bay Buccaneers' 2014 draft picks: 7, 38, 69, 143, 185, 221
Primary needs: WR, QB, OG, OLB, DL
General Manager: Jason Licht, first year
Five draft picks that clicked:
• RB Doug Martin, 31st overall, 2012
• OLB Lavonte David, 58th overall, 2012
• DE Adrian Clayborn, 20th overall, 2011
• MLB Mason Foster, 84th overall, 2011
• DT Gerald McCoy, 3rd overall, 2010
Five players who should be on the Tampa Bay Buccaneers' draft radar:
Player, school (overall rating, position rating)
WR Mike Evans, Texas A&M (9, 2): The Bucs feature a legitimate star in Vincent Jackson but he's entering his 10th NFL season. Further, the trade of Williams leaves the team without proven complementary targets or as a potential replacement as Jackson slows down. At 6-foot-5, 231 pounds, Evans offers a similar frame, enough speed to challenge vertically and the combination of body control and physicality to challenge Sammy Watkins as the top receiver on some club's boards. Providing McCown with two massive targets could lead to his enjoying similar success in Tampa as he had as stunning injury replacement for Jay Cutler in Chicago, passing for 13 touchdowns against just one interception. While Evans is an intriguing candidate at No. 7, this year's extraordinarily deep receiver crop could give the Bucs options later, should they go in another direction (or trade down) in the first round.
QB Teddy Bridgewater, Louisville (14, 3): Former North Carolina State product Mike Glennon flashed as a rookie but anointing McCown the starter before he took a snap speaks volumes as to how the new regime feels about the second-year pro's fit in Tedford's offense. While McCown serves as an immediate Band-Aid at the position, the club has spent a lot of time investigating the top quarterback prospects. It remains to be seen how closely Tedford's offense in the NFL will match the principles he used at Cal. Bridgewater, Fresno State's Derek Carr and Georgia's Aaron Murray would seem especially good fits in the pro-style scheme Tedford used with the Bears due to their intelligence, accuracy on short to intermediate passes and comfort both under center and out of the shotgun.
OG Dakota Dozier, Furman (84, 5): The Bucs are hopeful that left guard Carl Nicks will return to the road-grader he was as a two-time Pro Bowl guard with the New Orleans Saints but can't count on it. Nicks recently told reporters that he felt "comfortable" that he'll be back for training camp but also that the MRSA infection which ruined his 2013 season caused nerve damage and that it could be a life-long issue. As such, adding a powerful, athletic and aggressive talent like Dozier would make a lot of sense as a developmental prospect. Dozier starred at left tackle in college but is technically raw, too often over-setting and leaving himself vulnerable to counter-moves. Given time to develop and the protection of playing inside, he could prove quite the find in the third round.
DE Ethan Westbrooks, West Texas A&M (146, 13): With All-Pro Gerald McCoy inside and the addition of free agents Johnson and underrated interior rusher Clinton McDonald, the Bucs already feature an intriguing array of penetrating defensive linemen. The Bucs will be looking for depth, however, with the club opting not to exercise their fifth year option on Clayborn and Da'Quan Bowers yet to live up to his potential. Like Dozier, Westbrooks dominated at the lower level of competition but enjoyed a strong week of practice at the East-West Shrine Game, demonstrating the combination of explosiveness, agility and tenacity to earn top 100 consideration. Westbrooks comes with plenty of red flags but could prospect under Smith's guidance.
OLB Ronald Powell, Florida (191, 18): Lavonte David is already one of the league's top outside linebackers and Mason Foster is solid in the middle. The Bucs could use reinforcements at strongside linebacker with Danny Lansanah currently projected to start. The SAM position isn't nearly as important in Smith's scheme as the other two roles and therefore isn't likely to be a huge priority on draft day. At a chiseled 6-foot-3, 237 pounds, Powell looks the part of a star but frankly never lived up to expectations at Florida in large part because he relied on his athleticism and didn't hone his craft. He shows impressive agility and speed while rushing and dropping, but too often failed to get home. He offers undeniable upside, however, and could prove better in the NFL than he was in college. If still available on day three, the Bucs could see the local product as a player worthy of a gamble.