2014 NFL Draft: Oakland Raiders Spotlight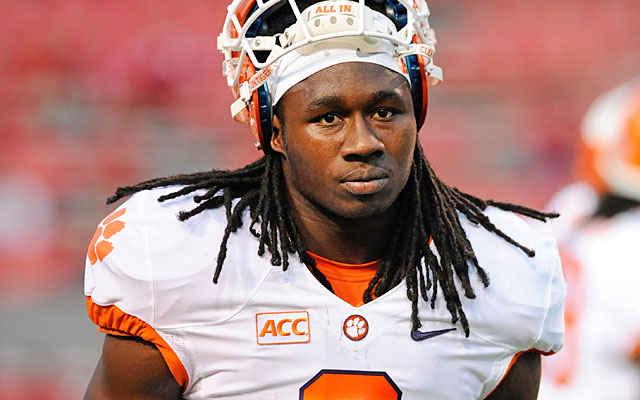 2014 NFL DRAFT TEAM SPOTLIGHTS: ARI | ATL | BAL | BUF | CAR | CHI | CIN | CLE | DAL | DEN | DET | GB | HOU | IND | JAC | KC | MIA | MIN | NE | NO | NYG | NYJ | OAK | PHI | PIT | SD | SF | SEA | STL | TB | TEN | WAS
This is the 29th of a team-by-team series, analyzing five prospects that each team should consider in the 2014 NFL Draft.
The Oakland Raiders appeared to be headed in the right direction with the hires of general manager Reggie McKenzie and head coach Dennis Allen in 2012, but as we enter the third season of that regime, it's tough to feel optimistic about the current roster.
The first two draft classes for McKenzie produced mixed results, both good (Sio Moore, Mychal Rivera) and bad (Tyler Wilson). Last year's second-round pick Menelik Watson was drafted to be a future starting tackle, but free-agent signings of Austin Howard and Donald Penn might be indications that he's not ready for that role yet. The next draft is always the most important one, but that's definitely true for McKenzie and his staff.
So far the 2014 offseason in Oakland has been an interesting one. Allowing Jared Veldheer to hit free agency, despite having a substantial amount of cap space, was a head-scratcher. And trading draft picks for veteran quarterback Matt Schaub is a move that brings some legitimacy to the position, but also a player who was run out of Houston because of his poor play a year ago. A lot of wait-and-see there.
Last year Oakland traded out of the top five. Will they do that again with this year's fifth overall pick? We'll find out on Thursday.
Oakland Raiders' 2014 draft picks: 5, 36, 67, 107, 219, 235, 247
Primary needs: QB, DT, LB, OT, WR
General manager: Reggie McKenzie, 3rd season
Head coach: Dennis Allen, 3rd season
Five draft picks that clicked:
- TE Mychal Rivera, 184th overall, 2013
- C Stefen Wisniewski, 48th overall, 2011
- WR Denarius Moore, 148th overall, 2011
- DB Tyvon Branch, 100th overall, 2008
- OG Kevin Booth, 176th overall, 2006
Five players who should be on Oakland's draft radar:
(overall rating, position rating)
WR Sammy Watkins, Clemson (4, 1): The Raiders signed James Jones in free agency, but with Denarius Moore and Rod Streater currently tabbed as Oakland's starting wide receivers, more pass-catching life is needed on the depth chart. Watkins might not be elite in the Calvin Johnson-A.J Green mold, but he's an exciting, explosive athlete who can be extremely dangerous with the ball in his hands. He is a home-run threat whenever he touches the ball with his smooth acceleration and multiple gears to take the top off a defense. Watkins plucks the ball well with natural adjustments and has improved his reliability in his area, adding ball skills as a strength to his game. He isn't quite as polished as his former teammate DeAndre Hopkins, who was a first-rounder last year, but he's more explosive and has steadily developed his route running and consistency over the past three years. Watkins projects as a potential game-changing target who will make an impact at all levels of the field and fits any scheme, making him a possible fit with the fifth overall selection.
OT Morgan Moses, Virginia (37, 5): Despite drafting an offensive tackle in the second round last year and signing a more in free agency, it appears the Raiders aren't done adding to the line. Moses started 24 games at right tackle as a sophomore and junior before taking over for Oday Aboushi in 2013 as Virginia's left tackle, earning second-team All-ACC honors last season. He will struggle with edge speed at times and will get caught lunging with too much of waist bending but his size and length usually allow him to get away with it. Moses looks tight when quickly attempting to change directions, but he does an excellent job eliminating moving targets, getting downfield and blocking in space. His weight needs to be monitored and kept under control after it ballooned close to 350 pounds last year. Moses has enough skills to start in the NFL at either left or right tackle, but needs to improve his leverage and overall consistency to hold down a starting job. He might wind up in the first round, but could be a target for Oakland in the second if he's still there.
QB Zach Mettenberger, LSU (101, 7): After the Carson Palmer and Matt Flynn experiments didn't work out too well in Oakland, how will the Schaub era go? Without him even taking a snap yet in black and silver, the Raiders should address the quarterback position at some point in the draft. Last year Oakland drafted an SEC quarterback in the fourth round (Tyler Wilson) who couldn't even make the roster, but Mettenberger is a different breed of SEC quarterback. He is a traditional drop-back passer with a lot of under-center snaps and impressive NFL throws on his résumé. Mettenberger shows elite arm strength to drive it with ease anywhere he wants on the field. He isn't a bad athlete, but his naturally slow feet are a concern, appearing clunky when trying to escape pressure and struggling to reset and deliver. Mettenberger has steadily shown an improved feel for the position with more reps and his confidence was boosted by success, but it also plummeted with mistakes. He has NFL size and arm strength and has flashed the improved decision-making and anticipation to be a potential starter in the NFL, although he's still developing mentally and his psyche will need to be massaged some. Mettenberger would be a logical pick in the third round for Oakland.
DT Anthony Johnson, LSU (134, 14): The Raiders addressed the pass rush in free agency with LaMarr Woodley and Justin Tuck, but need to look at the interior of their defensive line in the draft. Pitt's Aaron Donald could be a surprise pick at fifth overall, but if they wait until later, Johnson might be a fit in the fourth or fifth round. He is an athletic big man with smooth movements and initial quicks, but while his defensive line teammates are upfield, he's often left at the line of scrimmage hand-fighting with a single blocker, too easily handled in one-on-one situations. Johnson could have used another season at the college level with a paltry résumé, but has experience lining up at the 0-, 1- and 3-technique spots and brings a consistent motor to the field. He flashes natural ability, but is still very raw and not yet the sum of his parts -- has some untapped potential and is a good value on the draft's third day for a patient coaching staff.
LB Carlos Fields, Winston-Salem State (212, 20): In the later rounds, a linebacker who is flying under the radar is Fields, but he's worth targeting for Oakland. Fields was voted CIAA Defensive Player of the Year after his junior and senior seasons, leading the team in tackles both years and earning All-American honors. He displays natural explosion and play speed on tape with a nose for the ball, showing heady instincts and anticipation to put himself in the correct position to make the play. Fields isn't a strong technician at this point and will overpursue at times, but he plays alert and competitive with the intensity needed for the next level. He will face a big jump in competition coming from the Division-II level, but has a nose for the ball and athletic traits that should translate well.