2014 NFL Draft: Cleveland Browns Spotlight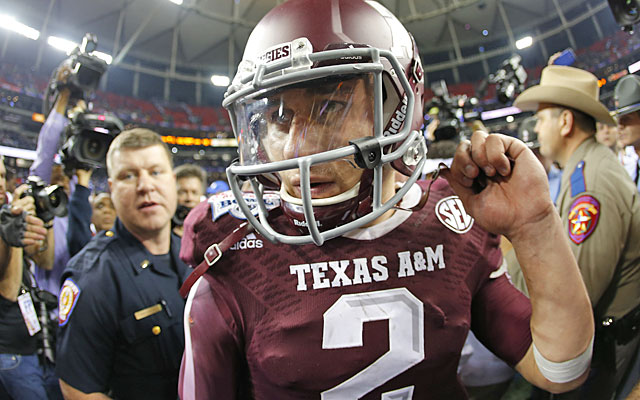 2014 NFL DRAFT TEAM SPOTLIGHTS: ARI | ATL | BAL | BUF | CAR | CHI | CIN | CLE | DAL | DEN | DET | GB | HOU | IND | JAC | KC | MIA | MIN | NE | NO | NYG | NYJ | OAK | PHI | PIT | SD | SF | SEA | STL | TB | TEN | WAS
This is the 30th of a team-by-team series, analyzing five prospects that each team should consider in the 2014 NFL Draft.
A year ago, there was a lot of hope connected with the Browns franchise with a new owner, new front office, new coaching staff and a brand new beginning in Cleveland. Fast-forward to the present and it's the same story with a new general manager and head coach, but Browns fans hope this story has a few more chapters than last year's.
The Browns are in good shape to quickly become contender with a roster full of talent and 10 total draft picks this year, including five in the top 100 selections. And in a very deep class, GM Ray Farmer and his staff have an opportunity to add impact players for the short and long term. Farmer is a smart, competitive person by nature and won't sit on his hands in his first year as the head guy in Cleveland.
With the fourth overall pick, the Browns will likely have their pick of any quarterback in this class -- do they see one available worthy of the selection? The thought is that they think highly enough of Brian Hoyer for him to be the starter in 2014, but long term is a question mark. Johnny Manziel will be an enticing option who would no doubt inject life into a franchise that hasn't had a legitimate quarterback since returning to the league in 1999.
Cleveland Browns' 2014 draft picks: 4, 26, 35, 71, 83, 106, 127, 145, 180, 218
Primary needs: QB, WR, CB, ILB, OG
General manager: Ray Farmer, 1st season
Head coach: Mike Pettine, 1st season
Five draft picks that clicked:
- TE Jordan Cameron, 102nd overall, 2011
- OG Jason Pinkston, 150th overall, 2011
- CB Joe Haden, 7th overall, 2010
- C Alex Mack, 21st overall, 2009
- OT Joe Thomas, 3rd overall, 2007

Five players who should be on Cleveland's draft radar:
(overall rating, position rating)
QB Johnny Manziel, Texas A&M (7, 2): Will his skill set translate? Can he hold up physically for a 16-game schedule? There are plenty of questions with Manziel at the next level, but there is no questioning the excitement he would bring the franchise. Manziel lives and dies with his backyard, spur-of-the-moment style and appears crazed and frantic as a scrambler, but he's in constant controlled panic mode. He is a very smart and ultracompetitive player with supreme confidence and won't shy from the big moment, putting the team on his back and rallying the troops. Manziel's size is a concern because it's in his football DNA to extend plays and hold the ball until the last possible moment and in a league where players are bigger, faster and stronger, violent hits will be unavoidable -- how long can he hold up? Manziel projects as a NFL starter with exciting potential, but the risk factors cannot be ignored, making him a very polarizing prospect to project. But in Kyle Shanahan's offense, the Browns would be must-see television.
CB Kyle Fuller, Virginia Tech (25, 3): With Joe Haden on the roster, Cleveland has one of the top cornerbacks in all of football. But there are question marks on the other side and a player like Fuller would give the Browns a legitimate No. 2 option and a plan B if for some reason a long-term extension can't be worked out with Haden. An All-ACC performer the past three seasons, Fuller is rangy and light-footed with quick movements, long arms and the aggressive mentality to play man or zone coverage. The game appears to come very natural to him, watching the eyes and moves of the receiver to react accordingly and break on routes to get his hands on the ball. Fuller is a string bean with limited room to get much stronger, but he plays bigger than he looks with the confidence and instincts to simply make plays wherever he lines up on the field. If he's still on the board at pick No. 26, I bet he's gone by pick No. 27.
WR Allen Robinson, Penn State (36, 6): Josh Gordon is a superstar in the making, but the Browns need a reliable No. 2 option, a role former second rounder Greg Little hasn't been able to secure. Look for Cleveland to address the wide receiver position in the first few rounds and Robinson would be a great fit on this offense. He lacks elite speed for an outside receiver, but accelerates well and displays very good quickness and strength before and after the catch. Robinson needs to mature as a route runner and improve his footwork to better deceive defenders, but leaves Penn State second in school history in career catches (177) and third in career receiving yards (2,474) with almost all his production coming the past two seasons. He will have some focus drops, but is very aggressive at the catch point and does well in contested situations. Overall, his game is reminiscent of Anquan Boldin because Robinson is a very natural pass-catcher who finds ways to be productive despite average speed.
OG Jon Halapio, Florida (228, 13): Can Mitchell Schwartz hold up at right tackle or will he move inside to guard? It appears the Browns plan to keep him on the outside for now, making guard the more pressing need than tackle right now. Halapio was SEC All-Freshman in 2010 and started every game in 2011 and 2012 at right guard, but his senior season was marred by injuries, specifically a pectoral tear that he toughed out most of the season. He is tough as nails and a no-nonsense type of blocker, but the long-term durability is worrisome. Halapio isn't the most fleet of foot and has technique issues to work through, but he is country strong with the initial hand punch to drive defenders and shield the pocket.
ILB Lamin Barrow, LSU (170, 6): Craig Robertson struggled mightily at times last season and his starting job at linebacker is on shaky ground, making Barrow a possible day three pick. Barrow earned the starting weakside linebacker spot as a junior in 2012, starting every game there the past two seasons and earning second-team All-SEC honors as a senior. He approaches the game with a positive, workmanlike attitude, working hard to improve and appearing to genuinely care. Barrow is a tad rigid in his movements, but has good straight-line speed in pursuit to make tackles from sideline-to-sideline. He has developed his strength and football smarts over the years and should provide depth at the next level at either WILL or MIKE linebacker, as well as, special teams coverage.