2014 NFL Draft: Johnny Manziel to Rams? Fisher stifles rumors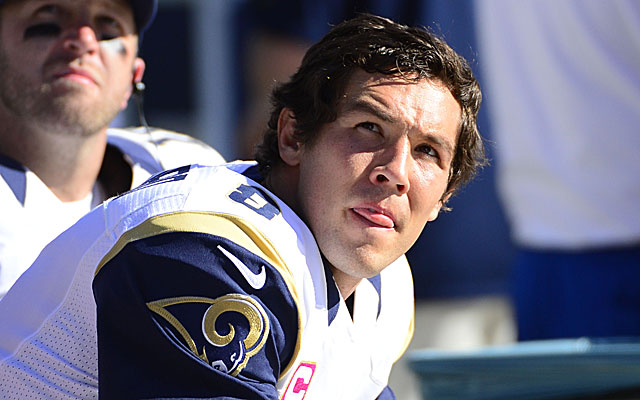 More Draft coverage: Mock Drafts | Prospect Rankings | Big Board | News
With rumors circulating about what the St. Louis Rams will do with the No. 2 overall pick Thursday night, coach Jeff Fisher stood behind Sam Bradford as his starting quarterback while acknowledging the team has worked out nearly a dozen quarterbacks in preparing for the 2014 NFL Draft.
The Rams have not tipped their hand as to their plans with the second pick, and rumors surfaced early this week that they may consider Texas A&M quarterback Johnny Manziel in a shocking move. Fisher made it clear that any quarterback the team selects this week would come in as a backup to Bradford.
"We did go to A&M," Fisher said. "We worked out [wide receiver] Mike Evans. We worked out [offensive tackle] Jake Matthews and Johnny threw to an additional receiver there, in addition to Mike. Johnny was probably one of a dozen quarterbacks that we worked out over this process.
"With respect to Sam, he's our starter. As you guys know, that was the reason I took this job was for our owner and because of Sam, our quarterback. We have all the confidence in the world that he'll be back. But, we also have the responsibility to continue to upgrade this roster as it would suggest. If the right guy is there to help in a backup role to Sam, then we'll make sure we've done our due diligence."
As Fisher pointed out, the Rams will have a shot at all but one player in the draft. And if the team fields calls about potential trades, Bradford is not on the market.
"We are not shopping Sam," Fisher said emphatically.
Manziel is the No. 7-rated overall prospect by NFLDraftScout.com, one spot behind top-rated quarterback Blake Bortles. NDS currently has 17 quarterbacks rated as potential draft picks this week, with several more likely to be priority free agent signings, so the Rams will have ample opportunity to select a backup or developmental quarterback in the mid-to-late rounds.
"Well, anything can happen ... but, I think it's highly unlikely," Fisher said when asked if the team's position regarding Bradford could change between now and Thursday. "We've identified six to eight players that we think potentially could fit us at (No.) 2. And then, of course, we've gone on with the additional process at (No.) 13. That's been the challenge for us upstairs is that we have two separate issues going on and we have to make sure we address -- equally -- each pick. You don't get consumed with one and then get caught off guard with the other, so we've got a couple different scenarios."
While Manziel would appear to be out of play for the Rams with the second pick, Fisher did not hide his respect for the former Heisman Trophy winner.
"I think his production and his competitiveness, and everything speaks for itself," Fisher said of Manziel. "I mean he was an outstanding college football player, as it was reflected the year before last with the rewards that he received. He can make all the plays, throw the football, and he's a great teammate. He's been a very productive player and great for their program."
Rams general manager Les Snead has also evaluated Manziel extensively and came away impressed.
"You can go to Starkville, Miss., and it's late Saturday night and it's third-and-whatever. It's a 'money' down and that guy's going to get the first -- you appreciate that," said Snead. "You sit down and meet with a kid, you can tell he's intelligent, he's engaging. He's passionate about football."