2014 NFL Draft: Quality, mystery plentiful in top 100
More Draft coverage: Mock Drafts | Prospect Rankings | Big Board | News
Confusion despite quality.
That is the picture as teams refine their final shopping list for the start of the 2014 NFL Draft.
They are thankful for perhaps the best quality and depth ever, but confusion reigns at the all-important quarterback position, where there is no consensus on -- well, anything. Opinions range from none to six quarterbacks taken in the first round, with the biggest name, Texas A&M's Johnny Manziel, creating the most mystery.
There is even no consensus on what player will be taken first. Most agree that South Carolina defensive end Jadeveon Clowney is the most talented prospect.
After years of studying most of these players since they entered college, NFLDraftScout.com reduced a list of more than 2,000 draft eligible prospects with some viable ability to a top 750 from which names will probably be called because there is no accounting for taste.
Led by Clemson's Sammy Watkins, wide receivers dominate the top of the list with as many as six projected as first-round prospects, 14 in the first two rounds, 16 in the top 100 and 33 in the entire draft.
But the major focus will be on the firsts -- first player, first round and first 100.
Here is a closer look with at players rated as the top 100 by NFLDrafScout, with opinions that sometimes vary from the rating:
Overall/Pos Rank. Player, Pos, School, Ht, Wt, 40, Proj. Round
1/1. *Jadeveon Clowney, DE, South Carolina, 6-5, 266, 4.51, 1
• Per Auburn defensive lineman Dee Ford at the combine, on Clowney: "He plays like a blind dog at a meat market." Cute stuff, but there is no doubt this dog can hunt. Question is, will he? He has the freakish pass-rush ability of a Jevon Kearse -- a comparison made by Steve Spurrier, who recruited and coached both players -- but at times seemed unreliable or unwilling. Clowney flashed Kearse-like upside in 2012 with 13 sacks and 23½ tackles for a loss. But in 2013 had a foot injury, seemed fatigued, out of shape and managed only 3½ sacks. Spurrier's underwhelming endorsement about Clowney's work ethic: "It's OK." Mmmm. It was no surprise when Clowney validated his athleticism at combine. At 6-foot-5¼, 266 pounds, his best 40-yard time was 4.51 seconds (although announced time was 4.53). He added a vertical jump of 37½ inches, 21 reps on bench and a 10-03 broad jump.
• Frankly: This once-in-a-decade physical freak cannot be ignored, so grab him, shake him, play him and hope that a paycheck doesn't make him complacent.
2/1. Khalil Mack, OLB, Buffalo, 6-3, 251, 4.59, 1
• Formerly a lowly, two-star prep recruit who was overlooked by the big-time football schools. Buffalo benefited from his combination of strength and speed that created consistent production as he set school records for sacks (28.5), tackles for loss (75) and forced fumbles (16). Played hybrid linebacker role in a 3-4 scheme, lining up with his hand on the ground and also standing up off the edge. Workout madman who is aggressive to the point of abrasive, evidenced by locker-room scuffle that resulted in suspension for 2012 season opener.
• Frankly: Versatile, aggressive athlete with impressive experience all over the front seven and a work ethic that should help him make the big step into the NFL. It will be interesting to see how he reacts to facing top competition every week.
3/1. *Greg Robinson, OT, Auburn, 6-5, 332, 4.85, 1
• Robinson is already an incredible force of nature. He is a beastly run blocker, but was not challenged to learn pro-type techniques in simplified Auburn offense. Still, raw ability was obvious in this quiet, respected team leader. Far from a finished product, but Robinson has the physical, mental and emotional ability to be one of the NFL's best. Pass protection may not be NFL-ready, so maybe he plays somewhere other than left tackle at first. Overcame rough, financially-challenged upbringing in family disrupted by Hurricane Katrina. Father died in 2012, grandmother remains dominant figure.
• Frankly: This kid has the OMG factor. He is still learning basics, let alone nuances, but already can overwhelm and humiliate talented defenders with his raw ability. His humble, hard-working approach should lead to huge success.
4/1. *Sammy Watkins, WR, Clemson, 6-1, 211, 4.39, 1
• Watkins keeps his elite speed under total control to deceive defenders with a startling ability to shift gears and direction faster than a NASCAR driver faced with an 11-car pileup. That makes him dangerous after the catch -- which he accomplishes with the precision hands of a surgeon -- and as a returner. As a true freshman in 2011, he caught 82 passes for 1,219 yards and 12 scores and added more than 1,000 yards rushing and returning. After a 2012 impacted by a two-game suspension (marijuana possession), Watkins exploded again in 2013, catching 101 passes for 1,464 yards and 12 touchdowns and closed out his prolific Clemson career with a dominating 16-catch performance in the Tigers' dramatic victory over Ohio State in the Orange Bowl.
• Frankly: Was NFLDraftScout.com's top-rated NFL WR since the day he left high school at South Fort Myers (Fla.). His dazzling display of foot and handwork makes Watkins a big play waiting to happen. Still, he can improve overall game by working on route running that wasn't a priority in his gimmicky college offense and by increasing strength to fend off NFL jams.
5/2. Jake Matthews, OT, Texas A&M, 6-6, 308, 5.01, 1
• Matthews doesn't have the quick-footed agility of former teammate Luke Joeckel, the No. 2 overall pick last year (Jacksonville), and is more of an enforcer who can consume defenders. He moved from right to left tackle last season to protect QB Johnny Manziel's blind side and proved he is NFL ready. The latest NFL prospect from the famous Matthews gene pool, Jake is the son of 19-year veteran Hall of Famer Bruce (Houston, Tennessee) and looks it.
• Frankly: Draft, plug and play. Matthews is ready to step in and be reliable at any offensive line position, but left tackles are a premium, so let's start there.
6/1. *Blake Bortles, QB, Central Florida, 6-5, 232, 4.88, 1
• Of NFLDraftScout.com's top four quarterback prospects, Bortles is the only one with no size concerns. He can make every throw necessary, if you allow for that occasional wobbler. Teammates respond to his natural, crunch time, tough-guy, take-charge leadership. Smooth athlete who moves well, scans field, identifies secondary targets and maintains excellent geometric technique to maximize accuracy, velocity. Work ethic is reflected in film study that often pushed curfew boundaries.
• Frankly: Would not be my first pick as a QB this year, but comparisons to Ben Roethlisberger work well in terms of his physicality and that's not all bad. Has aptitude and tools for nice upside.
7/2. *Johnny Manziel, QB, Texas A&M, 6-0, 207, 4.63, 1
• One of the most dynamic performers in college football history must now prove he can continue his magic in a league even tougher than the SEC, where in only two years he collected 9,989 total yards (7,820 passing, 2,169 rushing), 93 touchdowns (63 passing, 30 running) and a Heisman Trophy (first freshman winner, 2012). He maintains flamboyant, spontaneous, vociferous style on and off the field, which concerns some who question his focus. But that's the package. After not throwing at the combine, he raised the bar on how to dazzle at a pro day workout, which was attended by former President George W. Bush. Otherwise, he has amazing football instincts, and a very good arm with great accuracy. Can he produce in the NFL? The honest answer is, for now, nobody really knows.
• Frankly: Manziel is the most entertaining and befuddling prospect I have ever seen, which is why he is the face of this draft. He is a mesmerizing performer who defies the nit-picky scouts and coaches who point out his improprieties -- bails from pocket, doesn't throw to first open receiver, has weird hop step in delivery, carries the ball dangerously, and more. Still, Manziel manages to perform magic that would make David Copperfield proud.
8/3. Taylor Lewan, OT, Michigan, 6-7, 309, 4.79, 1
• Lewan is a mean-spirited, tenacious run blocker who is still learning about being a pass blocker. A defensive lineman until his senior year in high school, Lewan played 50 games at left tackle (48 as starter) for Michigan, but is just beginning to blossom. He admits he had too many drive-killing personal fouls and needs to clean up off-field act that led to arrest, but no charge, when a fan claimed to be assaulted outside an Ann Arbor restaurant last November.
• Frankly: Good enough to step in at left tackle, but Lewan will learn that everybody is tough in the NFL and to be good he will need more technique.
9/2. *Mike Evans, WR, Texas A&M, 6-5, 231, 4.46, 1
• Huge target with great hands and the physicality and attitude to take on the toughest and mouthiest of cornerbacks. Like his college battery-mate, quarterback Johnny Manziel, Evans has not convinced everybody his talent and production can be sustained at the next level. His big body, long-striding style and strong hands worked well in college, but he must learn to create more separation in the NFL, where his size won't give him as much of an advantage and his route running will need to be more precise.
• Frankly: If he keeps attitude within productive parameters he can be a force. Basketball was his first love and that explains excellent hands and ability to go get the ball in a crowd. Based on his rugged football style, Evans must have fouled out of a lot of basketball games, but NFL defenders and officials won't let him arm bar and push off.
10/1. Aaron Donald, DT, Pittsburgh, 6-1, 285, 4.62, 1
Short but not small at 6-foot, 3/4 inches, 285 pounds, Donald was the most dominant defensive college football player in 2013 after totaling 59 tackles, including 28.5 for a loss, 11 sacks, 16 QB hurries, four forced fumbles and a blocked extra point. He received the whole list of famous name awards to commemorate his season. Despite an array of schemes designed to slow him down, Donald was an unblockable force. He followed that season with great Senior Bowl workout and then stole the show at the combine where he blasted through 40 yards in 4.68, had a 32-inch vertical and benched 225 pounds 35 times. .
• Frankly: Donald is a can't-miss, hyperactive disrupter who dazes opponents at the snap with a dazzling John Randle-type skill set. Unlike Randle, who went undrafted then made Hall of Fame, Donald will begin his career as a first round pick, says here.
11/2. Anthony Barr, OLB, UCLA, 6-5, 255, 4.56, 1
• Former prep running back, whose father Tony Banks was an NFL runner, wanted to play offense and originally lined up as H-back. When coach Jim Mora asked him to try defense in 2012, Barr's world changed. Quiet team leader commands respect with speed and agility that allow him to cover a lot of area. In 2012, his historic, blind-side sack ruined the career of USC QB Matt Barkley. But Barr was unblocked on that one, which won't happen often in NFL. After a surprisingly slow 40 at the combine (4.56-4.66) he stopped watches in 4.41 seconds at his pro day, but his speed was never in doubt.
• Frankly: A popular prospect with obvious athletic ability and some pass rush skills, but he is a no sale here. If Barr doesn't win foot-race with initial burst he appears all-to-easy to block and lacks NFL caliber tenacity and toughness. His fluid athleticism and speed are seductive, but Barr does not show innate read-and-react skills. In summary, great athlete who rarely shows effort to disengage blockers, is missing the ferocity of a top level defender and may not be effective in space.
12/1. Zack Martin, OG, Notre Dame, 6-4, 308, 5.22, 1
• Although all 39 of his college starts were at tackle, teams are looking at Martin mostly as a guard. He is short for a left tackle and perhaps not powerful enough for a right tackle. Regardless, he is a team leader who made a case for himself at tackle with a good showing in the Senior Bowl workouts.
• Frankly: Picking a position for him to play is the only issue. This smart, aware, two-time team captain with the most career games in Notre Dame history (52) can certainly play somewhere.
13/3. *Teddy Bridgewater, QB, Louisville, 6-2, 214, 4.79, 1
• His impressive production, passing accuracy and leadership abilities helped rate him as top QB prospect by NFLDraftScout.com analysts Rob Rang and Dane Brugler and many others. But his frame seems slight and even if he bulks up, durability might be an issue. He lacks that innate feel and smooth athleticism to move within our out of pocket. But, then, that might describe Tom Brady. A low release point -- from ear height -- may become an issue against taller, athletic defensive linemen.
• Frankly: He was not a favorite here even before that silly Glovegate incidence at his Pro Day, when he didn't wear gloves, as he always did in games, and threw badly under controlled conditions. Not an issue here as I never bought into high ratings given him by respected scouts and coaches anyway. He is not really a fluid athlete and that, combined with a frail appearing body, is a concern. Although Bridgewater has excellent geometry throwing ahead of receivers, his release point is too low. For a 6-foot-2 pocket passer, that is another concern.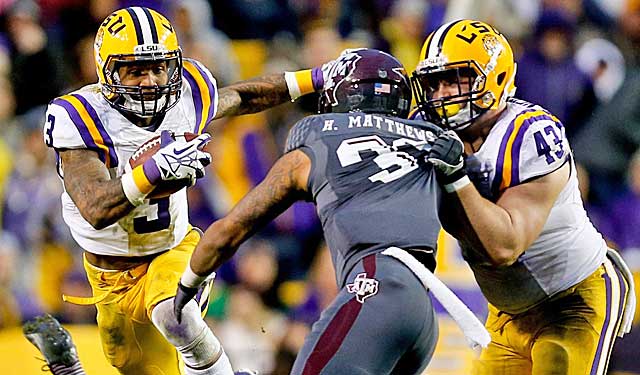 14/3. *Odell Beckham Jr., WR, LSU, 5-11, 198, 4.38, 1
• Great genetics are obvious for Beckham, whose father was a star running back at LSU and mother, the former Heather Van Norman, was a six-time All-American Track and national champion sprinter for the for the Lady Tigers. Little wonder that Beckham is smooth afoot and an explosive return man. Although game scouts thought he lacked elite speed, his best time in 40 yards at combine was 4.40, which is plenty fast. Less than average in height, but has vertical jump of 38.5 inches. Last season he caught 59 passes for 1,152 yards and eight touchdowns and returned punts.
• Frankly: Beckham should step in and star quickly. Rare wide receiver combination of outstanding natural ability and great attitude, natural elusiveness and still willing to get physical.
15/1. C.J. Mosley, ILB, Alabama, 6-2, 234, 4.67, 1
• Leader of the Crimson Tide's suffocating defense, Mosley is a rare, three-down inside linebacker. He made a dramatic debut as a freshman with two interception returns for touchdowns and improved since then. Says NFLDraftScout.com senior analyst Rob Rang: "Tough and athletic, with the keenest instincts of any linebacker I've scouted since Lofa Tatupu. ..." Thanks Rob. Mosley is all that and more.
• Frankly: An underrated impact player perhaps because inside linebackers are thought to be devalued in today's NFL, although they are keys to three of the best defenses in the league -- Seattle, San Franscisco and Carolina. Mosley is a must-draft, mobile mass of natural football genius who has no negatives and works full speed, full time. He is even a blocker on punts, covers kicks and if you want more, just ask.
16/1. Darqueze Dennard, CB, Michigan State, 5-11, 199, 4.41, 1
• After injury-marred 2012 season, Dennard exploded in 2013 to demoralize several offenses and win numerous awards, including the Jim Thorpe, Tatum-Woodson, and first-team All-America. Tough, plays with pain, but history of injuries dating back to 2010 could concern teams (sports hernia required two surgeries, shoulder, ankle, knee). Prepares hard, plays harder and excels at press-and-run. Although his announced 40-yard time at combine was 4.51 seconds, he had four clockings there between 4.41 and 4.42, which is a bit more comforting to scouts who dwell on such things.
• Frankly: Dennard has the talent, attitude and short memory needed to survive in NFL, but may need to be more sly when man-handling receivers.
17/1. *Eric Ebron, TE, North Carolina, 6-4, 250, 4.56, 1
• A former prep and early college defensive end, Ebron has the ability to create size/speed mismatches as a receiver. He needs to bulk up to be more effective and aggressive in his overall game. He is talented but still unpolished even after setting school tight end single season records last year for receptions (62), receiving yards (973) as well as career receptions (112) and career receiving yards (1,805).
• Frankly: Ebron has underdeveloped, high level skills and if he puts them together he should become a weapon in some NFL team's passing game, but only as a receiver. His blocking ability is limited.
18/1. *Ha Ha Clinton-Dix, FS, Alabama, 6-1, 208, 4.58, 1
• Clinton-Dix's instincts and ability to diagnose seem better than his athletic ability, which is considerable. His rare combination of size, speed, aggression and ball skills mark him as a potential NFL star. He was suspended for two games last year -- vs. Georgia State and Kentucky -- for taking an improper loan from an assistant strength coach. But if he plays up to his potential, Clinton-Dix won't need to borrow money for a while.
• Frankly: Birth name is Ha'Sean. Grandmother gave him the unusual name he goes by, but that talent is nothing to laugh at.
19/3. *Ryan Shazier, OLB, Ohio State, 6-1, 237, 4.38, 1
• Former prep sensation as defensive end, played both inside and outside linebacker for Buckeyes and is the ultimate team-first player, although not a vocal leader. Rangy athlete with a combination of excellent instinct, explosive first step and stunning closing burst. His 101 tackles in 2013 ranks behind only Tom Cousineau (142) and Chris Spielman (105) at OSU.
• Frankly: Other than being a bit lean and stiff, Shazier comes with everything it takes to be a consistent impact player in the NFL, including above-average instincts and quickness that helps him look like a natural.
20/2. Justin Gilbert, CB, Oklahoma State, 6-0, 202, 4.31, 1
• Texas prep sensation as quarterback, defensive back, returner, track star, basketball player, Gilbert's overall athleticism continues to be his best asset. However, he must show he is willing to maintain high level of competition after admittedly becoming complacent in 2012 following a great 2011 season. He stood out again in 2013 with six interceptions, including two for touchdowns, and a 100-yard kickoff return. Although his announced 40-yard time of 4.37 seconds was the fastest among a curiously slow group of defensive backs at the combine, his best clocking at Indy was actually 4.31 seconds.
• Frankly: Gilbert is no shut-down, in-your-face corner, but he will serve well in zones or off-man coverage where he can keep everything in front of him, then maximize his athleticism.
21/4. *Brandin Cooks, WR, Oregon State, 5-10, 189, 4.31, 1
• Cooks was the Biletnikoff Award winner as best wide receiver in college after leading the FBS with 1,730 yards on 128 catches last year, following a 2012 season with 1,151 yards on only 67 catches. Known as Stockton, California's Sonic Boom, Cooks was an explosive sprinter and football player since high school. Lacks ideal size, but is a tough character who never missed a game at any level.
• Frankly: In the approximate words of a former wide receiver, just get him the damn ball. Then watch the show as Cooks is fast, shifty, elusive, entertaining and productive.
22/2. *Calvin Pryor, FS, Louisville, 5-11, 207, 4.58, 1
Pryor was a hard-hitting junior who compiled 69 tackles, 5.5 for a loss, three interceptions and two forced fumbles. In conference play, Pryor ranked 16th in tackles for all positions with 50, or 7.1 per game. He teamed with Hakeem Smith to form perhaps the best safety tandem in the college football for 2013.
Frankly: If you want a hitter, Pryor is your man. What he lacks in instinct, he makes up for in raw, relentless aggression.
23/3. Kyle Fuller, CB, Virginia Tech, 6-0, 190, 4.40, 1
• Fuller plays like a natural who has the athleticism to cover and the aggressiveness to play the run. Had sports hernia surgery in November, missed final six games and Senior Bowl. Quiet team leader, brother of former Tennessee Titan Vincent Fuller and younger brother Kendall is a sophomore to watch with Hokies this year.
• Frankly: A solid player against pass and in run support, Fuller has efficient, functional speed (bests of 4.40 and 4.42 seconds in 40 yards at combine), excellent leaping ability (38.5-inch vertical) and a knack at finding the ball.
24/2. *Louis Nix III, DT, Notre Dame, 6-2, 331, 5.32, 1
• Brick-strong body with nimble feet, Nix came off a solid 2012 season overweight entering 2013, then was sidelined in November when he had surgery to repair a torn meniscus, which should be monitored. He played well enough to boost previous (2012) fourth-round draft projections up to first round. Plays with a high-rev motor that he needs to control to last four quarters, but is a highly coachable player and great teammate. After he grew up with a football size team family as the oldest of 11 siblings.
• Frankly: He won't win sprints, finish marathons or get an invite to Dancing With the Stars, but pass on him in the draft and he will maul your offensive linemen two at a time for years.
25/5. *Marqise Lee, WR, Southern Cal, 6-0, 192, 4.43, 1
• As a freshman phenom in 2011, Lee put his amazing athletic skills on display and looked the part of a top three draft pick destined for Heisman discussions. He is an elite athlete who could do it all, and maybe still can. But with less complementary talent and myriad physical maladies, his last two years were less spectacular. Still, this is a tough kid from a tougher background filled with gangs, killings (brother was murdered) and family challenges (father is deaf). He never complained, just used his skills as a ticket out. And now it is time to get the ticket punched.
• Frankly: The image of Lee toying with defenders in 2011 is hard to forget. If he can play back to that level, Lee will be a steal anywhere beyond the middle of the first round.
26/4. Jason Verrett, CB, TCU, 5-10, 189, 4.36, 1-2
• Fluid, natural athlete with smooth transition on flip and aggressive approach mentally, physically. Has that rare ability to blanket even the quickest receiver. Selected first-team All-America on several lists, second team by Associated Press. Allowed LSU's nifty Odell Beckham Jr. (projected as first-round pick by NFLDraftScout.com) only one catch.
• Frankly: Verrett's startling physical ability and apparent toughness belies fact that he is still maturing and learning skills to cope both on and off the field.
27/2. *Xavier Su'a-Filo, OG, UCLA, 6-4, 307, 5.01, 1-2
• As a veteran of 40 career starts, Su'a is the most pro-ready player on UCLA's talented offensive line. He is powerfully-built to handle bull rushes but has lateral agility and balance as a pass blocker. His mad work ethic was obvious early in life when he became an Eagle Scout and he has already completed his two-year Mormon missionary work.
• Frankly: Let's see what you want in an offensive lineman. Size? Check. Athleticism? Check. Reliable character? Double check. Draft him, suit him, play him. Take credit for making an easy decision.
28/4. Derek Carr, QB, Fresno State, 6-2, 214, 4.67, 1-2
• The brother of former No. 1 overall pick David Carr (Houston, 2002), but wears No. 4 in honor of Brett Favre, whose never-quit attitude he admires. Like his brother, Derek has an NFL-caliber arm, although not quite as strong as Favre's. Derek has better overall athleticism than either of them. In 2013 Carr led the nation in total offensive yards (4,983), total passing yards (4,866), passing yards per game (405.5), passing touchdowns (48), completions per game (35.33), touchdowns responsible for (50), total points responsible for (302) and points responsible for per game (25.2).
• Frankly: Perhaps the most NFL-ready quarterback in this draft is underrated because of guilt by familial association. Can make all the throws, but needs to improve footwork. Derek is not David, but together they can help the younger brother avoid the mistakes of the older one. So try this -- Draft Derek, sign David (now a free agent) and let them work it out.
29/4. *Cyrus Kouandjio, OT, Alabama, 6-7, 322, 5.50, 1-2
• It is unclear if Kouandjio's durability is more of a concern than his ability, but it became a topic at the combine after several teams mentioned he was not given a clean bill of health due to a residual, arthritic condition in his knee. He underwent surgery after a season-ending injury in 2011. The player and his coach, Nick Saban, dismissed such concerns, saying Kouandjio played well in all 27 games through the last two seasons. Furthermore, Alabama coaches believe he can be better than former linemate D. J. Fluker (No. 11 overall in 2013, San Diego Chargers).
• Frankly: There are no guarantees on anybody and Kouandjio showed plenty of raw ability after his 2011 surgery. Still, don't let that discussion obfuscate the fact that Kouandjio still has more promise than polish and although he has NFL strength, those tree trunk legs may not be quick enough for left tackle.
30/2. Dee Ford, DE, Auburn, 6-2, 252, 4.61, 1-2
• Medically excluded from participating in the combine based on readings of remnant issues from a 2011 procedure on his back, Ford put on a show at his pro day workouts that backed up his game production and his boasting -- both of which are considerable. His intense focus was reflected first at the Senior Bowl and then by dropping eight pounds in 10 days before his pro day. At 244 pounds, he looked like a classic convertible -- able to move from a 4-3 defensive end to a destructive 3-4 outside linebacker or hybrid pass rusher if necessary. His fluid athleticism helped get 12.5 stops for a loss last year, including 8.5 sacks. His pro day show included a 35 1/2-inch vertical, 10-foot-4-inch broad jump, 29 reps of 225 pounds on the bench press and a 40-yard time of 4.53 seconds.
• Frankly: There is something special here. Ford is a vocal and physical leader who could pay the most consistent, long-term dividends of any defensive end in this draft -- yes, including Clowney. He would be a steal after the middle of the first round, assuming his back in OK.
31/3. *Timmy Jernigan, DT, Florida State, 6-2, 299, 5.06, 1
• Oft-used reserve started only two games before 2013, then he finally received the chance to show he can consistently use his bullish strength to take on double teams and be disruptive inside. Jernigan has violent, active hands and does a good job with the usual moves (rip, swim), but has short arms (31 5/8) and must learn to disengage more quickly to avoid being detained by NFL linemen with, ah, good hands.
• Frankly: Relentless pest will be an immediate, in-your-face troublemaker for blockers and a sure contributor to the team fortunate enough to grab him in the first round. Must improve stamina. Player and agent declined comment on report Jernigan tested positive for a banned substance at the combine.
32/3. *Demarcus Lawrence, DE, Boise State, 6-3, 251, 4.76, 1-2
• Lawrence may have come out a year too early as he tries to cash in on a 2013 season in which he led the Mountain West Conference with 20.5 tackles for a loss and 10.5 sacks. That followed a similar 2012 with 13 TFL and 9.5 sacks, which followed one year in junior college. He has good explosion and closing ability, but is not as fast, strong or refined as scouts prefer.
• Frankly: Interesting package of goods. College scheme found ways to create mismatches with him, which showed is versatility, but revealed no single trait that would be transcendent in the NFL. He will need to show that the sum of his parts can consistently add up to more than face value.
33/1. Jimmie Ward, SS, Northern Illinois, 5-11, 193, 4.48, 1-2
• Ward has football smarts and puts himself in position to succeed, using his speed and range to cover the deep half of the field. He came off a 95-tackle, seven interception senior season at NIU and then further impressed scouts at the Senior Bowl. NFLDdraftScout.com's Rob Rang said Ward was the Senior Bowl's most impressive pass defender. He set school-record with three punt blocks as a freshman in 2010
• Frankly: Perhaps because the NFL has plenty of destructive tight ends, Ward's value increased since the end of season and might have jumped higher or earlier if he were taller.
34/6. *Allen Robinson, WR, Penn State, 6-3, 220, 4.57, 1-2
• Fluid athlete for his size with room to get stronger. Deceptive acceleration with sharp cuts to be a dangerous catch-and-go pass catcher. Physical ball-carrier with balance and body strength to shake off defenders and pick up chunks of yards after contact. Has shown return ability. Reset his own school mark in 2012 with 97 catches for 1,432 yards. His combined 174 receptions and 2,445 receiving yards the past two years both rank No. 3 in Big Ten history for consecutive seasons.
• Frankly: If there is such a thing as a blue-collar receiver, Robinson is that guy. He knows the whole pro-style pass route tree from experience in Penn State's offense and although he lacks the speed most teams want, he is a big man with enough explosion to go 39 inches in the vertical jump.
35/4. *Kony Ealy, DE, Missouri, 6-4, 273, 4.84, 1-2
• Former high school standout as tight end, defensive end and a Missouri all-state basketball player. That athleticism is conspicuous in his overall play, especially his burst off the line, quick spin moves and closing speed on whomever has the ball. Will need to improve arm and hand strength to disengage big blockers, evidenced by his so-so 22 reps with 225 pounds on the bench at the combine. Some teams are considering him as a possible linebacker and he showed decent lateral agility in games and at combine, where his 3-cone drill was fastest among defensive linemen (7.11 seconds)
• Frankly: Solid, reliable but unless he works on strength and technique he may fall short of spectacular at next level against steady diet of great athletes.
36/5. Morgan Moses, OT, Virginia, 6-6, 314, 5.28, 1-2
Pass rushers need to reset their GPS to account for the long trip around those 35 3/8-inch arms of Moses. He is a naturally large man -- sometimes too much so. He enrolled at 350 pounds, began last year at 323, then impressively shed weight for combine. Moses looked adept playing either side, starting 43 games, including his final 12 at left tackle. Plays with awareness and earned a tough-guy reputation.
Frankly: Based on hard work since season's end, Moses appears ready to take strength and conditioning seriously, which may be his most important challenge because he appears to have all the natural tools to get the job done at the next level.
37/4. *Stephon Tuitt, DT, Notre Dame, 6-6, 304, 4.92, 1-2
Intriguing bull of a prospect with plenty of natural ability that is enhanced by the attitude of an under-equipped overachiever. That may be the result of strict upbringing by mother, Tamar Bartlett, a deputy sheriff who demanded discipline. After starting slowly last year following sports hernia surgery, Tuitt had six of his career total 20 sacks. An interception last year and previous 77-yard fumble return TD reflect background as prep tight end. A hairline fracture in his foot prevented him from working out at the combine, although he did show his ample strength by hoisting 225 pounds 31 times on the bench.
Frankly: Quick, tough, massive man who will give his best, which should be worth at least a high second round pick and a shot at being one of the most reliable interior defensive linemen in the NFL.
38/6. JaWuan James, OT, Tennessee, 6-6, 311, 5.26, 1-2
• James' get-it-done attitude is reflected by a career that began as a starter when he arrived in 2010. Forty-nine games, 49 starts and one Bachelor's Degree later (December 2013), he is ready to take his study on the Arts and Sciences to the NFL. But it will be his size, strength and lateral quickness that serve him well at the next level. Seems to make pre-snap reads well but sometimes misses stunts.
• Frankly: James has the mentality and physicality to step in and perform immediately in the NFL. He was impressive at Senior Bowl before spraining knee, but was fine at his April Pro Day.
39/5. *Bradley Roby, CB, Ohio State, 5-11, 194, 4.34, 1-2
• After redshirting the 2010 season as a true freshman, Roby started all 13 games at cornerback in 2011 and quickly flashed his world class speed while leading team with three interceptions. He sat out 2013 opener (suspension after arrest for battery in bar fight) and shook off a so-so start to register a good season. Had more than his share of bothersome injuries the last two years.
• Frankly: Roby is gifted when it comes to doing the hard things, like mirroring receivers, but a lack of discipline and focus get him into trouble against inferior players.
40/5. Ra'Shede Hageman, DT, Minnesota, 6-6, 310, 4.92, 1-2
• Physically, Hageman has it all and then some, with a combination of brute force and quick feet that draws comparisons to J.J. Watt, the 2012 NFL Defensive Player of the Year (Houston). Former prep standout as tight end and basketball star, moved to the defensive line during his redshirt freshman season and literally grew into the position. After a dozen foster care homes, Hageman was adopted by lawyer couple, worked to overcome youthful anger issues and now, acknowledging his three-year old son as a stabilizing factor, is ready to become a 24-year old NFL rookie.
• Frankly: All due respect to dramatic and impressive ascent in tough life, Hageman remains a boom-or-bust prospect. He has ability to be one of the best in the game, but will need the right team environment to make this work for all concerned
41/3. Joel Bitonio, OG, Nevada, 6-4, 302, 4.92, 2
• Bitonio proved his versatility while playing in 51 games at Nevada, starting his last 38, including 26 at right tackle and 12 at left tackle. According to one stats service, since the beginning of the 2012 season, he gave up only one quarterback pressure and two sacks and was penalized only five times through a span of 2,054 snaps. Often overworks to needlessly bury a defender. From left tackle last season, Bitonio manhandled UCLA's top ten prospect, OLB Anthony Barr.
• Frankly: An undersized college tackle, Bitonio can capitalize on his beastly mannerism as a guard who has a full array of tricks to get the job done.
42/7. *Cody Latimer, WR, Indiana, 6-3, 215, 4.45, 2
• Physical specimen who reflects skills learned in his first love, basketball. He has great hands, a natural ability to get body position on defenders and that 39-inch vertical leap helps him win a lot of jump balls. His stock has soared since he recovered from left foot surgery and ran 40 yards early in April somewhere between 4.38 and 4.44 seconds for scouts who previously considered him little more than a possession receiver.
• Frankly: His 72 catches for 1,096 yards last year, mostly while battling a bad left foot, were usually on short tosses, which helped label him as a West Coast offense prospect. But his size, speed, strength and hands should do well in any system. .
43/5. *Scott Crichton, DE, Oregon State, 6-3, 273, 4.78, 2
• Take-charge, team player who leads verbally and by example. He started 37 of the 38 games in which he played for Beavers and finished career with 165 tackles, 51 for a loss, and 22.5 sacks. Has good core strength, decent leverage, powerful hands and should be a DLE in an NFL 4-3 setup. Would need to add bulk for ballast as a 3-4 end.
• Frankly: Tough, team-oriented player who is worth a high second-round pick and should transition into pro game quickly.
44/8. *Kelvin Benjamin, WR, Florida State, 6-5, 240, 4.61, 2
• A monster receiver who will command extra defenders despite the fact that he is crude and unpolished. Benjamin has average quickness, but shows a natural ability to get separation. He doesn't consistently use his hands and allows too many balls to get to his body and drops more passes than he should. Showed immaturity and bad habits as a freshman and although work ethic has improved he has a ways to go.
• Frankly: Never mind he has a lot to learn, Benjamin is a size, speed, strength mismatch for any single defender. So even until he learns how to be a true No. 1 receiver, put him out there and he will torture defenses even as a work in progress.
45/5. Tom Savage, QB, Pittsburgh, 6-4, 228, 4.97, 2
• Traveling Tom transferred twice (from Rutgers, Arizona) and sat out two seasons (2011, 2012) in search of optimum situation, then struggled last season on a team that didn't give him a lot of protection. Savage has excellent size and an NFL-caliber arm. It is important to know what date of game is on films because as the 2013 season progressed so did his ability to understand how to accept the check-down instead of the sack. Note this: When Savage was a freshman at Rutgers in 2010, NFLDraftScout.com rated Savage as the No. 5 quarterback in the 2014 draft, right where he is now.
• Frankly: Big guy with a big arm who shows a grasp of the pro-style game and if he gets the time and tutoring necessary he might surprise those who lost track of him after two years out of the game. In weathering a rough start last season he showed maturity that was missing earlier career.
46/9. Jordan Matthews, WR, Vanderbilt, 6-3, 212, 4.44, 2
• Cousin of the legendary Jerry Rice, Matthews is a better football player than he is an athlete. He led the SEC with a gaudy 19.0 yards-per-catch average last season with above average speed that is more deceptive than sudden. His size allows offense scheme favorable matchups. Career totals: SEC's all-time leader with 262 receptions and 3,759 receiving yards.
• Frankly: For what it's worth, Matthews is bigger and faster than cousin Jerry Rice, which helps eliminate the shock value of him catching 201 passes over the last two seasons. Now, if he can manage to hang around the NFL for 19 years perhaps the family comparisons will continue.
47/6. Jimmy Garoppolo, QB, Eastern Illinois, 6-2, 226, 4.94, 2
• Garoppolo created a buzz as he broke all of Tony Romo's career school records, as well as all of the Ohio Valley Conference passing records. Won the Walter Payton Award in 2013 after throwing for 5,050 yards and 53 touchdowns. His career totals include 13,156 yards passing, 118 touchdowns in a pass-happy, shotgun offense that has not helped prepare him for the NFL.
• Frankly: Garoppolo can find receivers and fire the ball on target faster than you can say his name. Lighting release and frozen rope medium distance sideline passes are reminiscent of Dan Marino's lasers. This despite concerns about his size, short arms and small hands.
48/1. *Marcus Martin, C, Southern Cal, 6-3, 320, 5.28, 2
• Thick plugger who has plenty of strength but doesn't seem to be the brute you expect. Does not necessarily fire out and consume defenders, but uses his girth to effectively wall them off or barge through to create a wide running lane. Tweaked his knee in November, didn't run at the combine, then ran 40 yards at pro day with a disappointing best of 5.52 seconds.
• Frankly: Until he punches up the urgency and physicality of his game, versatility may be the calling card that Martin leverages into the beginning of an NFL career.
49/2. *Jace Amaro, TE, Texas Tech, 6-5, 265, 4.70, 2
• Amaro set the NCAA record for single-season total receiving yards and yards per game by a tight end (1,352/104 per). A big, fluid athlete, Amaro lined up mostly in the slot and used his thick body to gain position in coverage and used his large, soft hands to attack the ball in the air. He is a balanced route-runner and dangerous after the catch, even if defenders get both hands on him.
• Frankly: If you are looking for somebody to create a size/speed mismatch in that inside slot, as he did in college, Amaro's your man. But if you are looking for a tight end who can help with in-line blocking he is the wrong candidate.
50/1. Carlos Hyde, RB, Ohio State, 6-0, 230, 4.61, 2
• North-south runner blasted for 1,527 yards last year, the first running back for an Urban Meyer-coached team to rush 1,000 yards in a season. More impressively, he did it despite missing first three games on suspension for an altercation with a woman in a Columbus nightclub last summer. "I go out every game with the mindset that I have to make up for those three games," Hyde said in October. "That suspension ... really hurt."
• Frankly: Reliable in terms of ball security and consistent chunks per carry, but lacks both elusiveness and good-bye speed. So he must take football seriously, starting with avoiding weight problems that plagued him early in college, or his pro career will go pffft.
51/2. Deone Bucannon, SS, Washington State, 6-1, 211, 4.49, 2-3
• Bucannon may have set an unofficial record for noisy collisions during a truly impactful four years in which he played in every game. Last year was named first-team All-American after 78 solo tackles, three forced fumbles and six interceptions.
• Frankly: Never mind his lack of agility, so-so reaction time in coverage and occasional missed tackle. Put him on the field and listen for the wind being knocked out of runners or receivers as if hit by a Mike Tyson body punch.
52/3. *Austin Seferian-Jenkins, TE, Washington, 6-6, 262, 4.74, 2
• AS-J is a massive target and goes after the ball with excellent body control that reflects his time spent as a basketball player for the Huskies. Although not as physically dominant as his size suggests, especially as blocker, he becomes an imposing runner with ball in his hand. Convicted of DUI after single car accident last March, was suspended one game and dedicated time talking to groups about drinking and driving. He finished last season as the Mackey Award winner as top college tight end.
• Frankly: AS-J is a wild child who has been difficult to handle on and off the field. If he matures and focuses on a more consistent effort, AS-J could be as productive as any tight end in this draft.
53/6. Lamarcus Joyner, CB, Florida State, 5-08, 184, 4.47, 2
• Small and not really blazing fast, but Joyner is a football junky with an innate feel for the game. High school phenom at prep powerhouse St. Thomas Aquinas, where he was USA Today's National Defensive Player of the Year as a senior. Joyner played safety and corner in a college career that included 15 pass deflections, eight interceptions and an average of 24.23 yards on kickoffs.
• Frankly: Joyner plays much bigger than he measures, hits like the linebacker he was in high school, and his shocking zero-to-gone acceleration will help as a returner.
54/4. *Carl Bradford, OLB, Arizona State, 6-1, 250, 4.71, 2
• Played "Devilbacker" as hybrid, physical defender who split time among defensive end, outside and inside linebacker positions. Shows exceptional initial quickness off the snap, especially out of the three-point stance, and then can confound blockers with a club, rip or spin move. He started final 28 games of a 40-game career in which he recorded 154 tackles (110 solos) with 21.5 sacks (155 yards), 43 tackles for loss (213 yards), six quarterback pressures, eight deflected passes and two interceptions.
• Frankly: Bradford was the benefactor of an aggressive, disruptive college scheme and may not have instincts to play in space, but he can make a career out of that explosive pass rush and complementary moves.
55/2. *Bishop Sankey, RB, Washington, 5-10, 209, 4.49, 2
• Sankey's total seems better than the sum of his parts. He shows an impressive jump-cut and rarely takes flush hits. Durable player who never missed a game and was voted team captain as a junior. Despite inconsistent offensive line and quarterback play in 2013, Sankey broke Corey Dillon's single-season school rushing record with 1,870 yards and scored 20 touchdowns in 13 games.
• Frankly: Hard-working son of an Air Force sergeant is a respected team leader who has the physicality and mentality to be a starter in the NFL.
56/5. Kyle Van Noy, OLB, BYU, 6-3, 243, 4.62, 2
• An unusually disciplined player who combines natural read-and-react skills and fluid athleticism to make plays. Named All-Independent Defensive Player of the Year after a 2013 season that included 13 sacks and 22 tackles for loss. Showed off his coverage skills at the Senior Bowl practices, where he batted away several passes and looked at home in underneath zones. Even more effective going forward as a pass rusher, always looking for the strip sack and forced 11 career fumbles.
• Frankly: Needs IT factor -- Increased Toughness. Well-built, three-down linebacker flashes the ability to do almost anything, but is a runaround-and-chase type and not as consistently dominant as his various abilities might indicate.
57/10. *Donte Moncrief, WR, Mississippi, 6-2, 221, 4.34, 2
• Moncrief is a big man with the footwork of a little guy, enabling him to maneuver his large body into a position where he can make the catch against quicker, faster defensive backs. His 156 catches, 2,371 receiving yards and 20 touchdowns are all third-best all-time in the Ole Miss record book.
• Frankly: Ready, willing and able to surprise cornerbacks with excellent route running that makes him more dangerous more often than receivers who rely mainly on speed. He will also do damage as a blocker in the running game.
58/6. Dominique Easley, DT, Florida, 6-2, 288, 4.93, 2
• If health weren't a concern, Easley might be discussed as a potential top-10 pick, according the NFLDraftScout.com's Dane Brugler. But after two ACL tears, both on non-contact plays, durability is a major red flag. He came back from a left ACL in 2011, then blew out his right ACL last September. A healthy Easley has exceptional get-off quickness, constantly playing on the other side of the line of scrimmage.
• Frankly: Buyer beware. In a draft awash with talent, some team will really need to have a special feeling for Easley to spend a high pick based on potential not attained due to multiple, non-contact injuries.
59/11. *Davante Adams, WR, Fresno State, 6-1, 212, 4.56, 2
• Adams had extraordinary stats against ordinary talent as the favorite target of highly rated quarterback prospect Derek Carr in Fresno State's spread offense. Adams caught 233 passes for more than 3,000 yards the last two years, including leading the nation with 131 grabs in 2013. Well-built, aggressive, natural hands catcher who makes himself a larger target with that leaping ability that allowed him to soar 39.5 inches in the vertical jump.
• Frankly: Adams is a 21-year old third-year sophomore who shows his smarts by leaving college the same year as his prolific quarterback. Regardless of competition level, he didn't drop the ball in college and it's hard to believe he will start doing so as a pro.
60/3. *Tre Mason, RB, Auburn, 5-09, 207, 4.45, 2
• Runs bigger than he measures, using quick feet and a one-cut-and-go approach. Lacks OMG speed, but is fast enough to be all-the-way threat on most plays. Mason leaves Auburn after rushing for more than a 1,000 yards each of the past two seasons, including his 1,816 yards in 2013, a mark that broke Bo Jackson's record of 1,786 yards set in 1983 and earned him SEC Player of the Year honors. His father, Vincent, was a member of the hip-hop group De La Soul.
• Frankly: After watching diminishing returns in the NFL from a few recent star runners out of the SEC, it is difficult to get excited about the latest prospect. Mason has already taken a beating and could use more bulk to help hold up as a pro, but he does seem to have instincts, decent speed and the necessary toughness to be an NFL starter.
61/6. Marcus Smith, DE, Louisville, 6-3, 251, 4.66, 2
• While several other defensive ends are hoping to prove they are able to double as an outside linebacker, Smith already has shown he can do that and more. How about an emergency quarterback? OK, it would need to be a real emergency, but he began college as a QB in 2010, was moved to OLB within a week, then to DE in 2011. He eventually became Mr. Versatility in the front seven. He can drop, but seems more effective moving forward than he does in space.
• Frankly: A maybe, baby. Reliable "jack of all trades, master of none" who has decent speed (4.66 in 40 yards), athleticism or strength (23 reps with 225 pounds on bench).
62/7. Jack Mewhort, OT, Ohio State, 6-6, 309, 5.37, 2
• Mewhort utilizes every inch of his tall, stout frame and large wingspan (80 1/4 inches) to engulf and control rushers. Versatile offensive line prospect who played at every spot except center, and projects as a right tackle. Mewhort looked strong during drills at the Senior Bowl. Lack of elite athleticism may dictate use at right guard.
• Frankly: Hard to go wrong with a guy who played four offensive line positions, started his final 39 consecutive games, was voted captain by his teammates and was hailed for his leadership by coach Urban Meyer. OK, Meyer's remark should be expected. PTI.
63/7. Phillip Gaines, CB, Rice, 6-0, 193, 4.31, 2
• Two-time, All-C-USA selection set a school career record by breaking up 38 passes, 27 in last two years. Played in 52 career games, started 40, including the final 35 consecutive. In 2013, he was targeted 40 times, allowed 13 catches and stole four passes. Missed best chance to show skills when suspended for season opener vs. Texas A&M's Johnny Manziel-to-Mike Evans tandem. Added eight pounds to get to 193 at combine and probably could handle -- and use -- more of the same.
• Frankly: Gaines has the skills, speed (his best combine time was 4.31 seconds in 40 yards) and discipline to be an NFL starter, but his most intriguing trait is getting to the ball on so many plays.
64/7. DaQuan Jones, DT, Penn State, 6-4, 322, 5.34, 2
• God-given height, weight, quickness offer a massive foundation on which to build a great career. After shedding about 25 pounds to add stamina, he led the team in 2013 with 11.5 tackles for loss (minus-42 yards), had three sacks and a fumble recovery. Has the ability to get low and own a wide piece of real estate against two good blockers and when there is only one blocker he can dominate. Jones is just beginning to realize his potential and the value of hard work.
• Frankly: Back in the day when rookies weren't expected to do too much too soon, players like Jones were golden. With patience and continued conditioning, some team could steal a future standout.
65/2. Weston Richburg, C, Colorado State, 6-3, 298, 5.08, 2-3
• Richburg couldn't have done much more so far. He started all 50 games of his college career (45 at center, three at guard, two at tackle), made the line calls, and blew up defenders while blocking in an offense that asked him to pull outside on screens and sweeps. His deeds were devalued by his level of competition until he showed scouts at the Senior Bowl he could hold his own against bull rushers from bigger schools. That's when he became the No. 1 center prospect on many lists for this draft.
• Frankly: Richburg may not be the wide body behemoth some teams want at center, but he is a monster in terms of being game-ready mentally, physically and emotionally. He will absorb the front line assignments and keep everybody alert.
66/4. Gabe Jackson, OG, Mississippi State, 6-3, 336, 5.42, 2-3
• Three-year starter and the son of a high school coach has more than enough size, strength, ability to be a top notch player. The concern is that he doesn't perform at that high level consistently. Has tantalizing balance of overall power, agility and great feet, but sometimes misses things he should pick up, which could be dangerous for NFL QBs.
• Frankly: Jackson is an interesting combination of physical ingredients, but sometimes seems to lose focus or his technique gets sloppy. Tell him his dad is watching the game tapes and see if that gets his attention.
67/3. Terrence Brooks, FS, Florida State, 5-11, 198, 4.37, 2-3
• Swiss Army knife on the back seven. Former cornerback who can match up well with those pesky slot receivers and yet an enforcer who can hit like a linebacker. Brooks is a serious-minded, weight-room fanatic who will light up opponents on special teams.
• Frankly: Want to toughen up your defense? Brooks will be happy to set the tone regardless of where you line him up.
68/12. *Jarvis Landry, WR, LSU, 6-0, 205, 4.77, 2-3
Along with Clemson's Sammy Watkins, was only other high school five-star receiver in this draft, so his talents have been known for a while. Arrives in draft with ample experience running pro-style routes. He is probably a more reliable go-to receiver than higher ranked teammate Odell Beckham, although the latter is more of a home-run threat. He is faster than his unfair 40-yard time of 4.77 at combine, where he ran with bad hamstring. He is more of a 4.60.
Frankly: Former prep basketball star with huge, strong hands and a tough-guy attitude that should make him a great target in a West Coast offense, and pretty effective in any scheme.
69/6. Jeremiah Attaochu, OLB, Georgia Tech, 6-3, 252, 4.60, 2-3
• A native of Nigeria, Attaochu saw time at inside linebacker, outside linebacker and showed great versatility. At the Senior Bowl, he looked decent rushing from a three-point stance, but seemed lost in space when he played off the line in 4-3 setup. Plays with intensity that sometimes leads him to abandon discipline. Collected 12.5 sacks in 2013 and his career total of 31.5 is a school record.
• Frankly: Can base his career on pass-rush ability alone as defensive end or OLB in the right scheme. If he manages to become more comfortable and consistent doing other things that will be a plus.
70/4. *Jeremy Hill, RB, LSU, 6-1, 233, 4.59, 2-3
• Hill is a big, slashing runner with good initial quickness, a decent second level burst then only average top speed. He rushed for 1,401 yards last year, second-most in school history as his 6.9 yards per carry set an SEC record. In 2012 he became the first true freshmen to lead LSU in rushing since Justin Vincent did it in 2003. Off-field issues include two arrests, one on sexual assault charges that he pled out to a misdemeanor and the other after a bar fight in August of last year.
• Frankly: Hill is almost as good as he thinks he is, but can help a power running offense if he decides to work at his trade and understand how to contribute as a team member.
71/8. Stanley Jean-Baptiste, CB, Nebraska, 6-3, 218, 4.55, 2-3
• Jean-Baptiste is a big athlete in search of a position. Well-traveled, former wide receiver (at Miami Central High, North Carolina Tech Prep and Fort Scott Community College), Jean-Baptiste saw no action while listed as a receiver at Nebraska in 2010 and had only one catch in 2011 before transitioning to corner for nine games. His previous experience as defensive back was at safety at Miami Central. Made a lot of plays in college just on pure athletic ability, which was abundantly evident at combine workouts that included best vertical jump of 41.5 inches.
• Frankly: In that inevitable search for the NFL's next Richard Sherman, Jean-Baptiste fits the role as if from central casting, complete with switch from wide receiver. But he lacks Sherman's physicality and instincts and his best shot may be as a safety.
72/8. *Antonio Richardson, OT, Tennessee, 6-6, 336, 5.21, 2-3
Here is a big, strong, experienced left tackle who may be able to step in and help soon, but is already near his ceiling. Overcame academic challenges to start 24 of 36 career games and may take a while to grasp a new playbook. Has been compared to Pittsburgh Steelers' Marcus Gilbert (2nd round, 2011).
Frankly: Richardson, whose constant conditioning troubles are reflected in his nickname "Tiny," has some raw ability, but is not as aware as an NFL offensive lineman needs to be. He was abused last season by South Carolina defensive end Jadeveon Clowney, the No. 1 rated player in this draft.
73/4. *Troy Niklas, TE, Notre Dame, 6-7, 270, 4.86, 2-3
• Niklas began as an edge defensive player at Notre Dame and has only two years of experience at tight end. But his upside was obvious after emerging as a surprise star following the departure of Tyler Eifert (first round, Bengals, 2013). Niklas will become the seventh member of the NFL's Matthews family to be drafted. After cousin Jake Matthews (OT, Texas A&M) is taken in the first round, Niklas will be the fifth Matthews relative in NFL history to be selected in the first two rounds.
• Frankly: Considering shared genetics with uncle (Hall of Fame OT) Bruce and 2014 draft classmate and cousin Jake Matthews (Texas A&M OT), it's no surprise that Niklas has excellent blocking skills. He could become the best blocking tight end in the NFL. He is a deceptively good receiver, but is still a work in progress there.
74/7. Kareem Martin, DE, North Carolina, 6-6, 272, 4.68, 2-3
• When a player has all the physical ability necessary, but plays up to apparent potential only in his senior year, scouts raise a red flag. Martin had a classic red flag 2013 senior season with 20 tackles for a loss, including 11 sacks, after registering only four in each of two previous seasons. He sustained interest with excellent workouts and game at Senior Bowl. Still, his value is as limited as his range, which is such that he may only be an asset as a base left end in a 4-3 alignment, where he can be disruptive.
Frankly: An NFL team must have specific need to make this run-stopping end a valuable second-round pick in a pass-happy league.
75/8. *Ego Ferguson, DT, LSU, 6-3, 315, 5.13, 2-3
• Played as a reserve until his junior season last year when he took advantage of opportunity to collect 58 tackles, 3.5 for a loss and one sack. Ferguson flashes enough ability to make it seem that he should, could, would be more productive if -- fill in the blank. He is stout from head to toe with enough quickness, flexibility, strength and length to invite use at multiple up front positions.
• Frankly: Ferguson appears to be journeyman NFL material with a somewhat robotic manner that will get him only so far against an NFL full of great athletes.
76/8. Trent Murphy, DE, Stanford, 6-5, 250, 4.85, 2-3
• On-field play reflects off-field hobby -- steer wrestling. Murphy is country strong with great leverage and powerful hands that can hogtie or throw aside anything in reach. But, absent a lasso, he needs faster giddy up in his get along. Impactful starter since 2011 and respected leader on a team of leaders. Missed final 10 games in 2010 with unknown leg injury. Maybe a steer kicked him.
• Frankly: Needs to fit system, and vice versa. Superman if allowed to play in a phone booth, but possibly an NFL Clark Kent if expected to cover too much area.
77/13. *Bruce Ellington, WR, South Carolina, 5-09, 197, 4.45, 2-3
• Ellington was a basketball-football starter in college who graduated in December and is forgoing his senior year to play for pay in the NFL. He plays with the sudden athleticism expected of a basketball point guard and gets football defenders in a bad position quickly both as a receiver and a returner. Closed out his college football career in dramatic style with six catches for 140 yards and two touchdowns and a nine-yard TD pass to Connor Shaw in a 34-24 Capital One Bowl win over Wisconsin.
• Frankly: Short in height, but not in talent. Ellington is a natural athlete who excelled as a high school quarterback (state championship), college point guard, receiver and returner. Use him as a returner and slot receiver and he should excel while focusing on only one sport.
78/9. Keith McGill, CB, Utah, 6-3, 211, 4.44, 2-3
• Former JUCO All-America safety at Cerritos, McGill lasted only five games there with the Utes before a shoulder injury dictated a move to cornerback. McGill shows field awareness of a safety and even baits quarterbacks to throw underneath routes where he excels at closing on the ball. Uses height and long arms well, but lacks unbridled enthusiasm on run support.
• Frankly: Curiously reminiscent of Nnamdi Asomugha (Cal, Raiders, Eagles, 49ers), who maximized his height and ball skills as a boundary-style cornerback to make All-Pro. Like Asomugha, McGill seems more suited for safety except for that bad shoulder, which may explain why neither of them will be remembered as a big hitter.
79/9. *Cameron Fleming, OT, Stanford, 6-5, 323, 5.28, 2-3
• There is something to be said for starting in an excellent, pro-style offense against Pac-12 competition for 38 games. And what Fleming said is that's enough, especially since he already earned a degree in aeronautics and astronautics. Might as well get paid to play more football, right? Despite his experience and smarts, Fleming may not fit right into the faster NFL game as a tackle asked to pass protect all the time and he will need to show more raw strength and agility to play guard.
• Frankly: He's big, strong, smart, experienced and certainly could improve some team's front wall, as long as he is not the key to protecting a franchise quarterback on an open side.
80/14. *Martavis Bryant, WR, Clemson, 6-4, 211, 4.41, 2-3
• Introducing the other Clemson receiver (with a nod to teammate Sammy Watkins, the No. 1 ranked receiver in this draft). Bryant actually introduced himself dramatically as a sophomore when he averaged a gaudy 30.5 yards on 10 catches. The average would have been more, but he ran out of field and scored four touchdowns. Last season he caught 42 passes for 828 yards (19.7 per) and in his finale against Ohio State in the Orange Bowl, two of his catches went for touchdowns.
• Frankly: Not the surest hands, but this long-limbed speedster can take the top off a defense and find the end zone either on a long sprint or as a big target in the red zone. Psst, Martavis, those throat-slashing gestures that caused trouble last September are illegal in the NFL, too.
81/10. Jaylen Watkins, CB, Florida, 6-0, 194, 4.41, 2-3
• Older half brother of Clemson wide receiver and top-10 draft prospect Sammy Watkins, Jaylen showed family's elite athletic genetics since he was a versatile football star at Cape Coral, Fla., High as dual threat quarterback, wide receiver and, oh yes, cornerback. Showed ability last season to play both corner and safety. At combine he clocked 40 yards in 4.41 seconds; 10 yards in 1.50 second and benched 225 pounds 22 times -- all better marks than his highly-rated little brother.
• Frankly: Watkins does not seem like a gamble as a natural football player with the chance of playing either cornerback or safety. Hey, how about emergency quarterback?
82/7. Telvin Smith, OLB, Florida State, 6-3, 218, 4.47, 2-3
• Rangy athlete with loose hips and springs in his legs. Aggressive blitzer with explosive first step and closes quickly with evil intent. His intriguing ball-hawking and leaping skills give rise to a possible move to strong safety, which was also enhanced when he intercepted three passes and returned two for touchdowns last year, tying an FSU record with Deion Sanders (1988), Terrell Buckley (1990, 1991) and Derrick Brooks (1993).
• Frankly: Intense athlete who just might be a playmaker no matter where he lines up, but as a true OLB in a 3-4 scheme, he might not have the instinct or patience to consistently play in space.
83/9. Will Sutton, DT, Arizona State, 6-1, 303, 5.36, 2-3
• After missing the 2011 season for academic reasons, Sutton's play the next two years made that off-field issue, well, academic. He earned the Pac-12 Pat Tillman Defensive Player of the Year in both 2012 and 2013, a back-to-back feat accomplished previously by only Steve Emtman, a No. 1 overall pick in 1992. Sutton has a compact build that gives him leverage advantage over most NFL offensive linemen. He has a knack of timing the snap and shows an explosive burst to slip through gaps. His father, Mickey, was a defensive back and punter for the Rams, Packers and Bills, 1986-90.
• Frankly: Has the ability to fill a need and serve as a reliable starter at the minimum and those quick feet he inherited could give him longer career than dad had as a punt returner.
84/2. Chris Borland, ILB, Wisconsin, 6-0, 248, 4.78, 3
• Passionate in all endeavors, Borland more than earned the Big 10 Defensive Player of the Year Award. Teams are now weighing impact of shoulder problems, including a possible third surgery. On the field he maximized his average speed and below average height with amazing ability to read, react and reject most plays before they developed. Forced 15 career fumbles, second most in FBS history. Plays with discipline in space and decisiveness at the line. Off the field, he is active within city of Madison community and led teammates in supporting a local cancer patient through the "Badgers Lift for Life" program.
• Frankly: Big red flag on shoulder problems with two surgeries already, a screw in one shoulder and perhaps another surgery on horizon. One team reportedly took him off its board. A taller Zach Thomas. And while you debate that comparison, consider this is the only time he will be described as taller.
85/11. Pierre Desir, CB, Lindenwood, 6-1, 198, 4.52, 3
• Haitian-born, Desir moved to U. S. when he was four and spent youth playing soccer, the sport in which his father, Wilfrid, starred. But while playing football at two Mid-American Intercollegiate Athletic Association (MIAA) colleges -- Washburn and Lindenwood -- Desir showed natural ability and collected 25 career interceptions. Fluid, flexible mature athlete with wife and two children who dominated low level competition.
Frankly: Best MIAA prospect since? Of course you said Pittsburg State's DE Troy Wilson (21 sacks in 1991 to help win DII National Championship; 46 career sacks from 89-92; drafted in seventh round by San Francisco in 1993, in time to win a Super Bowl ring after 1994 season).
86/5. Andre Williams, RB, Boston College, 5-11, 230, 4.50, 3
• Williams emerged as a senior when he led the nation in rushing yards with 2,177, the 16th player in FBS history to hit the 2k mark. However, he was more of a strong, reliable opportunist than a dazzling stylist as he maximized huge openings behind great blocking.
• Frankly: Well-built, focused, powerful runner with instincts and toughness to keep the chains moving or run out the clock, but a mystery as a receiver after catching only 10 passes in four years of college.
87/15. *Paul Richardson, WR, Colorado, 6-0, 175, 4.33, 3
• Extraordinarily quick, fluid, finesse athlete who is fun to watch if you are not a cornerback in single coverage. Richardson showed his ability to run hard and get open often again in 2013 after missing 2012 following a torn ACL in the spring. Last year he caught 83 passes for 1,343 yards and 10 touchdowns receiving. Father, Paul, was a wide receiver at UCLA and with several NFL teams.
• Frankly: Richardson was exceptionally productive despite a lack of complementary talent on his team, getting first downs on 51 of his 83 catches and averaging 47 yards on his 10 touchdown plays last year. Yes, 47 yards, damn near half the field.
88/5. *Trai Turner, OG, LSU, 6-3, 310, 4.91, 3
A third year sophomore who started 20 games, including all 13 at right guard last year. He is thick and looks like a bulldozer, but gets overextended and allows defenders to gain leverage. He has the power that equals potential in the NFL, where some team may see if he can help out at center.
Frankly: Has the size, strength and his 10-yard split was that fastest of any guard at the combine. But he definitely could have used another year in college and must now learn on the job.
89/12. *Marcus Roberson, CB, Florida, 6-0, 191, 4.61, 3
• Physical in coverage, aggressive in pursuit and plays with attitude. Like Florida State's Lamarcus Joyner (sixth-rated CB by NFLDraftScout.com), Roberson is a product of prep powerhouse St. Thomas Aquinas (15-0 his senior year). Injuries a concern (fractured C6 vertebrae in 2011; hurt knee in 2013) and he could use more bulk on lanky frame.
• Frankly: Roberson can play in the NFL if he learns to work in space without losing track of the action and he must also refine his hands-on work downfield to avoid penalties.
90/10. Billy Turner, OT, North Dakota State, 6-5, 315, 5.14, 3
• While Turner's college experience may be devalued due to the level of play, his performance was first class. Turner played 57 games and started his final 56, including 44 straight when N.D. State won back-to-back-to-back FCS national championships. Although he needs to step up to prove himself, Turner has NFL lineage with a father (Maurice) who was a running back for Minnesota, Green Bay and the New York Jets and a brother, Brian Kehl, drafted in the fourth round (2008) by the New York Giants.
• Frankly: Not one FBS scholarship offer? Seriously? His size, athleticism and strong hands are a good start, but Turner certainly will be a project in the NFL.
91/8. Chris Smith, OLB, Arkansas, 6-1, 266, 4.66, 3
Smith played in 43 games and was productive from several positions, although usually defensive end. According to NFLDraftScout.com's Rob Rang, Smith is a thickly-built pass-rusher with enough burst, lateral agility and underrated strength to harass opposing quarterbacks off the edge or when used as a stand-up rusher up the middle. Versatile defender who lined up as a LDE, RDE and even as a traditional outside linebacker for the Razorbacks.
Frankly: Looks like a keeper, but at what position? Short for DE and not really an OLB, yet anyway. Responsible and motivated, Smith was a popular team captain, father of daughter and was described as a thicker version of Auburn defensive terror Dee Ford, minus all the talk.
92/10. Caraun Reid, DT, Princeton, 6-2, 302, 4.89, 3
Reid has a square, well-built frame and showed constant improvement with pass rush technique, flashing an effective swim, rip and even a bull rush, albeit against lesser talent. Great worker, not just because of Princeton, but his father is a bishop, school principal and psychologist and mother is a doctor, minister and licensed educator.
Frankly: The Princeton floodgates are opening to the NFL with Reid now a viable prospect after defensive end Mike Catapano became the school's first drafted player in 12 years when Kansas City took him in the seventh round of the last draft.
93/16. Kevin Norwood, WR, Alabama, 6-2, 198, 4.44, 3
Big body, hands and good speed are always a good start for a wide receiver. Being Alabama's most experienced receiver (11 games, 6 starts)may not be a raving endorsement, but Norwood shows excellent awareness, body control, focus and, most important, does a great job catching with his hands. Does not have explosive burst, but seems to have a good feel for finding soft spot in zones.
Frankly: Norwood will be a 25-year old rookie who probably needs to get buffed to handle the physicality he will face in the NFL. He already approaches the game with a serious, pro-like attitude.
94/9. Will Clarke, DE, West Virginia, 6-6, 271, 4.72, 3
This long, strong Mountaineer showed consistent improvement through his three years as a starter. Last season his 17 tackles for a loss was No. 2 in the Big 12 and his six sacks gained significant interest from pro scouts. In 41 career games, he collected 111 tackles, 29 for a loss and 9.5 sacks as he seemed to use his length for strength better each year.
Frankly: Hard-working, athletic and looks like he can -- and should -- get even bigger and stronger. What's not to like?
95/9. Christian Jones, OLB, Florida State, 6-3, 240, 4.68, 3
Active, athletic, physical tackler who shows excellent lateral agility and chases sideline to sideline. Tenacious enough against the run to take on and shed lead blockers, yet appears natural dropping into pass coverage.
Frankly: Must check into reports he did not pass drug test at combine. Otherwise Jones was a productive, durable, versatile three-year starter with all the physical ability to play that key outside linebacker spot on either side of the formation.
96/6. *Terrance West, RB, Towson, 5-09, 225, 4.50, 3
• West covered a lot of rough road to overcome his tough home neighborhood in Baltimore. That included missing a couple of years of football, including one when he sold shoes. Walked on at Towson and last season led team to an FCS national championship game against North Dakota State. West pounded the ball relentlessly between the tackles to lead all FCS players with 2,519 yards rushing and 41 touchdowns last season. Has a son, Brendan.
• Frankly: Give him a chance and West will give you his best and hopefully he has enough tread left to crank out a few more miles after carrying 780 times the last three years.
97/13. Walt Aikens, CB, Liberty, 6-1, 203, 4.50, 3
Stood out as a freshman safety at Illinois but was bounced from the team after an arrest on theft, which he pled to a misdemeanor. Still, he moved to Liberty where he showed his athletic ability in football, basketball and track. Last year tied for the team lead with 62 tackles and added three interceptions. Has experience and show NFL ability at both cornerback and safety.
Frankly: Looked good at Senior Bowl workouts and has the aggressiveness, self-confidence and athleticism necessary to help somebody in the pass-happy NFL.
98/11. Justin Ellis, DT, Louisiana Tech, 6-2, 334, 5.23, 3
Massive man who is tough to evict when he decides he wants to own a piece of football real estate as a two-gap tackle. He is even tougher to stop once he gets all that muscular humanity moving in one direction. Made a big impression at East-West and Senior Bowl workouts. Logic says he should manage his weight, which reached nearly 400 pounds, but he seems to be in football fighting shape at a svelte 350-ish.
Frankly: A large, mean-spirited man from a very tough background. Here's your choice -- Either draft him or try to block him for the next few years.
99/14. *Bashaud Breeland, CB, Clemson, 5-11, 197, 4.59, 3
• Breeland may not be ready to step in as a starter, but he has above-average skills across the board while lacking blinding speed. After being hampered by a groin injury in 2012, Breeland was impressive as a junior last season with 17 passes defensed, four interceptions and 74 tackles, including five for a loss. Lack of elite speed should limit his use to off-man and zone coverage and even then he needs work on technique.
• Frankly: Breeland is aggressive and willing, but maybe not able to handle the speed at the next level. His exceptional ball skills may not be a factor if he is a full step behind in a game of inches.
100/17. Dri Archer, WR, Kent State, 5-08, 173, 4.16, 3
• Archer is instant danger who can get to the end zone as fast as anybody who has ever played the game. Anybody. Really. He has the fastest time ever clocked in 40 yards at an Indianapolis combine -- 4.16 seconds, although his announced time was 4.26 seconds. He was used in college as a running back, wide receiver and as a returner who scored four touchdowns on kickoffs and would have scored more but teams kicked away from him. An injury marred senior season (ankle)lends credence to concerns about his slight frame and durability.
• Frankly: Yes, Archer is small and probably fragile. But he's bigger and faster than Trindon Holliday (5-5, 170, Broncos in 2013) and you can't hurt what you can't catch. OK, go ahead and say it -- right now Al Davis is trying to communicate with son Mark to draft this kid.
Frank Cooney, founder and publisher of The Sports Xchange and NFLDraftScout.com, covered the NFL and the draft since the 1960s and is a selector for the Pro Football Hall of Fame.