2014 NFL Draft: Johnny Manziel is on the clock
More Draft coverage: Mock Drafts | Prospect Rankings | Big Board | News
Regardless of what commissioner Roger Goodell utters to commence the 2014 NFL Draft Thursday, the Houston Texans will be on the hot seat, but Texas A&M quarterback Johnny Manziel is on the clock and foremost on the majority of minds in the prime time audience.
The Texans can control the drama for the first 10 minutes as they decide what to do with their first pick -- take No. 1 rated South Carolina defensive end Jadeveon Clowney, another player or trade down into the deepest talent pool in draft history.
But, unless Manziel becomes a part of that first pick for the Texans or another team that moves up, the sensational quarterback formerly known as Johnny Football will remain Topic A until his name is called, and even longer.
Welcome to the Johnny Manziel draft, fed by the fervor surrounding the most complicated, controversial and dynamically talented prospect ever. Since winning the Heisman Trophy in 2012 as a freshman, his off-field persona has rivaled that of Joe Namath in the 1960s and his creative on-field play has summoned up comparisons to Fran "The Scram" Tarkenton, among others.
Yet these fair or unfair comparisons to such legendary Hall of Fame characters has not even assured him of being picked first, or even in the first round, as NFL coaches and scouts debate his ability to transfer a playground style and a 6-foot-tall frame into pro football productivity.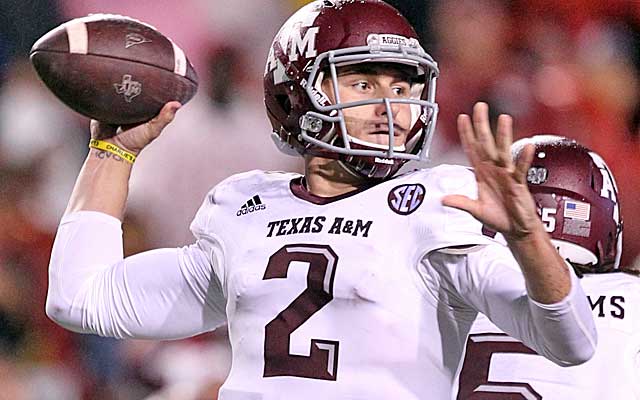 One thing is sure. It will take guts for a team to take on Manziel and all that goes with him, on and off the field. His presence makes the recent hubbub over Tim Tebow seem tame. Unlike Tebow, Manziel is not a candidate for minister and definitely can play quarterback in the NFL.
In only two seasons, Manziel marched Texas A&M through the tough SEC in wild style as he collected 9,989 total yards (7,820 passing, 2,169 rushing), 93 touchdowns (63 passing, 30 running).
While others debate over where he will be taken, Manziel is in New York this week tweeting about the sights ("We're a long ways from Hill Country") while using the hashtag #justakidfromKerrville, referencing his home town before becoming a prep star in Tyler, Texas and a national star at Texas A&M.
Asked how important it would be to be selected No. 1, Manziel showed he has learned how to properly handle questions, regardless of how he really feels.
"It's not important to me," he claimed Tuesday. "It would be extremely cool, a dream come true. But it's really out of my hands, out of my control."
And what about all the commotion over his off-field activities?
"I think it has been blown a little out of proportion, but I'm just living my life and will continue to have fun with it.
Back to the real issue, Manziel helped make this draft perhaps the most talented ever thanks to an influx of a record 102 underclassmen, or 98 depending on the technicalities of defining the term.
According to projections by NFLDraftScout.com, as many as 23 underclassman may be taken in the first round, 42 by the end of round two and 47 among the top 100 picks.
As for the ever-popular quarterbacks, Manziel is only the tip of the iceburg in terms of controversy. NFLDraftScout.com projects four likely candidates for the first round, six through round two and between 12 and 17 in the entire draft. The quarterback names, in Draft Scout order, include Central Florida's burly Blake Bortles, Manziel, Louisville's Teddy Bridgewater and Fresno State's Derek Carr. Based on feedback from teams across the league, there is no consensus on who should be taken when.
Confusion has been compounded by this draft being pushed back at least two weeks later than usual, allowing teams to get mind-cramped as the reconsider and reshuffle, moving players up or down who might have stayed put were it not for the extra time.
And it could get worse. Word from NFL headquarters is that future drafts may be even two weeks later, obviously to move beyond the NBA draft on the calendar.
Even the player rated by most as the best of the bunch has been second guessed often in the last few weeks. Clowney, an enigmatic pass rusher who can be as good as he wants, was reportedly displaced on the top of some charts by Buffalo outside linebacker Kahlil Mack.
And numerous scouts believe the player with the highest ceiling in this draft is Auburn offensive tackle Greg Robinson, a gigantic, raw, force of nature whose abilities have been likened to a couple of Hall of Fame tackles.
But Robinson has a long ways to go and teams needing immediate help at tackle may opt for Texas A&M's Jake Matthews, son of Hall of Fame tackle Bruce and the ready to be the sixth from that talented family to be drafted.
Another supreme talent is Clemson's Sammy Watkins, who is the best of the best position in this draft as wide receivers are expected to be called as many as six times in the first round, 14 through round two, 16 among the top 50 and at least 33 in the whole draft.
Fortunately for NFL teams who want to hold down the score, that glut of wide receivers is mirrored, as it were, by cornerbacks. Topped by Michigan State's Marqueze Dennard, at least 33 cornerbacks could be called in this draft, including five in the first round and 14 in the top 50.
Some questions will be answered and others created when the draft begins at 8 p.m. (ET) Thursday, when the first 32 players will be selected.
Friday at 7 p.m. the draft reconvenes with rounds two and three. Teams will get seven minutes between second round picks and five minutes between third round choices.
The show, er, draft wraps up Saturday beginning at noon with teams getting five minutes between selections in rounds four through seven.
And, with college spring game films already being evaluated, the process for next year is already underway.

Frank Cooney, founder and publisher of The Sports Xchange and NFLDraftScout.com, covered the NFL and the draft since the 1960s and is a selector for the Pro Football Hall of Fame.