2014 NFL Draft: Only the tough qualify for a spot in Rang's Gang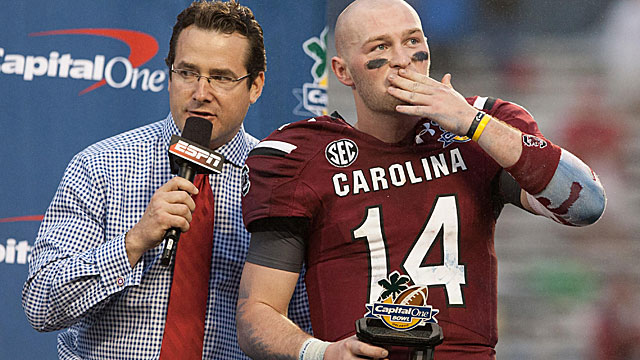 Draft coverage: Firstborn favorites | Mock Drafts | Prospect Rankings | Big Board | News
In scouting hundreds of players in preparation for the NFL Draft, it's impossible not to develop some favorites.
Rang's Gang is the collective answer to the question I'm most often asked: "If you were running a team and you needed a (insert position), who would you take?"
There's only one rule -- no consensus first-round prospects. Anyone can compile a list of the top players per position and call them "can't-miss" prospects.
The players that make Rang's Gang are a collection of prospects who are underrated, come from smaller programs or will make their impact in the NFL through hustle, determination and doing all the little things.
Others make the team because ... well, I've developed an affinity for the way they play the game.
OFFENSE
QB - Connor Shaw, South Carolina, 6-0, 206, 4.62
Like many of the players on this list, Shaw played a high level on a big time stage but because of a lack of ideal traits, he's likely to get under-drafted. He's gritty and composed and, as the son of a coach and pupil of the demanding Steve Spurrier, Shaw is better prepared than most to digest an NFL playbook. He's mobile with just enough arm talent (including very good touch) to make the jump and showed steady improvement over three seasons as a starter, culminating with a senior campaign in which he threw 24 touchdowns and only one interception.
RB - Bishop Sankey, Washington, 5-10, 209, 4.55
Sankey won't wow you with his breakaway speed or lower his shoulder to truck defenders. Instead, he possesses a terrific blend of vision, burst and spatial awareness that helps him slip through cracks and spin away from big hits. He's a reliable receiver and professional blocker. In short, he's the best all-purpose back in the draft.
TE - Jake Murphy, Utah, 6-4, 249, 4.78
Murphy lacks elite physical traits but like the afore-mentioned Sankey, is a versatile, dependable and mature player who I believe will out-play his selection. He is more savvy than speedy as a route-runner but catches the ball cleanly and forces defenders to wrap him up for the tackle. He's played H-back, in-motion and as an in-line blocker and has want-to and experience on special teams to make a roster.
WR - Jared Abbrederis, Wisconsin, 6-1, 195, 4.50
Few players on this list are more recognizable than Abbrederis, a polished route-runner and reliable receiver who is both bigger and faster than many give him credit. Perhaps due to skin pigment, Abbrederis is frequently compared to Wes Welker (5-09, 185). Likening any rookie Pro Bowler is a compliment but Minnesota's Greg Jennings (6-0, 195), a two-time all-star with the Green Bay Packers, is a better comparison.
Slot WR - Robert Herron Wyoming, 5-09, 193, 4.47
Despite their popularity in today's expanding passing attacks, slot receivers remain one of the more misunderstood players on the field. Terrific quickness and straight-line speed is important. Reliable hands, a stout frame and, perhaps most importantly, the courage to handle playing close to the line of scrimmage, is critical. Herron is an explosive big play waiting to happen and plays with a chip on his shoulder.
OT - Jack Mewhort, Ohio State, 6-6, 309, 5.38
Toughness and competitiveness - not size or athleticism - are the traits I value most in NFL prospects and Mewhort ranks among the elite at his position in these categories. He starred the past two seasons at left tackle for the Buckeyes but projects better to the right side where his power and tenacity should make him a quality starter early in his NFL career.
OG - Brandon Thomas, Clemson, 6-3, 317, 5.06
Tragically, Thomas suffered a torn ACL during a private workout with the New Orleans Saints in early April and therefore it might be his second season in the NFL before he'll prove a steal. When healthy, Thomas has shown good lateral agility, a stout anchor and heavy, physical hands to control opponents and though I list him here as a guard, he's a fluid enough athlete to consider keeping at left tackle. It is a testament to Thomas' game that he'll be drafted at all after suffering such a serious injury this close to the draft.
C - Weston Richburg, Colorado State, 6-3, 298, 5.08
Despite Southern Cal's Marcus Martin boasting a higher upside, Richburg is my top-rated center in the 2014 draft. The rationale is simple. He doesn't get beat. Richburg is a coordinated athlete who fits best in a zone-blocking scheme due to his initial quickness, agility and controlled aggression. He's a four-year starter, two-time team captain and one of the few plug-n-play interior linemen of the 2014 draft.

DEFENSE
DL (pass rusher) - Marcus Smith, Louisville, 6-3, 251, 4.66
I don't know of a more talented pass rusher earning less buzz as the draft approaches than Smith and I just don't get it. I see a quality rush linebacker or LEO defensive end with terrific instincts, agility, leadership and arm length (34"). Sure, he's not as stout or strong yet as more experienced defensive ends, but the improvements Smith has made over his career (including 18.5 tackles for loss and 14.5 sacks as a senior) after initially signing with the Cardinals as a quarterback speak to his upside.
DL (run-defender) - DaQuan Jones, Penn State, 6-4, 322, 5.37
Jones has a naturally broad frame and excellent strength which lends itself well to two-gap responsibilities, whether as a five-tech (preferred) or even as a nose guard. He is surprisingly light on his feet and plays with a high-revving motor to pursue. In a class filled with athletic big men lacking consistency, Jones' steady improvement at Penn State stands out.
OLB - Kyle Van Noy, BYU, 6-3, 243, 4.62
Because of the fact that he often sacked the quarterback (26 career sacks) from his rush linebacker position in the Cougars' 3-4 scheme, Van Noy has often been mischaracterized as a one-trick pony. In fact, Van Noy ranks among the best - and most versatile- linebackers in the draft, demonstrating terrific instincts, agility and closing speed. He frequently beats blockers to the action, slipping past them rather than forcibly taking on and shedding and therefore is known more for his finesse than physicality. I know him for his effectiveness and won't be surprised at all when he plays like a first rounder even after being selected in the second.
ILB - Jordan Zumwalt, UCLA, 6-4, 235, 4.65
While each is very effective, Zumwalt and Van Noy couldn't be more different in their playing style. Zumwalt is the proverbial "bull in a china closet," attacking blockers and ball-carriers with reckless abandon that will endear him to coaches and fans, alike. He projects best inside due to his willingness to mix it up and less-than-ideal flexibility but has played outside in the 3-4 and 4-3 over his 30 career starts.
CB - Jaylen Watkins, Florida, 6-0, 194, 4.41
Overshadowed by younger brother Sammy (Clemson's star wideout) and fellow Florida defensive backs over his career, Watkins is a top 10 corner prospect earning surprising little hype. Maybe it is because he isn't a big interception guy, picking off just three passes (all in 2012) in 28 career starts. Watkins' agility and willingness to mix it up in run support earned him starts at corner and safety while with the Gators (28 career starts) and he stood out at the Senior Bowl, as well.
S - Dion Bailey, Southern Cal, 6-0, 201, 4.62
Like Watkins, if Bailey had been allowed to develop in one role, he might rank among the most respected at his position in the 2014 draft. Instead, he showed off his selflessness and intriguing versatility by playing safety, linebacker and corner under two very different schemes for the Trojans. Athletic, instinctive, physical and a proven playmaker (10 interceptions in 35 career starts), Bailey ranks as one of the most underrated defenders in the draft. Now when was the last time you could say that about a Southern Cal player?