2014 NFL Draft: Here's Johnny Manziel
Draft coverage: Draft picks and grades | Prospect Rankings | Mock drafts | News
His first day on the job Friday brought cameras and questions, which made Cleveland more of the same for first-round pick Johnny Manziel.
Manziel, drafted No. 22 by the Browns on Thursday, hogged the spotlight -- no fault of his own -- in a joint press conference with eighth overall pick Justin Gilbert, a soft-spoken cornerback from Oklahoma State.
While Manziel repeated that he comes in as the "low guy on the totem pole who has to earn respect" the notion was easily lost on Gilbert.
It was evident, though, that a new day arrived for the Browns. Jersey sales, a full season ticket sellout, and national attention overtook the team's Berea, Ohio, facility less than one full day after Manziel hit the stage to hold up a Browns jersey with commissioner Roger Goodell at Radio City Music Hall in New York.
"I'm used to that. That's been my life for a while now. The spotlight, the expectations, everything that comes along with that, I'm used to that," Manziel said. "I've been prepared by the past."
The past also prepared the Browns for the draft moment that brought mostly applause and plaudits for first-year general manager Ray Farmer. With 20 different starting quarterbacks, including presumed No. 1 Brian Hoyer -- three starts in Cleveland last season before he was lost to a season-ending ACL injury -- and eight head coaches since 1999, the Dawg Pound is thirsty for the type of energy attached to Manziel.
"It means a lot to me obviously, getting a lot of support already. But there's work that needs to be done," Manziel said. "There's things that need to be done. I'm very excited, very eager to be here and really get things rolling."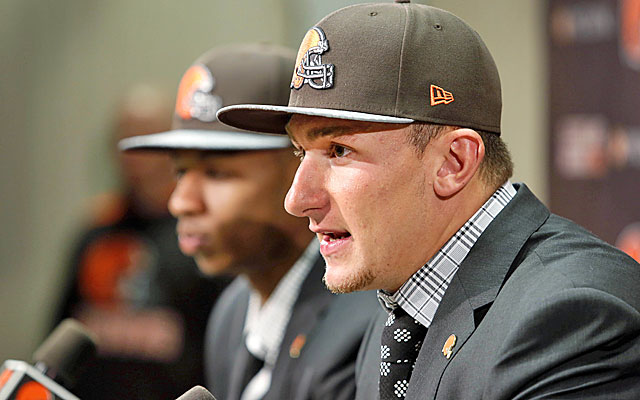 Manziel said he landed in Ohio with a simple outlook -- to get better. That, he said Friday in a jam-packed press conference, will not be viewed as a sure thing or an easy task.
"I know I'm going to be able to put into an immense amount of time. I think if you ask [college teammates], they know how much I care," Manziel said. "Being here, there's a gap I have to close with learning the offense, getting up to speed. I'm going to put in the amount of time to be good."
The Browns and their fans are banking on it.
One adjustment to be made for Manziel, and a contributor to his draft-night slide, is making the most of his size without sacrificing his physical well-being or losing the brilliant instincts and freelancing skills that made him the 2012 Heisman Trophy winner as a redshirt freshman with the Aggies.
"I played in a very tough conference, I believe the best in the country," said Manziel, who was the third Texas A&M player drafted Thursday, when two Alabama defenders were also chosen before the Aggies' quarterback. "A bunch of those guys are going in the first round of the NFL draft. I haven't missed a game, never missed any practices. There's been times where I was a little bit banged up. ... I can only help this team if I'm on the field."
Other teams worried about the celebrity and depth of the "Johnny Football" moniker. Manziel said that name is media created, and he pointed out famous athletes including Cleveland Cavaliers point guard Kyrie Irving, Miami Heat forward LeBron James and rapper Drake reached out to him.
Manziel said he accepts that outside view exists, but sidestepped media as adroitly as he did SEC defenders when asked if he expected to start for the Browns in the 2014 regular-season opener.
"I have very high goals. I have no expectations going into this," he said. "My main goal right now is to work extremely hard and get better as a football player. There's a bridge, a learning curve I have to adapt to. ... There's guys, Brian, Vince [Young], who are here and I can learn a lot from them."