2014 NFL Draft: NFC undrafted free agents to watch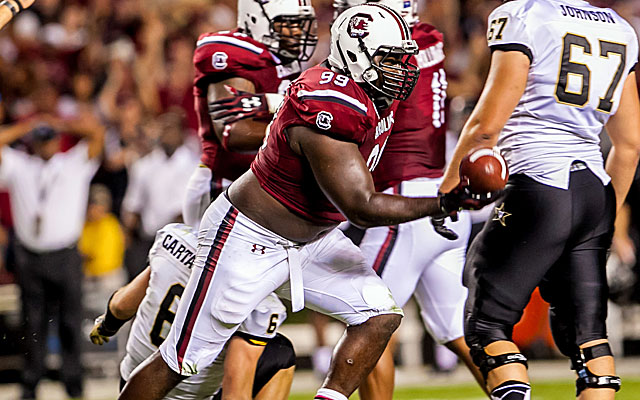 Draft coverage: Picks and grades | 2015 mock draft | Top 100 for 2015 | News
Once all 256 picks are submitted, the NFL Draft is complete. But that's when the real fun begins as teams recruit undrafted players and entice them with free agent contracts and a longshot chance to make the roster.
For players who aren't drafted in the first few rounds, going undrafted isn't the worst outcome because they likely have more than a few teams jockeying to add them as an undrafted free agent, allowing players to choose the best team for them. Weak spots on the depth chart, familiarity with the coaching staff or simply feeling comfortable in certain situations or schemes are all reasons undrafted players land with different teams to attempt and make their dreams of a NFL career come to fruition.
Here's a look at one UDFA for each NFC team who has a chance to make the roster and see snaps in the 2014 season.
NFC EAST
Dallas Cowboys -- DT Chris Whaley, Texas: While the Longhorns didn't have a draft pick in the 2014 class (first time since 1938), I believe Whaley would have heard his name called if it wasn't for an ACL injury that cut short his senior season. He goes to a defense in need of 3-technique help and Whaley could learn under another former RB-turned-DT from Texas, Henry Melton.

New York Giants -- DT Kelcy Quarles, South Carolina: A player with questionable character, both on and off the field, Quarles didn't do himself many favors during the pre-draft process, but he has the raw talent to stick at the next level. It was Quarles, not No. 1 overall pick Jadeveon Clowney, who led the Gamecocks in tackles for loss (13.5) and sacks (9.5) in 2013.

Philadelphia Eagles -- ATH Taylor Martinez, Nebraska: A college quarterback, it's no mystery why Martinez went undrafted with his below average mechanics and inconsistency as a passer. But the former Cornhusker is a legit 4.3 athlete, and while unproven catching the ball, Chip Kelly is the bright offensive mind who will be able to figure out how to use his athleticism.
Washington Redskins -- QB Tommy Rees, Notre Dame: While BYU WR Cody Hoffman was probably the most talented UDFA that signed with Washington, the wide receiver depth chart is so deep that Rees gets the nod. Robert Griffin and Kirk Cousins are 1-2 on the Redskins' depth chart at quarterback, but Rees is a real contender to beat out Colt McCoy for No. 3.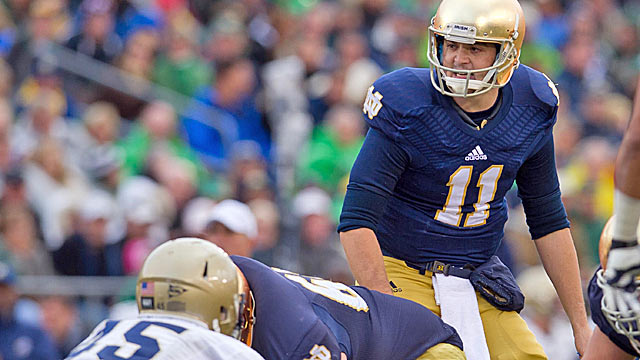 NFC NORTH
Detroit Lions -- OT Cornelius Lucas, Kansas State: A draftable player, Lucas is a mammoth human being with the engulfing wingspan to eat up rushers and eliminate them from the play. He battled a foot injury throughout the pre-draft process, but has the natural size and workable traits to stick as the Lions' backup right tackle.
Chicago Bears -- LB Christian Jones, Florida State: Jones went undrafted due to some durability concerns and questions about where his best position will be at the next level, but if he stays healthy he might be able to carve out a niche on special teams coverage. Jones has the versatile ability to help in sub-package situations at several front-seven spots.
Green Bay Packers -- DE Adrian Hubbard, Alabama: Hubbard's "minor heart abnormality" is certainly something to watch, but if proven to be not as serious as it sounds, Hubbard has enough skill to make Green Bay's roster. Green Bay strengthened their front-seven his offseason, but Hubbard's 1.61 10-yard split and 39-inch vertical is proof that the raw burst is there.
Minnesota Vikings -- OT Antonio Richardson, Tennessee: It doesn't matter to me that Ju'Wuan James was a first rounder and Richardson went undrafted, I still argue that "Tiny" Richardson was the better Tennessee offensive tackle on tape. But due to knee and hip issues, his longevity is a question mark. But if he can stay off the trainer's table, he has NFL starting potential.
NFC SOUTH
Atlanta Falcons -- WR Bernard Reedy, Toledo: With Tony Gonzalez retired, look for the Falcons to use more three- and four-WR sets, using speed over size in the middle of the field. Reedy goes to a roster where he can learn from speedy receivers like Harry Douglas and Devin Hester, and if he can be consistent finishing catches, he has a future in the NFL.
Carolina Panthers -- WR Corey Brown, Ohio State: The Panthers don't currently have a wide receiver on the roster with any career catches in a Carolina uniform, a big reason Kelvin Benjamin was their first round pick. But with so much uncertainty at the position, look for Brown to emerge as a possible No. 4 WR who can also help as punt return man as a rookie.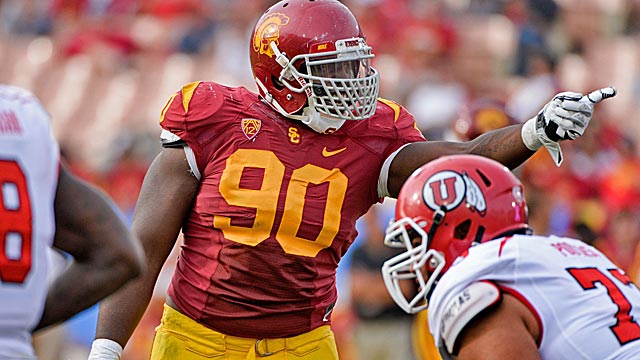 New Orleans Saints -- DT George Uko, USC: One of a few Trojan underclassmen who declared early, yet went undrafted, Uko spent time at DT and DE in college, lining up as a five-technique in 2013 at USC. He isn't yet the sum of his parts, but fits as a player worth developing as a DE in Rob Ryan's 3-4 scheme due to his natural traits and room for improvement.
Tampa Bay Buccaneers -- QB Brett Smith, Wyoming: Over his career, Smith has been told he's not quite good enough. He was the Oregon high school player of the year but Pac-12 schools passed. He rewrote the Wyoming record books but was a combine snub and went undrafted. He needs work, but look for Smith to make the Tampa roster and develop as their No. 3 QB with a huge chip on his shoulder.
NFC WEST
Arizona Cardinals -- OG Anthony Steen, Alabama: When players play through injuries, it's widely viewed as courageous, but for Steen, it might have kept him from being drafted. He played through a shoulder injury in 2013 before finally opting for surgery this past December, which kept him sidelined during the pre-draft process. That, along with his concussion history, made him a draft afterthought despite good tape.
San Francisco 49ers -- LB Shayne Skov, Stanford: The tone-setter of the Stanford defense, Skov looked like a future early round pick in 2010, but torn ligaments in his left knee in 2011 curbed those projections as he slowly worked back to full health. His violent playing style welcomes injuries and his lack of speed left him undrafted, but he has the mentality one shouldn't bet against.
Seattle Seahawks -- SS Dion Bailey, USC: A player recruited out of high school by Pete Carroll, Bailey has the tweener skill-set and durability issues that will likely keep him from ever starting in the NFL, but he has the rangy athleticism and fearless mentality to possibly find a role on special teams.
St. Louis Rams -- CB Marcus Roberson, Florida: A second-round talent on tape, Roberson turned NFL teams off with his 4.6 speed and multiple character issues while at Florida. But if he can take a lesson from current St. Louis Rams cornerback (and former Gator) Janoris Jenkins and keep his nose clean and motivated, he has a future in the NFL.