2014 NFL Draft: AFC undrafted free agents to watch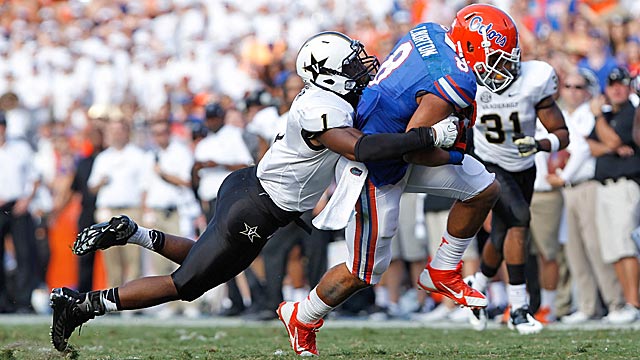 Draft coverage: Picks and grades | 2015 mock draft | Top 100 for 2015 | News
Once all 256 picks are submitted, the NFL Draft is complete. But that's when the real fun begins as teams recruit undrafted players and entice them with free agent contracts and a chance to make the roster.
For players who aren't drafted in the first few rounds, going undrafted isn't the worst outcome because they likely have more than a few teams jockeying to add them as an undrafted free agent, allowing players to choose the best team for them. Weak spots on the depth chart, familiarity with the coaching staff or simply feeling comfortable in certain situations or schemes are all reasons undrafted players land with different teams to attempt and make their dreams of a NFL career come to fruition.
After examining the NFC on Monday, here's a look at one UDFA for each AFC team who has a chance to make the roster and see snaps in the 2014 season.
AFC EAST
Buffalo Bills -- S Kenny Ladler, Vanderbilt: With Jairus Byrd signing in New Orleans as a free agent, the Bills are hoping a tandem of Aaron Williams and Da'Norris Searcy will fit at safety. But depth is needed and although Buffalo didn't draft a safety, Ladler has the resume and skills to stick, leading Vanderbilt in tackles the past two seasons.
Miami Dolphins -- TE Gator Hoskins, Marshall: A player in the Charles Clay mold, Hoskins lined up in a WR/TE hybrid role in college and projects as a versatile H-back threat with his athletic ability as a receiver. He is a try-hard competitor and will make it tough for coaches to cut him due to his work ethic and motivated drive to find the field.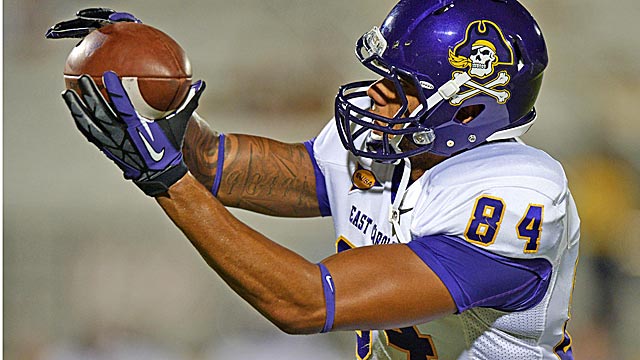 New England Patriots -- TE Justin Jones, East Carolina: With Rob Gronkowski still on the mend and the Patriots not drafting a tight end last weekend, Jones has an opportunity to win a roster spot. With only Michael Hoomanawanui and D.J. Williams in front of him on the depth chart, Jones has the size (6-8, 274) and raw explosive qualities to develop into this year's version of Kenbrell Thompkins for New England.
New York Jets -- DL Kerry Hyder, Texas Tech: A scheme versatile lineman, Hyder played under five different defensive coordinators over his career at Texas Tech and is well-versed lining up in multiple fronts. The Jets have their starters up front led by Sheldon Richardson and Muhammad Wilkerson, but Hyder could prove to be a reserve worthy of meaningful snaps.
AFC NORTH
Baltimore Ravens -- LB Xavius Boyd, Western Kentucky: While ILB Andrew Jackson was drafted in the sixth round by the Colts, several around the league believed his teammate Boyd to be the better NFL prospect. He had a breakout senior season in 2013, leading the Sun Belt Conference in tackles for loss (15.5) and sacks (8.5)
Cincinnati Bengals -- FB/DL Nikita Whitlock, Wake Forest: Whitlock lined up as a nose tackle and defensive lineman in college, but at 5-10, 260 pounds, he lacks ideal size to play a similar position at the next level. He is a highly competitive player who dedicates himself to the game and will likely be attempting a transition to a fullback role on offense.
Cleveland Browns -- RB Isaiah Crowell, Alabama State: While I also think fellow undrafted players WR Chandler Jones, WR Willie Snead and QB Connor Shaw have excellent shots to make the Cleveland roster, Crowell is the most talented of the group and arguably the most gifted of all the running backs in the 2014 class. Strong off-field red flags left him undrafted, but if he stays motivated and clean, look out for the Browns' backfield.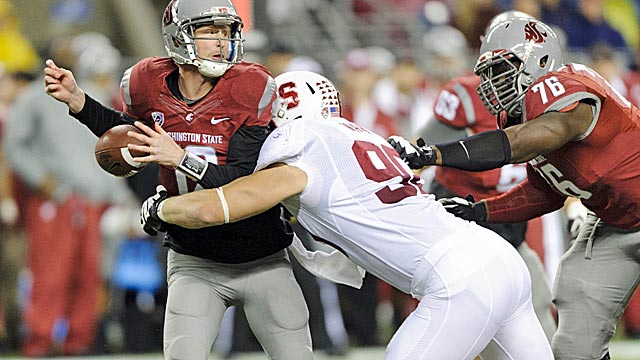 Pittsburgh Steelers -- DE Josh Mauro, Stanford: The Steelers are rebuilding their three-man front and second-round pick Stephon Tuitt is a big part of the new look, but Mauro could also work his way into a rotation at DE. He is a "what you see, is what you get" type of prospect, but coaches will enjoy trying to develop him due to his hustle and workmanlike attitude that fits Pittsburgh.
AFC SOUTH
Houston Texans -- TE Anthony Denham, Utah: More of a rocked up receiver than traditional tight end, Denham transferred from the JUCO level to Utah and started in 2013. An impressive specimen who passes the eye test, he doesn't have the ideal resume, but there is untapped potential there, especially as a red zone threat.
Indianapolis Colts -- NT Zack Kerr, Delaware: The only true nose tackle prospect currently on the Colts' depth chart is Josh Chapman, who has a history of missing time due to injuries. Kerr has a checkered past, mostly due to poor academics, but has experience two-gapping with a stout build and natural power to be a bully and add depth.
Jacksonville Jaguars -- CB Rashad Reynolds, Oregon State: The Jaguars have a crowded cornerback group on the depth chart, but Reynolds has the talent to impress during camp and possibly earn his way onto the active roster. He can be inconsistent vs. the run and lacks ideal long-speed, but has some twitchy movements with fluid footwork and the needed confidence.
Tennessee Titans -- RB Antonio Andrews, Western Kentucky: With Chris Johnson no longer on the roster, the Titans drafted Bishop Sankey in the second round to be the new feature back, but Andrews has enough skills to earn a reserve role. He needs to eliminate the fumbles, but is a smart runner with a versatile skill set -- most all-purpose yards in a two-year span in NCAA history (5,780).
AFC WEST
Denver Broncos -- LB Shaquil Barrett, Colorado State: A poor man's Von Miller, Barrett was a hybrid linebacker and rush end in college and earned conference defensive player of the year honors in 2013 with 20.5 tackles for loss and 12.0 sacks. He has average physical traits, but is a flexible athlete with a high energy attitude to potentially be a nickel rusher.
Kansas City Chiefs -- WR Albert Wilson, Georgia State: Besides Dwayne Bowe, the Chiefs wide receiver group lacks any targets that keep defensive coordinators awake at night. Wilson isn't the biggest or strongest, but his speed fits the NFL game and he is going to a situation that might allow him to see playing time earlier than expected.
Oakland Raiders -- LB Carlos Fields, Winston-Salem State: The Raiders drafted linebacker Khalil Mack in the topfive, but it wouldn't surprise me if Fields, an undrafted free agent, is playing next to him at some point this season. Fields starred at the Division-II level and was a two-time conference player of the year, but his skill-set translates well to the next level.
San Diego Chargers -- S Alden Darby, Arizona State: Besides Eric Weddle, the Chargers safety depth isn't overly impressive, and a high football character player like Darby could not only make the roster but see meaningful snaps. He led Arizona State in tackles the last two seasons and has the toughness and versatility to contribute in passing situations.