2011 NFL Draft Revisited: Part 1, teams 17-32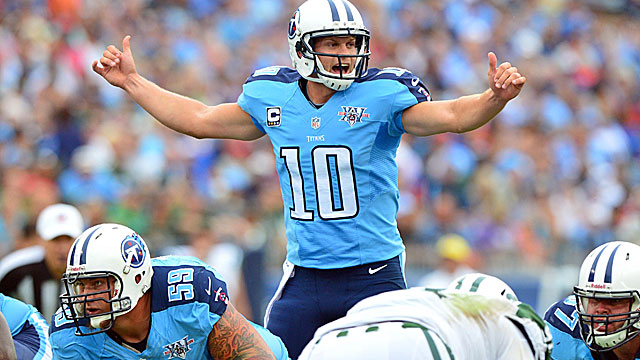 NFL offseason: 2014 Draft Tracker, grades | Free agents | Minicamp, OTA dates
Part 1 of 2 (Part 2, Picks 1-16 coming Tuesday, May 20): Before draft picks even take the field, most of us are guilty of "grading" each team on the prospects they selected in the NFL Draft. While there is nothing wrong with immediately evaluating each team's draft class, a more practical exercise is to give prospects three or more seasons to prove themselves in the NFL to properly grade each team's return on investment.
Looking back at the 2011 class, the quarterbacks went high with four in the top-12 picks, but the lasting thought from the 2011 NFL Draft is the impact of the pass rushers produced from that class: J.J. Watt, Robert Quinn, Aldon Smith, Von Miller and Justin Houston are just a handful of impact sack artists that entered the league three years ago. The 2011 NFL Draft sent a few superstars to the NFL (12 of the top-16 picks have made at least one Pro Bowl), but like every class, there were several busts as well.
With that said, let's look back at the 2011 NFL Draft to see how each team did, ranking them from 32-to-1, worst to first. Part 1(teams 32-17) will be posted on Monday with Part 2 (16-1) updated Tuesday.

32. Chicago Bears (5 picks)

1 (29) OT Gabe Carimi, Wisconsin; 2 (53) DT Stephen Paea, Oregon State; 3 (93) S Chris Conte, California; 5 (160) QB Nathan Enderle, Idaho; 6 (195) LB J.T. Thomas, West Virginia

The good: While he has had some struggles, S Chris Conte has been a starter and will likely be the Bearsstarting FS in 2014. He had off-season shoulder surgery and isn't exactly a fan favorite after an up-and-down performance last season, but Conte set career-bests in 2013 with 89 tackles and three interceptions.
The bad: One of four first-round players from the 2011 class not currently on the team that drafted him, OT Gabme Carimi started two games in 2011 before a knee injury sideline him. He returned in 2012, but disappointed and was later traded to Tampa Bay, who cut him after the 2013 season. The Falcons recently signed him.

Jury still out: After a slow start as a rookie, DT Stephen Paea has been a solid player for the Bears, but his career has been very non-descript and not what Chicago expected after drafting him in the second round. The Bears drafted two tackles in 2014 (Ego Ferguson, Will Sutton) so maybe that will light a fire under Paea.
Re-grade: D
31. Oakland Raiders (8 picks)

2 (48) C Stefen Wisniewski, Penn State; 3 (81) CB DeMarcus Van Dyke, Miami (Fla.); 3 (92) OT Joe Barksdale, LSU; 4 (113) CB Chimdi Chekwa, Ohio State; 4 (125) RB/DB Taiwan Jones, Eastern Washington; 5 (148) WR Denarius Moore, Tennessee; 6 (181) TE Richard Gordon, Miami (Fla.); 7 (241) WR David Ausberry, USC
The good: The 18th receiver drafted in 2011, WR Denarius Moore didn't waste much time emerging as a home run threat for Oakland's offense. He has 130 career catches over his 35 NFL starts, averaging 15.8 yards per reception, and is no stranger to the end zone with 17 touchdowns, several on big plays.
The bad: Oakland drafted OT Joe Barksdale in the third round, but only gave him one season before releasing him. He signed with St. Louis and saw a few snaps in 2012 before becoming a starter in 2013, lining up at both tackle spots and inside at guard. While he's been a serviceable player, it hasn't been for the Raiders.
Jury still out: After drafting him at running back, the Raiders moved RB/DB Taiwan Jones to the defensive secondary with mixed results. But Oakland obviously feels strongly enough about him to give him a three-year contract extension, mainly for his impact on special teams coverage.
Re-grade: D+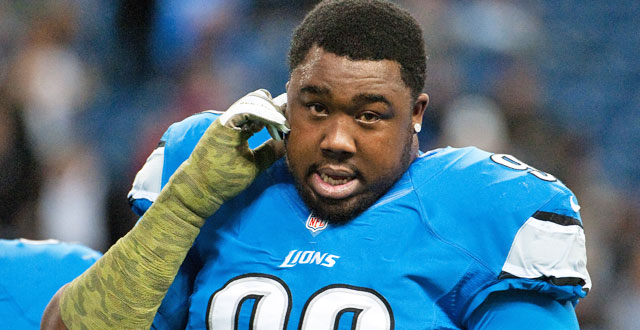 30. Detroit Lions (5 picks)

1 (13) DT Nick Fairley, Auburn; 2 (44) WR Titus Young, Boise State; 2 (57) RB Mikel Leshoure, Illinois; 5 (157) LB/RB Doug Hogue, Syracuse; 7 (209) OT Johnny Culbreath, South Carolina State
The good: With some coachability and maturity issues attached to his name, DT Nick Fairley slipped out of the top 10 and into the Lions' laps at No. 13. While he hasn't played at a Pro Bowl level, he has steadily improved and is due for a breakout season in 2014, the final year of his rookie contract.
The bad: An electric athlete with the ball in his hands, WR Titus Young was an immature player with too many demons going on behind the scenes. He is facing 11 charges, including four counts of felony burglary, and has received treatment since leaving the NFL after being released by the Lions and Rams.
Jury still out: After missing his rookie season due to injury, RB Mikel Leshoure showed some life in 2012 with almost 800 yards rushing. But he entered 2013 buried on the depth chart and was a healthy scratch for several games with Reggie Bush and Joique Bell commanding the carries, something that will likely continue in 2014.
Re-grade: D+
29. Minnesota Vikings (10 picks)

1 (12) QB Christian Ponder, Florida State; 2 (43) TE Kyle Rudolph, Notre Dame; 4 (106) DT Christian Ballard, Iowa; 5 (139) DB Brandon Burton, Utah; 6 (168) OT DeMarcus Love, Arkansas; 6 (170) DB Mistral Raymond, South Florida; 6 (172) G Brandon Fusco, Slippery Rock; 6 (200) LB Ross Homan, Ohio State; 7 (215) DE D'Aundre Reed, Arizona; 7 (236) WR Stephen Burton, West Texas A&M
The good: The Vikings found excellent value in the sixth round with G Brandon Fusco who has started 31 games the past two seasons. He suffered a knee injury late last season, but should be at full health for 2014 where he is locked in at the right guard spot with the versatility to line up at center if needed.
The bad: Minnesota turned heads when it drafted QB Christian Ponder 12th overall and as we look back three years later, it turned out about how most thought. He appeared to be headed in the right direction in 2012, but his development took a step back in 2013 and will likely not start again in a Vikings uniform.
Jury still out: After setting career-bests in 2012 with 53 catches for 493 yards and nine touchdowns, TE Kyle Rudolph stumbled in 2013, mostly due to a foot injury that kept him shelved for half the season. Under the new coaching staff, Rudolph could have a career year in 2014, but needs to stay healthy
Re-grade: C-
28. Jacksonville Jaguars (5 picks)

1 (10) QB Blaine Gabbert, Missouri; 3 (76) G Will Rackley, Lehigh; 4 (114) WR Cecil Shorts, Mount Union; 4 (121) SS Chris Prosinski, Wyoming; 5 (147) DB Rod Issac, Middle Tennessee State
The good: A fairly high pick for a Division-III prospect, WR Cecil Shorts was the 14th receiver drafted, but he has outplayed close to a dozen of the players at his position drafted ahead of him. With Justin Blackmon's career in jeopardy, Shorts has been Jacksonville's go-to target, leading the team in receiving the past two years.
The bad: The highest drafted player from the 2011 class no longer on his original roster, QB Blaine Gabbert spent three seasons in Jacksonville, recording more career interceptions (24) than passing scores (22). Still only 24 years old, Gabbert was traded to the 49ers this past offseason.
Jury still out: Entering the final year of his rookie contract, SS Chris Prosinski started seven games in 2012, but registered only one start a year ago. Barring injury, he'll be a backup in 2014 behind safeties Josh Evans and Johnathan Cyprien, but he has a chance to continue as a core special teams players.
Re-grade: C-
27. Philadelphia Eagles (11 picks)

1 (23) G Danny Watkins, Baylor; 2 (54) FS Jaiquawn Jarrett, Temple; 3 (90) CB Curtis Marsh, Utah State; 4 (116) LB Casey Matthews, Oregon; 4 (120) K Alex Henery, Nebraska; 5 (149) RB Dion Lewis, Pittsburgh; 5 (161) G Julian Vandervelde, Iowa; 6 (191) C Jason Kelce, Cincinnati; 6 (193) LB Brian Rolle, Ohio State; 7 (237) LB Greg Lloyd, Connecticut; 7 (240) RB Stanley Havili, USC
The good: A sixth-round, undersized center, C Jason Kelce earned the starting job during the preseason of his rookie year and started every game in 2011. He missed almost all of the 2012 season with a knee injury, but returned healthy and didn't miss a game in 2013, earning the Ed Block Courage Award.
The bad: Billed as a "can't miss" early-round prospect by some, OL Danny Watkins was anything but that with inconsistent play over 18 starts in an Eagles uniform. He was released before the 2013 season and signed with the Dolphins, where he saw action in only one game last season.
Jury still out: Some thought LB Casey Matthews could develop into a consistent NFL starter, but that has yet to happen in Philadelphia. A member of one of the most prestigious football families, Matthews hasn't had a NFL career like his brother, Clay, but he has the attitude to stick around as a quality backup.
Re-grade: C-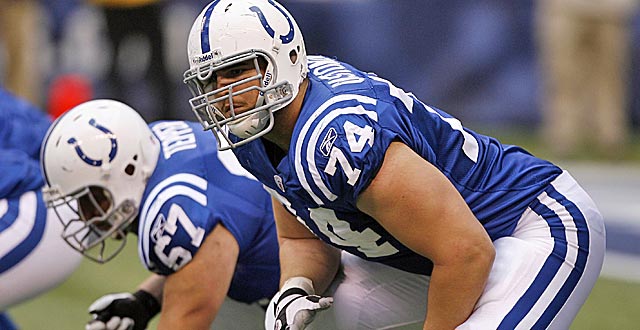 26. Indianapolis Colts (5 picks)

1 (22) OT Anthony Castonzo, Boston College; 2 (49) G Ben Ijalana, Villanova; 3 (87) DT Drake Nevis, LSU; 4 (119) RB Delone Carter, Syracuse; 6 (188) CB Chris Rucker, Michigan State
The good: The third offensive tackle off the board, OT Anthony Castonzo has been the starting left tackle for the Colts since entering the league in 2011. While not overly dominant, Castonzo has been reliable, starting every game the past two years, protecting Andrew Luck's blindside.
The bad: A player the Colts traded up to draft in the second round, G Ben Ijalana tore his ACL as a rookie and missed the 2011 season. He re-injured that same knee and missed the 2012 season, leading to his release. The Jets picked him up, but he's been mostly a reserve, struggling to stay healthy.
Jury still out: With OT Anthony Castonzo the only player from the Colts' 2011 draft class still on the roster, he gets the nod for this category as well. While not a dominant player, the Colts picked up his fifth-year option and many around the league feel he will develop into a Pro Bowl caliber left tackle.

Re-grade: C-
25. New York Giants (8 picks)

1 (19) CB Prince Amukamara, Nebraska; 2 (52) DT Marvin Austin, North Carolina; 3 (83) WR Jerrel Jernigan, Troy; 4 (117) OL James Brewer, Indiana; 6 (185) LB Greg Jones, Michigan State; 6 (198) SS Tyler Sash, Iowa; 6 (202) LB Jacquian Williams, South Florida; 7 (221) RB Da'Rel Scott, Maryland
The good: Although he admits he hasn't done enough as a former first-round pick, CB Prince Amukamara had a refreshing 2013 season, starting all 16 games and recording a career-high 14 pass break-ups. He has room to improve, but showed last year that he can be a reliable starting corner.
The bad: After North Carolina suspended him for the entire 2010 season, DT Marvin Austin saw his draft stock slip into the second round. The Giants took a chance on him at pick No. 52, but it wasn't a wise investment; he missed all of his rookie year with a pectoral injury and was released a year later.
Jury still out: OL James Brewer got off to a slow start and was a healthy scratch for every game as a rookie, but started eight games in 2013 with the versatility to see snaps at tackle or guard. He will likely compete with free-agent addition Geoff Schwartz for the starting left guard job.
Re-grade: C-
24. New Orleans Saints (6 picks)

1 (24) DE Cameron Jordan, California; 1 (28) RB Mark Ingram, Alabama; 3 (72) LB Martez Wilson, Illinois; 3 (88) CB Johnny Patrick, Louisville; 7 (226) DE Greg Romeus, Pittsburgh; 7 (243) LB Nate Bussey, Illinoi
The good: A player that has missed only one start the last three seasons, DE Cameron Jordan has improved each year and had a Pro Bowl season in 2013 with 12.5 sacks. He has the versatile skill-set to be used in different ways in Rob Ryan's 3-4 scheme and is the best player on the Saints' defense.
The bad: Former Heisman Trophy winner, RB Mark Ingram hasn't played at the level of a first-round pick, and considering the Saints traded a future first-rounder to trade up and draft him, it's even more disappointing. His stock is pointing down after career-lows in 2013, including 386 rushing yards and one touchdown.
Jury still out: Jordan and Ingram are the only two players from the Saints' draft class still on the New Orleans' roster, but RB Ingram qualifies for this category as well. He had a career-best 4.9 yards per carry in 2013 and made the most of his opportunities, and a change of scenery could revive his career.
Re-grade: C
23. San Diego Chargers (8 picks)

1 (18) DL Corey Liuget, Illinois; 2 (50) DB Marcus Gilchrist, Clemson; 2 (61) LB Jonas Mouton, Michigan; 3 (82) WR Vincent Brown, San Diego State; 3 (89) CB Shareece Wright, USC; 6 (183) RB Jordan Todman, Connecticut; 6 (201) OT Stephen Schilling, Michigan; 7 (234) LB Andrew Gachkar, Missouri
The good: Although he doesn't have any Pro Bowls to his name, DL Corey Liuget has been the Chargers best front-seven defender the past two seasons, starting every game over that span. He has led the team in sacks the last two years and still has a lot of good football ahead of him.

The bad: Drafted in the second round to be a starting linebacker, LB Jonas Mouton hasn't been able to stay healthy in the NFL. He was put on injured reserve as a rookie and was inactive for most of the 2012 season. Mouton suffered a torn ACL last summer and was shelved for the entire 2013 season.
Jury still out: A top-50 pick in 2011, DB Marcus Gilchrist started at cornerback, but moved to safety last season, starting all 16 games at SS. He finished the season third on the team in tackles and despite receiving mixed reviews in pass coverage, Gilchrist collected five pass break ups and a pair of interceptions.
Re-grade: C
22. Washington Redskins (12 picks)

1 (16) LB Ryan Kerrigan, Purdue; 2 (41) DE Jarvis Jenkins, Clemson; 3 (79) WR Leonard Hankerson, Miami (Fla.); 4 (105) RB Roy Helu, Nebraska; 5 (146) SS DeJon Gomes, Nebraska; 5 (155) WR Niles Paul, Nebraska; 6 (177) RB Evan Royster, Penn State; 6 (178) WR Aldrick Robinson, SMU; 7 (213) DB Brandyn Thompson, Boise State; 7 (217) G Maurice Hurt, Florida; 7 (224) LB Markus White, Florida State; 7 (253) NT Chris Neild, West Virginia
The good: One of only four first-rounders from 2011 who have started all 48 games since entering the NFL, OLB Ryan Kerrigan hasn't lit the world on fire in Washington, but he has been very consistent. With 183 total tackles, 24.5 sacks and 10 forced fumbles in his career, Kerrigan has been Mr. Reliable for the Redskins.
The bad: While this pick hasn't been a complete bust, the Redskins expected more from DL Jarvis Jenkins when they drafted him 41st overall in 2011. He tore his ACL as a rookie, was suspended four games in 2013 for violating the league's substance abuse policy and his on-field impact has been average-at-best.
Jury still out: WR Leonard Hankerson set career-bests in 2012 (38 catches, 543 receiving yards, 3 touchdowns) and was on pace to pass those marks in 2013, but an ACL tear in Week 11 last year shelved him for the rest of the season and puts his 2014 outlook in doubt, especially with a crowded depth chart.
Re-grade: C
21. Green Bay Packers (10 picks)

1 (32) OT Derek Sherrod, Mississippi State; 2 (64) WR Randall Cobb, Kentucky; 3 (96) RB Alex Green, Hawai'i; 4 (131) CB Davon House, New Mexico State; 5 (141) TE D.J. Williams, Arkansas; 6 (179) G Caleb Schlauderaff, Utah; 6 (186) LB D.J. Smith, Appalachian State; 6 (197) LB Ricky Elmore, Arizona; 7 (218) TE Ryan Taylor, North Carolina; 7 (233) DT Lawrence Guy, Arizona State
The good: Despite missing more than half of the 2013 season with a broken leg, WR Randall Cobb has established himself as one of the young playmakers in the league. While his days as a return man are probably over, Cobb is a versatile threat Aaron Rodgers will find quite a bit in 2014.
The bad: In an average-at-best running back class, the Packers drafted RB Alex Green in the third round. He registered only 475 yards in two seasons before being released prior to the 2013 season. He was signed with the Jets, but averaged only 3.2 yards per carry last year and his roster spot is in jeopardy.
Jury still out: After a demoralizing leg injury as a rookie, OT Derek Sherrod has yet to start a game in the NFL. He has battled injuries and setbacks, but is expected to be healthy for training camp and, although he likely won't win a starting job, can be a valuable reserve for Green Bay if he stays healthy.
Re-grade: C+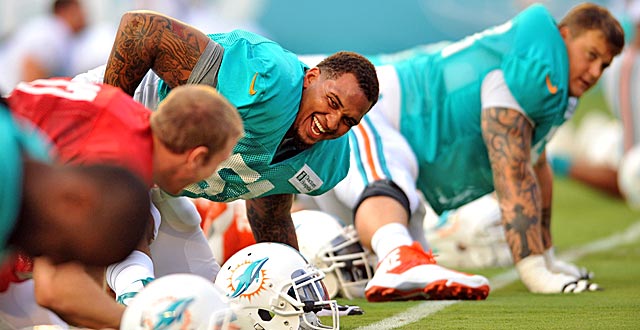 20. Miami Dolphins (6 picks)

1 (15) C Mike Pouncey, Florida; 2 (62) RB Daniel Thomas, Kansas State; 4 (111) WR Edmond Gates, Abilene Christian; 6 (174) HB Charles Clay, Tulsa; 7 (231) DT Frank Kearse, Alabama A&M; 7 (235) DB Jimmy Wilson, Montana
The good: Although his maturity has been questioned on more than one occasion, C Mike Pouncey has started 46 games the past three seasons and earned his first Pro Bowl nomination in 2013. He obviously still has some growing up to do, but he is one of the building blocks of the Dolphins offense.
The bad: The Dolphins drafted RB Daniel Thomas in the second round to be their feature runner, but that never happened; he has started just three games the past three seasons. He had his career-best in rushing yards (581) in 2011, but is in serious danger of not making the final roster for the 2014 season.
Jury still out: Although he hasn't become a full-time starter, DB Jimmy Wilson emerged as a versatile and valuable role player in nickel situations. With 234 players drafted ahead of him, Wilson plays with a chip and has adapted well to what Miami has asked him to do on defense and special teams.
Re-grade: C+
19. Pittsburgh Steelers (7 picks)

1 (31) DE Cameron Heyward, Ohio State; 2 (63) OT Marcus Gilbert, Florida; 3 (95) CB Curtis Brown, Texas; 4 (128) CB Cortez Allen, The Citadel; 5 (162) LB Chris Carter, Fresno State; 6 (196) G Keith Williams, Nebraska; 7 (232) RB Baron Batch, Texas Tech
The good: With Ziggy Hood and Brett Keisel no longer on the Steelers' roster, DE Cameron Heyward is the new face of Pittsburgh's defensive front. He was a backup in 2011 and 2012 before becoming a starter last season, recording career-bests with 59 tackles, 5.0 sacks and seven pass breakups.
The bad: Drafted to be an eventual starter, CB Curtis Brown never earned a start in a Steelers uniform, seeing limited snaps as a reserve the past three seasons. He saw action in seven games in 2013 before an ACL tear landed him on injured reserve, leading to his release in May 2014.
Jury still out: Pittsburgh's offensive line hasn't been a strength in recent years, but OT Marcus Gilbert started all 16 games at right tackle last season and is penciled in as the starter there for 2014. He has battled numerous injuries in the past, but his arrow is pointing up in regards to him as a reliable starter.
Re-grade: C+
18. Tennessee Titans (9 picks)

1 (8) QB Jake Locker, Washington; 2 (39) LB Akeem Ayers, UCLA; 3 (77) DT Jurrell Casey, USC; 4 (109) LB Colin McCarthy, Miami (Fla.); 4 (130) RB Jamie Harper, Clemson; 5 (142) DT Karl Klug, Iowa; 6 (175) OT Byron Stingily, Louisville; 7 (212) DT Zach Clayton, Auburn; 7 (251) DB Tommie Campbell, California (Pa.)
The good: A second team All-Pro last year, DT Jurrell Casey put together a career-best season with 55 total tackles and 10.5 sacks. He has the natural power and short-area quickness to be disruptive on both sides of the line of scrimmage and will likely move to defensive end in Ray Horton's 3-4 scheme.
The bad: A sub-60 percent completion passer in college, it hasn't been a surprise that QB Jake Locker has struggled at the NFL level, completing just 57.2 percent of his throws the last three seasons. He showed improvement in 2013 before an injury sidelined him, but drafting Locker top-10 simply hasn't worked.
Jury still out: It's been an up-and-down career thus far for LB Akeem Ayers, but there has been more good than bad. He had a breakout 2012 season with 104 tackles and half a dozen sacks, but his production nose-dived in 2013 and he underwent knee surgery in Jan. 2014, leaving his future in doubt.
Re-grade: C+
17. Tampa Bay Buccaneers (8 picks)

1 (20) DE Adrian Clayborn, Iowa; 2 (51) DE Da'Quan Bowers, Clemson; 3 (84) LB Mason Foster, Washington; 4 (104) TE Luke Stocker, Tennessee; 5 (151) SS Ahmad Black, Florida; 6 (187) RB Allen Bradford, USC; 7 (222) DB Anthony Gaitor, Florida International; 7 (238) TE Daniel Hardy, Idaho
The good: No linebacker from the 2011 class has more career tackles than LB Mason Foster, who has recorded 281 as a three-year starter for the Buccaneers. Playing the role of Brian Urlacher in Lovie Smith's defense this year, Foster's role should grow even more as he enters the final year of his rookie contract.
The bad: As the top high school recruit, DE Da'Quan Bowers appeared destined to be a future No. 1 overall pick. But poor medicals pushed him out of the top-10, first round and top-50 altogether and his NFL career hasn't lived up to expectations with only 5.5 career sacks in eight starts in Tampa.
Jury still out: With 7.5 sacks as a rookie, DE Adrian Clayborn appeared to be one of the league's top young pass rushers, but a knee injured shelved him for the 2012 season. He returned and started all 16 games last season, but had just 5.5 sacks and is fifth-year option was declined by the new Bucs regime.
Re-grade: C+
For teams 16-1, click here.