2011 NFL Draft Revisited: Part 2, teams 1-16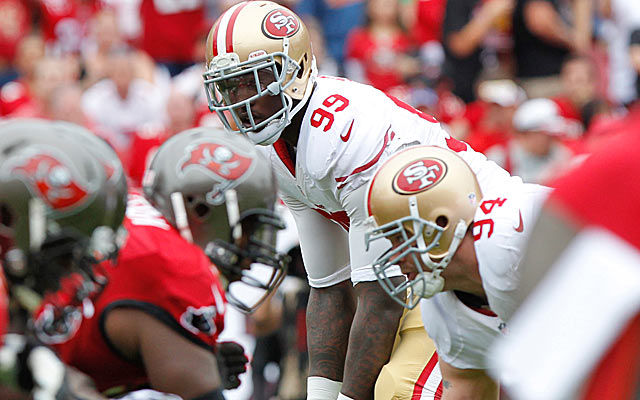 NFL offseason: 2014 Draft Tracker, grades | Free agents | Minicamp, OTA dates
Part 2 of 2 (Part 1, Nos. 17-32, was posted Monday, May 19): Before draft picks even take the field, most of us are guilty of "grading" each team on the prospects they selected in the NFL Draft. While there is nothing wrong with immediately evaluating each team's draft class, a more practical exercise is to give prospects three or more seasons to prove themselves in the NFL to register a comprehensive grade.
Looking back at the 2011 class, the quarterbacks went high, with four in the top-12 picks, but the lasting thought from the 2011 NFL Draft is the impact of the pass rushers produced from that class: J.J. Watt, Robert Quinn, Aldon Smith, Von Miller and Justin Houston are among the impact sack artists who entered the league three years ago. The 2011 NFL Draft sent a few superstars to the NFL (12 of the top-16 picks have made at least one Pro Bowl), but like every class, there were several busts as well.
With that said, let's look back at the 2011 NFL Draft to see how each team did, ranking them from 32-to-1, worst to first. Part one (teams 32-17) was posted Monday. Today, we tackle Nos. 16-1:
16. New England Patriots (9 picks)
1 (17) OT Nate Solder, Colorado; 2 (33) CB Ras-I Dowling, Virginia; 2 (56) RB Shane Vereen, California; 3 (73) RB Stevan Ridley, LSU; 3 (74) QB Ryan Mallett, Arkansas; 5 (138) OT Marcus Cannon, TCU; 5 (159) TE Lee Smith, Marshall; 6 (194) LB Markell Carter, Central Arkansas; 7 (219) DB Malcolm Williams, TCU
The good: The selection of OT Nate Solder paid immediate dividends as he made several All-Rookie teams in 2011, but with Matt Light retiring after the 2011 season, the pick was even more important. Solder has started 44 games in his three-year career, including the past two seasons at left tackle.
The bad: With the first pick of the second round, the Patriots drafted CB Ras-I Dowling to help with their secondary woes, but that never happened. He struggled with injuries and inconsistency and started only two games in two seasons in New England before his release, resurfacing on the Jets' practice squad.
Jury still out: Due to some maturity and off-field concerns, QB Ryan Mallett fell to pick No. 74 where the Patriots drafted him. With Tom Brady rarely leaving the field, Mallett has only one career completion in the NFL and is highly unproven at the professional level, but might get a chance to start somewhere next year.
Re-grade: B-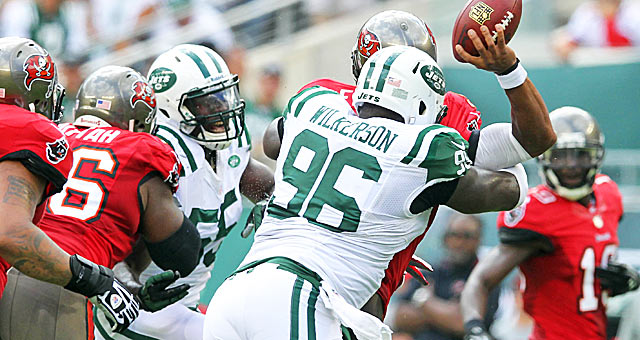 15. New York Jets (6 picks)
1 (30) DL Muhammad Wilkerson, Temple; 3 (94) DT Kenrick Ellis, Hampton; 4 (126) RB Bilal Powell, Louisville; 5 (153) WR Jeremy Kerley, TCU; 7 (208) QB Greg McElroy, Alabama; 7 (227) WR Scotty McKnight, Colorado
The good: A player who has missed only one start the past three seasons, DL Muhammad Wilkerson has developed into an impact player in Rex Ryan's defense, earning All-Pro honors in 2013 with 10.5 sacks and his first career interception. With another productive season in 2014, he'll have a lucrative extension coming his way.
The bad: With only a handful of starts the past three seasons, DT Kenrick Ellis hasn't taken command of the nose tackle position as the Jets hoped when drafting him in the third round. He has yet to register a sack as a pro and may already have hit his NFL ceiling as a role player.
Jury still out: With 16 starts under his belt in the NFL, WR Jeremy Kerley has had opportunities to establish himself as a regular contributor, but the results have been mixed. He has combined for 128 catches for 1,664 yards and six scores, but only one 100-yard receiving game and needs a breakout 2014 season to prove that he's not expendable.
Re-grade: B-
14. Buffalo Bills (9 picks)
1 (3) DT Marcell Dareus, Alabama; 2 (34) DB Aaron Williams, Texas; 3 (68) LB Kelvin Sheppard, LSU; 4 (100) S Da'Norris Searcy, North Carolina; 4 (122) OT Chris Hairston, Clemson; 5 (133) RB Johnny White, North Carolina; 6 (169) LB Chris White, Mississippi State; 7 (206) DB Justin Rogers, Richmond; 7 (245) DT Michael Jasper, Bethel (Tenn.)
The good: Despite a May 2014 arrest for possession of a controlled substance and drug paraphernalia, DL Marcell Dareus has been as advertised on the field since he entered the NFL as a high pick. He earned his first Pro Bowl nod in 2013 with a career-best 71 total tackles and 7.5 sacks.
The bad: Selected among the first few picks in the third round, LB Kelvin Sheppard started 15 games in 2012, but the Bills hoped to upgrade the position and drafted Kiko Alonso in the second round of the 2013 NFL Draft, making Sheppard expendable. He was traded weeks later to the Colts where he tallied 46 total tackles in 2013.
Jury still out: With Jairus Byrd leaving via free agency, the Bills' projected starters at safety in 2014 are FS Aaron Williams and SS Da'Norris Searcy. Williams has seen snaps at CB, SS and FS, but Searcy is more of a question mark after serving as a reserve safety and sub-package linebacker the past few seasons.
Re-grade: B-
13. Atlanta Falcons (6 picks)
1 (6) WR Julio Jones, Alabama; 3 (91) LB Akeem Dent, Georgia; 5 (145) RB Jacquizz Rodgers, Oregon State; 6 (192) P Matt Bosher, Miami (Fla.); 7 (210) G Andrew Jackson, Fresno State; 7 (230) DE Cliff Matthews, South Carolina
The good: Atlanta traded five draft picks, including two first rounders, in order to move from pick No. 27 to No. 6 to draft WR Julio Jones, who had career-bests in 2012 with 79 catches for 1,198 yards and 10 scores. Despite missing 11 games in 2013 because of injury, Jones already has 20 career touchdown grabs.
The bad: After trading their second-round pick to move up for Jones, it was even more important that Atlanta hit on their third round pick, but LB Akeem Dent hasn't panned out. He made a few All-Rookie teams in 2011, but lost his starting MLB gig last season and is expected to be a backup in 2014.
Jury still out: Over the past two seasons, RB Jacquizz Rodgers has produced almost identical stats. While he doesn't offer much in red zone situations, he has proven to be a more-than-capable pass-catcher (126 career catches). But the Falcons didn't draft RB Devonta Freeman this year to sit on the bench.
Re-grade: B
12. Kansas City Chiefs (9 picks)
1 (26) WR Jonathan Baldwin, Pittsburgh; 2 (55) C Rodney Hudson, Florida State; 3 (70) OLB Justin Houston, Georgia; 3 (86) DE Allen Bailey, Miami (Fla.); 4 (118) CB Jalil Brown, Colorado; 5 (135) QB Ricky Stanzi, Iowa; 5 (140) LB Gabe Miller, Oregon State; 6 (199) DT Jerrell Powe, Mississippi; 7 (223) FB Shane Bannon, Yale
The good: Probably the best non-first round defender from this class, OLB Justin Houston missed five games in 2013, but set a career-best with 11 sacks, giving him 26.5 in his career. He has emerged as one of the NFL's top pass rushers and is entering a contract year with a lucrative deal in his future.
The bad: Maybe the easiest first round bust to predict, WR Jonathan Baldwin was the third receiver drafted, but combined for only 41 catches in his two seasons in Kansas City before being traded to San Francisco. His physical tools are off the charts, but has never been a reliable player and is buried on the 49ers depth chart.
Jury still out: The Chiefs "other" third round pick, DE Allen Bailey has only four starts the past three seasons, but has been a valuable part of Kansas City's defensive line rotation. He tallied a career-best 30 tackles in 2013, but needs to show more in his fourth season to be considered anything more than depth.
Re-grade: B
11. Cleveland Browns (8 picks)
1 (21) DT Phillip Taylor, Baylor; 2 (37) DE Jabaal Sheard, Pittsburgh; 2 (59) WR Greg Little, North Carolina; 4 (102) TE Jordan Cameron, USC; 4 (124) FB Owen Marecic, Stanford; 5 (137) CB Buster Skrine, UT-Chattanooga; 5 (150) OL Jason Pinkston, Pittsburgh; 7 (248) DB Eric Hagg, Nebraska
The good: While Phil Taylor has shown flashes of Pro Bowl potential, TE Jordan Cameron emerged as a Pro Bowl talent in 2013 with 80 catches, more than tripling his career production. The former basketball player was considered a project out of USC and now Cameron has a long-term extension in his future.
The bad: While WR Greg Little has been a disappointment and was recently released, he has 155 career catches to his name, fourth-best in this class. Meanwhile FB Owen Marecic had only five catches as a NFL player and barely saw the field in Cleveland. He was released after two seasons and quit football altogether.
Jury still out: A player who may have been a casualty of scheme and coaching change in Cleveland, DE Jabaal Sheard has seen his sack total drop each of the last three seasons, from 8.5 to 7.0 to 5.5. He is competing with Paul Kruger and Barkevious Mingo for snaps at OLB, a position that hasn't been an ideal fit for him.
Re-grade: B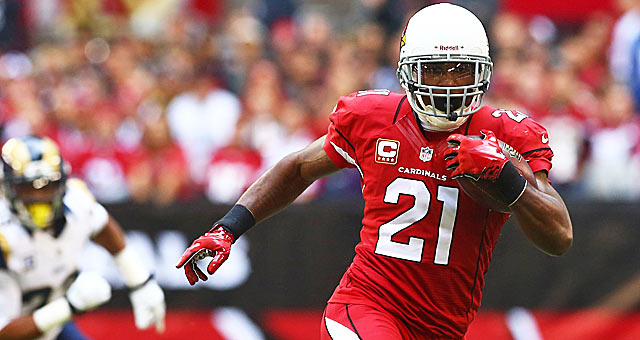 10. Arizona Cardinals (8 picks)
1 (5) CB Patrick Peterson, LSU; 2 (38) Ryan Williams, Virginia Tech; 3 (69) TE Rob Housler, Florida Atlantic; 4 (103) LB Sam Acho, Texas; 5 (136) FB Anthony Sherman; 6 (171) LB Quan Sturdivant, North Carolina; 6 (184) DT David Carter, UCLA; 7 (249) WR DeMarco Sampson, San Diego State
The good: Browns CB Joe Haden recently became the highest paid cornerback in the NFL, but that will change once CB Patrick Peterson, who is still only 23 years old, signs his extension. He has made the Pro Bowl in each of his three seasons at the pro level and has only improved since entering the NFL.
The bad: Even after missing time at Virginia Tech due to injuries, RB Ryan Williams was still talented enough to warrant a top-40 pick. But injuries killed his NFL career after a ruptured patella tendon in the 2011 preseason followed by multiple other medical setbacks that ultimately led to his release in May 2014.
Jury still out: A raw receiving prospect out of college, TE Rob Housler showed promise in 2012 with 45 catches for 417 yards, but Bruce Arians wants his tight ends to have a "block-first" mentality, which isn't an ideal fit for Housler. He only has one career NFL score, but still has some untapped potential.
Re-Grade: B
9. Carolina Panthers (8 picks)
1 (1) QB Cam Newton, Auburn; 3 (65) DT Terrell McClain, South Florida; 3 (97) DT Sione Fua, Stanford; 4 (98) CB Brandon Hogan, West Virginia; 5 (132) WR Kealoha Pilares, Hawai'i; 6 (166) LB Lawrence Wilson, Connecticut; 6 (203) C Zack Williams, Washington State; 7 (244) OT Lee Ziemba, Auburn
The good: The Panthers faced a good amount of pressure with the No. 1 overall pick in 2011, but they believed in QB Cam Newton and that faith has paid off as Carolina is coming off its first postseason appearance since 2008. Newton was the Rookie of the Year in 2011 and already has two Pro Bowls on his resume.
The bad: With the first pick in the third round, Carolina selected DT Terrell McClain, higher than most thought the South Florida product would be selected. He spent just one season with the team before being released, spending the last two years with the Texans and most recently signing a free agent deal in Dallas.
Jury still out: With only two career catches, WR Kealoha Pilares has had virtually no impact for the Panthers, but a big reason for that is because he missed the 2013 season with an ACL injury. With Carolina's wide receiver situation in flux, a now healthy Pilares has a chance to earn on-field snaps in 2014.
Re-grade: B+
8. St. Louis Rams (8 picks)
1 (14) DE Robert Quinn, North Carolina; 2 (47) TE Lance Kendricks, Wisconsin; 3 (78) WR Austin Pettis, Boise State; 4 (112) WR Greg Salas, Hawai'i; 5 (158) DB Jermale Hines, Ohio State; 7 (216) DB Mikail Baker, Baylor; 7 (228) LB Jabara Williams, Stephen F. Austin; 7 (229) DB Jonathan Nelson, Oklahoma
The good: After a handful of sacks as a sub-package rusher as a rookie, DE Robert Quinn tallied double-digit sacks each of the last two seasons, including 19 last season that earned him consensus All-Pro honors. He slipped in the draft due maturity concerns, but the talent was never questioned and the Rams got a steal.
The bad: After an impressive pre-draft process, WR Greg Salas moved up draft boards and the Rams drafted him early in the fourth round. He had 27 catches as a rookie, but was traded prior to the 2012 season and has recorded just eight catches the past two years, bouncing between three teams.
Jury still out: The second tight end drafted, TE Lance Kendricks showed promise as a rookie followed by career-highs in 2012 with 42 catches for 519 and four scores. But with the Rams signing TE Jared Cook last off-season, Kendricks' production dipped in 2013 and the upcoming season could be his final in St. Louis.
Re-grade: B+
7. Seattle Seahawks (9 picks)
1 (25) OL James Carpenter, Alabama; 3 (75) G John Moffitt, Wisconsin; 4 (99) LB K.J. Wright, Mississippi State; 4 (107) WR Kris Durham, Georgia; 5 (154) CB Richard Sherman, Stanford; 5 (156) DB Mark LeGree, Appalachian State; 6 (173) CB Byron Maxwell, Clemson; 7 (205) Lazarius Levingston, LSU; 7 (242) LB Malcolm Smith, USC
The good: Arguably the top cornerback in the NFL, CB Richard Sherman made the switch from receiver to corner late in his college career, the main reason 153 players were drafted ahead of him. But he has developed into a shutdown player with ballhawking skills that recently landed him an extension worth almost $60 million.
The bad: Although many think it was a reach when Seattle drafted OL James Carpenter 25th overall (it wasn't), he has struggled at the NFL level, mostly due to injuries. Carpenter suffered an ACL tear as a rookie that sidelined him into the 2012 season, followed by other ailments, including concussions.
Jury still out: Drafted less than 20 spots after Sherman, CB Byron Maxwell played mostly on special teams early in his career, but his role at corner grew last season, starting five games. And with Brandon Browner now in New England, Maxwell will get a chance to blossom on the opposite side of Sherman.
Re-grade: B+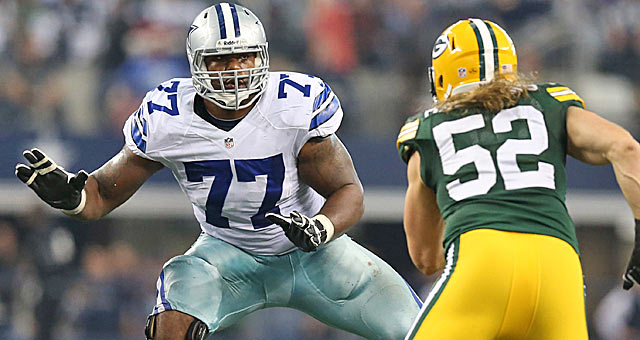 6. Dallas Cowboys (8 picks)
1 (9) OT Tyron Smith, USC; 2 (40) LB Bruce Carter, North Carolina; 3 (71) RB DeMarco Murray, Oklahoma; 4 (110) G David Arkin, Missouri State; 5 (143) DB Josh Thomas, Buffalo; 6 (176) WR Dwayne Harris, East Carolina; 7 (220) FB Shaun Chapas, Georgia; 7 (252) C Bill Nagy, Wisconsin
The good: A player who is still only 23 years old, OT Tyron Smith has developed into one of the top young left tackles in the league, earning his first Pro Bowl nod in 2013. His athleticism, strength and improving technique will likely earn him a contract extension soon, making him one of the top paid tackles in the NFL.
The bad: Coming from the FCS level, G David Arkin struggled to adapt to the NFL game and was inactive for every game during the 2011 and 2012 seasons. He saw limited action at guard in 2013 before being released. The Dolphins signed him off the practice squad and he is fighting for a 2014 roster spot in Miami.
Jury still out: The Cowboys came close to replacing WLB Bruce Carter via the 2014 NFL Draft and would have if Ryan Shazier was still on the board. Carter will likely be a starter for Dallas in 2014 and needs to fix the mistakes and turn the impressive flashes into more consistent play if he hopes to hold onto the starting job.
Re-grade: B+
5. Cincinnati Bengals (8 picks)
1 (4) WR A.J. Green, Georgia; 2 (35) QB Andy Dalton, TCU; 3 (66) LB Dontay Moch, Nevada; 4 (101) G Chris Boling, Georgia; 5 (134) SS Robert Sands, West Virginia; 6 (167) WR Ryan Whalen, Stanford; 7 (207) CB Korey Lindsey, Southern Illinois; 7 (246) RB Jay Finley, Baylor
The good: A no-brainer pick here, WR A.J. Green has established himself as arguably the best receiver in the NFL not named Calvin Johnson. Over the past two seasons, Green has combined for 195 catches, 2,776 receiving yards and 22 touchdowns, production that is second only to Johnson over that span.
The bad: With the second pick in the third round, the Bengals drafted workout warrior LB Dontay Moch, hoping to capitalize on that raw athleticism. But his career has been highlighted by multiple injuries and a four-game suspension for a banned substance. He spent 2013 with Arizona, but recently re-signed with Cincinnati.
Jury still out: Selected one spot ahead of Colin Kaepernick, QB Andy Dalton is a polarizing player, but the Bengals have improved their win total each of the last three seasons. However, the Bengals lost in the first round of the playoffs all three seasons and Dalton's future with the team beyond 2014 is a mystery.
Re-grade: B+
4. Baltimore Ravens (8 picks)
1 (27) CB Jimmy Smith, Colorado; 2 (58) Torrey Smith, Maryland; 3 (85) OT Jah Reid, UCF; 4 (123) WR Tandon Doss, Indiana; 5 (164) CB Chykie Brown, Texas; 5 (165) DE Pernell McPhee, Mississippi State; 6 (180) QB Tyrod Taylor, Virginia Tech; 7 (225) RB Anthony Allen, Georgia Tech
The good: Besides A.J. Green and Julio Jones, no receiver from this class has been more productive than WR Torrey Smith, who has evolved into the Ravens No. 1 target. He registered his first 1,000-yard receiving season in 2013 and has improved his reliability finishing catches, the main concern with him coming out of Maryland.
The bad: The plan was for Smith and WR Tandon Doss to be the Ravens' long-term 1-2 punch at receiver, but the former Indiana receiver has struggled so far at the NFL level. With only 26 career catches and limited impact on special teams, he wasn't re-signed this off-season, signing with the Jaguars.
Jury still out: After multiple failed drug tests and other off-field red flags, CB Jimmy Smith slipped down draft boards, falling to Baltimore in the late first round. After two average-at-best seasons in 2011 and 2012, Smith showed promise last season with 15 pass break-ups and two interceptions over 16 starts.
Re-Grade: A-
3. Houston Texans (8 Draft Picks)
1 (11) DE J.J. Watt, Wisconsin; 2 (42) LB Brooks Reed, Arizona; 2 (60) CB Brandon Harris, Miami (Fla.); 4 (127) CB Rashad Carmichael, Virginia Tech; 5 (144) SS Shiloh Keo, Idaho; 5 (152) QB T.J. Yates, North Carolina; 7 (214) OT Derek Newton, Arkansas State; 7 (254) LB Cheta Ozougwu, Rice
The good: While Derek Newton was a nice find in the seventh round, is there any doubt that DE JJ Watt is the pick here? Arguably the best defensive player in the NFL, Watt's sack production dipped from 20.5 in 2012 to 10.5 in 2013, but he was saw multiple double-teams, something that might change with DE Jadeveon Clowney now also on the roster.
The bad: The Texans made CB Rashad Carmichael their fourth round pick in 2011, but he missed his entire rookie season due to a shoulder injury. He looked lost upon his return and struggled to see the field, leading to his release before the 2013 season. Carmichael resurfaced with the Eagles where he is fighting for a roster spot.
Jury still out: A player expected to be an impact pass rusher, OLB Brooks Reed had six sacks as a rookie, but only 5.5 the past two years combined. He is expected to move to ILB with Brian Cushing for the 2014 season with Jadeveon Clowney and Whitney Mercilus on the outside.
Re-grade: A-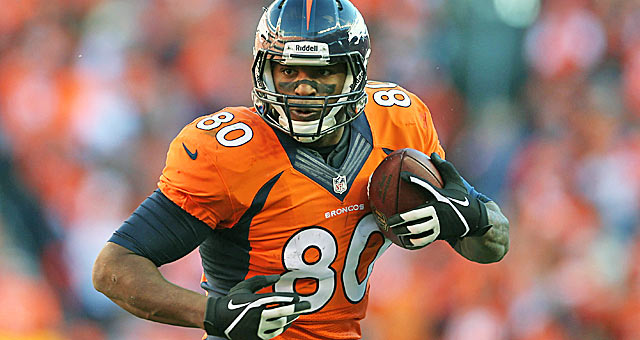 2. Denver Broncos (9 picks)
1 (2) LB Von Miller, Texas A&M; 2 (45) FS Rahim Moore, UCLA; 2 (46) OT Orlando Franklin, Miami (Fla.); 3 (67) LB Nate Irving, NC State; 4 (108) FS Quinton Carter, Oklahoma; 4 (129) TE Julius Thomas, Portland State; 6 (189) LB Mike Mohamed, California; 7 (204) TE Virgil Green, Nevada; 7 (247) DE Jeremy Beal, Oklahoma
The good: Julius Thomas was one heckuva fourth round pick, but this spot goes to LB Von Miller. Despite a six-game suspension and season-ending ACL injury last year, Miller already has 35 sacks and 11 force fumbles on his career resume and is one of the best defensive playmakers in the league.
The bad: Since appearing in every game as a rookie in 2011, FS Quinton Carter has struggled to stay on the field, mostly due to injuries. He was limited to just three games in 2012 and had microfracture surgery in September 2012 before suffering a setback that put him on injured reserve for the 2013 season too.
Jury still out: With the third pick in the third round, Denver selected LB Nate Irving who has struggled to find a permanent home on the Broncos' defense. With the Broncos not investing a high 2014 draft pick at linebacker, this is probably Irving's last chance to prove he's a more than capable starting MLB.
Re-grade: A-
1. San Francisco 49ers (10 picks)
1 (7) LB Aldon Smith, Missouri; 2 (36) QB Colin Kaepernick, Nevada; 3 (80) CB Chris Culliver, South Carolina; 4 (115) RB Kendall Hunter, Oklahoma State; 5 (163) G Daniel Kilgore, Appalachian State; 6 (182) WR Ronald Johnson, USC; 6 (190) DB Colin Jones, TCU; 7 (211) FB Bruce Miller, UCF; 7 (239) G Mike Person, Montana State; 7 (250) DB Curtis Holcomb, Florida A&M
The good: If Aldon Smith could stay clean off the field, his name would probably go here, but it's tough to argue with what QB Colin Kaepernick has done in only three years in the league. No quarterback from this class has more postseason wins and one would assume he has several more in his future.
The bad: Let's be honest, there weren't too many holes in San Francisco's draft haul from 2011. A former top high school recruit, WR Ronald Johnson showed flashes of promise for the Trojans, but was cut by the 49ers four months after he was drafted and has yet to record a catch in the NFL (or appear in a game).
Jury still out: The 2011 class produced several impact pass rushers (Watt, Miller, Quinn), but OLB Aldon Smith has the most sacks (42) over the past three seasons. However, numerous off-field incidents have his future in jeopardy, missing five games last year to serve a stint in rehab and most recently an arrest for a false bomb threat at LAX.
Re-grade: A