Finding the Fits: Kouandjio to extend Bills' second round success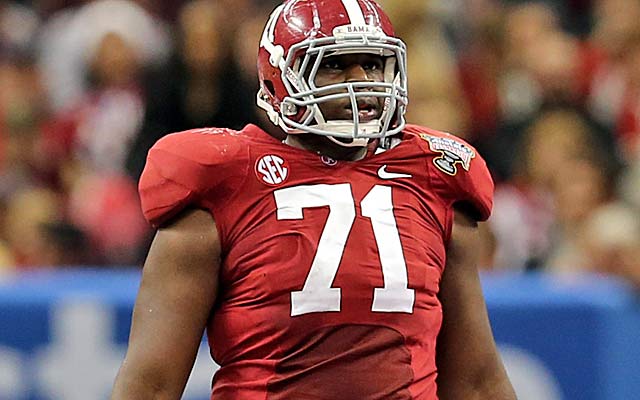 This article is one of a 32-part series called Finding the Fits in which NFLDraftScout.com will review some of the more intriguing picks made during the 2014 NFL Draft. The goal of the series is to identify one relatively unheralded player per team who appears to be a good schematic fit and, therefore, more likely to be a surprise contributor early in his pro career.
Buffalo's best fit: OT Cyrus Kouandjio, Alabama No. 44 overall
The bold trade up to select blue-chip receiver Sammy Watkins might have been Buffalo Bills' general manager Doug Whaley's splashiest moment of the 2014 draft.
His most efficient selection, however, came 40 picks later with the selection of Kouandjio, a gifted blocker who may very well unseat veteran Erik Pears as the Bills' starting right tackle.
Though Kouandjio, a two-year starting left tackle at Alabama, will be asked to make the difficult transition of switching to the right side, his acclimation to the NFL is mitigated by the fact he'll be operating out a run-heavy scheme under head coach Doug Marrone and offensive coordinator Nathaniel Hackett as the one in which he played for the Tide. The Bills led the NFL with 546 rushing attempts last season.
It is an ideal fit for the 6-foot-7, 322-pound Kouandjio, who uses strong hands and very long (35 5/8") arms to latch on and control opponents. He's more athletic on the field than he showed in workouts, as well, surprising defenders at the second level with his ability to release and stalk on screens and draws -- staples of any offense boasting open-field wizards like C.J. Spiller and Watkins.
Perhaps best of all, not only should Buffalo be able to accentuate Kouandjio's strengths, the team is well equipped to handle the 20-year old rookie's maturation as a pass blocker. The AFC East is relatively lacking in speed rushers and second-year pro EJ Manuel is one of the NFL's best athletes at the quarterback position.
The greatest obstacle to Kouandjio's success could be his health. A report during the Combine characterized the long-term prognosis for Kouandjio's surgically-repaired left knee as "ugly." Renowned surgeon Dr. James Andrews disagreed with this report. Obviously the Bills did too.
The Bills have done extraordinarily well in the second round in recent years. Whaley and Co. struck gold with Kiko Alonso and wideout Robert Woods last year and the Bills nabbed left tackle Cordy Glenn (2012) and safety Aaron Williams (2011) in the second frame in the previous two drafts.

The selection of Kouandjio -- especially given that it came in the trade down that also netted guard Cyril Richardson -- will ultimately be seen as another second round steal for the Bills.

Other thoughts on the Bills' 2014 draft class:
Watkins was the top-rated prospect in the entire draft by some in the league. He has natural "Hoover-Hands" to pull in the football and first-step acceleration to generate instant yardage after the catch. Further he's stout (6-1, 211) and speedy enough to handle the improved physicality now playing at cornerback in the AFC East. He earned rave reviews from onlookers at Buffalo's rookie mini-camp and will be the featured, varied target in an offense that Marrone expects to throw the football much more frequently this year. Two first round picks, though, for any receiver - especially one in a class as rich at the position as the 2014 class - is a high price to pay. And while it is true that the Atlanta Falcons gained a superstar in Julio Jones with a similarly bold trade with the Cleveland Browns four years ago, Matt Ryan was much further along in his development than Manuel. And that's the point. The trade wasn't just about adding Watkins because he so highly rated as a player. It was also recognition of the need to help Manuel. For the Bills to ultimately win this gamble, Manuel - not Watkins - needs to be their best player.
As if the stakes weren't already high with the double-down first-round bet on Watkins or the gamble on Kouandjio's knee, Whaley upped the ante with the selection of Seantrel Henderson with his final pick. As the No. 237 overall pick, Henderson could the long-shot that pays off big as there is no denying his talent. He offers every bit the physical potential as Kouandjio and is actually a more polished pass protector at this point. He proved unreliable on and off the field throughout his collegiate career but will be one of the few seventh round picks drafted this year to make an NFL roster if he commits himself to the game.
Buffalo's 2014 draft class:

1st Round -- No. 4 overall - WR Sammy Watkins, Clemson
2nd Round -- No. 44 overall - OT Cyrus Kouandjio, Alabama
3rd Round -- No. 73 overall - ILB Preston Brown, Louisville
4th Round -- No. 109 overall - CB/S Ross Cockrell, Duke
5th Round -- No. 153 overall - OG Cyril Richardson, Baylor
6th Round -- No. 221 overall - LB Randell Johnson, Florida Atlantic
7th Round -- No. 237 overall - OT Seantrel Henderson, Miami

Key Undrafted Free Agents Signed:
S Kenny Ladler, Vanderbilt
CB Darius Robinson, Clemson
DT Damien Jacobs, Florida

Read more about all of Buffalo's picks here.