Finding the Fits: Dolphins find hidden gem in NDSU's Billy Turner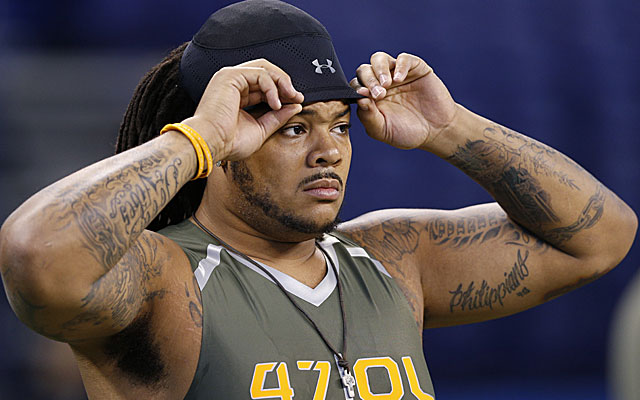 More NFL offseason: League minicamp dates | Finding the Fits: Bills | Latest news
This article is one of a series called Finding the Fits in which NFLDraftScout.com will review some of the more intriguing picks made during the 2014 NFL Draft. The goal of the series is to identify one relatively unheralded player per team who appears to be a good schematic fit and, therefore, more likely to be a surprise contributor early in his pro career.
Miami's best fit: OL Billy Turner, North Dakota State
Given that the Miami Dolphins surrendered a team-record and NFL-worst 58 sacks in 2013, ranked 26th in the running game and was rocked by a bullying scandal which led to three former starters being allowed to leave town, it wasn't the least bit surprising that new general manager Dennis Hickey aggressively sought blockers early in the draft.
Eager to protect talented young quarterback Ryan Tannehill, the Dolphins were desperate for dependability and, frankly -- from a pure value standpoint -- may have reached a bit with Ja'Wuan James and Billy Turner as the No. 19 and 67 overall selections. Reaching on draft day isn't optimal but for a number of reasons both players appear to be quality fits for this specific franchise.
James and Turner were each four-year starters and team captains. Despite their established track record, both showed off their competitive spirit by participating at the Senior Bowl. Perhaps best of all, each possess the physical characteristics to fit into new offensive coordinator Bill Lazor's blocking scheme.
Lazor relied upon a pro-style attack during his three years at the University of Virginia but is expected to implement more up-tempo in Miami after working with Chip Kelly and the Philadelphia Eagles last year. The style calls for athleticism and aggression -- two traits that Turner showed in abundance in Mobile.
It will be a challenging transition for Turner, who will be making the switch inside after starting at left tackle at North Dakota State. At 6-5, 315 pounds, he possesses the high-cut, long-armed frame normally associated with edge blockers and must improve his use of leverage to handle the wide-bodied run-stuffers he'll face in the AFC East. Further, he is facing more established competition at guard with veterans free agent addition Shelley Smith as well as Nate Garner, Sam Brenner and Dallas Thomas all vying for playing time than James will see at right tackle.
From a playing style-perspective, he's the polar opposite of former Dolphin Jonathan Martin. Turner is undeniably a bit raw but he's a brawler who wins with strong, active hands and tenacity. He's quick off the snap due to light feet and good overall athleticism and can find targets at the second level. His experience blocking on the perimeter could make better suited than most traditional guards to handling the wider splits that may come with Lazor's aggressive attack.
It wouldn't be surprising to see Turner earn playing time much earlier than most would anticipate given his FCS background. With a little patience, Turner is a good candidate to develop into a quality starter.
Other thoughts on the Dolphins' 2014 draft class:
With the Dolphins using five of their eight picks on "small school" prospects, it is natural that fans are a little worried about how quickly Miami's 2014 class is going to make an impact. I'm confident that several of the FCS standouts will, indeed, make the club and help early -- which is why I featured Turner and listed fouth round pick Walt Aikens and fifth round pick Jordan Tripp among this year's Diamonds in the Rough.The transition to the NFL will be tough but each of this trio stood out at the Senior Bowl, the best barometer I've found for gauging "small school" prospects ability to make the pro leap.
Given their relative anonymity, however, it isn't surprising that the fanbase seems most excited about some of their more high profile rookies. Former LSU wideout Jarvis Landry is earning the most buzz early. Landry was one of the more polished receivers in a strong class and took snaps inside in the slot as well as outside during the rookie mini-camp -- a fact some have taken as Miami's plans to feature him immediately. Carving out a niche could be tougher than it first appears for Landry, who ranked as one of the more pro-ready wideouts in the class due to his reliable routes, hands and effort. For one, Landry's game is similar to current starter Brian Hartline, who has led the Dolphins with back to back 1,000 yard seasons. Neither is a terrific athlete but wins with guile, body control and impressive hand-eye coordination to make the difficult catch. Each could play an important role in Miami's offense but neither boasts the elusiveness or speed to challenge Mike Wallace as the Dolphins' primary playmaker at receiver. Further, this isn't a case of Landry stepping in to fill a gaping hole. Sure, Tannehill could use more dependable pass-catchers (what quarterback couldn't?) but 10 of the 11 players who caught a pass for the Dolphins a year ago remain on the current roster. The only loss was five-year veteran Marlon Moore, whose six receptions on the season tied him with rookie tight end Dion Sims for the lowest recorded among all qualified Miami pass-catchers.
Miami's 2014 draft class:
1st Round -- No. 19 overall - OT Ja'Wuan James, Tennessee
2nd Round -- No. 63 overall -- WR Jarvis Landry, LSU
3rd Round -- No. 67 overall -- OL Billy Turner, North Dakota State
4th Round -- No. 125 overall -- CB Walt Aikens, Liberty
5th Round -- No. 155 overall -- TE Arthur Lynch, Georgia
5th Round -- No. 171 overall -- LB Jordan Tripp, Montana
6th Round -- No. 190 overall -- WR Matt Hazel, Coastal Carolina
7th Round -- No. 234 overall -- DE Terrence Fede, Marist
Key Undrafted Free Agents Signed:
DT Anthony Johnson, LSU
TE Gator Hoskins, Marshall
OC Tyler Larsen, Utah State
Read more about all of Miami's picks here.