Finding the Fits: Hard-hitting Calvin Pryor a 'plug and play' for Jets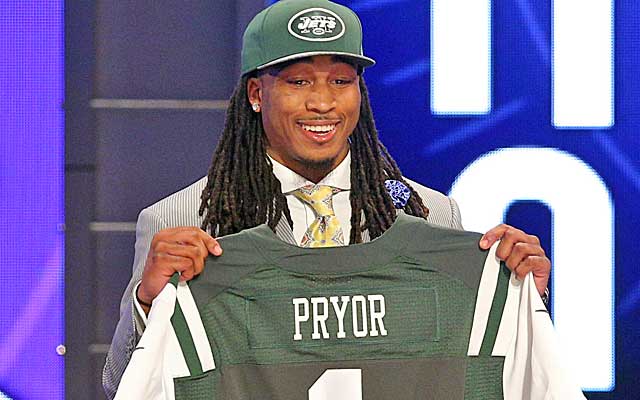 This article is one of a series called Finding the Fits in which NFLDraftScout.com will review some of the more intriguing picks made during the 2014 NFL Draft. The goal of the series is to identify one relatively unheralded player per team who appears to be a good schematic fit and, therefore, more likely to be a surprise contributor early in his pro career.
New York Jets' best fit: S Calvin Pryor, Louisville
With an NFL-best 12 picks (tied with San Francisco), the Jets entered the 2014 draft with an obvious advantage. Just having extra picks doesn't mean that they'll pan out, of course, but on paper, this is one of the year's strongest collections of talent, starting off with first round pick Calvin Pryor, my personal top-rated safety.
Pryor's blend of instincts, explosive hitting and ball-skills make him an ideal match in Rex Ryan's highly aggressive defense. Further, Pryor is a Ryan type of player. He talks on the field and backs it up with a fearless physicality that will endear him to coaches and fans, alike. While he may not possess the straight-line speed and fluidity to drop down and cover top slot receivers, he will provide an intimidating presence over the middle which could make him just as effective in limiting their production. The Jets' reliance on man coverage on the outside should unleash Pryor to attack the middle in much the same way he did at Louisville, where he racked up 16 turnovers in just three seasons of action (nine forced fumbles and seven interceptions).
One could make the argument that every first round pick should be a perfect schematic match.
While that may be true, this one is going pay off with Pro Bowls. Get your tickets now, Jets' fans. Pryor could match 2013 Defensive Rookie of the Year Sheldon Richardson a year ago as an instant Broadway hit.
Other thoughts on the Jets' 2014 draft class:
With a third of their picks spent on pass-catchers, the Jets recognized and responded to their need for more playmakers and while I wasn't as high on Jace Amaro, Jalen Saunders, Shaq Evans and Quincy Enunwa as others were prior to the draft, I do like their fit in Marty Mornhinweg's offense. Amaro is a poor man's Jimmy Graham. He's a natural receiver with a combination of size (6-foot-6, 260 pounds) and field speed that makes him a matchup nightmare in the passing game. He offers little in terms of blocking but given the steady protection offered by current starter Jeff Cumberland, the Jets should be able to use Amaro in the hybrid-receiver role in which he starred at Texas Tech rather than force him to adjust to a physical brand of football that he's thus far unaccustomed to playing. Saunders is lightning in a bottle and could give incumbent starting quarterback Geno Smith (or Michael Vick) the sort of dynamic weapon that Smith had at West Virginia in Tavon Austin and Stedman Bailey. Ironically enough, I've had scouts compare Evans to Eric Decker, as the two possess good height and deceptive straight-line speed. Enunwa needs to become a more reliable pass-catcher to make it in the NFL. It really is that simple. He's an intriguing athlete with excellent size (6-foot-2, 225 pounds) and physicality worthy of the Jets' sixth round gamble and could make this team (perhaps over Evans) if he learns to use his hands (rather than his body) to catch passes.
The Jets expect last year's top pick -- cornerback Dee Milliner -- to develop into a star but could be looking at rookies Dexter McDougle and Brandon Dixon to complement him as early as this season. Like several of the pass-catchers mentioned previously, McDougle was drafted earlier than expected given the fact that he missed most of his senior season due to shoulder surgery but he is a sound schematic fit due to his speed, instincts and physicality. Dixon could surprise. He's built like a safety at 6-foot, 203 pounds but moves like a corner. If anyone is able to coax the talent out of him, it will be Ryan.
While I'm excited for Pryor and intrigued by Dixon, the Jets' seventh round selection of Utah's Trevor Reilly could very well prove to be the club's most efficient pick of the 2014 draft. At 6-foot-5, 245 pounds, Reilly is a surprisingly fluid athlete who plays with strength, instincts and a high-revving motor. He fell to the No. 233 overall selection for one reason - the fact that he's 26 years old. The fact that the Jets selected him at all is an indication that they may be willing to overlook his age and instead focus on Reilly's ability to boost the club's pass rush. Don't be surprised when this seventh rounder makes the team.
New York's 2014 draft class:
1st Round -- No. 18 overall - S Calvin Pryor, Louisville
2nd Round -- No. 49 overall - TE Jace Amaro, Texas Tech
3rd Round - No. 80 overall - DB CB Dexter McDougle, Maryland
4th Round - No. 104 overall - WR Jalen Saunders, Oklahoma
4th Round - No. 115 overall - WR Shaq Evans, UCLA
4th Round -- No. 137 overall - OG Dakota Dozier, Furman
5th Round - No. 154 overall - LB Jeremiah George, Iowa State
6th Round - No. 195 overall - DB Brandon Dixon, Northwest Missouri State
6th Round - No. 198 overall - WR Quincy Enunwa, Nebraska
6th Round -- No. 206 overall - OLB/DE IK Enemkpali, Louisiana Tech
6th Round - No. 213 overall - QB Tajh Boyd, Clemson
7th Round -- No. 233 overall - OLB Trevor Reilly, Utah
Key Undrafted Free Agents Signed:
ILB Steele Devitto, Boston College
DL Kerry Hyder, Texas Tech
FB Chad Young, San Diego State
Read more about all of New York's picks here.