Finding the Fits: Brooks' speed the perfect complement for Ravens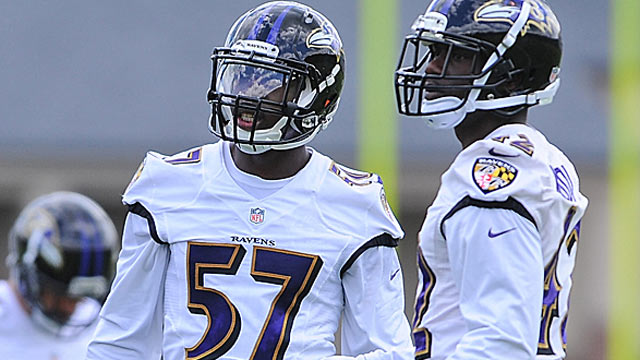 This article is one of a series called Finding the Fits in which NFLDraftScout.com will review some of the more intriguing picks made during the 2014 NFL Draft. The goal is to identify one relatively unheralded player per team who appears to be a good schematic fit and, therefore, more likely to be a surprise contributor early in his pro career.

Baltimore Ravens' best fit: FS Terrence Brooks, Florida State

Given the inconsistent play of rookie Matt Elam and the loss in free agency of James Ihedigbo -- the team's most reliable safety a season ago -- general manager Ozzie Newsome was widely expected to add to Baltimore's deep patrol early in the 2014 draft. It looked like a dream scenario for the Ravens as no safeties were selected among the first 16 picks and therefore Newsome and Co. had their choice of the class.

Rather than reach to fill a need at safety, however, the Ravens got better value in the first and second rounds at other positions and circled back in the third round to nab Brooks, a classic center fielder whose agility and straight-line speed should make him an ideal complement to Elam, a big-hitter at his best attacking the line of scrimmage.

Largely because of his athleticism, Brooks was graded by some scouts as the top "true" free safety in this class. He was available at No. 79 overall because of questions about his size and playmaking ability. At 5-foot-11, 197 pounds, Brooks looks more like a cornerback than a safety. He plays like a safety, however, showing the aggression, closing burst and physicality to attack bigger ball-carriers on defense, as well as on special teams. The playmaking concerns, in my opinion, were a bit overblown. While perhaps not possessing the sticky hands of former teammate Lamarcus Joyner, Brooks nabbed five interceptions (and forced three fumbles) in a little over two starting seasons for the Seminoles.

If the Ravens do, indeed, move Elam from free to strong safety (as many project), Brooks looks like an upgrade over veterans Darian Stewart and Jeromy Miles. The rookie isn't going to be handed a starting job in the NFL, of course, but Brooks' ability to work his way into the starting lineup at Florida State speaks to his competitive spirit. Unlike most of the defending champion Seminoles, Brooks didn't sign with FSU as an exceptional high school prospect. He split early duties on special teams and cornerback before switching off between free and strong safety over his two starting seasons in Tallahassee.

That versatility and tenacity will pay off in Baltimore, where I expect Brooks to ultimately win the free safety job, complementing the playmaking ability already in place with Jimmy Smith, Lardarius Webb and, of course, Elam, who I anticipate making big strides in his second NFL season.

Other thoughts on the Ravens' 2014 draft class:
C.J. Mosley is expected to start at left inside linebacker and it is a position in which he's familiar after operating out of a 3-4 scheme throughout much of his time under Nick Saban at Alabama. Mosley plays with terrific instincts and is a fluid, physical athlete. Unlike most linebackers who have come from the Tide in recent years, Mosley is actually better against the pass than the run, showing rare awareness and acceleration in coverage. Given the way that AFC powerhouses like Denver and New England like to pepper the middle of the field with crossing routes by receivers, tight ends and backs, alike, Mosley's pass defense could help the Ravens close the gap in the conference.
Day Three picks Lorenzo Taliaferro and Michael Campanaro won't get the buzz of earlier selections but each are intriguing fits for this club. Taliaferro made the wrong kind of news last week but the arrest for destruction of property and being drunk in public has been described as an isolated incident for the former team captain. While Taliaferro certainly needs to show better decision-making off the field, on it, his patience, vision and power make him a nice fit in the zone-blocking attack that offensive coordinator Gary Kubiak is installing in Baltimore. Similarly, Campanaro offers great quickness and reliable hands as a traditional slot receiver. Given the attention Jacoby Jones and free agent addition Steve Smith are likely to get on the outside, Campanaro could surprise with an important role early in his NFL career.
Baltimore's 2014 draft class:
1st Round -- No. 17 overall: LB C.J. Mosley, Alabama
2nd Round -- No. 48 overall: DT Timmy Jernigan, Florida State
3rd Round - No. 79 overall: FS Terrence Brooks, Florida State
3rd Round - No. 99 overall: TE Crockett Gillmore, Colorado State
4th Round - No. 134 overall: DE Brent Urban, Virginia
4th Round - No. 138 overall: RB Lorenzo Taliaferro, Coastal Carolina
5th Round - No. 175 overall: OG John Urschel, Penn State
6th Round - No. 194 overall: QB Keith Wenning, Ball State
7th Round -- No. 218 overall: WR Michael Campanaro, Wake Forest

Key Undrafted Free Agents Signed:

OT James Hurst, North Carolina
DT Jamie Meder, Ashland

Read more about all of Baltimore's picks here.