Finding the Fits: Bodine will prove worthy of rare Bengals' leap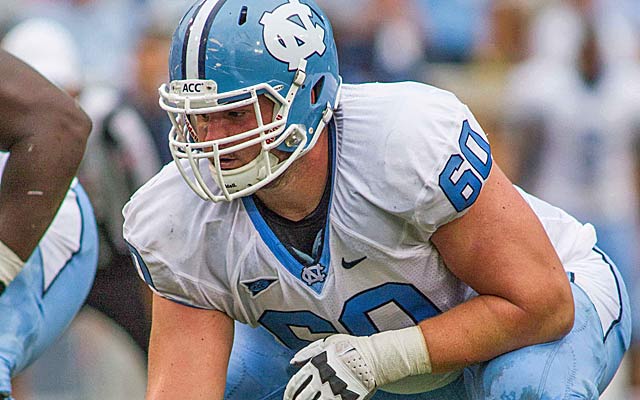 This article is one of a series called Finding the Fits in which NFLDraftScout.com will review some of the more intriguing picks made during the 2014 NFL Draft. The goal of the series is to identify one relatively unheralded player per team who appears to be a good schematic fit and, therefore, more likely to be a surprise contributor early in his pro career.

Cincinnati Bengals' best fit: OC Russell Bodine, North Carolina

The Cincinnati Bengals found a superstar in former North Carolina running back Giovani Bernard in the second round a year ago. The club is hoping to strike gold with Carolina blue yet again with Bodine, a 6-foot-3, 310 pound junior whom the Bengals thought enough of to break tradition and trade up to get in the hopes that the fourth-round pick could step in as the club's starting center.

The normally conservative Bengals swapped two picks (No. 123 and No. 199 overall) with the Seattle Seahawks to move up and draft Bodine (pronounced BO-dine). How rare is a draft-day trade-up for the Bengals? This was the first trade up of the Marvin Lewis era -- and he's been the head coach in Cincinnati since 2003.

Clearly, Cincinnati liked Bodine and isn't difficult to see why. Though NFLDraftScout.com listed Bodine as a guard (and a 5th-6th round value at that), schematically, Bodine is an ideal fit in offensive line coach Paul Alexander's system. Not only does Bodine -- who has experience at all three interior positions -- have the brute strength that helped him lead all participants with 42 reps in the bench press at the 2014 Combine, he also possesses the square frame and aggressive mentality to hold up to the massive nose guards of the AFC North.

Bodine's game -- like Alexander's scheme -- is based on power. The marginal agility and balance Bodine demonstrated at the combine (OL-worst 8.29-second in the 3-cone drill) and on tape scared off some scouts but is mitigated by the fact that in Alexander's scheme centers are generally asked to either drive defenders off the ball or turn and seal them away from the action, rather than scoot to the second level and adjust to linebackers.

Bodine remains a bit raw but there are few teachers among offensive line coaches better than Alexander, who is entering his 21st season in Cincinnati. Bodine will have his hands full beating out veterans Trevor Robinson and Mike Pollak but given that Cincinnati released incumbent starter Kyle Cook and was so uncharacteristically bold in the move to acquire him, the former Tar Heel is a solid bet to see playing time sooner rather than later.
And that bodes well for Bernard, quarterback Andy Dalton and the rest of the Bengals' offense.

Other thoughts on the Bengals' 2014 draft class:
Dalton has helped guide the Bengals to the playoffs each of the past three seasons, but his inability to win in the postseason led to plenty of pre-draft speculation that Cincinnati would take a quarterback early to push him. By nabbing former Alabama star AJ McCarron in the fifth round, the Bengals accomplished the goal of adding a talented passer with a history of performing well in big games without mortgaging their future with a "wasted" high pick. The patience was clear evidence of the fact that the Bengals remain Dalton's team but that the team wanted to have a plan in place should Dalton, who is entering the final year of his contract, be unable to take the next step in 2014.
While the Bengals exercised patience in regards to quarterback, the club boldly added to their running back talent with Jeremy Hill in the second round. Pairing the bruising 6-foot-1, 233 pounder with Bernard gives Cincinnati a fearsome 1-2 punch in new offensive coordinator Hue Jackson's run-heavy offense. Hill plays angry, showing the power to simply bull through would-be tacklers, as well as surprising lateral agility and burst. Furthermore, though he "only" caught 26 passes over his collegiate career, Hill shows good hand-eye coordination and flexibility as a receiver out of the backfield. Hill could learn a lesson or three from incumbent "big back" BenJarvus Green-Ellis in terms of on and off-field reliability, but there is no denying the rookie's talent. In fact, if Hill can prove that his off-field mistakes are a thing of the past, he push Green-Ellis into the unemployment line and emerge as a legitimate TD-vulture in what should be a productive offense.
It seems so long ago that Cincinnati was mocked as the "Bungles." Mike Brown and his staff have done a terrific job in recent years of building and maintaining one of the league's deepest rosters. Evidence of the club's foresight was particularly well demonstrated with the first-round selection of cornerback Darqueze Dennard and defensive end Will Clarke in the third. Questions about Dennard's straight-line speed pushed him to No. 24 overall but the reigning Thorpe Award winner was the safest corner in 2014 draft due to his length, physicality and composure when the ball is in the air. The Bengals have dedicated millions (and plenty of high draft picks) into the cornerback position, but with Terrence Newman and Adam Jones each on the downside of their careers, Leon Hall recovering from his second Achilles tear and 2012 first-round pick Dre Kirkpatrick thus far a disappointment, reinforcements at the position were needed. Clark (6-foot-6, 271) is a similarly solid addition given the loss of Michael Johnson in free agency. Clark isn't as athletic as Johnson but he boasts a similar frame, is productive against the run and pass and stood out at the Senior Bowl. Given the talent in front of them, Dennard and Clarke may not be immediate standouts in Cincinnati but they'll eventually emerge as quality starters.
Cincinnati's 2014 draft class:

1st Round -- No. 24 overall - CB Darqueze Dennard, Michigan State
2nd Round -- No. 55 overall - RB Jeremy Hill, LSU
3rd Round - No. 88 overall - DE Will Clarke, West Virginia
4th Round - No. 111 overall - OC Russell Bodine, North Carolina
5th Round - No. 164 overall - QB AJ McCarron, Alabama
6th Round - No. 194 overall - LB Marquis Flowers, Arizona
7th Round -- No. 218 overall - WR James Wright, LSU
7th Round - No. 252 overall - DB Lavelle Westbrooks, Georgia Southern

Key Undrafted Free Agents Signed:

RB/TE Ryan Hewitt, Stanford
RB James Wilder, Jr., Florida State

Read more about all of Cincinnati's picks here.