2015 NFL Draft: Kansas State Preview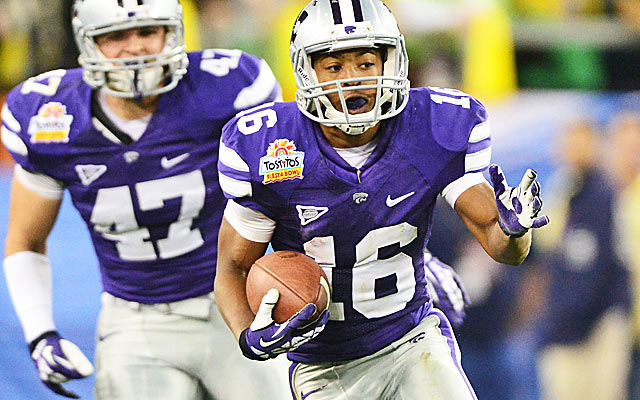 Kansas State has had at least one draft pick every year since 1994, a streak that was in danger of being snapped in the 2014 NFL Draft until OT Tavon Rooks was drafted in the sixth round by the New Orleans Saints. The Wildcats' consecutive draft pick streak will likely extend another year in the 2015 NFL Draft with a current KSU squad that has several intriguing senior prospects.
Almost all of Kansas State's senior prospects are lacking in NFL qualities in one way or another, but they're all extremely well coached and productive. Players like WR Tyler Lockett, DE Ryan Mueller and QB Jake Waters don't necessarily pass the eye test, but they are high motor football players with the ability to make difference-making plays.
Kansas State's top NFL Draft-Eligible prospects to watch in 2014:
1. WR Tyler Lockett, Senior (5-11 | 175 | 4.47 | #16)
Arguably the top wideout in the conference, Lockett doesn't look like much, but he runs like the wind with sudden footwork in his breaks to create separation before, during and after the catch. He is a smaller target with a limited overall catching radius and smaller hands that will lead to double catches and him fighting the ball at times. However, Lockett is very dangerous in space, using his quick, decisive feet to sell routes and speed to stretch the field and take the top off a defense. He runs a lot of vertical and deep routes on tape, including a deadly stop-and-go move – just ask former TCU corner Jason Verrett, a first round pick last month. Lockett finished top-three in just about every Big 12 receiving statistic last season with 81 catches for 1,262 receiving yards and 11 touchdowns and will likely compete with Baylor's Antwan Goodley for the distinction of the conferences' top wideout in 2014. He doesn't have ideal size for the NFL level, but will compete to be a top-five senior wide receiver in the 2015 class.
A former walk on, Mueller led the Wildcats in both tackles for loss (18.5) and sacks (11.5) last season and is one of the top returning defenders in the conference. He is quick and low out of his stance to shoot gaps and disrupt the backfield, using relentless pursuit and a tremendous competitive nature to finish plays. Mueller is well-built throughout for his body type, but his lack of ideal height and length shows up on tape and his functional strength is average-at-best, allowing for him to be easily engulfed on the edges. He has a very strong understanding of leverage and angles and appears comfortable on his feet, leading some teams to believe his NFL future is at linebacker. Mueller is lacking in a few areas, but he has some similar characteristics as Tedy Bruschi, who lined up on the defensive line in college before successfully making the transition to a stand up linebacker spot in the NFL.
3. OG Cody Whitehair, RS Junior (6-3 | 309 | 5.22 | #55)
Although Kansas State loses both of their starting offensive tackles from last season, the Wildcats have a veteran interior presence, led by Whitehair and Finney. Starting 25 games the last two seasons, Whitehair was a Second Team All-Big 12 honoree last season at left guard. He looks the part with good quickness off the snap and shuffles well, anchoring when he keeps his knees bent. Whitehair's best trait is his ability to pick up extra pressures and keep his head on a swivel with vision and instincts. He is too much of a catch blocker and NFL scouts want to see more of a nasty attitude to bully and bury his targets. Whitehair is at his best when he extends to make first contact with rushers, but doesn't do that consistently, allowing his pads to rise and rushers to attack his body. He needs to show some improvements as a junior in 2014, but is definitely a player to watch moving forward.
4. C B.J. Finney, RS Senior (6-3 | 303 | 5.18 | #66)
A former walk on, Finney is entering his fourth season as the Wildcats' starting center, earning First Team All-Big 12 honors the last two seasons. He has a stout body type and is not an easy guy to move from his spot, exhibiting excellent toughness in the trenches. Finney has quick snap and set up, but also gets too high and straight-legged in his stance, relying too much on his upper body to get the job done. He is mobile enough to get to the second level and uses body angles very well, but needs to refine his hand placement, often landing his grip outside his target and getting tossed aside. Finney plays like a veteran and won't make many mistakes, but also doesn't have too many excitable traits for the NFL level.
5. QB Jake Waters, Senior (6-1 | 210 | 4.68 | #15)
A year ago at this time, Waters was a JUCO transfer new to the Kansas State program and considered a wildcard competing for the starting quarterback job. But he quickly proved his ability and is the unquestioned starter entering the 2014 season, leading former starter Daniel Sams to transfer to McNeese State. Waters lacks ideal height with average-at-best build, but is a tough competitor who stays focused in clutch situations. He operates well in the Wildcats' shotgun, zone-read offense, showing quick feet in his drops with the pocket presence to recognize pressures and get the ball out quickly. Waters is athletic with vision as a ballcarrier, evading pressure and also stepping up in the pocket to deliver with a solid base. He doesn't always see all 11 defenders and tends to lock onto targets, leading to mistakes and turnovers. Similar to Connor Shaw a year ago, Waters' skill-set doesn't scream NFL quarterback, but with a productive and winning senior season, he will earn a shot to make a pro roster.

Other players to watch:
FB Glenn Gronkowski, RS Sophomore (6-3 | 234 | 4.74 | #48)
CB Randall Evans, Senior (6-0 | 190 | 4.61 | #15)
OLB Jonathan Truman, RS Senior (5-11 | 219 | 4.76 | #21)