Finding the Fits: DE Stephon Tuitt, others to lead Steelers' revival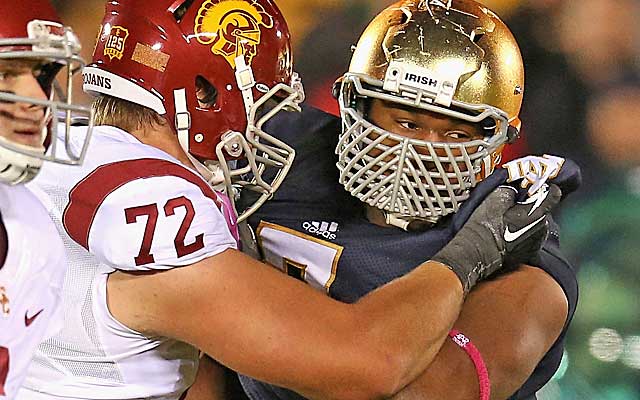 This article is one of a series called Finding the Fits in which NFLDraftScout.com will review some of the more intriguing picks made during the 2014 NFL Draft. The goal of the series is to identify one relatively unheralded player per team who appears to be a good schematic fit and, therefore, more likely to be a surprise contributor early in his pro career.
Pittsburgh Steelers' best fit: DE Stephon Tuitt, Notre Dame
For so long, the Pittsburgh Steelers were synonymous with defense.
Free agency in recent years, however, has robbed the club of numerous playmakers on the defensive side of the ball and the Steelers simply haven't done a good enough job of re-stocking talent. Though the team ranked a respectable 13th in the NFL a year ago in total defense (yards per game), the Steelers were less effective in points allowed (19th), sacks (25th) and turnovers (28th). Whereas at one time rookies -- even first-round picks -- often had to be groomed just to find roles behind a stacked veteran defensive unit, age and abandonment via free agency has left Pittsburgh needing an infusion of youth and talent. With the help of Tuitt, an ideal fit at defensive end in the club's 3-4 scheme, the Steelers may be on the verge of regaining their identity.
Asked to play a blue-collar role as a two-gap block-absorber in this scheme, Tuitt won't make the splashy plays that earned linebacker Ryan Shazier the club's first-round selection, but there is no denying that at 6-foot-5, 304 pounds, the former Notre Dame All-American is an ideal match in Pittsburgh's scheme. He's powerful, aggressive and surprisingly light on his feet. His long (34 3/4") arms help him control would-be blockers and free teammates to make plays and he's powerful and athletic enough to shed them to make plays, himself, at the line of scrimmage. Some scouts prior to the 2013 season compared Tuitt to former New England Patriots' All-Pro Richard Seymour.
Frankly, Tuitt was only available to the Steelers at No. 46 overall because of the fact that he wasn't as dominant as a junior as he was during the Irish's run to the BCS title game against Alabama in 2012. Though he posted similar numbers, it was clear that an offseason recovering from hernia surgery limited Tuitt's conditioning and he had to play his way into shape. By the second half of the 2013 season Tuitt was again playing at a high level but the discovery of a Jones' fracture in his left foot at the combine once again raised questions about his durability and grit for some and Tuitt -- clearly a first round talent -- slipped into the second.
The Steelers allowed Ziggy Hood (Jacksonville Jaguars) and Al Woods (Tennessee Titans) to leave in free agency and haven't made an attempt to re-sign the 35-year old Brett Keisel. Former first round pick Cameron Heyward (2011) is the logical candidate to earn one defensive end role but the other starting position is available. As such, opportunity is knocking for Tuitt.
I'm confident he -- and the Steelers -- will respond in impressive fashion in 2014.

Other thoughts on the Steelers' 2014 draft class:
Prior to the draft Steelers' general manager Kevin Colbert characterized the year's crop of talent as the deepest he'd seen in his 30 years in the business. At least on paper, it certainly looks as though he, head coach Mike Tomlin and the Steelers hit a home run with their selections, nabbing immediate starters at inside linebacker and defensive end with Shazier and Tuitt, respectively, with their first two picks. Shazier plays with the instincts and physicality that has defined linebacker play in Pittsburgh since the glory days of the 70s. Perhaps best of all, he plays with the eye-popping speed necessary in today's pass-happy game. Shazier plays linebacker in much the same way that Troy Polamalu plays safety - there are going to be plays in which he's fooled and overruns. Far more often, however, he's going to anticipate and explode to (and through) the ball-carrier. Shazier is going to be a star and it won't take long into his rookie season for that fact to be obvious.
Shazier and Tuitt could earn starting roles immediately but the real value of the Steelers' 2014 draft could be found with the specialist roles a quartet of later picks may earn as rookies. The fastest man in the draft - Dri Archer - is expected to split time between running back and wide receiver, offering similar versatility and playmaking ability as what offensive coordinator Todd Haley coaxed out of Dexter McCluster while the two worked together in Kansas City. The Steelers have been searching for a big wideout for Ben Roethlisberger for years and few are more talented than 6-foot-4, 200 pounder Martavis Bryant, who offers a Plaxico Burress-like combination of height, speed and hands and should be able to provide a few splash plays as a rookie, at minimum, and could even earn a starting role opposite star Antonio Brown. The Steelers' may have struck gold in the sixth round, as well. Former UCLA linebacker Jordan Zumwalt played every linebacker position in the Bruins' 3-4 scheme over the past two seasons and, whether primarily lining up at inside or outside linebacker, he will make this club due to his instincts, physicality and hustle. In Shazier and Zumwalt, the Steelers arguably drafted the two most explosive hitters of the 2014 linebacker class... In Archer, the Steelers drafted the fastest athlete in the 2014 class and they complemented him with the biggest, nabbing the 6-foot-7, 352 pound Daniel McCullers at pick No. 215. McCullers must learn to keep his weight in check and play with better leverage but he could push veteran Steve McClendon for playing time in 2014 as each hope to replace former standout Casey Hampton at the all-important nose guard position in Dick LeBeau's beloved 3-4 alignment.
Pittsburgh's 2014 draft class:

1st Round -- No. 15 overall - ILB Ryan Shazier, Ohio State
2nd Round - No. 46 overall - DE Stephon Tuitt, Notre Dame
3rd Round - No. 97 overall - RB Dri Archer, Kent State
4th Round - No. 118 overall - WR Martavis Bryant, Clemson
5th Round - No. 157 overall - DB Shaquille Richardson, Arizona
5th Round - No. 173 overall - OL Wesley Johnson, Vanderbilt
6th Round - No. 192 overall -- ILB Jordan Zumwalt, UCLA
6th Round - No. 215 overall - NG Daniel McCullers, Tennessee
7th Round - No. 230 overall - TE Rob Branchflower, Massachusetts

Key Undrafted Free Agents Signed:

OLB Howard Jones, Shepherd
DL Josh Mauro, Stanford

Read more about all of Pittsburgh's picks here.