2015 NFL Draft: Oklahoma State Preview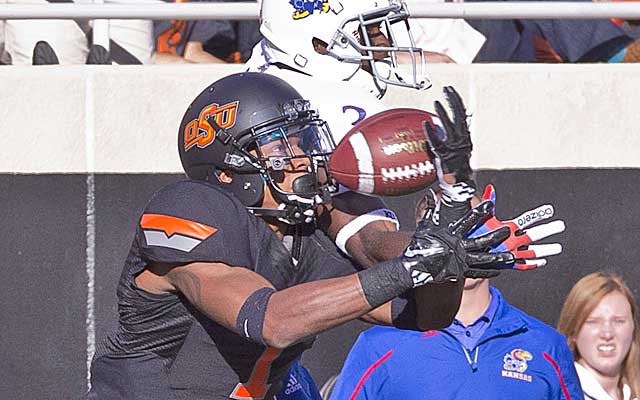 For the first time since the '80s, Oklahoma State has recorded six straight years with at least one draft pick, including six first rounders over that span. The Cowboys had only one draft pick in the 2014 class, but they made it count with CB Justin Gilbert, who was drafted eighth overall, the school's third top-10 draft pick since 2010 (OT Russell Okung, WR Justin Blackmon).
The Cowboys' prospects for the 2015 NFL Draft likely won't have a first round caliber player, but there are still a few players who could hear their names called in New York, Chicago, Los Angeles or wherever the draft ends up next spring.
Oklahoma State's top NFL Draft-Eligible prospects to watch in 2014:
1. CB Kevin Peterson, Junior (5-11 | 185 | 4.58 | #1)
With Gilbert now in the NFL, Oklahoma State has a big hole at one of the cornerback spots and the Cowboys' coaches feel Peterson can step up and fill that role. He started 11 games last season and was routinely subbed on and off the field, finishing the season with 24 tackles, six passes defended and a pair of interceptions. Peterson has solid size and length for the position and understands how to make just enough contact downfield without drawing flags, but in typical Big 12 fashion, he isn't asked to jam or attempt to reroute despite playing at the line of scrimmage. He has good, not great, speed with coordinated footwork to redirect and the natural awareness to turn his head and make plays on the ball. Peterson tends to get tall in his stance and pedal and needs some technique work like most young corners, but he has the skills to develop into one of the conference's top defensive backs.
2. DT James Castleman, Senior (6-2 | 296 | 5.04 | #91)
Oklahoma State hasn't had a defensive tackle drafted since Pro Bowler Kevin Williams was the ninth overall selection in the 2003 NFL Draft. But Castleman is looking to change that, lining up mostly at the one-technique spot for the Pokes. He is stout at the point of attack with strong hands to finish tackles, but is too easily slowed at contact, relying on upper body strength over technique to shed blocks. The most glaring weakness for Castleman based off his junior tape is his propensity to fall off balance, struggling to stay coordinated through contact and constantly ending up on the ground. He is slow footed and late to redirect, but plays comfortable on his feet, which allows him to pursue in space and gives him hope for the next level.
3. DE Jimmy Bean, RS Junior (6-4 | 245 | 4.69 | #92)
The Cowboys' top pass rusher from a year ago, Bean registered 4.5 sacks in his first year as a starter, lining up at both the left and right end spots. He has a workable and athletic frame with flexible joints and the body control to comfortably play in space. Bean is at his best when he combats blockers with his hands to win the edge, showing flashes of this, but not consistently, lacking ideal functional strength at this point in his development. He has an ordinary get-off with rudimentary pass rush skills and passive hands, playing too reactionary with a limited arsenal to beat blockers. Bean improved his ball awareness throughout last season, but doesn't always properly use his physical gifts to get there on time, something he needs to improve in 2014.
4. WR Jhajuan Seales, RS Sophomore (6-2 | 201 | 4.58 | #81)
Since 1990, Oklahoma State has had three wide receivers drafted and all three have gone in the first round: Justin Blackmon (2012), Dez Bryant (2010), Rashaun Woods (2004). Although he doesn't belong in that discussion yet, Seales has flashed the raw talent to be the next pro-caliber pass-catcher out of Stillwater. He is the top returning receiver for Oklahoma State in 2014 after finishing his redshirt freshman season with 39 catches for 571 yards and three scores, his first year as a starter at the college level. Seales accelerates well off the line of scrimmage and does a nice job selling his route, but is still unpolished in several areas and needs to improve the "little things" at receiver to be viewed as a viable draft pick by NFL scouts.
5. OT Daniel Koenig, RS Senior (6-6 | 310 | 5.30 | #58)
The third Koenig brother to start on the offensive line at Oklahoma State, Koenig was the starting right tackle the past two seasons, but moved over to the left side midway through last season. While he does some things well, Koenig needs to improve in several areas as a senior before any NFL team gives him a draftable grade. He is lean limbed and tight hipped with a narrow trunk and doesn't boast the muscle definition or functional strength to match up physically in the trenches. Koenig lacks natural coordination in his kickslide and doesn't consistently bring his feet with him, making him unreliable in space, especially vs. speed rushers (Kony Ealy ate him up in the Cotton Bowl). He has some traits to work with, but needs to improve in several areas as a senior if he hopes to have any type of future at the professional level.

Other players to watch:
QB J.W. Walsh, RS Junior (6-2 | 205 | 4.54 | #4)
RB Desmond Roland, Senior (6-1 | 210 | 4.60 | #26)
RB/WR Tyreek Hill, Junior (5-10 | 183 | 4.52 | #24)
DE Emmanuel Ogbah, RS Sophomore (6-4 | 270 | 4.86 | #38)