2015 NFL Draft: TCU Preview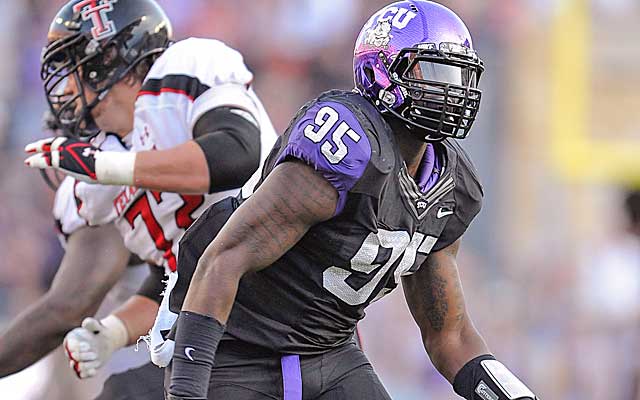 Since 1971, TCU has only had two players drafted in the top 25 selections: RB LaDainian Tomlinson in 2001 and CB Jason Verrett last month as part of the 2014 class. Despite limited top picks, the Horned Frogs have been well represented at the NFL level, especially throughout Gary Patterson's tenure as the head coach at TCU.
In the 14 years since Patterson took the helm of the program, the Horned Frogs have produced at least one draft pick in all but one of those seasons -- 34 draft picks total under Patterson's watch. While most of those picks were on the draft's final day, TCU has another top-25 caliber player on the current roster with DE Devonte Fields, who is just scratching the surface of his ability.
TCU's top NFL Draft-Eligible prospects to watch in 2014:
1. DE Devonte Fields, RS Sophomore (6-4 | 240 | 4.74 | #95)
A player with the potential to be the top NFL prospect out of TCU since LaDainian Tomlinson in 2001, Fields burst onto the college scene as a true freshman two seasons ago, leading the team with 18.5 tackles for loss and 10 sacks. He earned Conference Freshman of the Year and Defensive Player of the Year honors, but was suspended for the first two games of 2013 (unspecified violation of team rules) and saw limited action before a foot injury ended his season, earning a medical redshirt last year. Fields returns healthy and in the good graces of the coaching staff in 2014, but can he live up to the hype that was created after his highly impressive freshman season? He has above average athleticism for his size with excellent coordination and lower body flexibility to be quick off the ball and appear comfortable in space. Fields needs to develop his technique and strength and do a better job converting speed to power, but has the workable body type to continue and add muscle to his frame. His ball instincts are a tick late and on tape, but he beats blocks with his natural athleticism as the game comes easy to him. Fields' development in 2014 is crucial to his NFL future, already showing high first round potential as an impact pass rusher.
2. S Sam Carter, RS Senior (6-0 | 215 | 4.62 | #17)
A former quarterback and one of TCU's senior leaders, Carter is one of the hardest working competitors in the Big 12. He arrived in Fort Worth as a quarterback, but stuck behind Andy Dalton and Casey Pachall, coaches suggested he move to the secondary where he struggled initially in 2011 as he adjusted to the defensive side of the ball. Carter made large strides the last two years and enters his senior season in 2014 with nine interceptions and 21 passes defended in his career. He uses his eyes well to read, react and attack, covering the deep half of the field and lining up near the line of scrimmage. Carter needs to improve his tackling technique to better break down and finish once he makes contact, but he has improved in this area. Overall, he is still a work-in-progress, but he shows the confidence, athleticism and natural ball awareness to continue developing into a next-level safety.
3. DT Chucky Hunter, Senior (6-1 | 300 | 5.17 | #96)
The Horned Frogs' leading tackler on the defensive line a year ago, Hunter is entering his third season as a full-time starter up front. He moves well for the position and carries his weight like a lighter player, using his coordinated footwork and balance to work through and around a crowd to the ballcarrier. A high character player on and off the field, Hunter has a quick first step with fast hands to pack a punch at the point of attack, but is still developing his upper body technique and shed skills to better work through single blockers. Conference coaches voted him Second Team All-Big 12 the past two seasons and the TCU coaching staff (and NFL scouts) are looking for Hunter to take another step forward in his development as a senior and boost his grade among pro evaluators.
Other TCU prospects worth watching:
QB Trevone Boykin, RS Junior (6-2 | 215 | 4.57 | #2)
An athletic, strong-armed passer, Boykin had the same number of interceptions in 2013 as passing scores (7).

WR Brandon Carter, Senior (5-11 | 186 | 4.46 | #3)
While very talented, Carter had a recent marijuana possession arrest and missed spring practice due to poor grades.
TE Cliff Murphy, RS Senior (6-4 | 262 | 4.86 | #43)
Although he's still looking for his first career reception, Murphy has proven his worth as a more than capable blocker.
DT Davion Pierson, RS Junior (6-2 | 305 | 5.11 | #57)
Pierson is a key cog to TCU's defensive front due to his stout strength despite his impact not always showing on the stat sheet.
CB Kevin White, RS Senior (5-10 | 174 | 4.53 | #25)
The cornerback opposite Jason Verrett last year, White is TCU's top corner, finishing with 11 passes defended and 3 interceptions in 2013.
S Chris Hackett, RS Junior (6-2 | 196 | 4.62 | #1)
TCU's second-leading tackler from a year ago, Hackett's NFL arrow is pointing up with his versatile skill-set and pro pedigree.
S Kenny Iloka, Junior (6-2 | 211 | 4.62 | #6)
A JUCO transfer, Iloka, the younger brother of Bengals' safety George Iloka, is expected to be an integral part of TCU's 2014 secondary.