Finding the Fits: Jack Mewhort brings grit, versatility to Colts' O-line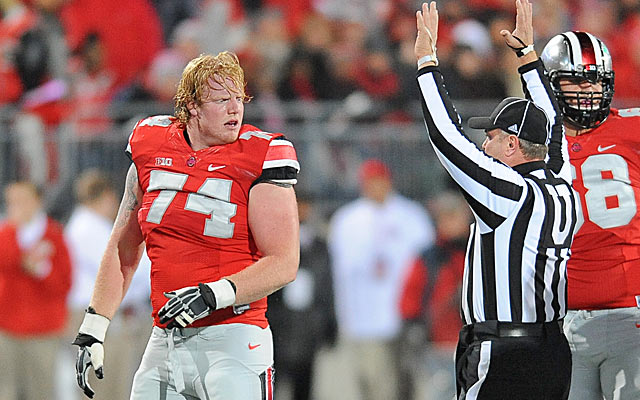 This article is one of a series called Finding the Fits in which NFLDraftScout.com will review some of the more intriguing picks made during the 2014 NFL Draft. The goal of the series is to identify one relatively unheralded player per team who appears to be a good schematic fit and, therefore, more likely to be a surprise contributor early in his pro career.

Indianapolis Colts' best fit: OL Jack Mewhort, Ohio State

Give Colts' general manager Ryan Grigson credit. He recognizes the fact that Andrew Luck is a burgeoning superstar and that for Indianapolis to take the next step, protecting his franchise quarterback is the top priority.

Grigson and head coach Chuck Pagano acted as such throughout the 2014 draft, using their first three picks to add weapons and blockers to aid Luck's development. And while Indianapolis' trade for veteran running back Trent Richardson and selection of rookie wideout Donte Moncrief were flashier (more on them later), the addition of Mewhort could prove just as important to the success of the squad, instantly improving the physicality, toughness and versatility of the Colts' offensive line.

Mewhort earned a spot on Rang's Gang (my favorite non-first round players in the 2014 class) precisely because of the grit with which he plays. Though he starred the past two seasons at left tackle for the Buckeyes, the Colts will ease his acclimation to the speed of the NFL by plugging him inside at guard, where Mewhort started 13 games (eight at right guard, five at left) as a sophomore. Mewhort's height (6-foot-6, 308 pounds) caused some teams with shorter quarterbacks to see him strictly as a tackle, but with the prototypically-built Luck (6-foot-4, 239 pounds) tall enough to see over bigger blockers, the Colts have a wider talent pool to select interior linemen.

Mewhort's powerful and long arms (80 1/4" wingspan) help him corral and control defenders when pass blocking. He isn't the quickest or most fluid athlete -- which made him a bit susceptible to speed rushers -- but these traits will be mitigated by the move inside. Coaches, teammates and fans alike will appreciate Mewhort's dedication to finishing the play. He looks to bury opponents, a grit and tenacity that, frankly, was lacking along the Colts' offensive line last season. Indianapolis tied for 20th in the NFL a year ago in rushing yardage, averaging 108.9 yards per game. That mark was good enough to tie the last-placed Houston Texans.

Other thoughts on the Colts' 2014 draft class:
While Mewhort is the Colts' rookie expected to make the most immediate impact in 2014, clearly the most exciting is Moncrief, a phenomenal athlete at 6-foot-2, 221-pounds whom Indianapolis nabbed with their third round pick. Moncrief, who was clocked as fast as 4.34 seconds in the 40-yard dash at the Combine, was overly reliant on his jaw-dropping blend of size and athleticism throughout his career at Mississippi but with three established wideouts ahead of him on the depth chart in Reggie Wayne, Hakeem Nicks and 2012 third round pick T.Y. Hilton, the former SEC standout will have to hone the finer skills of the position to gain playing time in Indianapolis. Specifically, Moncrief must show more precision with his route-running and learn to extend to snatch the ball out of the air with more conviction. Currently, Moncrief is at his best tracking the ball over his shoulder rather than coming back to the ball. He has relatively small hands for a wideout of his size (9 1/8") and plays with a bit of finesse. These traits played a role in his production slipping in 2013 after a breakout sophomore season and Moncrief being available to the Colts at No. 90 overall. Three years from now, however, Moncrief could make teams who passed him look foolish as he has the talent to be a star. With Wayne (35 years-old and coming off a torn ACL) and Nicks entering the final year of their contracts, Moncrief and second-year pro Da'Rick Rodgers are excellent developmental prospects who should help continue Luck's ascent into league's elite.
They weren't exactly traded for each other, but the No. 26 overall pick Cleveland received from the Colts in exchange for Richardson helped the Browns nab Johnny Manziel. Given the struggles Richardson had acclimating in his first season with the Colts (averaging a putrid 2.9 yards per carry) and the excitement brewing around Manziel in Cleveland, the trade looks like pretty one-sided at the moment. Let's be clear, nothing short of Richardson emerging as the NFL's best running back is going to feel equal if Manziel proves the franchise-changer Cleveland hopes he is. But the promise that Richardson showed in dominating the SEC didn't just disappear. Given a year to adjust to Indianapolis' scheme, don't be surprised if Richardson begins to live up to the first round investment Grigson and Pagano made in him. When confident in where the holes will be, Richardson is a bullish runner with the power, lean and balance to break tackles, as well enough burst to gain yardage in chunks. Richardson is no "air-back" but neither is Marshawn Lynch or Frank Gore. If Richardson commits to playing the game with the ferocity of these NFC West stars, the Colts' bold trade for the missing piece to their Super Bowl-caliber offense could very well pay off.
Indianapolis' 2014 draft class:

2nd Round - No. 59 overall - OL Jack Mewhort, Ohio State
3rd Round - No. 90 overall - WR Donte Moncfief, Mississippi
5th Round - No. 166 overall - DE Jonathan Newsome, Ball State
6th Round - No. 203 overall - ILB Andrew Jackson, Western Kentucky
7th Round - No. 232 overall - OT Ulrick John, Georgia State

Key Undrafted Free Agents Signed:

NG Zach Kerr, Delaware
OC Jonotthan Harrison, Florida
CB Loucheiz Purifoy, Florida

Read more about all of Indianapolis' picks here.