Finding the Fits: Speedy Telvin Smith ideal match for Bradley, Jags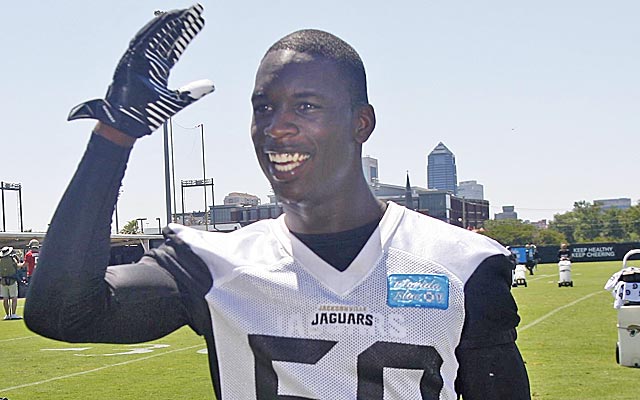 This article is one of a series called Finding the Fits in which NFLDraftScout.com will review some of the more intriguing picks made during the 2014 NFL Draft. The goal of the series is to identify one relatively unheralded player per team who appears to be a good schematic fit and, therefore, more likely to be a surprise contributor early in his pro career.

Jacksonville Jaguars' best fit: OLB Telvin Smith, Florida State

The same blueprint for success which helped the Seattle Seahawks win the first Super Bowl in team history appears to be taking form in Jacksonville. There, head coach Gus Bradley (formerly Seattle's defensive coordinator) and general manager David Caldwell are orchestrating a complete overhaul of the roster that seems to be on the verge of success. The blueprint is simple in theory but difficult in practice - a marriage of Caldwell and his scouting staff understanding the specific traits that Bradley and his coaches are looking for in each position.

Like Pete Carroll in Seattle, Bradley values speed, aggression and length at linebacker above some of the traditional components most teams also require, such as weight and strength. This strategy has helped the Seahawks win with a linebacker corps that doesn't have a single first round pick among them and includes former 7th round selection Malcom Smith, the reigning Super Bowl MVP.

The Seahawks' Smith and the Jaguars' rookie aren't related genetically but their athleticism and upside due to schematic fit with their respective NFL club's is worth noting.

At 6-foot-3, 218 pounds, the former FSU star was simply too slim for some clubs. While built more like a strong safety than a traditional linebacker, Smith's game doesn't lack in physicality or aggression. Smith attacks the line of scrimmage, showing the burst to slip past blockers as well as the toughness to take them on, when necessary. He diagnoses the action quickly and closes on the ball as explosively as any linebacker in the 2014 draft class. His fluidity is especially obvious in coverage, where Smith easily changes directions and uses the rare speed he demonstrated at the Combine (clocked at 4.47 seconds in the 40-yard dash) to blanket backs, tight ends and even receivers.

Like Malcolm in Seattle, the Jaguars' Smith may make his initial impact on special teams. That's a long way from earning Super Bowl MVP honors. But with shorter and slower linebackers currently ahead of him on the depth chart and Smith already ahead of many rookies due to working with the Jaguars' staff at the Senior Bowl, the ex-Seminole could be on the "fast track" to a starting role for a club quietly on the upswing.

Other thoughts on the Jaguars' 2014 draft class:
While the speedy ex-Seminole ranks as the best schematic fit for Bradley's aggressive defense, any chance at the Jaguars emerging as a legitimate AFC South division winner in the next few years lies with the gamble on Blake Bortles and playmaking wideouts Marqise Lee and Allen Robinson with their first three picks. Bortles' size (6-foot-5, 232), arm, athleticism and intangibles all fit in nicely in offensive coordinator Jeff Fisch's scheme and the rookie won't be rushed onto the field with steady veteran Chad Henne already in place. Some scouts were scared off by the fact that Bortles was protected by a strong running game at UCF but it is Fisch's intent to do the same in Jacksonville and with Lee and Robinson joining an already talented receiving corps, the Jaguars' may have finally found their long-sought young franchise quarterback. The durability issues which plagued Lee throughout his junior season at Southern Cal has kept him sidelined throughout much of Jacksonville's OTAs. When healthy, however, his easy athleticism makes him a dynamic playmaker whose courage over the middle could make him a dynamic slot receiver and returner. Robinson, on the other hand, uses his height and explosive leaping ability to win matchups on the outside - similar to the way Justin Blackmon has flashed throughout his suspension-marred NFL career. Receivers typically take a year or two to acclimate to the NFL's physicality but the Jaguars appear to have turned a solid unit into one of the club's true strengths.
Coaching the Senior Bowl gave the Jaguars and Falcons unique perspective on the 2014 class and that paid off for Jacksonville with the four consecutive picks in OG Brandon Linder, CB Aaron Colvin, and the Smith duo of Telvin and former Arkansas' standout pass rusher Chris Smith (no relation). Linder is a no-nonsense guard who could compete for a starting position as a rookie. Colvin lacks the bulk Bradley has generally preferred outside at cornerback but if he regains his agility and speed after recovering from the torn ACL suffered in Mobile during Senior Bowl practices, he has the coverage skills to handle nickel duties. Chris Smith is a classic LEO, whose burst and strength at the point of attack could mitigate his less-than-ideal frame (6-foot-1, 266).
Generally, I focus on the drafted players in this review but perhaps no team found better value among the undrafted free agency than Jacksonville. Former Miami quarterback Stephen Morris is, of course, the headliner but a pair of Pac-12 standouts could be in better position to make the roster. Cal's Deandre Coleman is a massive run-stuffing presence with physical dimensions similar to five-tech defensive end Red Bryant, who Bradley convinced to join him in Jacksonville after getting released by Seattle. Former Oregon State corner Rashaad Reynolds plays with the NFL-caliber instincts and physicality, as well.

Jacksonville's 2014 draft class:

1st Round - No. 3 overall - QB Blake Bortles, Central Florida
2nd Round - No. 39 overall - WR Marqise Lee, Southern Cal
2nd Round - No. 61 overall - WR Allen Robinson, Penn State
3rd Round - No. 93 overall - OG Brandon Linder, Miami
4th Round - No. 114 overall - CB Aaron Colvin, Oklahoma
5th Round - No. 144 overall - OLB Telvin Smith, Florida State
5th Round - No. 159 overall - DE Chris Smith, Arkansas
6th Round - No. 205 overall - OC Luke Bowanko, Virginia
7th Round - No. 222 overall - RB Storm Johnson, Central Florida

Key Undrafted Free Agents Signed:

DL Deandre Coleman, Cal
TE Marcel Jensen, Fresno State
CB Rashaad Reynolds, Oregon State
SS Craig Loston, LSU
WR Kevin Smith, Washington

Read more about all of Jacksonville's picks here.