2015 NFL Draft: West Virginia Preview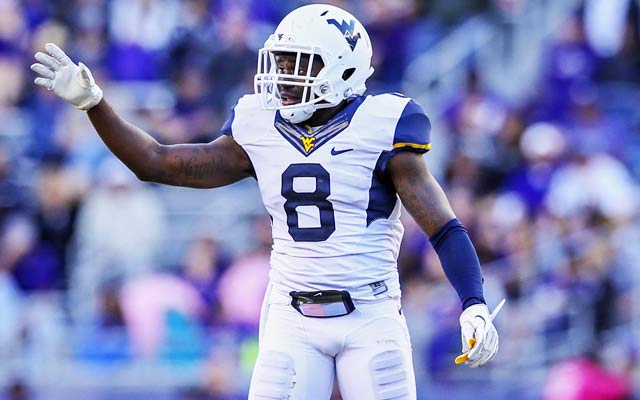 Since becoming a member of the Big 12 conference in 2012, West Virginia has an uninspiring 11-14 (.440) record. But the Mountaineers have been well represented in the NFL Draft the last two years with five total draft picks, all top-100 selections.
The Mountaineers snapped an 11-year bowl game streak last year, finishing with only four wins due to a defense that finished 100th in the nation in points allowed. But West Virginia has a few prospects on the defensive side of the ball that will attract NFL attention this season, including DE Shaquille Riddick, who recently transferred to Morgantown for his final season of college football eligibility.
West Virginia's top NFL Draft-Eligible prospects to watch in 2014:
1. DE Shaquille Riddick, Senior (6-6 | 242 | 4.87)
Is it possible that the top NFL prospect on the West Virginia roster has yet to take a snap at the FBS-level? Absolutely. Riddick spent the past three years at Gardner-Webb, earning FCS All-American honors last season with a team-best 19 tackles for loss and 8.5 sacks. Transferring to WVU for his final season of eligibility, Riddick was a skinny twig out of high school and didn't receive much attention as a recruit, but he's gained nearly 75 pounds and is close to maxing out his lean, long frame. He is quick off the snap and gets upfield in a hurry with an on-field motor that is never idle and a competitive demeanor that pops on film. Riddick is a balanced athlete with a flexible lower body and the natural bend to use his long arms while winning the edge vs. offensive tackles. He has active hands to swat blockers' limbs, but his functional strength is a strong concern as he makes the jump to the FBS-level. Although he's played at a lower level of competition, Riddick shows excellent ball awareness with zero give up in his play style, showing not only All-Big 12 potential, but also intriguing NFL upside. He reminds me of a more polished version of Larry Webster Jr., who was a fourth round pick of the Lions last month.
2. RB Dreamius Smith, Senior (5-11 | 217 | 4.54 | #2)
The second-leading rusher for West Virginia in 2013, Smith played behind Charles Sims last season, who was drafted 69th overall last month by the Tampa Bay Buccaneers. But on film, there really aren't too many differences in the two prospects. Smith has quick feet and lateral agility with a balanced lower body to make strong cuts and shake defenders. He has a solidly-built frame for the position and does a nice job lowering his pads with forward lean and a physical mentality to gain positive yardage. Smith also has the speed to finish, but is sometimes late to anticipate run lanes and needs to do a better job with his vision to recognize holes and set up his rush moves. He had only two catches last season and needs to prove to be a capable pass-catcher, an area that Sims excelled at with 45 receptions last season. Smith will share the backfield duties with sophomore RB Wendell Smallwood, but look for the senior to emerge as one of the better backs in the conference.
3. FS Karl Joseph, Junior (5-10 | 200 | 4.63 | #8)
The Mountaineers' defense was a sieve last season, but Joseph was one of the few bright spots on an otherwise disappointing unit. He finished last season with 68 tackles, displaying rangy play speed with the ability to make stops at every level of the field. Joseph tends to be an ankle biter at times and has room to clean up his tackling technique, but he is a more than willing run defender with the drive quickness to attack downhill. He will take some unnecessary steps in coverage and needs to clean up his footwork, but is quick to recover and shows loose movements. Joseph's anticipation and instincts are still in the development phase, but he has shown improved eye use to make quick decisions and stay true to his aggressive nature. He has started all 25 games at free safety since arriving in Morgantown and is still far from hitting his football ceiling, making his NFL potential an intriguing storyline moving forward.
4. OG Quinton Spain, RS Senior (6-5 | 335 | 5.29 | #67)
A player who has lined up at both left tackle and left guard the past few seasons, Spain appears much more comfortable inside at guard and hopefully sees more snaps there in 2014. He is stiff, tight-jointed and high cut, which shows up quite a bit during games, but he does have the body and length that coaches want to work with at the next level. Spain's functional strength and timing are both question marks, but where he needs to improve the most is his hand placement, which is all over the place and causes him to fall off blocks or get grabby. His kickslide and blocking ability at the second level aren't strengths either, but it's also easier to mask his short-area skill-set when he lines up inside at guard. Spain has some NFL traits, but isn't a sure thing to be drafted at this point and needs to improve in several areas this season.
Other West Virginia prospects worth watching:
QB Clint Trickett, RS Senior (6-2 | 180 | 4.82 | #9)
The Mountaineers' leading passer last season, Trickett isn't much of a pro prospect unless he can improve upon his 52.8% completions last season.
QB Paul Millard, Senior (6-2 | 219 | 4.84 | #14)
The quarterback who will battle Trickett for snaps in 2014, Millard started three games last season, but wasn't much more impressive than Trickett.
WR Kevin White, Senior (6-3 | 211 | 4.56 | #11)
A tall, lean athlete, White finished third on the team in receiving last season with 35 grabs and also averaged 14.5 yards per catch.
OG Mark Glowinski, RS Senior (6-5 | 305 | 5.11 | #64)
After transferring from the JUCO ranks, Glowinski started all 12 games last season at right guard and could fight Spain for the distinction of being the team's top lineman.