2015 NFL Draft: Arizona State Preview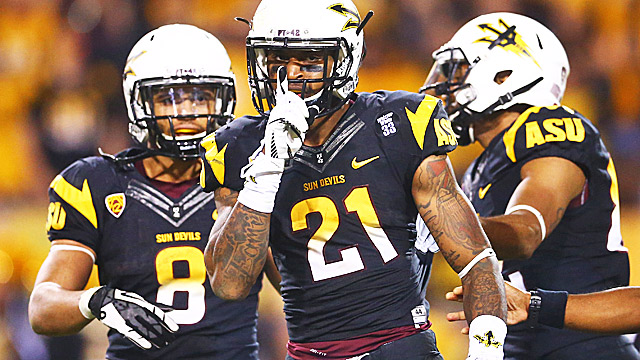 More NFL offseason: League minicamp dates | Latest news, notes
Featuring a dynamic spread-option offense and as aggressive a defense as there was in college football a year ago, coach Todd Graham guided the Arizona State Sun Devils to a first-place finish in the Pac-12 South and their second consecutive bowl berth.
Graham will have his work cut out for him if the Sun Devils are going to match (or beat) last season's success given that two-time Pac-12 Defensive Player of the Year Will Sutton is now playing for the Chicago Bears. Other standouts, including Carl Bradford, leading tackler Chris Young and running back Marion Grice also are gone.
Plenty of sparks will fly on the offensive side of the ball with top prospect Jaelen Strong, quarterback Taylor Kelly and versatile playmaker D.J. Foster returning and with a steady influx of JUCO talent ready to contribute on defense, it could once again be a hellish ride for Pac-12 opponents heading to Tempe.
Arizona State's top NFL Draft-eligible prospects to watch in 2014:

1. WR Jaelen Strong, RS Junior (6-4 | 205 | 4.55 | #21)

Choosing the Sun Devils over offers from a number of other high profile programs such as South Carolina, Miami and Nebraska, Strong exploded onto the FBS-scene in 2013, hauling in 75 passes for 1,122 yards and seven touchdowns to earn Second Team All-Pac-12 honors as a JUCO-transfer (Pierce College). Strong only played one year at Pierce (67 passes for 1,263 yards and 15 touchdowns in 10 games) and therefore has two more years of athletic eligibility for the Sun Devils. A third highly productive season in a row, however, could make the 2014 season Strong's last at the amateur level, as Strong is currently NFLDraftScout.com's No. 3-rated WR in the 2016 class
Strong is aptly named as he is a well-built receiver whose height, body control and leaping ability make him a difficult matchup for cornerbacks. He runs hard and forces defenders to take him to the ground, fighting through arm tackles to generate good yardage after the catch. His size makes him equally effective on the perimeter (where he excels on back-shoulder fades) and when dragging across the middle. Strong accelerates quickly off the line, making him an effective vertical threat.
Strong's talent is undeniable but he's far from a finished product. He generally catches the ball with his hands and can make the dazzling acrobatic reception but fights the ball on occasion and needs to do a better job of extending his arms fully to high-point passes and take full advantage of his height advantage. He's going to need to sharpen up his route-running, as well, as too often he gets by on simply posting up defenders at this level.

2. OG Jamil Douglas, RS Senior (6-4 | 301 | 5.09 | #74)

Though ASU's talented skill position players will generate most of the attention, Douglas ranks as one of the team's most intriguing NFL prospects. He's entering his senior campaign with experience at all four exterior positions and 27 consecutive starts - most of them coming at the left guard position which he's starred for most of his career and projects best at the next level. Douglas is expected to make the transition to the all-important left tackle position as a senior.
Douglas looks the part of an NFL offensive lineman with broad shoulders, a trim middle and good balance. He is quick off the snap and plays with good leverage in pass protection to absorb bull rushers, showing good flexibility and core strength. He slides well laterally and looks to help his teammates when not covered up, often shoving unsuspecting defensive linemen to the ground. Douglas is a bit more inconsistent in the running game. He plays a bit high while drive blocking, dropping his head and leaving himself vulnerable to over-arm swim moves. He's frequently asked to pull -- showing above average agility and balance when doing so -- but is indecisive and too often resorts to sealing off defenders from the action rather than driving his opponent out of the way and creating a hole.
Scouts will want to investigate Douglas' past. He was arrested midway through the 2010 season for second-degree burglary charges for stealing from a teammate and was suspended by then-head coach Dennis Erickson. The charges were later reduced and Douglas has had no known issues in the three years since.

3. RB D.J. Foster, Junior (5-11 | 195 | 4.49 | #8)

Foster's comfort with the ball in his hands is his greatest attribute. He is a fluid athlete, who accelerates and cuts smoothly. He has very good field vision, knowing when to throttle down and exercise some patience to set up blocks and when to drive ahead to get what he can. Perhaps best of all, he's a reliable pass-catcher who shows the ability to extend and pluck outside of his frame as well as track over his shoulder. The Sun Devils took great advantage of his hands as Foster all running backs with 653 receiving yards in 2013. While a significant number of Foster's production came while split out as a slot receiver, the Sun Devils expect him to take over as the team's leading running back this season with Grice now a member of the San Diego Chargers.
Foster has committed himself to the transition. He spent the off-season getting stronger and reportedly has bulked up to 208 pounds. He's also being asked to take part on special teams as an edge rusher on punt returns.

4. QB Taylor Kelly, RS Senior (6-2 | 205 | 4.84 | #10)

Athletic, instinctive and a gifted passer, Kelly has emerged as one of college football's better dual-threat quarterbacks as a perfect match in Graham's spread-option attack. In a conference boasting several next-level passers, Kelly earned Second Team All-Pac-12 accolades a season ago, finishing behind only Oregon's Marcus Mariota, the top prospect on my initial 2015 Big Board.
Kelly completed a school record 67.1% of his passes in 2013 for 3,635 yards and 28 touchdowns against just 11 interceptions. Excluding sacks, he also ran for another 823 yards and scored nine touchdowns on the ground -- numbers that made him a dark horse Heisman candidate for much of the year and a potentially intriguing prospect as NFL teams are increasingly on the lookout for dual-threat passers.
Kelly's production is impressive and there is no reason to think he won't be at least as effective in 2014 but a slim frame, less-than-ideal arm strength and transition from a shotgun-based offense will complicate his jump to the NFL.

Kelly has a slim build, especially in his lower half, which will raise concerns about his ability to stand up to pressure in the NFL, despite the fact that he's proven durable throughout his collegiate career. He has a quick set-up and release but is allowed to simply flick passes without stepping into them based on the quick tempo of this read-option attack. When he steps into his throws, Kelly can deliver passes with impressive velocity. When he doesn't, however, too many of Kelly's passes flutter. Kelly's ball placement, especially on intermediate and deep passes with low trajectory, is inconsistent, though he does show good touch.

Other Arizona State prospects worth watching:

FB/H-Back De'Marieya Nelson, RS Senior (6-2 | 230 | 4.76 | #12)
The loss of First Team All-Pac-12 tight end Chris Coyle opens up a window for Nelson to see more playing time. The JUCO-transfer is a more explosive and versatile athlete than Coyle. If Nelson has the big senior campaign expected he could make a push for draft consideration.

DE Marcus Hardison, Senior (6-4 | 296 | 4.96 | #1)
Hardison signed with ASU as a highly celebrated JUCO transfer but recorded just five tackles in his first season in Tempe. His bulk and quickness are intriguing as is his experience all over the defensive line.

S Damarious Randall, RS Senior (6-0 | 185 | 4.56 | #3)
Another JUCO transfer, Randall will be looked upon for leadership as he is the only member of ASU's secondary with more than one career start on his resume. He is alert and athletic but has size limitations and despite ranking as ASU's leading returning tackler (71 stops in 2013), Randall could be a more physical and secure tackler in the open field.

DT Jaxon Hood, Junior (6-0 | 301 | 5.10 | #92)
Hood struggled through an injury-plagued sophomore season but his bowling ball-like frame and strength makes his bull-rush tough to handle.

NG Mo Latu, RS Junior (6-3 | 384 | 5.43 | #98)
The NFL loves size and Latu, who has switched back and forth between the offensive and defensive lines while in Tempe certainly offers that. Latu, who recorded two tackles a year ago, reportedly weighed in at 370 during the spring. Graham wants him in the 330-335 pound range. As you'd expect, Latu is tough to move, making him an intriguing developmental prospect at nose guard.