Finding the Fits: With size, speed for scheme, Phillip Gaines fits in KC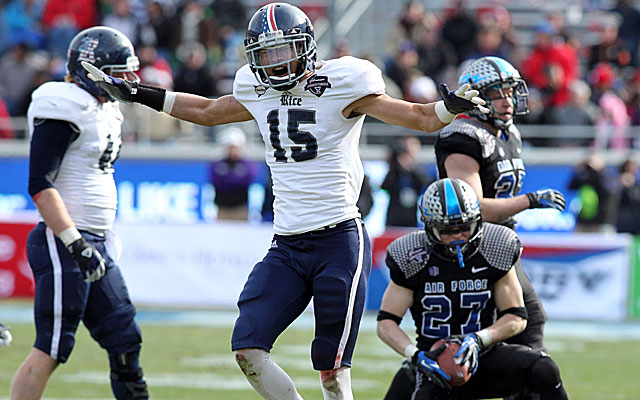 This article is one of a series called Finding the Fits in which NFLDraftScout.com will review some of the more intriguing picks made during the 2014 NFL Draft. The goal of the series is to identify one relatively unheralded player per team who appears to be a good schematic fit and, therefore, more likely to be a surprise contributor early in his pro career.
Kansas City Chiefs' best fit: CB Phillip Gaines, Rice
The Chiefs' recent release of former Pro Bowl cornerback Brandon Flowers was made in part due to his bloated salary. By letting him go, the Chiefs will save a combined $15 million over the next two years as the club attempt to re-sign quarterback Alex Smith and pass rusher Justin Houston, among others.
But the writing was on the wall in Kansas City the moment John Dorsey was hired as the team's general manager. Corners lacking size -- like the 5-foot-9, 187 pound Flowers -- aren't a fit in a scheme predicated on press coverage with long, lanky defenders on the perimeter. That's why Sean Smith (6-foot-3, 218), Marcus Cooper (6-foot-1, 192) and Ron Parker (6-foot, 206) were given free agent deals over the past two years and why the 6-foot, 193-pound Gaines will be given every opportunity to earn considerable playing time as a rookie.
Gaines possesses the height, long arms, fluidity and straight-line speed to handle making the jump from Conference USA. He was one of the hotter prospects in the class as the draft approached, in large part due to an extraordinary workout at the combine that was highlighted by his 4.38 in the 40-yard dash and 6.62-second 3-cone drill, second fastest among cornerbacks tested in Indianapolis last year.
Boasting a rare combination of athleticism, length and instincts for the position, Gaines is well suited for Kansas City's scheme.
"He has all the physical dimensions we ask for in our corner -- he's long, he's fast, he has long arms," Dorsey said when describing his third-round pick. "He has (38 pass breakups) over his career, which is a school record. He plays and tracks the deep ball well. I'd say there's still a lot of upside with him."
To be clear, Gaines isn't going to replace Flowers on his own. Frankly, there isn't a corner on the Chiefs' roster as talented as Flowers and his loss will hurt. Committing to a scheme takes time and the right players, however, and Gaines should help Kansas City's transition to the man-press scheme which should make them better suited toward stopping the big, talented receivers like Demaryius Thomas, Keenan Allen (and perhaps Cody Latimer) of the AFC West.
Other thoughts on the Chiefs' 2014 draft class:
Given the presence of Pro Bowlers Tamba Hali and Houston, the Chiefs' selection of pass rusher Dee Ford was surprising, but that doesn't mean I disagree with it. Reid was quick to discount a report on draft day that Ford's selection had anything to do with Hali reportedly weighing 20 pounds heavier than his optimum playing weight, telling reporters, "No one works harder than Tamba," but that doesn't change the fact that he has only two years remaining on his deal or that Houston is entering his final season under contract. Ford is a legitimate first-round talent whose burst, bend and penchant for the big play at critical moments makes him an intriguing edge rusher for a club looking to put constant pressure on relatively immobile quarterbacks Peyton Manning and Philip Rivers in Denver and San Diego, respectively. Ford won't alleviate concerns at receiver or along the offensive line -- two areas most perceived to be more significant needs for the Chiefs -- but I do expect him to prove worthy of the No. 23 overall selection with a productive rookie season and NFL career, whether it be supplementing or replacing Hali and Houston.
Quarterbacks selected on Day 3 rarely turn out to be more than backups in the NFL but Aaron Murray has many of the traits necessary to surprise. As with many short quarterbacks, Murray's arm strength has been questioned, but when given a pocket from which to throw, he can deliver the ball on a line. Further, he's athletic enough to buy time with his feet or complete passes on the move -- a staple in Reid's scheme. There's no getting around it -- Murray's height (6-foot-1, 210 pounds) is a detriment. Murray struggled a bit throughout his career with passes knocked down at the line of scrimmage, something that Drew Brees and Russell Wilson have been extraordinary proficient at avoiding. This must improve if he's to be successful in the NFL. Prior to sustaining the ACL tear that ended his collegiate career so abruptly, however, Murray had shown improvement in this area. He's accurate, experienced in a pro-style scheme and is a better schematic fit in Reid's offense than either Tyler Bray or Chase Daniel. Smith is clearly Kansas City's starter but Murray will turn heads when given an opportunity.
Kansas City's 2014 draft class:
1st Round (No. 23 overall): OLB Dee Ford, Auburn
3rd Round (No. 87 overall): CB Phillip Gaines, Rice
4th Round (No. 124 overall): De'Anthony Thomas, Oregon
5th Round (No. 163 overall): QB Aaron Murray, Georgia
6th Round (No. 193 overall): OG Zach Fulton, Tennessee
7th Round (No. 200 overall): OT Laurent Durvernay-Tardif, McGill
Key Undrafted Free Agents Signed:
FS Daniel Sorensen, BYU
Read more about all of Kansas City's picks here.