Finding the Fits: Dependable OG Gabe Jackson a steal for Raiders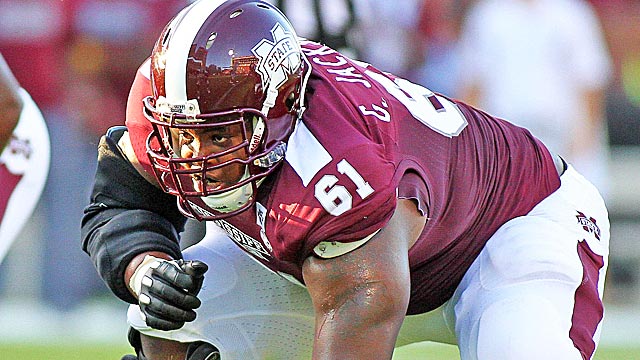 More NFL offseason: League minicamp dates | Latest news, notes
This article is one of a series called Finding the Fits in which NFLDraftScout.com will review some of the more intriguing picks made during the 2014 NFL Draft. The goal of the series is to identify one relatively unheralded player per team who appears to be a good schematic fit and, therefore, more likely to be a surprise contributor early in his pro career.

Oakland Raiders' best fit: OG Gabe Jackson, Mississippi State

The attention in Oakland -- like every other NFL city - falls upon the skill-position talent but general manager Reggie McKenzie is smart enough to realize that if veteran additions Matt Schaub and Maurice Jones-Drew are going to resurrect their careers in the Silver and Black as hoped, improved blocking is critical.

Therefore, while Khalil Mack should make an immediate impact and Derek Carr could prove a steal in the second round (more on each later), Jackson's durability and drive-blocking make him an obvious focus as Oakland's relatively unheralded but clear schematic fit in offensive coordinator Greg Olson's run-heavy attack.

Jackson starred in precisely this role in his 52 consecutive starts at left guard for Mississippi State. Aggressive and powerful, Jackson is at his best driving defenders off the line of scrimmage and clearing holes for backs to exploit. This fits in well with the north-south running that have made Jones-Drew and incumbent starting running back Darren McFadden standouts during their NFL careers. Jackson is also a quality pass blocker, who utilizes his strength, balance and core flexibility to protect the inside - especially critical in Oakland given how Schaub (and Carr) have struggled when pressure comes up the middle.

On paper, Jackson will have to compete with veteran Khalif Barnes to start at left guard. Barnes finished last season as the starter in this role and was re-signed in the off-season. At 6-foot-6, 321 pounds, Barnes is best suited to tackle, however, and may be called upon to support free agent additions Donald Penn and Austin Howard, relatively young players who flashed for the Tampa Bay Buccaneers and New York Jets, respectively, but some believe the Raiders over-paid to bring to Oakland.

With virtually all of the difference-making rushers in the AFC West operating off the edge, the Raiders would love Barnes to serve as a complementary role to their young tackles and allow Jackson to assume the left guard position. I think he'll do so, quietly emerging as a standout in Oakland in much the same way that Larry Warford, another former SEC standout, predictably did for the Detroit Lions a year ago.

Other thoughts on the Raiders' 2014 draft class:


Despite the presence of Von Miller in Denver and the combination of Justin Houston and Tamba Hali in Kansas City, the Broncos and Chiefs each made adding edge rushers Demarcus Ware and Dee Ford priorities in the off-season. Given the relatively immobile star quarterbacks in the division, the strategy makes sense, which is all the more reason why the Raiders should get an immediate impact from Mack, the No. 5 overall pick of the 2014 draft. Equally capable of terrorizing off the edge or dropping back to create havoc on the perimeter and in coverage, Mack should quickly emerge as the franchise defender around which McKenzie and head coach Dennis Allen can build around.
Given the millions the club invested in veteran free agency, it is clear that the Raiders would love for Schaub to seize the starting quarterback role. McKenzie and Allen have each proclaimed him as the starter. Their rhetoric softened once successfully landing Carr in the second round after plenty of buzz linked them to the Fresno State star prior to the draft. The strong-armed Carr is a good schematic fit in Olson's run-heavy, vertical-shot offense. It is a scheme similar to the pro-style attack Carr ran two years ago under Pat Hill, prior to adjusting to the spread attack Tim DeRuyter brought from Texas A&M to Fresno State that helped Carr lead the country in passing yardage (5,082) and touchdowns (50) in 2014. There were two primary knocks on Carr heading into the draft; both of which could prove silly in hindsight. For one, there was a perception that he, like older brother David, struggled with pressure in his face. While that may be true, it is worth noting that just one Fresno State offensive lineman was selected in the NFL draft during Derek's three seasons as the starter and that the blocker picked - guard Andrew Jackson - wasn't selected until the seventh round in 2011. Further, the struggles that David endured after earning the No. 1 overall pick for Houston 12 years ago, could, in fact, prove a source of motivation and education for his younger brother. Boasting a higher upside than either Schaub or current No. 2 quarterback Matt McGloin, Carr could be on the fast-track to playing time in Oakland. Given the veteran talent surrounding him and his own undeniable talents, don't be surprised when he seizes the opportunity and proves the young, franchise quarterback Raiders' fans have been dreaming of for years.

Oakland's 2014 draft class:

1st Round - No. 5 overall - OLB Khalil Mack, Buffalo
2nd Round - No. 36 overall - QB Derek Carr, Fresno State
3rd Round - No. 81 overall - OG Gabe Jackson, Mississippi State
4th Round - No. 107 overall - DT Justin Ellis, Louisiana Tech
4th Round - No. 116 overall - CB/S Keith McGill, Utah
7th Round - No. 219 overall - CB Travis Carrie, Ohio
7th Round - No. 235 overall - DE Shelby Harris, Illinois State
7th Round - No. 247 overall - S/CB Jonathan Dowling, Western Kentucky

Key Undrafted Free Agents Signed:

RB George Atkinson, Notre Dame
DE Denico Autry, Mississippi State
WR Mike Davis, Texas
TE Jake Murphy, Utah

Read more about all of Oakland's picks here.