Finding the Fits: BeWare, rookie Lawrence could star for Cowboys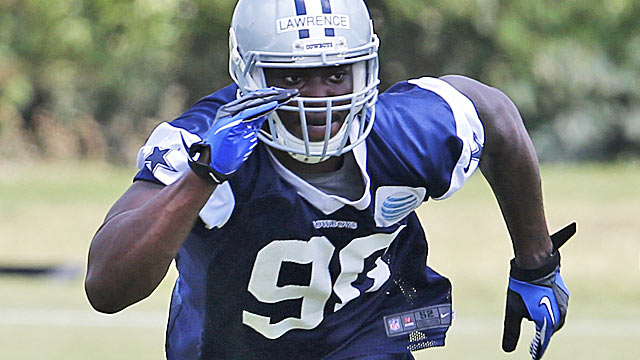 More NFL offseason: League minicamp dates | Latest news, notes
This article is one of a series called Finding the Fits in which NFLDraftScout.com will review some of the more intriguing picks made during the 2014 NFL Draft. The goal of the series is to identify one relatively unheralded player per team who appears to be a good schematic fit and, therefore, more likely to be a surprise contributor early in his pro career.

Dallas Cowboys' best fit: DE Demarcus Lawrence

Nearly a decade after selecting DeMarcus Ware out of Troy with the No. 11 overall pick of the 2005 NFL draft, Jerry Jones and his Cowboys are hopeful that a new edge rusher with a similar name, frame and game can take over the reins.

It isn't fair to compare Lawrence (or any rookie, for that matter) to a future Hall of Famer like Ware, the Cowboys' all-time leader in QB sacks (117) and forced fumbles (32). Given that Lawrence is tasked with supplying the edge rush for a squad that finished dead last in Total Defense a year ago, the odds certainly seem stacked against him.

Lawrence does possess the combination of athleticism, technique and grit to make an immediate impact, however, validating Dallas' aggressive trade with division rival Washington to move up 13 spots to nab him with the second pick of Round Two.

Like the 6-foot-4, 258 pound Ware, Lawrence (6-foot-3, 251) is an explosive pass rusher, whose speed off the edge helped him rack up 20 sacks over his two seasons at Boise State. He is hardly a one-trick pony, however, demonstrating an impressive repertoire of pass rush moves to go along with strength and savvy. Lawrence is flexible and instinctive enough to drop back into coverage on occasion but in defensive coordinator Rod Marinelli's predominately 4-3 alignment, he'll be asked to rush from the right defensive end role on most snaps. He's a more refined player than most JUCO transfers and the Aiken, S.C. native signed with the Broncos over the likes of South Carolina, Tennessee, Clemson and Oklahoma, among others.

"[Lawrence] has some strength to him," defensive coordinator Marinelli said following Dallas' recent minicamp. "He's a lot stronger than I thought he was. He's got some power moves that he uses to his advantage. You don't always see that from young guys. They have to get in (the weight room) and eventually it's something they can add to their game. But he's got that power right now. I think that's going to help him this year."

The combination of Lawrence and free agent pickup Henry Melton (whom Marinelli knows well after coaching him in Chicago) should go a long way towards improving Dallas' defense in 2014.

Other thoughts on the Cowboys' 2014 draft class:


While Lawrence is the likeliest rookie in Dallas to make a splashy impact, the first round selection of Zack Martin will also pay off immediately. Virtually all of Martin's 52 starts at Notre Dame came at left tackle but he showed the grit and physicality to handle the switch inside to guard while at the Senior Bowl. Martin isn't a flashy athlete but like the afore-mentioned Lawrence, he's a rookie who is already well-schooled in the hand play that is so critical to success at the professional level. Martin uses his hands to latch on rag-doll defenders as well as any lineman in the 2014 draft class. His explosive upper body strength and controlled aggression will help him step in and play right away, just as last year's surprise first round pick, center Travis Frederick, did. With Pro Bowl left tackle Tyron Smith, Martin and Frederick in place, few teams boast a better, younger trio up front than the Cowboys.
Making an NFL roster as a seventh round selection is not for the faint of heart but toughness is a calling card for two of the Cowboys' late picks, defensive end Ben Gardner and safety Ahmad Dixon. Gardner turned heads at his Pro Day after his shocking omission from the 2014 Combine. Versastile and productive at Stanford, Gardner plays with the strength and tenacity to carve out a niche as left defensive end or nickel defensive tackle in Marinelli's scheme. Dixon is a classic in-the-box strong safety whose big hits make him an intimidating presence in the middle. Both play with the passion necessary to stick on a unit desperate for playmakers.

Dallas' 2014 draft class:

1st Round -- No. 16 overall - OL Zack Martin, Notre Dame
2nd Round -- No. 34 overall - DE Demarcus Lawrence, Boise State
4th Round - No. 119 overall - OLB Anthony Hitchens, Iowa
5th Round - No. 146 overall - WR Devin Street, Pittsburgh
7th Round - No. 231 overall - DE Ben Gardner, Stanford
7th Round - No. 238 overall - LB Will Smith, Texas Tech
7th Round - No. 248 overall - S Ahmad Dixon, Baylor
7th Round - No. 251 overall - DT Ken Bishop, Northern Illinois
7th Round - No. 254 overall - CB Terrance Mitchell, Oregon

Key Undrafted Free Agents Signed:

FB JC Copeland, LSU
TE Jordan Najvar, Texas Tech
QB Dustin Vaughan, West Texas A&M
WR L'Damian Washington, Missouri
DT Chris Whaley, Texas

Read more about all of Dallas' picks here.