Finding the Fits: Won't take Weston Richburg long to start for Giants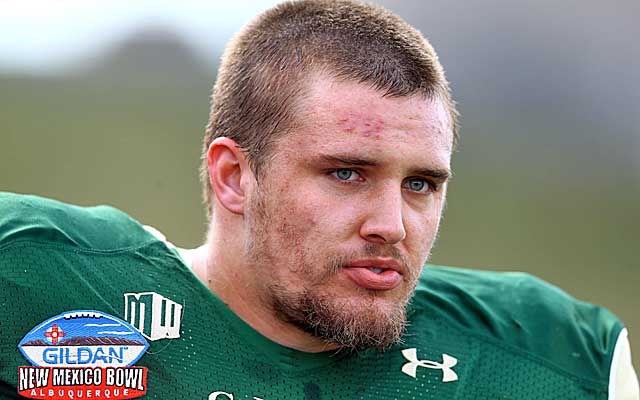 This article is one of a series called Finding the Fits in which NFLDraftScout.com will review some of the more intriguing picks made during the 2014 NFL Draft. The goal of the series is to identify one relatively unheralded player per team who appears to be a good schematic fit and, therefore, more likely to be a surprise contributor early in his pro career.
New York Giants' best fit: OL Weston Richburg, Colorado State
After a horrific 2013 season in which he threw a career-high (and NFL-worst) 27 interceptions, some theorized that Eli Manning's run as the star quarterback of the New York Giants might be coming to a close. Manning's critics were increasingly vocal as the season went on, despite the fact that New York played reasonably well down the stretch after its' disastrous 0-6 start, going 7-3 over the last two months of the season.
Rather than publicly defend Manning, general manager Jerry Reese and head coach Tom Coughlin let their action during the offseason do the talking, spending aggressively in free agency to bolster the offensive line and supplementing Manning's weapons with the addition of playmaking wideout Odell Beckham, Jr. in the first round. Reese and Coughlin clearly believed that age, durability and general ineffectiveness up front were the root cause for the Giants' struggles a year ago and with Manning getting sacked at twice the rate in 2013 (39) as he did in 2012 (19), it's easy to see why.
On paper, free agent addition J.D. Walton is a logical candidate to start the season at center for the Giants in 2014. Don't be surprised if the younger, more athletic (and more durable) Richburg takes over before too long, however.
Walton has four seasons of NFL experience to fall back on and his time in zone-blocking offenses in Denver and Washington make him well-versed in the scheme being implemented by new offensive coordinator Ben McAdoo.
Walton, however, has been limited to just four starts over the past two years. Richburg, on the other hand, has a sterling track record for durability and toughness, starting 50 games for the Rams, including three contests as a redshirt sophomore after breaking his right hand. Just like Walton, Richburg is an ideal match in a zone scheme due to his athleticism, balance, and instincts. Walton was the fastest of all centers tested at the Combine with a 40-yard dash time of 5.08 seconds and answered any questions about his level of competition in the Mountain West Conference with an impressive performance against Alabama and a standout week of practice at the Senior Bowl. In a class full of athletic promise among offensive linemen, Richburg is one of the few relatively sure things.
Walton ran with the starters throughout the OTAs and minicamps with Richburg splitting his time in backup roles at center and guard. Expect these roles to ultimately reverse, with the rookie helping Manning enjoy a bounce-back 11th season in the NFL.
Other thoughts on the Giants' 2014 draft class:
Just as Richburg is an ideal schematic match for the Giants' offensive line philosophy, Beckham's experience in former NFL head coach Cam Cameron's pro-style attack at LSU should aid in his transition to the NFL. Given the caliber of athletes on the LSU roster, standing out in Baton Rouge for speed isn't easy but that is precisely what Beckham did throughout his career. It was the steady improvement that Beckham made as a route-runner and hands-catcher, however, is particularly intriguing from a Giants' perspective. Beckham's relatively pro-readiness and electric athleticism should make his acclimation to New York's offense smoother than Rueben Randle's has been since he was drafted out of LSU by the Giants in 2012 and an effective complement to Victor Cruz.
After starring at San Diego State, fifth round safety Nat Berhe will be forced to answer the same questions about level of competition that Richburg is receiving. Unlike the prototypically-built center, however, Berhe lacks ideal size at just 5-foot-10, 190 pounds. What he lacks in build, Berhe (pronounced Bur-HEY) makes up for with instincts, physicality and closing speed, which is why he -- rather than the Giants' better-known Day Three picks - could make a surprise contribution as a rookie. Berhe certainly plays with the fearlessness to carve out a niche on special teams but I think he could see time on defense, as well. Berhe was moved all over San Diego State's defense throughout his career, playing a hybrid 'Aztec' role that was part linebacker, part corner, part safety. This versatility could be especially helpful against the unique slot receiver/tight end/H-backs emerging in Philadelphia and Washington's up-tempo offenses. Berhe was the featured safety on my Diamonds in the Rough article prior to the draft.
New York's 2014 draft class:
1st Round -- No. 12 overall - WR Odell Beckham, Jr., LSU
2nd Round -- No. 43 overall - OL Weston Richburg, Colorado State
3rd Round - No. 74 overall - DT Jay Bromley, Syracuse
4th Round - No. 113 overall - RB Andre Williams, Boston College
5th Round - No. 152 overall - S Nat Berhe, San Diego State
5th Round - No. 174 overall - DE/LB Devon Kennard, Southern Cal
6th Round - No. 187 overall - CB Bennett Jackson, Notre Dame
Key Undrafted Free Agents Signed:
TE Xavier Grimble, Southern Cal
DT Kelcy Quarles, South Carolina
DE Kerry Wynn, Richmond
Read more about all of New York's picks here.