2015 NFL Draft: USC Preview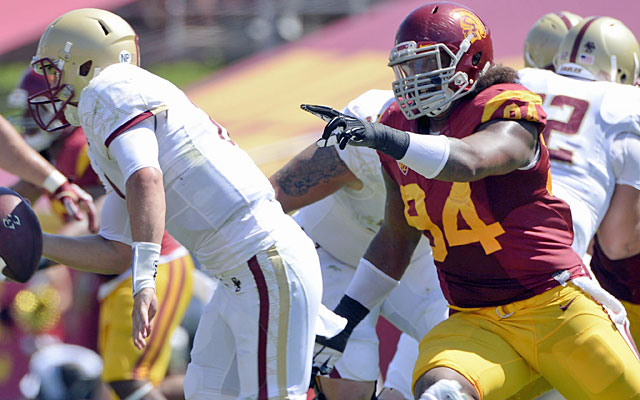 Southern Cal's roller-coaster 2014 season of shuffling between Lane Kiffin and Ed Orgeron seems like the distant past with Steve Sarkisian now running the show.

Sarkisian left the University of Washington abruptly but the talent that he helped recruit to Seattle (and develop once there) deserves acknowledgement - especially considering that he is inheriting a Trojans' squad that may not possess more draftable prospects in 2015 than the one he left behind.

Scholarship sanctions dating back to the Pete Carroll days hurt USC, both in terms of wins and NFL prospects. During Carroll's hey-day, the Trojans consistently were among the NFL's greatest producers of talent, averaging nine players and two first round picks selected from 2005-2011. The Trojans have averaged just over three players selected each year since that time and haven't had a player drafted amongst the top 32 since 2012.

Sarkisian could be a beneficiary of good timing, as this year's Trojans' squad is led by junior defensive lineman Leonard Williams, a 6-foot-4, 290 pound monster who ranks among the elite talents at any position in all of college football.

USC's top NFL Draft-eligible prospects to watch in 2014:

1. DT Leonard Williams, Junior (6-4 | 290 | 4.88 | #94)

While Southern Cal has endured some relatively down years recently, it is rare that a true freshman walks in and makes a significant impact in the land of Troy, especially along the line of scrimmage. That is precisely what Williams did in 2012, however, after signing with USC out of Daytona Beach, FL.

Operating at defensive tackle, Williams registered a 64 tackles, including 13.5 for loss and eight sacks, earning Defensive Freshman of the Year honors from the Pac-12. He was moved outside to end in 2013 and was even more productive, ranking second on the team with 74 tackles, while picking up another 13.5 tackles for loss and six sacks, despite being limited by a shoulder injury.

Williams is an exceptional talent, boasting a rare combination of size, easy athleticism and raw power. He possesses a naturally large frame with broad shoulders, long limbs and a trim middle that makes it easy to see why the Trojans have rotated him all over the defensive line. Williams has impressive initial quickness, lateral agility, flexibility and balance to penetrate gaps and attack on stunts. He has very long arms, which allows him to keep blockers from latching on. For a young player, Williams shows good technique to chop away opponents when they are able to initially lock him up. He locates the football quickly and has good speed for pursuit.

When the game comes as easily to a player as it appears to with Williams, it is easy to nit-pick technique and consistency. Williams, like most taller defensive tackles, struggles at times with leverage. He gets his hands into passing lanes but needs to show better awareness and hand-eye coordination to make those big mitts weapons as recorded no pass deflections a year ago after knocking down four passes as a freshman.

A year after Jadeveon Clowney proved that the exceptionally gifted can have a down year and still earn the No. 1 overall pick, it is hard to imagine a scenario in which Williams doesn't wind up among the top five selections of the 2015 draft. There isn't a defensive coordinator in the NFL who wouldn't love the opportunity to coach this young prodigy, which is why Williams checks in as the top-rated defensive player of my personal list of 2015's best NFL prospects.

2. CB Josh Shaw, RS Senior (6-1 | 195 | 4.55 | #6)

Shaw signed with the Florida Gators after an impressive prep career in Palmdale, CA and saw action in one game as a true freshman before a knee injury earned him a redshirt. He appeared in 10 games in 2011, carving out playing time on a secondary boasting a number of future NFL draft picks and recorded 22 tackles.

Poor health for his father and grandfather pushed Shaw back to California and the NCAA granted him a hardship waiver to participate immediately. Shaw initially played at strong safety but eventually made the move to cornerback and started the final seven games there for USC, recording 30 tackles, six pass deflections and two interceptions. His position versatility was extended in 2013 when he started all 14 games (11 at corner, three at free safety) and he posted 67 tackles, including 5.5 for loss. Shaw also broke up seven passes and intercepted four others. He returned one of his interceptions for a touchdown (Hawaii) and scooped up a blocked punt against Cal for another defensive score.

Shaw possesses a muscled-up frame that makes him look like a safety but given the NFL's recent love affair with bigger cornerbacks, he could remain on the perimeter. He has quick feet and fluid hips to change directions but may not possess ideal straight-line speed. Shaw possesses terrific football intelligence, which is demonstrated not only with his ability to shuffle from corner to either of the safety position but in the closing burst he shows once the ball has been thrown. Shaw is rarely fooled in coverage and rips at the ball as it arrives. He is a reliable, consistent tackler, though he hasn't yet proven to be the intimidating hitter that his frame suggests.

3. WR Nelson Agholor, Junior (6-0 | 185 | 4.53 | #15)

With star Marqise Lee struggling for much of the 2013 season with injury, Agholor emerged as Southern Cal's most reliable receiver and punt returner. He recorded 56 catches for 918 yards and six touchdowns and another 343 yards and two scores as a returner in a breakout campaign that earned him a host of post-season accolades, including some All-American nods.

Like former teammates Lee and Robert Woods, Agholor sports a lean, athletic frame, good lateral agility to elude and sudden acceleration. Agholor shows good quickness and balance as a route-runner and is asked to run a variety of routes in USC's pro-style scheme. He generally catches the ball cleanly with his hands (some bobbles, however) and secures it quickly. He possesses very good vision to set up blocks, as well as the courage and quickness to cut-back against the grain to take advantage of over-pursuing defenders.
Agholor currently ranks as NFLDraftScout.com's No. 2 receiver in the 2016 class.

Other USC prospects worth watching:

OG Aundrey Walker, Senior (6-5 | 300 | 5.21 | #70)
Walker has proven a valuable swingman for the Trojans, logging starts at left tackle and right guard over the past two seasons and serving as a backup virtually all over the line. He is expected to start at guard again in 2014 but missed the spring recovering from a broken left ankle suffered against UCLA last season. Walker looks the part of an NFL lineman, boasting long arms and a proportionate frame. He is powerful but not particularly nimble.

DE J.R. Tavai, Senior (6-2 | 270 | 4.79 | #58)
Tavai has struggled with durability throughout his career but flashed impact ability in 2013 while rotating between outside linebacker and defensive end, recording a career-high 56 tackles, including eight for loss. Tavai is powerful, relatively light on his feet and plays with a high-revving motor but his 'tweener traits and medical concerns mean that he needs a strong cap to his collegiate career to earn a draft selection.

RB Javorius Allen, RS Junior (6-0 | 215 | 4.54 | #37)
"Buck" Allen entered the 2013 season with just six carries to his credit but emerged as Southern Cal's most dependable back as the year went on, eclipsing the 100 yard mark four times and scoring a total of 12 touchdowns in their final six games. Allen has a high-cut frame and a gliding, deceptively powerful running style and offers help in the passing game as both a receiver and blocker.

ILB Hayes Pullard, RS Senior (6-1 | 230 | 4.73 | #10)
Pullard has a been rock in the middle of the Trojans' defense over his career, logging 39 starts and recording 282 tackles, including 20 for loss. He is a feisty, instinctive defender with a quick burst to close but has size limitations. Pullard is savvy enough to slip past some blockers and make tackles close to the line of scrimmage but he struggles to break free once engaged and gets lost in the traffic.