2015 NFL Draft: Utah Preview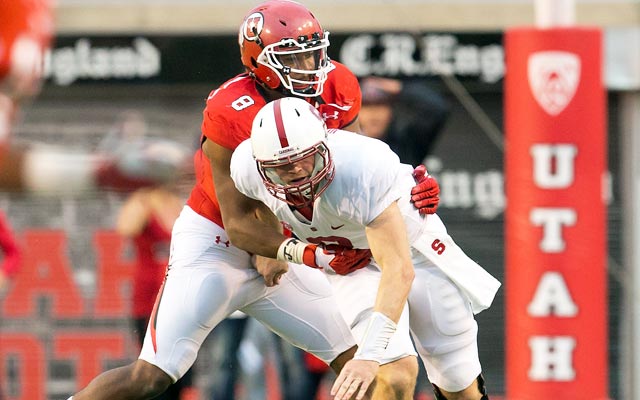 The jump to the Pac-12 conference hasn't gone as well as hoped for Kyle Whittingham and his Utes. Utah has gone 9-18 in conference games over their three seasons, watching their record drop from 4-5 in 2011 to 3-6 in 2012 to just 2-7 against Pac-12 foes a year ago. One of those victories, however, was a stunning 27-21 victory over Stanford, the eventual conference champions.

The game served as a breakout party of sorts for Utah's most intriguing prospect for the 2015 NFL draft, electric wideout Dres Anderson, who scored two touchdowns (including a 51-yard reception) in the biggest home upset in school history.

Anderson will have to prove in 2014 that his big play ways won't be lost with defenders keying in on him. The addition of longtime NFL and NCAA coach Dennis Erickson to the Whittingham's staff could help Anderson and the rest of the Utes take another step.

Utah's top NFL Draft-eligible prospects to watch in 2014:

1. WR Dres Anderson, Senior (6-1 | 190 | 4.53 | #6)

As Seattle Seahawks' general manager John Schneider has been known to do, the defending Super Bowl champions surprised many with selecting Pac-12 speedster Paul Richardson with his team's first pick of the 2014 draft. Anderson, the son of 10-year NFL receiver Willie "Flipper" Anderson, is hoping to ride a similar wave of big play ability as the former Buffalo into an early round selection next spring.

Despite marginal play at quarterback in 2013, Anderson nearly tripled the production he posted as a sophomore, becoming just the seventh Ute to eclipse the 1,000 yard receiving mark (1,002 yards). Much of his production came on big plays. Though few outside of the Pac-12 know his name, no one caught more than Anderson's seven passes of 50+ yards a year ago.

Anderson's very lean frame (especially in his lower body) is sure to draw some concern from scouts but it is worth noting that he hasn't missed a game due to injury and is often asked to make plays across the middle. Anderson boasts impressive first-step acceleration and lateral agility to slip through creases and break away from the defense. He's frequently targeted on relatively simple passes like screens and as vertical threat but also runs pro-style routes (slants, comebacks, crosses, drags) that require more sophistication. He shows very good hand-eye coordination and body control to contort in space to make the tough reception, though his spindly frame puts him at a disadvantage on 50-50 balls.

2. DE Nate Orchard, Senior (6-3 | 255 | 4.76 | #8)

Orchard initially signed with Utah as a wide receiver and with the last name Fakahafua. He adopted the last name of his guardians after two years at Utah but didn't wait that long to switch positions, earning time at defensive end, linebacker and special teams as a true freshman, notching four tackles and two passes broken up.

Orchard emerged as Utah's starting left defensive end in 2012, earning honorable mention all-conference honors with 48 tackles, 8.5 tackles for loss and three sacks. He demonstrated an intriguing ability to make big plays in big games, registering a forced fumble that he recovered and took back for a touchdown against USC and eight tackles, including a sack, against Washington. Orchard continued his playmaking ways as a junior, posting five tackles, two sacks and two forced fumbles in the Utes' shocking win over previously undefeated Stanford. He finished the year with 50 tackles, including nine tackles for loss and 3.5 sacks.

Orchard's ascent as a legitimate NFL prospect is due to a combination of size, natural athleticism and his hard work. He has packed 60 pounds of muscle onto his frame since signing with the Utes as a 195-pound receiver and has retained his agility. He shows good quickness and balance to elude blockers and force quarterbacks to get off their spot. His flexibility and awareness makes his effective dropping off into coverage, as well.

3. S Eric Rowe, Senior (6-1 | 205 | 4.53 | #18)
A three-year starter and all-conference pick at free safety, Rowe is expected to make the move to cornerback in 2014 to help ease the loss of Keith McGill, a fourth round pick by the Oakland Raiders.

Rowe's length, broad-shouldered frame and straight-line speed (Utah coaches reportedly clocked him at 4.39 seconds in the 40-yard dash) make him an intriguing prospect regardless of where he ultimately lines up. He enters his senior campaign with 202 tackles and 21 passes broken up and is well-versed in pro-style schemes given Utah's heavy man coverage philosophy.

It remains to be seen how well Rowe will acclimate to cornerback. He shows good balance, a quick turning motion and the fluid acceleration while operating as a deep centerfielder. He's alert in coverage and is quick to come downhill in run support. He breaks down well to make the efficient open-field tackle and flashes big-hitting ability. With only two interceptions among his 21 passes broken up, turning some of those deflections into turnovers would be a quick way to boost his draft stock.

Other Utah prospects worth watching:

S Brian Blechen, Senior (6-2 | 215 | 4.60 | #4)
Blechen missed the entire 2013 season with knee tendinitis, which will obviously warrant investigation from any NFL team looking to add him to their roster. He is an instinctive, physical defender who has shown a knack for making big plays throughout his career, notching eight interceptions and six forced fumbles in 35 career starts. Blechen was recruited as a quarterback but his blue-collar style and grit earned him a spot on defense and he won the strong safety role in his first week of practice. Blechen has 'tweener traits but has been too productive for too long to ignore.
OL Jeremiah Poutasi, Junior (6-5 | 345 | 5.29 | #73)
Poutasi spent his first two seasons at Utah playing tackle, first at the blindside as a freshman before moving to the right side last year. The Utes are considering him at his natural position of guard in 2014. Poutasi has struggled with his weight (he's reportedly down to 330 now) but is surprisingly quick and light on his feet. He does not possess ideal flexibility or length and struggles a bit with leverage but could emerge as a draftable commodity if he takes to the new role.