2015 NFL Draft: Washington Preview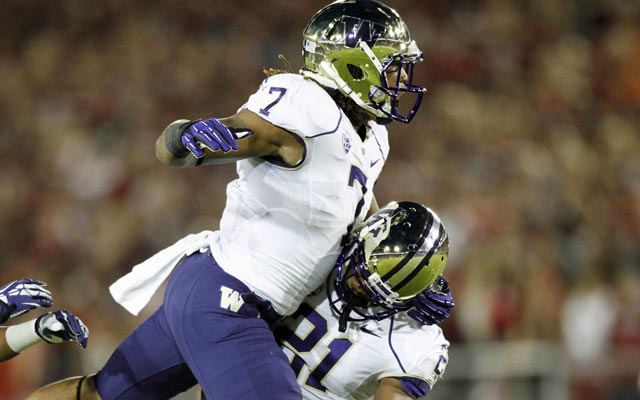 Though his abrupt departure from the University of Washington certainly left a bitter taste in the mouths of many Husky fans, there is no denying the restoration of talent that Steve Sarkisian brought to Seattle.

It has been 10 years since the once-proud Washington program boasted a class with more than two players drafted into the NFL. Even if the Huskies' top two prospects - outside linebacker Shaq Thompson and cornerback Marcus Peters -- return for their senior campaigns in 2015, this group has the potential to be one of the richest since Washington's glory days.

The talent may not translate into instant success for incoming head coach Chris Peterson. He's certainly proven himself a talented recruiter and teacher during his brilliant tenure at Boise State but the talent he inherits in Seattle does not include an established quarterback.

Washington's top NFL Draft-eligible prospects to watch in 2014:

1. OLB Shaq Thompson, Junior (6-2 | 225 | 4.64 | #7)

Thompson has proven every bit the standout promised since signing with Washington after being hailed by recruiting services as one of the elite preps regardless of position. He's started each game of his first two seasons in Seattle, recording 152 tackles, 12.5 tackles for loss, 11 passes broken up and four interceptions. Despite his production, Thompson hasn't generated a great deal of recognition, earning just honorable mention all-conference honors the past two seasons. Expect that to change in 2014.

Thompson signed with Washington as a safety but has primarily played as an undersized outside linebacker for the Huskies. He is smaller than scouts would like but possesses broad shoulders and an athletic frame that should allow him to gain another 10 pounds without a significant loss of quickness.

Thompson is an active, aggressive and instinctive defender with excellent agility. He reads the action quickly and slithers his way around would-be blockers to make plays all over the field, demonstrating excellent change-of-direction and closing speed. Thompson is surprisingly effective in his punch to greet and discard offensive linemen, though his lack of ideal size and strength can is evident when blockers can get their hands on him. Thompson is a very reliable open-field tackler who wraps his arms securely around ball-carriers. He arrives in a flash but isn't an explosive hitter (as his zero career forced fumbles can attest). His vision and agility could make him an effective blitz threat but Washington has kept him in coverage much of the time and he enters his junior campaign with just 2.5 career sacks (only .5 of which came last year).

Word out of Washington's camp is that the Huskies are considering using Thompson as a part-time running back this season. It certainly makes sense to feature their star on both sides of the ball, as UCLA did a year ago with Myles Jack. Thompson's athleticism and instincts will stand out regardless of his collegiate position. The junior already projects as a top 50 prospect in the NFL, best suited to the weakside linebacker role in a predominately 4-3 scheme. If he makes the strides expected this season, Thompson could wind up the highest drafted linebacker from Washington since the Bengals selected Joe Kelly 11th overall in 1986.

2. CB Marcus Peters, RS Junior (5-11 | 193 | 4.52 | #21)
Physical, aggressive and athletic, Peters enjoyed a breakout redshirt sophomore campaign last season in former defensive coordinator Justin Wilcox's press scheme, earning Second Team All-Pac-12 honors with 55 tackles, 14 passes broken up and five interceptions. He'd flashed all-conference ability a year earlier, playing in all 13 games and starting the final eight, recording 44 tackles, 11 passes broken up, three interceptions (one returned for a touchdown) and a blocked field goal (ironically against Peterson's Boise State Broncos).

Even more so than Thompson, Peters boasts an NFL-ready frame. He has good overall musculature with broad shoulders, long arms and a trim middle. Peters typically lined up in press coverage, alternately jamming receivers at the line or dropping off to run with them out of a staggered stance. He has good initial quickness and balance and uses his hands very aggressively to pester the receiver throughout the route. Among his best attributes is recognition, as Peters plays the receiver very well, turning back toward the ball as the wideout does and frequently knocking the ball away or intercepting it. Peters' aggression is just as evident in his tackling. Whether it be against a receiver or coming up in run support, the redshirt junior is a physical hitter who looks to intimidate opponents.

Peters isn't as smooth in coverage as former Husky Desmond Trufant, who went to the Atlanta Falcons at No. 22 overall two years ago. He can get too grabby downfield and has struggled with inconsistency, playing to the level of his opponent. If he can duplicate last year's breakout campaign and play as aggressively against lesser competition as he does against high-profile stars, Peters could join his former teammate as a first round pick.

3. WR Kasen Williams, Senior (6-2 | 221 | 4.54 | #2)

Like Thompson, Williams was considered a recruiting coup when he signed with Washington despite growing up and starring less than an hour from campus. Among his many awards as a star at Skyline High School was the Parade All-American Player of the Year for 2010-11, making him the first ever Washington prep to earn this designation.

Williams flashed his talent immediately, hauling in six touchdowns as a true freshman on just 36 catches (for 427 yards). Though his touchdowns remained at six in 2012, Williams' game developed and he earned honorable mention all-conference honors, catching 77 passes (third most in school history) for 878 yards.

Scheme and injury led to a disappointing campaign for Williams in 2013. The Huskies gravitated towards an up-tempo spread attack that featured playmaking slot receivers Jaydon Mickens and John Ross rather than Williams or Mackey Award-winning tight end Austin Seferian-Jenkins (selected by Tampa Bay at No. 38 overall in May). Rather than enjoy the breakout campaign many expected, Williams caught just 29 passes over his first eight games (for 421 yards and one score) before suffering serious injuries to his left foot and leg against Cal. Williams underwent two surgeries to repair a broken fibula and to pin displaced ligaments in his foot.

Even before the injury, the question with the well-built Williams was simple - does he possess the explosiveness to separate from NFL corners? Williams accelerates smoothly off the line of scrimmage and uses his body well to shield corners from the ball on quick slants. Too often he's forced to push off defenders on comebacks and deep-outs and he rarely was targeted by former Washington quarterback Keith Price on vertical routes. He is a highly physical receiver, whose aggression and strength made him very effective blocking on the perimeter. He has long arms, big hands and impressive body control, giving him a wide catch radius.

4. DE Hau'oli Kikaha, RS Senior (6-3 | 260 | 4.82 | #8)
Williams isn't the only Washington star with injury concerns. Kikaha is a proven pass rusher with burst, agility and instincts but he's struggled to remain on the field, missing half of the 2011 season and all of 2012 after twice tearing the ACL in his left knee. Kikaha proved an immediate difference maker upon signing with the Huskies, registering 49 tackles, including eight tackles for loss and three sacks as a freshman in 2010. He returned last season to enjoy spectacular success, recording 70 tackles and 15.5 tackles for loss, including 13 sacks - tied for second most in school history.

Kikaha has good initial quickness to challenge tackles' reach, as well as the agility to counter back to the inside. His prep experience as a wrestler is clear with his use of leverage and balance to beat blockers and get into the backfield as a pass rusher. That said, Kikaha's production is inflated due to Washington's ability to cover downfield and his high-revving motor, with eight of his sacks last season coming in three games (Idaho State, Washington State and BYU). He does not possess ideal size and needs to add strength to hold up against the run.

He used the last name Jamora prior to legally adopting the name Kikaha (from his mother's side of the family) prior to the 2013 season.

Other Washington prospects worth watching:

NG Danny Shelton, Senior (6-1 | 327 | 5.16 | #71)
Whereas Kikaha is a pass-rushing specialist, Shelton is a classic two-gap run-plugger. He's earned honorable mention all-conference honors after each of the past two seasons, steadily improving his numbers from 11 tackles to 45 in 2012 and an impressive 59 a season ago. Shelton has the brute strength to bull-rush opponents into the backfield but has just phone-booth quickness, which allows ball-carriers to squirt free, resulting in "just" 7.5 tackles for loss and 2.5 sacks to this point. Shelton's game is based on his size and power but he cannot allow his weight to get out of control.

OT Micah Hatchie, RS Senior (6-5 | 305 | 5.28 | #72)
Hatchie has started the past two seasons at left tackle for the Huskies. He possesses a relatively slight frame that may see him pushed inside to guard at the next level. He flashes the combination of initial quickness, balance and lateral agility to intrigue zone-blocking offenses.

OT Ben Riva, RS Senior (6-5 | 300 | 5.12 | #59)
Despite being listed as smaller than linemate Hatchie, Riva possesses a more traditional broad-shouldered, evenly distributed frame that could allow him to remain at right tackle in the NFL, as he's played capably the past two seasons for Washington. Riva doesn't possess ideal agility to handle speed rushers but plays with good technique and strength to latch and control opponents in pass protection and when run-blocking.

ILB John Timu, Senior (6-1 | 235 | 4.83 | #10)
While Thompson gets most of the credit, Timu (pronounced Tee-Moo) and junior outside linebacker Travis Feeney will generate NFL consideration, as well. Timu has enough size, athleticism and physicality to have a shot at the NFL but likely will be moved back outside, as he takes too many false steps. Timu is a three-year starter and two-time team captain.