Finding the Fits: In fearsome Bears draft class, Will Sutton looms large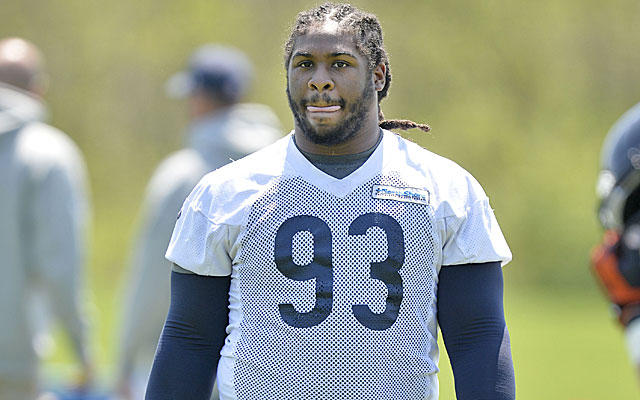 This article is one of a series called Finding the Fits in which NFLDraftScout.com will review some of the more intriguing picks made during the 2014 NFL Draft. The goal of the series is to identify one relatively unheralded player per team who appears to be a good schematic fit and, therefore, more likely to be a surprise contributor early in his pro career.

Chicago Bears' best fit: Will Sutton, Arizona State

As the NFL continues to evolve into a more pass-happy league, the premium on defenders who can rush the quarterback is rising.
Ten years ago, edge rushers were the focus. Now, with quarterbacks taking the snap out of shotgun half the time and getting the ball out to receivers in the blink of an eye, teams are dedicating more focus on interior rushers who can consistently cloud passers' vision. Think of it as basic geometry from a football perspective -- the shortest route to the quarterback is the straight line from which a three-technique defensive tackle lines up.
This is precisely the one-gap penetrating role which helped Sutton earn back to back Pac-12 Defensive Player of the Year awards and where he'll line up for the Bears.
Sutton used his quick first step, heavy, active hands and understanding of leverage to wreak havoc in 2012, recording 64 tackles, 23.5 tackles for loss and 13 sacks. The numbers weren't enough to earn Sutton a high grade from scouts, however, as he reportedly earned just a fifth round grade from the NFL Advisory Committee and returned to ASU for his senior campaign.
The disappointing grade likely played a role in Sutton gaining significant weight for his senior season.
Being listed at 305 pounds (rather than the 267 he was listed by ASU in 2012) may have made Sutton look like a more traditional NFL defensive tackle on paper but it also limited his effectiveness. His numbers in 2013 were still good (48 tackles, 13.5 tackles for loss and four sacks) but not nearly as impressive as the year before. After entering his senior campaign with a higher preseason grade than fellow undersized defensive tackles Aaron Donald (St. Louis) and Dominique Easley (New England), Sutton slipped to the middle of the third round.
The drop should give Sutton a hunger of different sort -- motivation.
Given Chicago's refurbished defensive line of Lamarr Houston, Willie Young, Jared Allen and fellow rookie Ego Ferguson, there should be plenty of gaps for Sutton to exploit. A motivated Sutton is a dangerous football player. His experience in the pass-happy Pac-12 should also help acclimate to the NFC North.
If dedicated, Sutton's initial quickness could make him an immediate difference-maker for the Bears, perhaps even putting him in position to add to his trophy closet again as a dark horse Defensive Rookie of the Year candidate.
Other thoughts on the Bears' 2014 draft class:
Identifying just one player as the Bears' best fit is difficult because top-to-bottom, there isn't a group of 2014 rookies I like better than the haul general manager Phil Emery and head coach Marc Trestman brought to Chicago. Six of the Bears' eight picks could make immediate contributions and I'm quite high on the upside of the two exceptions - sixth round quarterback David Fales and athletic offensive lineman Charles Leno, Jr. - Chicago's final selection at No. 246 overall. Three of the Bears' picks, in fact, were among the underrated players I featured prior to the draft as Diamonds in the Rough, with Fales earning the feature role. Defensive backs Kyle Fuller (first round) and Brock Vereen (third round) are athletic, physical and instinctive players who won't back down from the challenge of facing the weekly aerial assaults that come with playing in the NFC North. Bears fans will love Ka'Deem Carey's determined running. Carey is also further along as a receiver and pass-blocker than many of the backs selected ahead of him, making him a legitimate primary backup to star Matt Forte. Pat O'Donnell boasts rare athleticism and strength for a punter, qualities needed for success in the gusty, grassy conditions of Soldier Field.

Sutton's anticipated big plays along the line of scrimmage could make him the most flamboyant of the Bears' rookies but Vereen could wind up serving just as critical a role. Safety has long been a sore spot in Chicago and with veterans Chris Conte and Craig Steltz nursing injuries, the fourth round pick has been taking first-team reps at free safety. While not as big or flashy as many of the safeties selected ahead of him, Vereen is a fluid athlete whose experience playing all over the secondary at Minnesota gives him a more advanced understanding of coverage assignments and how they complement each other. Critics point out that Vereen had only four interceptions in 36 starts for the Golden Gophers. While that certainly pales in comparison to the gaudy interception totals from the safeties earning first round picks (Calvin Pryor, seven career interceptions; Ha Ha Clinton-Dix seven; Deone Bucannon 15; Jimmie Ward 11) it is important to keep the context in mind with Vereen. The Big Ten doesn't rely on the passing game to the extent that other conferences do and Vereen was rarely targeted by opponents when playing cornerback (22 starts). Three of his four career picks came in the 14 games in which he played safety. Given his own awareness and athleticism, as well as the talent surrounding him at corner and the pass rush that Chicago's refurbished defensive line should bring, don't be surprised when Vereen proves to be quite a steal for the Bears at No. 131 overall, including as a pass thief.

Chicago's 2014 draft class:

1st Round -- No. 14 overall -- CB Kyle Fuller, Virginia Tech
2nd Round -- No. 51 overall -- DT Ego Ferguson, LSU
3rd Round -- No. 82 overall -- DT Will Sutton, Arizona State
4th Round -- No. 117 overall -- RB Ka'Deem Carey, Arizona
4th Round -- No. 131 overall -- S Brock Vereen, Minnesota
6th Round -- No. 183 overall -- QB David Fales, San Jose State
6th Round -- No. 191 overall -- P Pat O'Donnell, Miami
7th Round -- No. 246 overall -- OT Charles Leno, Jr., Boise State

Key Undrafted Free Agents Signed:

OG Ryan Groy, Wisconsin
ILB Christian Jones, Florida State
ILB DeDe Lattimore, South Florida
RB Jordan Lynch, Northern Illinois

Read more about all of Chicago's picks here.