Finding the Fits: Key role for rookie Khyri Thornton in Green Bay?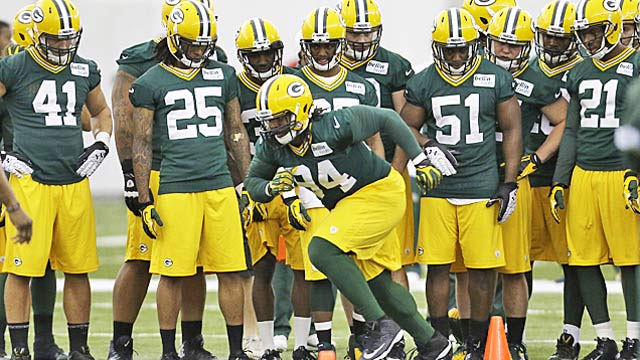 This article is one of a series called Finding the Fits in which NFLDraftScout.com will review some of the more intriguing picks made during the 2014 NFL Draft. The goal of the series is to identify one relatively unheralded player per team who appears to be a good schematic fit and, therefore, more likely to be a surprise contributor early in his pro career.

Green Bay Packers' best fit: DL Khyri Thornton

Considering that former NFL MVP Aaron Rodgers is throwing the passes, it isn't difficult to imagine one of Green Bay's rookie pass-catchers turning heads in 2014. Clearly, first round pick Ha Ha Clinton-Dix fills the club's most pressing need.
The purpose of Finding the Fits, however, is to identify a relatively unheralded player who could make a surprising contribution as a rookie. For the Packers that player could prove to be Thornton, a passionate, athletic and position-diverse defensive lineman hailing from the same university which produced Brett Favre.
Thornton didn't register gaudy statistics for a Southern Miss squad that finished 1-23 and dead last in Conference USA over his two seasons as a full-time starter, which may be why he was a relatively unheralded prospect despite boasting good size (6-foot-3, 304 pounds), strength (28 repetitions of 225 pounds at the Combine) and athleticism (5.03 seconds in the 40-yard dash).
Thornton didn't start out at Southern Miss, however, and he certainly stood out on tape his past two seasons in Hattiesburg.
Thornton stood out as a prep in Florida and was recruited by a number of high profile programs, earning a scholarship to Florida State. Academics kept Thornton from playing with the Seminoles or later with South Florida and he signed with Southern Miss after spending a year at Hargrave Military Academy to get his grades in order.
Despite being the focus of every opponent's blocking scheme the past two seasons, Thornton averaged 37.5 tackles and eight tackles for loss. He has an explosive first step to split gaps and is light on his feet, showing impressive balance, fluidity and acceleration for a man of his size. They are traits which helped Thornton stand out at the NFLPA Collegiate Bowl. Scouts leaving the all-star game pointed out Thornton as the most intriguing prospect on the roster.
Given how often general manager Ted Thompson invests in defensive linemen (five have been drafted in the past three years and veteran Julius Peppers was signed in the offseason), it might seem as if Thornton will have a tough time earning playing time. With the exception of last year's first round pick Datone Jones, most of Green Bay's current defensive linemen are either clear-cut defensive tackles or defensive ends, lacking Thornton's combination of power, agility and passion in pursuit. Green Bay only re-signed veteran nose guard B.J. Raji to a one-year deal, however, and didn't bring back veterans Ryan Pickett or Johnny Jolly, so it is even possible that Thornton earns time on the nose, though his skill-set is best suited to defensive tackle or end.
Thornton isn't likely to emerge as a star (as other, more prominent rookies might) but he should earn an immediate place in what should be one of the league's deepest rotations along the defensive line.
A return to health of Green Bay's stars on offense and fresh legs up front on defense could make head coach Mike McCarthy's squad -- not the Seattle Seahawks or San Francisco 49ers -- the favorite in the NFC this year.
Other thoughts on the Packers' 2014 draft class:
Thompson does as good a job at patiently filling holes in the roster via the draft as any general manager in the business. Given the passing attacks in the NFC North, as well as the struggles containing read-option quarterbacks the past two seasons, it was clear that the Packers' top need was at safety. Thompson certainly could have packaged picks to move up and secure his top-rated prospect at the position but given that there were four safeties earning first round grades from scouts, it was more prudent to wait and let the board fall to him. Clinton-Dix isn't without warts but he possesses two traits -- ball skills and closing speed -- that should help him make an immediate impact for Green Bay.
Since Thompson took the reins as GM in Green Bay in 2005, he's drafted eight pass-catchers in the second and third rounds. His first, former Texas A&M wideout Terrence Murphy, had his career cut short due to a neck injury. Since then Thompson has a perfect batting average, landing Greg Jennings (No. 52, 2006), James Jones (No. 78, 2007), Jordy Nelson (No. 36, 2008), Jermichael Finley (No. 91, 2008), Randall Cobb (No. 64, 2011). Along with their own talents and fit into McCarthy's offense, Thompson's track record is a terrific indicator of success for the rookies he nabbed on Day 2 this year: Fresno State's Davante Adams (No. 53 overall) and Cal tight end Richard Rodgers (No. 98 overall). Adams, who led the nation in receiving and receiving touchdowns in 2013, offers a similar skill-set as Jones, the man he'll likely replace in Green Bay's offense. Like Jones, Adams has a strong, athletic build, good leaping ability and overall body control and reliable hands. He is not a classic speedster but was often challenged by press coverage at Fresno State and shows some savvy in gaining his release, allowing him to sneak past defenders to make big plays as a vertical receiver. The depth chart in Green Bay may be too stacked at receiver for Adams to make an immediate statistical impact in 2014 but he'll emerge as a quality weapon for Aaron Rodgers early in his career. Rodgers could have an easier path towards significant playing time as he's a more gifted receiver than incumbent starter Andrew Quarles. Rodgers is a classic example of an intriguing NFL prospect who got caught in a poor schematic fit in college due to no fault of his own. He looked like a future top 100 prospect under pro-style head coach Jeff Tedford but languished as a barely-used option in Sonny Dykes' spread attack. Like Adams, Rodgers doesn't have breath-taking straight-line speed, but he is a balanced, coordinated athlete with great hands. Of course, the tight end the Packers found in undrafted free agency -- former Oregon star Colt Lyerla -- is even more gifted and bears watching, as well.
Green Bay's 2014 draft class:

1st Round - No. 21 overall - S Ha Ha Clinton-Dix, Alabama
2nd Round - No. 53 overall - WR Davante Adams, Fresno State
3rd Round - No. 90 overall - DL Khyri Thornton, Southern Mississippi
3rd Round - No. 98 overall - TE Richard Rodgers, Cal
4th Round - No. 121 overall - OLB Carl Bradford, Arizona State
5th Round - No. 161 overall - C Corey Linsley, Ohio State
5th Round - No. 176 overall - WR Jared Abbrederis, Wisconsin
6th Round - No. 197 overall - DB Demetri Goodson, Baylor
7th Round - No. 236 overall - WR Jeff Janis, Saginaw Valley State

Key Undrafted Free Agents Signed:

TE Colt Lyerla, Oregon
OLB Adrian Hubbard, Alabama
RB Rajion Neal, Tennessee
RB LaDarius Perkins, Mississippi State

Read more about all of Green Bay's picks here.