2015 NFL Draft: Clemson Preview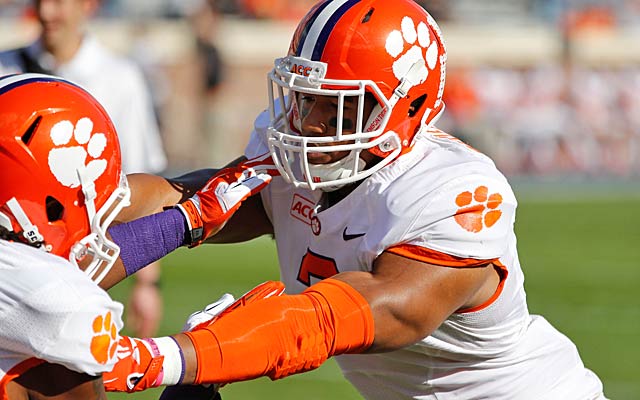 With 32 victories over the last three seasons, and coming off three straight double digit win campaigns, the Tigers face some challenges heading into 2014 with only 11 starters returning.
The losses of QB Tajh Boyd and two of the nations best WRs in '13, Sammy Watkins and Martavis Bryant, as well as standout OL Brandon Thomas, mean that the biggest hits the team has taken are on the offensive side of the ball, while the defense has the luxury of all four starting linemen returning, including three top NFL prospects for 2015 in DE Vic Beasley, DT Grady Jarrett and DE Corey Crawford -- all of whom have a chance to be gone by the end of the third round of next year's draft.
Joining them in a return for his own senior campaign on that side of the ball is third-team All-ACC linebacker Stephone Anthony who posted the highest tackle total of any Clemson player in 10 years, and put himself in the conversation as one of this year's top prospects at his position as well.
Senior and three year backup QB Cole Stoudt was named the starter by head coach Dabo Sweeney in April, and will finally get his chance to show whether or not the eye-popping accuracy indications that he's put on display in the limited opportunities he's had, are legitimate. If so, look for his name to enter the conversation amongst scouts and draftniks as a top QB prospect.
Despite the losses, particularly on offense, the Tigers have strung together four straight top-20 recruiting classes and certainly have enough talent on the roster to pick up right where they left off, if all the pieces fall into place.
Clemson's top NFL Draft-eligible prospects to watch in 2014:
DE Vic Beasley (6'2 | 235 | 4.58 | #3)
The ACC's leading sack tallier in 2013 (13), Beasley opted to return for his senior year after reportedly receiving a 2nd-round grade from the NFL Advisory Committee while considering a post-junior year exit. With 23 tackles for loss in addition to the elite sack production last season, Beasley makes a case for consideration as this year's top edge prospect.
Though Beasley's lean frame has led some to question his legitimacy as an every-down end prospect for the next level, his electric first step, long arms and active hands have enabled him to routinely create and maintain space against bigger blockers, and he has consistently shown a knack for keeping opponents on their heels with quick change-of-direction ability.
Despite his natural ability as a pass rusher, Beasley does struggle against the run as he seems to lose track of the play at times and will take bad angles or even appear unmotivated when the play flows to the opposite side of the line, and when he takes on blockers too high, he's easily swept out of the play. He offers almost nothing in terms of ability to anchor or set the edge with power against the run, as he simply lacks the girth to hold position against tackles and even tight ends at times.
Beasley may be a one-trick pony, but he's positioned to be considered the best in the '15 draft class at that one trick, and with some added bulk and a better showing against the run this season, look for him to be considered a top-15 prospect.
ILB Stephone Anthony (6'2 | 245 | 4.78 | #42)
A third team All-ACC selection in 2013 by coaches and media, Anthony led the Tigers with 131 tackles, compiled seven double-digit tackle games, made 13.5 tackles for loss, tallied four sacks, forced a fumble and picked off a pass, in one of the more impressive seasons for a Clemson linebacker in recent memory. In fact, his 131 tackles were the most by a Clemson player since Leroy Hill's 145 back in '03.
Looking at Anthony, he carries an ideal frame for an inside 'backer, with thickness through the middle and broad shoulders, and he exhibits the explosive downhill first step and feisty demeanor to be a strong contributor in the box. He diagnoses early and does a good job of putting himself in position to make plays between the tackles against the run, and will hold his own when asked to drop back in short zone and cover the middle against the pass. As a tackler, he does a good job of extending and wrapping up below the waist to finish plays, and he prides himself on laying the occasional wallop without sacrificing technique.
Where Stephone Anthony is clearly limited is in his lateral agility and sideline-to-sideline range, and he seems to take shallow angles against the run when the play goes to the outside. He's stiff in the hips when asked to flip and redirect, so he'll waste some motion and take some time to get up to speed after making an adjustment, and thus far he hasn't shown "plus" coverage when asked to man up, flip and run with a tight end.
There's no denying that the instincts, toughness, size and physicality of Stephone Anthony are exactly what NFL teams look for in a linebacker. He's already one of the better inside prospects set to come out in 2015, but in today's NFL where versatility means value, he'll need to show better anticipation and range as a senior in order to draw high-round consideration.
DT Grady Jarrett (6'1 | 295 | 5.03 | #50)
Jarrett's 83 tackles, 11 tackles for loss and two sacks as a junior were enough to earn him All-ACC Honorable Mention honors in 2013, and put him on the radar of draftniks everywhere, as one to be reckoned with among the top DT prospects for 2015.
Jarrett has ideal run-plugger makeup with a stout, thick frame, a strong anchor, and the high-revving motor needed to win in the trenches. He displays good flexibility when asked to stay low and drive his blocker off the line, and gets good extension off the snap, along with consistent inside hand placement to control his opponent. What may go somewhat overlooked though is his quick, light feet that enable him to stop, start and redirect with above-average suddenness for his size which gives him "plus" range to either side despite lacking great length.
He certainly possesses the athleticism to become more of a rush threat if he can generate better consistency with timing off the snap, and he has momentary flashes that suggest he could develop a repertoire of moves in this area. Look for Jarrett to be a day one consideration for NFL teams, if he can pick up where he left off last year and continue to improve as a rusher in his senior season.
DE Corey Crawford (6'5 | 270 | 4.83 | #93)
Yet another All-ACC award winner on the Clemson D-line from the 2013 season (honorable mention), Crawford lined up opposite Vic Beasley and led the team with 16 QB pressures to go with 52 total tackles, 10.5 tackles for loss and three sacks from the left end position.
At 6'5 and boasting an enormous wingspan, Crawford's length allows him to make up for a somewhat pedestrian first step, as he's able to keep blockers out of his frame and disengage seemingly at will at times. He anticipates the run very well, has good backfield vision and extends to wrap up his target routinely. Despite appearing a bit lean, Crawford generates good drive power off the snap and possesses bend-ability that enables him to establish leverage off the line and set the edge deep, often times forcing a redirect or adjustment from the runner.
As a rusher, he flashes both power-rush ability as well as the natural ability to cross the blocker and turn the corner with enough sink to get under the blocker. Again, impressive for his length.
Crawford isn't a natural quick-twitch athlete, and won't beat many blockers to the edge consistently on speed alone, so he'll need to continue to show that he can maximize his facilities by exploiting length and strength advantage in order to disrupt the backfield. He has a tendency to come off the snap upright at times, so better consistency will need to be shown for him to become a legitimate early-rounds candidate come draft day. Has been suspended for the 2014 opener against Georgia.
QB Cole Stoudt (6'4 | 210 | 4.86 | #18)
After three seasons as Tajh Boyd's backup, Stoudt finally gets a chance to show what he can do as the team's signal-caller as he enters his senior season having officially been dubbed the starter by head coach Dabo Swinney. At 6'4, though a bit slight at 210 pounds, Stoudt possesses impressive athleticism for his size with room to add more poundage, and has displayed incredible accuracy with the opportunities he's been given, completing 86 of 119 passes (72.3 completion percentage) with 8 TDs against only one interception. All good enough for a career 145.1 pass efficiency rating. He's also proven to be a threat to run, having garnered 107 yards on 29 carries, and two touchdowns on the ground.
What is most impressive about Stoudt though, considering his limited opportunities, is the poise and patience he has displayed, as he's rarely seen panicking, bailing early or forcing throws, opting instead to move through his progressions and take what is available. He may not be the rocket arm that some might expect at 6'4, but NFL teams will take accuracy and decision making over raw arm strength any day of the week.
Other Clemson prospects to watch in 2014:
OLB Tony Steward (6'1 | 230 | 4.67 | #7)
Athletic linebacker who suffered an ACL tear in 2011 but has been a special teams stand-out for the Tigers throughout his career, appearing in 31 games. Will have a chance to earn a starting OLB role and show NFL scouts what he can do as an every-down defender. Fluid in space and a fearless tackler, Steward is gifted enough to transition his game to the next level if he's able to stay on the field.
OG Kalon Davis (6'5 | 340 | 5.46 | #67)
Massive, powerful but heavy-footed guard who has a chance to become a full-time starter up front as a senior. Davis can really dominate when he latches on, and is at his best when asked to open holes in the middle of the line for the run game. Is a liability in pass protection though, lacking foot quickness to slide and mirror, but has put some time into getting better in this area and could land on scouts' radar if he can show improvement here.
SS Robert Smith (5'11 | 210 | 4.64 | #27)
Though not an elite athlete, Smith displays good instincts both in coverage and as a run defender, and plays with impressive toughness for his size, with sound tackling fundamentals. He'll need to make more plays on the ball as a senior though if he's to draw draft interest.