Finding the Fits: Dependable Crichton could be Vikings' safest pick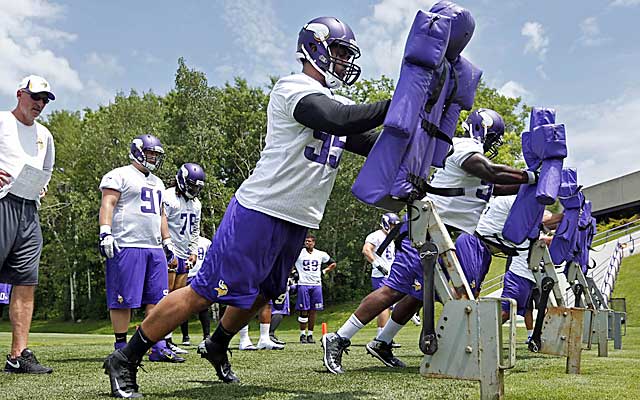 This article is one of a series called Finding the Fits in which NFLDraftScout.com will review some of the more intriguing picks made during the 2014 NFL Draft. The goal of the series is to identify one relatively unheralded player per team who appears to be a good schematic fit and, therefore, more likely to be a surprise contributor early in his pro career.
Minnesota Vikings' best fit: DE Scott Crichton
For the past six seasons, the Vikings have been able to rely upon Jared Allen to terrorize quarterbacks.
With the Vikings opting to retain and cultivate Everson Griffen rather than reward Allen's past production, general manager Rick Spielman and head coach Mike Zimmer are clearly taking a new strategy -- one that should result in Crichton seeing plenty of playing time early in his NFL career.
Zimmer brings a more team-oriented approach towards quarterback sacks. Rather than featuring one or two edge rushers during the past 14 years in which he's served as defensive coordinator with the Dallas Cowboys, Atlanta Falcons and most recently the Cincinnati Bengals, Zimmer relied upon a healthy rotation of defensive linemen whose priority was to stop the run on their way to the quarterback.
It is a strategy that doesn't lend itself well to individual numbers. In Zimmer's six-year tour of duty in Cincinnati, a Bengals pass rusher only notched 10+ sacks in a single season twice. (Allen accomplished this all six years he was with the Vikings and eight of his 10 seasons in the NFL). Football is the ultimate team game, though, and given that Zimmer's Bengals were the only team in the NFL to finish among the top 10 in QB sacks each of the past three years, it is clearly very effective from a team perspective.
Griffen (who was given a massive $42.5 million dollar deal over five years) and veteran Brian Robison are expected to lead off Minnesota's varied exterior pass rush and prized rookie Anthony Barr could play a significant role at defensive end in nickel situations, as well. Crichton, strong, passionate and versatile due to his experience playing all over the defensive line at Oregon State, should also play a key role as a rookie.
Whereas Barr was never asked to play out of the three-point stance while starring at outside linebacker in UCLA's largely 3-4 scheme, Crichton comes in relatively polished and quite versatile. He routinely flipped between left and right defensive end for the Beavers and even moved inside to nose guard, at times.
Crichton has a quick first-step and uses his hands very well, demonstrating both power and technique to break free from opponents' blocks. He is an instinctive, tenacious defender who plays to the whistle and pursues laterally and downfield with fervor.
Perhaps best of all from Zimmer's perspective, Crichton plays with the same zeal when defending the run as the pass. Crichton's compact frame and understanding of leverage help him anchor at the point of attack and he has the balance and strength to latch on and pull down backs as they attempt to slip by.
The flashy first round picks will ultimately determine the success of the Vikings' 2014 draft. Whereas Barr and Teddy Bridgewater bring some boom or bust concerns, Crichton's dependability against the run and pass makes him arguably Minnesota's safest pick.
Other thoughts on the Vikings' 2014 draft class:
It was the St. Louis Rams, of course, and not the Vikings that selected Michael Sam but Minnesota may have been a logical landing spot for the reigning SEC sack leader in one respect - the Vikings seemed to nab many of the other pre-draft "fallers." From first rounders Barr and Bridgewater to fifth round guard David Yankey, the Spielman and Zimmer selected three players whose stock steadily dropped (at least in the media) in the months between the end of the collegiate season and May's draft. Minnesota's focus on the tape - rather than buying into the speculation that these prospects were flawed - should pay off with all three prospects. Barr, of course, is expected to make the most immediate and splashy impact of the Vikings' 2014 draft. His length, athleticism and instincts will serve him well at strongside linebacker in Zimmer's scheme but his explosive burst, bend and closing speed off the edge could result in the 6-foot-5, 255-pound rookie's biggest plays this season.
Prior to the draft I argued that Bridgewater was the top quarterback in this draft class and a first round value. Bridgewater's intelligence, accuracy, poise, toughness and underrated athleticism project well to the NFL and I expect that he'll emerge as the young franchise quarterback the Vikings have been searching for. There are two disconcerting "elements" to consider before proclaiming Bridgewater a future star in Minnesota -- and neither of them having anything to do with a silly Pro Day workout. For one, despite offensive coordinator Norv Turner recently gushing about Bridgewater's deep ball, this was an area of relative weakness during his collegiate career. Vertical passing is a staple in the offense Turner has preached throughout his long NFL career and best complements the talent Minnesota already has on the roster, including playmakers Adrian Peterson and Cordarrelle Patterson. Secondly, while the Vikings wait for their new enclosed stadium to be finished (expected to open in 2016), the next two seasons will be played outside at the University of Minnesota's TCF Bank Stadium. Bridgewater, a Florida native, has not played in many cold-weather games to this point. In fact, he's never played in a game where the temperatures were below 34 degrees. While his famous gloves may help with the cold, wintery gusts could affect his accuracy - especially on those deep passes.
The first round picks will generate much of the attention but the dynamic athleticism of third round running back Jerick McKinnon and sixth round safety Antone Exum should catch the attention of coaches early and perhaps result in more significant playing time in 2014 than most expect. McKinnon stood out at the Senior Bowl and was arguably the most impressive all-around athlete at the Combine. He won't challenge Peterson, of course, but certainly offers a more electric skill-set than prior backup Toby Gerhart. Exum likely would have been selected much earlier had his 2013 season not been ruined by an ACL tear. His size (six foot, 213 pounds), agility and experience all over the secondary at Virginia Tech (a program with a rich history of producing NFL defensive backs) makes him an intriguing fit in Jerry Gray's secondary.
Minnesota's 2014 draft class:
1st Round -- No. 9 overall - OLB Anthony Barr, UCLA
1st Round - No. 32 overall - QB Teddy Bridgewater, Louisville
3rd Round - No. 72 overall - DE Scott Crichton, Oregon State
3rd Round - No. 96 overall - RB Jerick McKinnon, Georgia Southern
5th Round -- No. 145 overall - OG David Yankey, Stanford
6thRound -- No. 182 overall - S Antone Exum, Virginia Tech
6th Round - No. 184 overall - CB Kendall James, Maine
7th Round - No. 220 overall - DT Shamar Stephen, Connecticut
7th Round -- No. 223 overall - LB Brandon Watts, Georgia Tech
7th Round -- No. 225 overall - CB Jabari Price, North Carolina
Key Undrafted Free Agents Signed:
OT Antonio Richardson, Tennessee
WR Kain Colter, Northwestern
WR Erik Lora, Eastern Illinois
TE AC Leonard, Tennessee State
Read more about all of Minnesota's picks here.