Finding the Fits: Southward's range could be key to Falcons' liftoff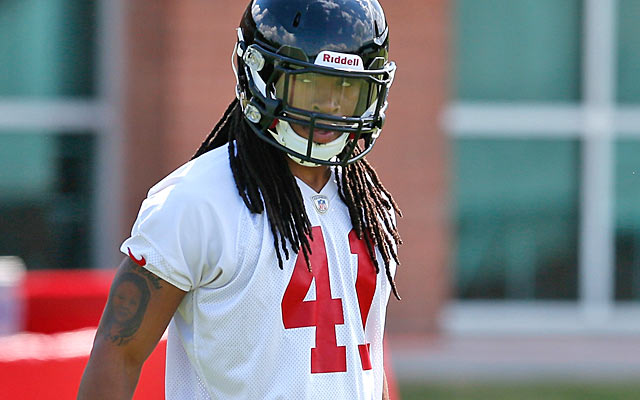 This article is one of a series called Finding the Fits in which NFLDraftScout.com will review some of the more intriguing picks made during the 2014 NFL Draft. The goal of the series is to identify one relatively unheralded player per team who appears to be a good schematic fit and, therefore, more likely to be a surprise contributor early in his pro career.

Atlanta Falcons' best fit: S Dezmen Southward, Wisconsin

In Atlanta, defensive coordinator Mike Nolan may have a tougher job than his bosses, coach Mike Smith and general manager Thomas Dimitroff, in proving that last year was a fluke.
Fresh off of a 2012 season in which the Falcons owned the NFC's top record (13-3) and qualified for the conference championship game, Atlanta stumbled to 4-12, tied for second worst among 32 NFL clubs. Injuries to stars Julio Jones, Roddy White, Steven Jackson and left tackle Sam Baker wreaked havoc but on the Falcons' ability to score but that doesn't adequately explain a defense that finished 31st in the NFL in sacks (with 32), 31st in QB-rate allowed (102.4) and surrendered as many 40+ yard completions (17) as any team in the league.
The Falcons spent big in free agency and the draft to address needs on the defensive line but may still have shortcomings in the pass rush department (more on this later). As such, Nolan is relying on an athletic (but very young) secondary to shape up quickly, including Southward, who coaches hope proves reliable enough to replace castoff Thomas DeCoud as the starter at free safety.
Three of the four spots in Atlanta's secondary are set with second-year pros Desmond Trufant and Robert Alford starting at cornerback and playmaker William Moore returning at strong safety. Trufant and Alford boast impressive agility and speed to blanket receivers on their own. A free safety with the range and instincts to play a true center field would certainly help the corners and Moore, who is at his best attacking the line of scrimmage.
Southward certainly possesses an intriguing skill-set. Despite not playing football until his senior year of high school, Southward went on to play in 53 games for the Badgers and showed off enough fluidity and speed that Nolan and his staff moved him to cornerback at times while coaching him and the North Team at the Senior Bowl. After turning heads in Mobile, the 6-foot, 211-pounder generated eye-popping times at his Pro Day, recording a 4.38-second 40-yard dash, 42-inch vertical jump and 6.50-second time in the 3-cone drill after a back injury red-flagged at the Combine prevented him from working out in Indianapolis.
Southward's upside is tantalizing. Of course, the rookie is not nearly as polished as veteran Dwight Lowery, who was signed in the offseason. Lowery isn't the same caliber athlete as Southward but is instinctive and a proven interceptor (10 career interceptions).
Finding a dynamic pass rusher to take the pressure off their young secondary might have been the more traditional strategy. For Nolan and the Falcons, the best option might be the opposite; banking on Southward's range and developing savvy to buy time for the rush to fluster opposing quarterbacks.
Other thoughts on the Falcons' 2014 draft class:
Had he not been the No. 6 overall pick of the draft, right tackle Jake Matthews would have easily earned the distinction of being Atlanta's "best fit." The Falcons have developed a soft reputation throughout the league in recent years and the physical, combative Matthews will help curb that. Further, he's more athletic and technically sound than any of Atlanta's incumbent starting offensive linemen and was given a higher grade than No. 2 overall pick Greg Robinson (St. Louis Rams) by some scouts. Like every other player, he'll need to maintain his health to live up to his famous bloodlines and his lofty selection but given the fact that he never missed a start during his four years starring at right and left tackle for the Aggies, he was viewed among the safer picks of the 2014 draft and was my personal top-rated senior prospect, regardless of position.
The Falcons dedicated millions to changing the size and nature of their defensive front in free agency, landing massive veterans Tyson Jackson and Paul Soliai. Each possess the size and power to perfectly fit as run-stuffers and block-eaters in what is expected to be a largely 3-4 based-scheme. Neither is a dependable pass rusher, however, so it is incumbent upon the linebackers to flush the star quarterbacks in this division. That could be a problem in 2014, especially given the loss of the team's best linebacker -- Sean Weatherspoon -- to a torn Achilles. Kroy Biermann and Jonathan Massaquoi are converted defensive ends who do not possess ideal length or flexibility for the new roles as stand-up outside linebackers. The Falcons seemed to recognize this potential short-coming but not until late in the draft, dedicating four of their five Day 3 picks to linebackers. On paper, it would seem that fourth-round pick Prince Shembo would have a relatively easy time acclimating to Nolan's scheme given that he started the final three years of his career at Notre Dame as an outside linebacker in their 3-4 defense, but like the veterans already on the depth chart in Atlanta, the 6-foot-1, 253-pounder is considered a bit of a 'tweener rather than a burgeoning star. Shembo plays hard but is reliant on his passion and power to make plays, showing limited agility or burst, which is why Nolan quickly moved Shembo inside. Frankly, the Falcons' most intriguing rookie linebacker may be Yawin Smallwood, a productive and athletic inside linebacker who starred at Connecticut and elected to leave after his junior season in pursuit of his NFL dreams. A pulled hamstring at the combine led to an alarming 5.01-second 40-yard dash time and his stock plummeted but the versatility and athleticism that caught my eye a year ago hasn't suddenly disappeared.
Atlanta's 2014 draft class:

1st Round -- No. 6 overall -- OT Jake Matthews, Texas A&M
2nd Round -- No. 37 overall -- DL Ra'Shede Hageman, Minnesota
3rd Round -- No. 68 overall -- FS Dezmen Southward, Wisconsin
4th Round -- No. 103 overall -- RB Devonta Freeman, Florida State
4th Round -- No. 139 overall -- LB Prince Shembo, Notre Dame
5th Round -- No. 147 overall -- CB Ricardo Allen, Purdue
5th Round -- No. 168 overall -- LB Marquis Spruill, Syracuse
7th Round -- No. 253 overall -- LB Yawin Smallwood, Connecticut
7th Round -- No. 255 overall -- LB Tyler Starr, South Dakota

Key Undrafted Free Agents Signed:

TE Chris Pederson, Wisconsin
RB Jerome Smith, Syracuse

Read more about all of Atlanta's picks here.