Finding the Fits: Rookie Kony Ealy will reward Panthers' patience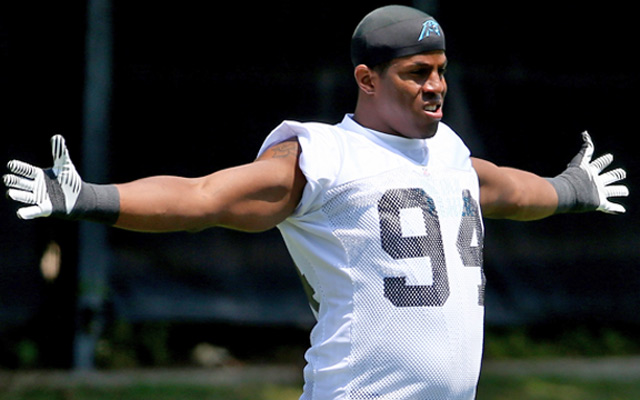 This article is one of a series called Finding the Fits in which NFLDraftScout.com will review some of the more intriguing picks made during the 2014 NFL Draft. The goal of the series is to identify one relatively unheralded player per team who appears to be a good schematic fit and, therefore, more likely to be a surprise contributor early in his pro career.
Carolina Panthers' best fit: DE Kony Ealy, Missouri

Unlike their division rival Atlanta Falcons (which may struggle to generate a pass rush again in 2014) the Panthers recognize the importance of a dominant defensive line in today's pass-happy NFL.
Sure, Ealy may have a difficult time making a splashy debut in Carolina due to the presence of Pro Bowl defensive ends Greg Hardy and Charles Johnson ahead of him on the depth chart. Given that Hardy is currently only signed on a one-year Franchise tender and is "armed" with plenty of off-field concerns and that Johnson is in the middle of a huge contract (six-year, $76 million) general manager Dave Gettleman's willingness to overlook bigger needs and stick with the Best-Player-Available strategy to stop Ealy's shocking slide deep into the second round will pay off soon enough.
While overshadowed at Missouri by co-SEC Defensive Player of the Year Michael Sam, Ealy was clearly the more gifted talent of the two and, frankly, I was surprised to see him slip out of the first round. Ealy showed significant development in his strength, technique and awareness during his time at Missouri and left after a redshirt junior campaign in which he earned All-SEC accolades with 43 tackles, 14.5 tackles for loss, 9.5 sacks, six passes broken up and three forced fumbles -- including six tackles and two sacks in Missouri's Cotton Bowl win over Oklahoma State. Ealy has a quick burst off the snap and good acceleration to beat tackles with a speed rush and excellent flexibility to re-direct his charge. Ealy's ability to change direction was proven at the combine, where he recorded a blistering 6.83 time in the 3-cone, faster than any other defensive lineman remotely close to his 6-foot-4, 273 pounds tested in Indianapolis this year.
Despite possessing first round traits, Ealy slid to No. 60 overall in large part due to the fact that prior to his breakout 2013 campaign, he'd recorded just 4.5 sacks in 23 games (11 starts). Given his talent (and the attention opponents paid to Sam and Sheldon Richardson two years ago), perhaps Ealy should have posted better numbers over his career.
Rather than knock Ealy for his past inconsistencies, expect head coach Ron Rivera to take advantage of Ealy's versatility, lining him up not only at end but sliding him inside to defensive tackle in obvious passing situations. Ealy was deployed in his fashion at Missouri and boasts the length, agility and awareness to complement run-stuffers Star Lotulelei and Kawann Short.
The rotation should keep all of Carolina's defensive linemen fresh and motivated -- a combination that I expect will ultimately result in Ealy's true breakout to come as a member of the Carolina Panthers.
Other thoughts on the Panthers' 2014 draft class:
Before the draft I listed wideout Kelvin Benjamin as one of the most overrated prospects of the class. While I still maintain that the 6-foot-5, 240-pound receiver lacks the speed and agility to gain separation in many of the standard routes of a 2014 passing tree, upon further review of how the Panthers may utilize their first round pick, it is clear that FSU star could have a soft landing in Carolina.
Regardless of which receiver the Panthers drafted to be Cam Newton's primary target, the club was not going to change its run-heavy offense. As such, with the defenses sucked in close to the line of scrimmage to stop Newton and Carolina's committee at running back, Benjamin's should draw plenty of one-on-one coverage downfield. Benjamin isn't a polished route-runner but that's less of an issue in Carolina because Newton rarely relies on timing and anticipation as a passer. His size and athleticism make him a terror on scramble drills and Newton possesses the vision and arm to take full advantage of Benjamin's size, leaping ability and huge catch radius. Benjamin will likely prove every bit the one-trick pony I anticipated but with the Panthers desperate for playmakers at receiver after dumping star Steve Smith, the stable in Carolina could prove more accommodating than most. In fact, while I anticipate several rookie receivers to finish ahead of Benjamin in terms of receptions in 2014, I wouldn't be the least bit surprised to see him lead all first-year pass-catchers in touchdowns.
Carolina's 2014 draft class:

1st Round -- No. 28 overall -- WR Kelvin Benjamin
2nd Round -- No. 60 overall -- DE Kony Ealy, Missouri
3rd Round -- No. 92 overall -- OG Trai Turner, LSU
4th Round -- No. 128 overall -- S Tre Boston, North Carolina
5th Round -- No. 148 overall -- CB Bene Benwikere, San Jose State
6th Round -- No. 204 overall -- RB Tyler Gaffney, Stanford

Key Undrafted Free Agents Signed:

LB Denicos Allen, Michigan State
CB Carrington Byndon, Texas
WR Marcus Lucas, Missouri

Read more about all of Carolina's picks here.