Finding the Fits: Khairi Fortt could surprise in New Orleans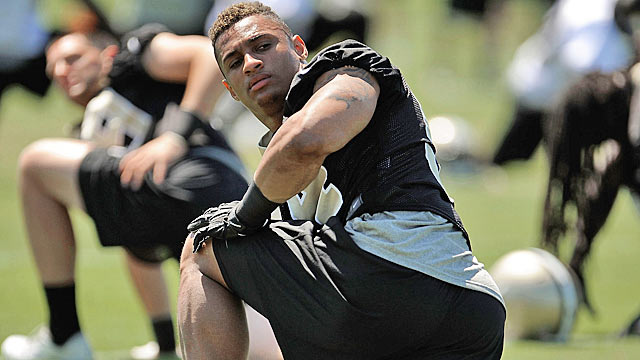 This article is one of a series called Finding the Fits in which NFLDraftScout.com will review some of the more intriguing picks made during the 2014 NFL Draft. The goal of the series is to identify one relatively unheralded player per team who appears to be a good schematic fit and, therefore, more likely to be a surprise contributor early in his pro career.
New Orleans Saints' best fit: ILB Khairi Fortt, California

Blessed with the talent, quarterback and play-calling to already generate Rookie of the Year buzz, former Oregon State wideout Brandin Cooks is clearly the first-year player in New Orleans best suited towards making an immediate impact in the NFL.
If Rob Ryan gets his way, it could be another former Pac-12 standout, however, who also makes a significant contribution on the defensive side of the ball.
While Fortt certainly doesn't come to New Orleans with the same buzz as the reigning Biletnikoff Award winner, he comes with exciting tools and experience in the 3-4 and 4-3 alignments. That versatility could pay off with Ryan, one of the more creative defensive coordinators in the NFL.
Fortt signed with Penn State as a highly regarded prospect but nagging injuries from high school and a stacked depth chart at "Linebacker U" relegated him to mostly backup and special teams duties over his first two seasons. Fortt transferred to Cal following the Jerry Sandusky scandal but didn't see the field at Berkeley until last after undergoing knee surgery in April of 2012. Once on the field for the Bears, Fortt proved one of the few bright spots on a horrific defense, recording 64 tackles, including 3.5 tackles for loss.
Statistics don't tell the whole story with Fortt. He is blessed with intriguing natural tools, including great strength (Combine-best 30 reps of 225 pounds among linebackers), long arms (33 5/8), fluidity and straight-line speed (4.70 in the 40-yard dash) - traits that are much more appealing than the Saints' incumbent inside linebacker duo of Curtis Lofton (6-0, 241) and David Hawthorne (6-0, 246). Best of all, Fortt uses his tools well, providing a powerful jolt to would-be blockers to break free and his length to lasso ball-carriers to the ground. Faster and more agile than the veterans currently ahead of him on the depth chart, Fortt also offers much more in coverage.
Fortt's durability questions are a concern and he has not yet shown the honed instincts that has helped Lofton and Hawthorne emerge as dependable (if somewhat limited) starters. If he can remain healthy, however, Fortt should at worst immediately improve New Orleans' special teams and his upside could push Ryan towards unveiling his own impact rookie on defense, as well.
Other thoughts on the Saints' 2014 draft class:
The rookie defender generating the most buzz out of the minicamps and OTAs thus far has been former Nebraska cornerback Stanley Jean-Baptiste, whose length, agility and previous experience at wide receiver have generated comparisons to Richard Sherman from some. Like Fortt, Jean-Baptiste boasts all of the tools necessary to enjoy success in the NFL. He has a significantly steeper hill to earn playing time, however, with veterans Keenan Lewis, Champ Bailey, Patrick Robinson and Corey White working ahead of him, thus far. He only emerged as a full-time starter at Nebraska as a senior, however, and while very athletic for his 6-foot-3, 218-pound frame, he didn't consistently play up to his size in Lincoln, especially against the run. To play defense for Ryan, one must be physical. Given a year to develop under Ryan, Lewis and Bailey, Jean-Baptiste could wind up emerging as quite a find for the Saints with their second round selection.

New Orleans' 2014 draft class:

1st Round -- No. 20 overall -- WR Brandin Cooks, Oregon State
2nd Round -- No. 58 overall -- CB Stanley Jean-Baptiste, Nebraska
4th Round -- No. 126 overall -- LB Khairi Fortt, Cal
5th Round -- No. 167 overall -- S Vinnie Sunseri, Alabama
5th Round -- No. 169 overall -- LB Ronald Powell, Florida
6th Round -- No. 202 overall -- OT Tavon Rooks, Kansas State

Key Undrafted Free Agents Signed:

WR Brandon Coleman, Rutgers
DE/OLB Kasim Edebali, Boston College
RB Tim Flanders, Sam Houston State
DE George Uko, Southern Cal
S Ty Zimmerman, Kansas State

Read more about all of New Orleans' picks here.