Finding the Fits: Top blocker Troy Niklas suits Arians in Arizona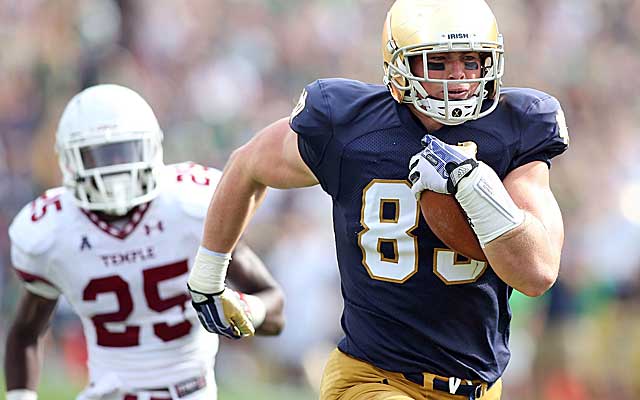 This article is one of a series called Finding the Fits in which NFLDraftScout.com will review some of the more intriguing picks from the 2014 NFL Draft. The goal is to identify one relatively unheralded player per team who appears to be a good schematic fit and more likely to be a surprise contributor early in his pro career.
Arizona Cardinals' best fit: TE Troy Niklas, Notre Dame
It took a mediator to determine that All-Pro Jimmy Graham was a tight end.
Arizona head coach Bruce Arians doesn't need anyone else to rule how a player should be characterized. That's because in Arians' offense, traditional tight ends are on the field to block, not catch passes.
"It's such a unique position," Arians told the media at the combine in February. "The best tight ends never go to the Pro Bowl because the best tight ends don't catch 80 passes or 90 passes. Those are wide receivers."
That suits Niklas -- the best blocking tight end in the 2014 draft class -- just fine.
The Cardinals list Rob Housler at tight end but frequently split him out wide or put him in motion. He's expected to continue in the hybrid role which helped him catch 39 passes for 454 yards a year ago -- a far cry from the statistics enjoyed by the club's standout WR tandem of Larry Fitzgerald (82 receptions for 954 yards and 10 touchdowns) and Michael Floyd (65-1,041-5) but productive, nonetheless.
The 6-foot-7, 270 pound Niklas, on the other hand, is expected to help set the edge in the running game and assist in pass protection, the same duties he performed at Notre Dame. In 26 games at tight end with the Irish, Niklas caught "just" 37 passes for 573 yards and six touchdowns, an average of 1.4 receptions per game.
Niklas, who spent his first season at Notre Dame at linebacker, plays with the physicality and aggression normally associated with defenders, which makes him all the better suited to the role that Arians and general manager Steve Keim evision with the Cardinals. He is developing route-runner with surprisingly reliable hands given his limited time at the position but isn't a dynamic athlete who'll run away from defenders.
While Niklas is a perfect schematic fit for Arians' offense, his career with the Cardinals hasn't started off as productively as hoped. Niklas was red-flagged by teams before the draft because of hernia surgery and he suffered a broken hand last month; that combination has limited his availability since the draft. Niklas is expected to be back on the field for training camp (starts July 25) and because he'll be asked to play such a similar role as the one he saw at Notre Dame, he still looks like a solid bet to make a significant (but not statistically-impressive) impact as a rookie.
Other thoughts on the Cardinals' 2014 draft class:
Deone Bucannon didn't generate the same buzz as fellow safeties Ha Ha Clinton-Dix, Calvin Pryor or Jimmie Ward before the draft but a strong showing at the Senior Bowl and combine helped eliminate any questions scouts had about him and his selection in the first round became downright predictable. One certainly couldn't question his production, as he recorded 384 tackles, 15 interceptions and seven forced fumbles as a four-year starter against quality competition. Bucannon flies around the field and explodes into ball-carriers, ranking among this year's fiercest hitters, regardless of position. Bucannon saw time at strong and free safety in college and is expected to play closer to the box in Arizona to maximize his aggression and downhill closing speed. Given the presence of play-making corners Patrick Peterson and Antonio Cromartie, as well as budding star Tyrann Mathieu at free safety, the Cardinals boast as fearsome a secondary as any in the NFL -- including the Legion of Boom in Seattle.
Arians' preference for tight ends who block is matched by his ability to develop speedy big-play receivers to attack down the field. He helped middle-round picks Antonio Brown and Emmanuel Sanders become weapons while with the Pittsburgh Steelers and accomplished the same in Indianapolis with T.Y. Hilton. As such, the similarly talented John Brown from tiny Pittsburg (KS) State could quickly earn a complementary role for the Cardinals. Like Brown (5-10, 186), Sanders (5-11, 180) and Hilton (5-09, 178), Brown (5-10, 179) has a wiry build that pushed him down the board despite boasting the one thing that Fitzgerald and Floyd do not possess -- pure speed. Brown was clocked at 4.34 seconds (the exact same as Hilton), second-fastest among all receivers timed in the 40-yard dash at the 2014 combine and this speed translates very well to the football field, as evidenced by the 45 career touchdowns he scored for the Gorillas. The Cardinals signed a similarly built and speedy veteran in Ted Ginn Jr. to also stretch the field so Brown's acclimation to the NFL may not come immediately. He's already turning heads in Arizona because of his surprisingly polished routes and game-breaking ability, so he's certainly one to watch in the future.
Arizona's 2014 draft class:
1st Round (No. 27 overall): FS Deone Bucannon, Washington State
2nd Round (No. 52 overall): DE Kareem Martin, North Carolina
3rd Round (No. 84 overall): TE Troy Niklas, Notre Dame
3rd Round (No. 91 overall): WR John Brown, Pittsburg State (KS)
4th Round (No. 167 overall): QB Logan Thomas, Virginia Tech
5th Round (No. 169 overall): DE Ed Stinson, Alabama
6th Round (No. 202 overall): WR Walt Powell, Murray State

Key Undrafted Free Agents Signed:
DT Bruce Gaston, Purdue
CB Jimmy Legree, South Carolina
OG/OC Anthony Steen, Alabama

Read more about all of Arizona's picks here.