2015 NFL Draft: Mountain West Preview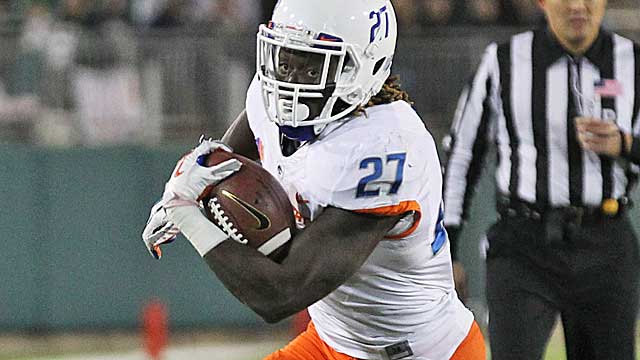 Despite losing quality football programs in recent years like BYU, TCU and Utah, the Mountain West Conference set a record this past May with 16 players selected in the 2014 NFL Draft. But the well isn't dry out west as the conference returns plenty of next level prospects who are on the NFL's radar for the 2015 class.
Last year a Boise State Bronco was the first player from the Mountain West to be drafted (DE Demarcus Lawrence 34th overall to the Dallas Cowboys) and it could happen again next spring with junior RB Jay Ajayi. If the talented underclassman running back is drafted in the first two rounds, it would mark the sixth straight season that Boise State has been represented in the top-64 picks of the NFL Draft
Boise State led the conference with three players drafted in the 2014 class, but the Mountain West program looking to earn that crown in the 2015 NFL Draft is Colorado State with several draftable prospects including OT Ty Sambrailo, TE Kivon Cartwright and QB Garrett Grayson.
NFL Draft-Eligible prospects from the Mountain West Conference to watch in 2014:
1. RB Jay Ajayi, Boise State, RS Junior (5-11 | 220 | 4.54 | #27)
The Boise State program has produced two running backs drafted in the top-40 picks, most recently Doug Martin 31st overall in 2012. And rising redshirt junior Jay Ajayi is hoping to add his name to that list. The top returning rusher in the conference, Ajayi put his name on the NFL radar with 1,425 rushing yards and 18 rushing scores last season, averaging 5.7 yards per carry. He has quick feet and controls his acceleration well with the explosive qualities needed for the next level. Ajayi has a limber, flexible body type with rubber joints and nimble lateral moves to juke, flashing the balance to makes defenders miss or brush off contact. He plays fast, but sometimes too fast and will run into his own blockers and needs to improve his ability in pass protection. But above all, Ajayi needs to eliminate the fumbles and improve his ball security to be viewed as a viable early round pick. Based on tape study, it wouldn't surprise me if he earns second and third round grades from NFL scouts
2. OT Ty Sambrailo, Colorado State, RS Senior (6-5 | 310 | 5.29 | #51)
A darkhorse program to make some noise this season in college football is Colorado State and Jim McElwain's team will also likely be well represented in the NFL Draft as well, led by left tackle Ty Sambrailo. Entering his fourth season as the starter, Sambrailo has very good initial quickness off the snap and mirrors well, using angles to ride defenders on the edges and properly control his momentum. He shoots his hands, but needs to improve his timing with a bad habit of leaving his chest open, making it too easy for rushers to attack his breast plate. Sambrailo's body type and anchor are average for the NFL ranks and he needs to max out his upper body, leading many to ask if he has the functional strength needed for the next level. But besides the physical aspect of his skill-set, coaches will be attracted to Sambrailo's assertive and competitive mindset. He already carries himself like a professional with a high football IQ, preaching effort and a workmanlike attitude that he expects of all his teammates. Sambrailo might need a year in a NFL weight and conditioning program before he's ready to match up with NFL rushers, but he enters the 2014 season as one of the top-five seniors at his position.
3. QB Chuckie Keeton, Utah State, Senior (6-1 | 200 | 4.74 | #16)
At this time last season, Chuckie Keeton was still somewhat of a secret on a national level, but NFL scouts have been intrigued by the passer since he found the field as a true freshman in 2011. He got off to a hot start last season as a junior with 20 total touchdowns, 69.4% completions and only two interceptions through six games, but he was lost for the rest of the year after an October ACL injury. Keeton isn't physically imposing with a below average build and little growth potential, but most of the other boxes receive checks with a strong arm, quick feet and the unrelenting attitude needed for the quarterback position. His fiery, competitive on-field demeanor coupled with his up-beat, positive character off the field will be a hit during NFL interviews. Keeton has some mechanical issues to work out, but the big question mark for his football future is his surgically repaired left knee. He watched from the sideline during spring practice and the coaching staff admits that they won't know when he'll be ready to be the full-time starter, although they're hopeful he'll be on the field for the season opener. And scouts are hopeful for the same with Utah State's first game coming in Knoxville against a Tennessee defense with several future pros.
4. S Derron Smith, Fresno State, RS Senior (5-11 | 200 | 4.57 | #13)
A player competing to be the top senior prospect at his position, Derron Smith ranked second in the nation last season with eight interceptions and is the leader of a Fresno State defense that returns eight starters in 2014. He has only average size and strength, but plays fast with lower body explosiveness and recovery speed to track down ballcarriers from behind. Smith is rangy and always at full-go downhill, taking aggressive angles and breaking well on the ball in front of him. He can be a tick late reacting with suspect anticipation, but is fearless and scrappy with a tough-minded attitude. Smith is a do-it-all defender for the Bulldogs, playing centerfield in the deep half, lining up in the box to attack the run and also on special teams coverage. He lacks ideal fluidity and his lack of NFL size and strength allows him to be too easily blocked from plays, but his versatility, ballskills and competitiveness will serve him well at the next level.
5. WR Josh Harper, Fresno State, RS Senior (6-1 | 184 | 4.53 | #3)
The Fresno State offense loses two 100+ catch receivers from 2013 (Davante Adams, Isaiah Burse), but Josh Harper returns after a breakout junior season with 79 catches for 1,011 yards and 13 scores, earning him First Team All-Conference honors. He lined up mostly as the Bulldogs' "Z" receiver last year and was most effective with crossers and flat targets within a few yards of the line of scrimmage where he can create as a catch-and-go pass catcher. Harper accelerates well and does a nice job mixing gears, turning on the jets with smooth strides to gain a step vertically and stretch the field. He is lean limbed with limited power and is unreliable as a blocker, but the biggest question mark for him entering his senior season is can he continue his development without Derek Carr. Although not a notable name, Harper is one of the more underrated senior receiver prospects entering the 2014 season.
6. OLB Kyler Fackrell, Utah State, RS Junior (6-4 | 245 | 4.74 | #9)
A player who has created some buzz in the MWC is Kyler Fackrell, who led Utah State in tackles for loss (13.0) last season and already has 27 starts under his belt entering his junior season. He is a versatile and aggressive piece of the Aggies' 3-4 defensive scheme and was tasked with a handful of responsibilities displaying his versatility to drop, rush or float. Fackrell has good speed for the position to cover a lot of ground, but is often overaggressive and easily bites on fakes. He is too reactionary on tape with below average anticipation and backfield vision, losing sight of the ballcarrier too often and struggling to get through a crowd. Fackrell tends to be inconsistent breaking down in space and needs to clean up his tackling technique to be a more consistent player. While he has been productive and flashed some next level talent, Fackrell isn't a dynamic athlete and still needs to improve his ball awareness before he's ready for the NFL. The hype train should pump the brakes on this talented but developing prospect.
7. WR Devante Davis, UNLV, Senior (6-2 | 210 | 4.57 | #81)
Coming off an impressive junior season (87 catches, 1,290 yards, 14 touchdowns), Devante Davis has a good chance to be UNLV's first draft pick at wide receiver since 1995. He looks the part with a tall, built body and solid muscle definition, using his size to be a big target and physical route runner. Davis isn't the most natural hands-catcher, but extends well to make grabs away from his body and does a nice job in jump ball situations to finish plays. He can get upright in his stem and doesn't show much elusiveness in his routes to create separation, but he sustains his speed well and picks up steam vertically, reminiscent of former Texas A&M wide receiver Jeff Fuller.
Other MWC prospects worth watching:
QB Cody Fajardo, Nevada, RS Senior (6-2 | 215 | 4.65 | #17)
Although his physical tools are more average than above average, Fajardo has a quick release with efficient eyes to work through his reads. He has been productive, but has also thrown a lot of safe, high completion throws on tape in Nevada's pistol spread offense that emphasizes more of a horizontal attack rather than vertical.
QB Garrett Grayson, Colorado State, RS Senior (6-2 | 220 | 4.79 | #18)
Like Fajardo, Grayson doesn't scream NFL quarterback based on the size and arm strength, but he is a natural passer with the competitive appetite, football I.Q. and resolve to be a NFL draft pick. Keep an eye on Grayson throughout the season, especially in a weak senior quarterback class.
WR Matt Miller, Boise State, RS Senior (6-2 | 222 | 4.59 | #2)
Boise State's starting "X" wideout, Miller is a flexible athlete with coordinated movements, but his average speed won't take the top off defenses and lack of dynamic routes makes it tough for him to consistently create separation. He is a possession target who needs to be a more consistent hands-catcher to prove he's a draftable player.
TE Kivon Cartwright, Colorado State, RS Senior (6-4 | 245 | 4.78 | #86)
Although his 27 catches a year ago isn't overly impressive, Cartwright averaged 17.1 yards per catch and proved to be a reliable red zone threat, leading the team in receiving scores with six. He is more of a wideout/tight end hybrid instead of a traditional in-line player, but look for Cartwright to be a "riser" between now and next spring as more catch on to him.
OT Brett Boyko, UNLV, Senior (6-6 | 310 | 5.27 | #69)
The Rebels' starting left tackle since he arrived at UNLV, Boyko has the frame and uses his body well to shield rushers from the pocket. He extends in pass protection to engage, but his lower body struggles to catch up with tight hips, average foot quickness and an upright style that could ultimately push him inside at the next level.
DE Brock Hekking, Nevada, RS Senior (6-4 | 455 | 4.93 | #53)
Nevada's leading sack artist a year ago with nine, Hekking has a Tasmanian devil motor and mentality (and a brash blonde mullet to match), but his lack of explosive qualities and creativity as a pass rusher stands out. His heart and desire translates well to the NFL, but his athletic and physical traits aren't on the same level, which hurts his value as a next level prospect.
DT Travis Raciti, San Jose State, RS Senior (6-5 | 290 | 4.94 | #3)
Wearing several hats for the Spartans' multiple defensive front, Raciti has played just about every position on the defensive line at San Jose State and projects as a rotational five-technique in the NFL. He has powerful hands to be a forceful tackler, but needs to play with better fundamentals and focus on the details.
CB Bernard Blake, Colorado State, RS Senior (6-0 | 180 | 4.52 | #23)
In his first year as a full-time starter in 2013, Blake led Colorado State with 13 passes defended, including his first (and only) career interception, which came against Alabama and A.J. McCarron. He has solid size and the movement skills to play man or zone coverage and is one of the top cornerbacks in the conference.