Finding the Fits: Ellington could open up 49ers' offense, key title run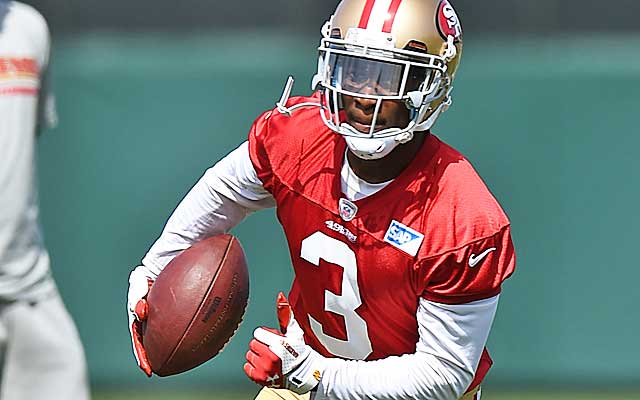 This article is one of a series called Finding the Fits in which NFLDraftScout.com will review some of the more intriguing picks made during the 2014 NFL Draft. The goal of the series is to identify one relatively unheralded player per team who appears to be a good schematic fit and, therefore, more likely to be a surprise contributor early in his pro career.
San Francisco 49ers' best fit: WR Bruce Ellington, South Carolina
Statistics can be bent any number of ways to prove a point but the fact that Anquan Boldin and Vernon Davis caught 20 of the 21 touchdown passes that Colin Kaepernick threw last season pretty well summarizes the reliance the 49ers placed on the two veteran pass-catchers in 2014.
A healthy Michael Crabtree certainly will spread out the production next season and the 49ers plucked playmaking veteran Stevie Johnson out of Buffalo and signed Brandon Lloyd. With general manager Trent Baalke and head coach Jim Harbaugh reportedly investigating free agents DeSean Jackson, Emmanuel Sanders, Julian Edelman and Hakeem Nicks (among others), however, it was presumed that the club wasn't finished adding weapons for Kaepernick -- especially with Davis making it known that he wasn't happy with his contract.
That's why it surprised many (including me) that the 49ers waited until their sixth pick to add a receiver.
Patience can be a virtue and Ellington is a good bet to prove just that for the 49ers. He has terrific agility, very good hands and a compact 197 pounds packed onto his 5-foot-9 frame that makes him much stronger after the catch than his height might indicate -- traits which could make him a very good slot receiver. He ran well at the NFL Combine (clocking at 4.45 seconds in the 40-yard dash) but is even faster on the field because he accelerates so suddenly. The bigger corners of the NFC West may struggle changing directions as fluidly as Ellington -- a theory that Seattle and St. Louis are also experimenting with given the huge investments made in Percy Harvin and Tavon Austin, respectively.
As has been well-documented, Ellington split his time between the basketball court and gridiron during his time at South Carolina. Like most former basketball players, Ellington catches the ball reliably with his hands. He also tracks the ball very well over his shoulder and due to his 39.5" vertical jump, is better in jump-ball situations than he looks -- two traits that could aid the strong-armed (but occasionally scatter-shot) Kaepernick.
One more element that Kaepernick and the 49ers may grow to love about Ellington is that he has a history of playing well against top competition. Ellington routinely scored in South Carolina's biggest games, culminating with a three-touchdown performance in his final performance, a 34-24 victory over Wisconsin in the Capital One Bowl.
For a team expecting to qualify for their fourth consecutive NFC Championship Game, Ellington looks like a steal.
Other thoughts on the 49ers' 2014 draft class:
Ellington may provide the 49ers with an importance new piece to their passing game, but the club's first two picks - defensive back Jimmie Ward and running back Carlos Hyde - should also prove well-worthy of their selections. Ward starred at safety and cornerback for Northern Illinois and dazzled at the Senior Bowl in these roles, as well. The 49ers expect him to line up as a nickelback, where his agility and speed in coverage and ability to blitz off the edge should make him an immediate upgrade. Given that the 49ers have invested one pick in a running back in each of the past five drafts, perhaps, in hindsight, the selection of Hyde shouldn't have caught us by surprise. If Hyde plays with the passion in San Francisco that he did as a senior for Ohio State, he not only will soon overtake Frank Gore as the 49ers' top back, there won't be a drop-off in production. Given that Gore, a five-time Pro Bowler, has rushed for over 1,000 yards in seven of the past eight seasons, that's heady company. Unlike complementary speed backs like LaMichael James and Kendall Hunter, Hyde is a bell-cow, who has shown the durability that Marcus Lattimore, to this point, has not proven. The 49ers are expected to open up their offense a bit more in 2014 but this club led the NFL in rushing attempts and yards a year ago and given their talent at running back, don't expect Harbaugh to deviate too far from the philosophy that has been so successful.
The tandem of Patrick Willis and Navorro Bowman is one of the great duos at inside linebacker in league history but the 49ers were clearly preparing for the future with the selection of Chris Borland at No. 77 overall and with the signing of former Stanford standout Shayne Skov. With shorter-than-ideal arms, Borland isn't a perfect schematic match but he is a tackling machine whose Jedi-like instincts have earned comparisons to former Pro Bowlers Zach Thomas and Lofa Tatupu. Skov fell all the way out of the draft because of health concerns and because he lacks straight-line speed. He's also very instinctive and is one of the most physical players in the class. Neither possesses anything close to the pure athleticism that has made Willis and Bowman legitimate NFL stars but each will make this roster and prove capable NFL starters once given their opportunity.
Finally, you have to love the willingness of San Francisco to stick to the "redshirt" year philosophy. The 49ers could win big with the investments made a year ago in Tank Carradine and Lattimore and given their (tied for) league-leading 12 picks and the unusual depth of this year's class it made sense to draft talented but injured players Brandon Thomas, Keith Reaser and Trey Millard, each of whom may miss the 2014 season but prior to torn ACLs had demonstrated clear NFL talent.
San Francisco's 2014 draft class:
1st Round -- No. 30 overall - S Jimmie Ward, Northern Illinois
2nd Round - No. 57 overall - RB Carlos Hyde, Ohio State
3rd Round -- No. 70 overall - OC/OG Marcus Martin, Southern Cal
3rd Round - No. 77 overall - ILB Chris Borland, Wisconsin
3rd Round - No. 100 overall - OG Brandon Thomas, Clemson
4th Round - Np. 106 overall - WR Bruce Ellington, South Carolina
4th Round - No. 129 overall - CB Dontae Johnson, North Carolina State
5th Round - No. 150 overall - DE/OLB Aaron Lynch, South Florida
5th Round - No. 170 overall - CB Keith Reaser, Florida Atlantic
6th Round - No. 180 overall - CB Kenneth Acker, Southern Methodist
7th Round - No. 243 overall - DT Kaleb Ramsey, Boston College
7th Round - No. 245 overall - FB Trey Millard, Oklahoma
Key Undrafted Free Agents Signed:

ILB Shayne Skov, Stanford

Read more about all of San Francisco's picks here.